It's bad enough to have to deal with fruit flies, houseflies, and even wasps in and around your home, but it can be even worse if you have to deal with flying ants as well, which may seem more formidable than the tiny ants that often find their way into your home.
While having a swarm of flying ants in your home may look like something out of a nightmare, luckily they aren't dangerous.
However, if you notice them in your house in the winter months, this means that there is a significant chance that you have a carpenter ants somewhere in your home, which could lead to more significant problems. Discover the secrets for how to get rid of flying ants from your home.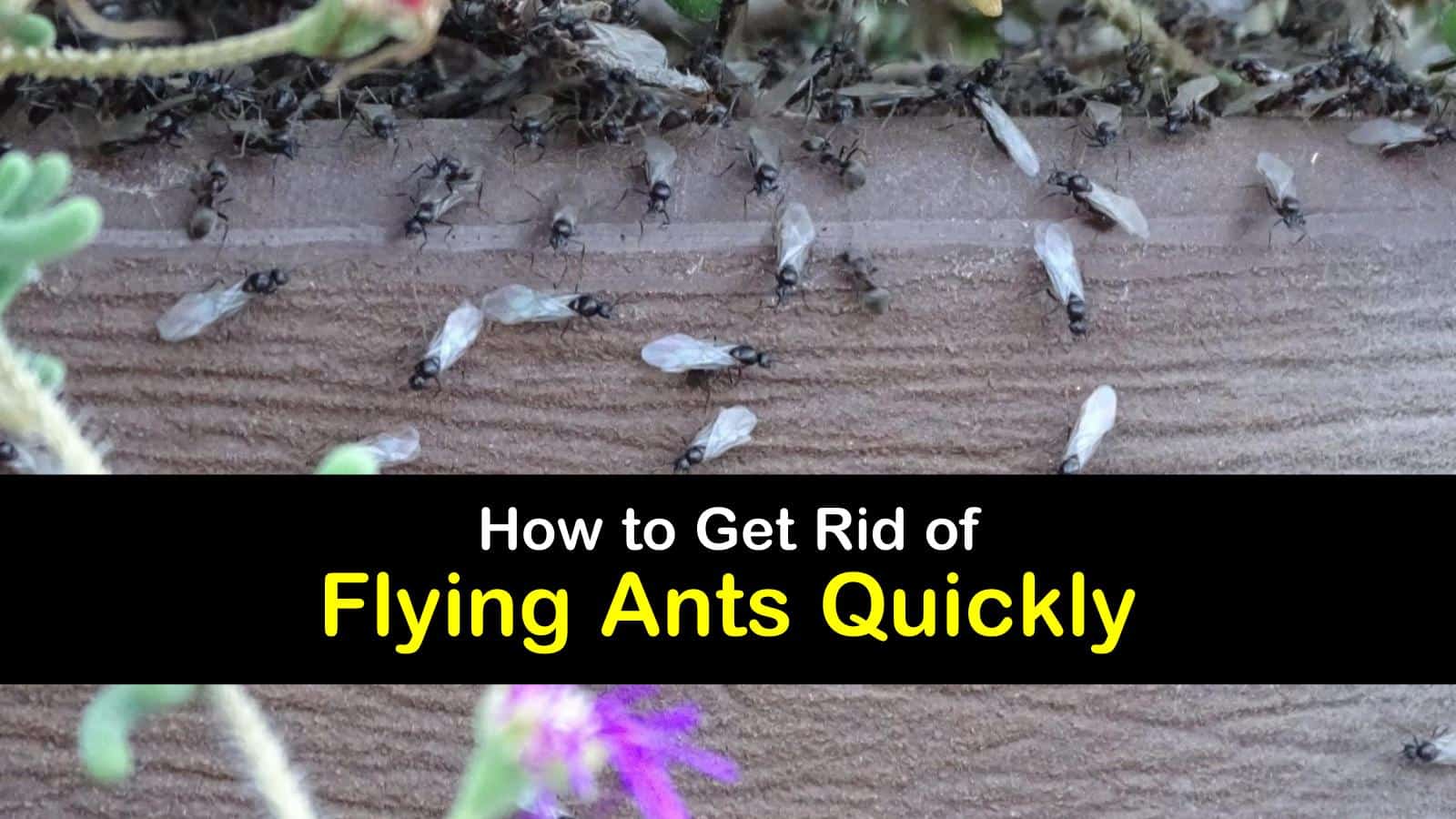 How to Identify Flying Ants
Flying ants aren't a unique ant species, but are individual types of ants that are known as the "reproductives" of the ant colony. Most ant species have these types of ants and are both male and female.
These winged ants take flight and gather in massive clusters to mate before returning to the existing nesting site, or they will seek out a new colony. You don't have to worry about being bitten by a flying ant, as you do with other species of ant, like the fire ants or odorous house ants, and they don't pose any danger to humans.
However, flying ants are often confused with termites, which can pose a significant problem if the pest issue isn't taken care of properly. Termites, unlike flying ants, have wings that are equal length and have straight antennae and abdomen. Flying ants, on the other hand, have front wings that are longer than the hind wings, with a thin abdomen and antennae that are bent.
How to Control Flying Ants
If you find a few flying ants in your house, it doesn't necessarily mean that you are about to be dealing with an ant invasion. The male species of flying ants immediately die after mating, and not all queen ants can start a new colony.
If you find a swarm of winged ants, especially during the winter when they breed, there is a likelihood that you could be dealing with a carpenter ant infestation within the structure of your home. Carpenter ants can be a severe problem because they are second only to termites in terms of their ability to cause damage.
If you think that you might have a problem with carpenter ants, here are some home remedies for ants that can get the problem under control. By destroying flying ant colonies near your home, you can prevent them from getting into your house in the future.
Inspect Your Home
If you have a flying ant problem, you'll need to inspect the inside and outside of your house when you first notice them. By thoroughly examining the interior and outside of your home, you'll be able to determine where they are coming from. If the flying ants find their way inside your home, they will seek out damp or high humidity environments that contain wood.
Make sure you search the area around your porch, in the rafters under your roof, around the windowsills, and areas where you might have leaky pipes, like the bathroom and around the sinks. If you find that there are limited numbers of flying ants, you can use the vacuum or an aerosol spray to kill them.
Determine the Source
Your best chance of eliminating all the ants in your home is by finding the nest and killing the entire colony. Keep in mind that there may be more than one nest. However, you can use a gel ant bait to try and locate the nests.
Unfortunately, you may determine that the colony is in your walls or underneath your house, which means you'll have to move onto other pest control methods to eliminate the problem. However, if you do happen to find the colony, you can effectively destroy it by pouring boiling water over the ant hill.
Seal Off Their Entry Points
After you've inspected your house, you should have a better idea as to whether or not the ants are entering your home through cracks and crevices or open windows. To limit the number of ants that come into your home, use some silicone caulk to seal up the possible entry points.
This is especially important to do if you haven't found the colony because you haven't been able to identify the source of the problem. You can further discourage ants from entering your home by spraying the area where you found the swarm.
Mix one tablespoon of boric acid powder with a cup of water in a spray bottle and spray the solution in the location where you found the swarm. Use a mixture of two parts water and two parts vinegar to eliminate the pheromone trails that the ants have left behind.
If you find ants in the bathroom, they have likely entered through the tiny cracks around the pipes from your sink. Caulk these areas tightly to stop their access.
This will make it much more challenging for the ants to find their way back into your home. While flying ants can and do bite, the sting is usually no more than an annoyance.
Do sugar ants bite? Luckily, sugar ants do not sting but no one wants them in the house either. Periodically spraying this solution around your house and sealing tiny openings will discourage all types of ants from coming inside.
Eliminate Food Waste
Eliminating the food waste in your kitchen is one of the best ant control methods to keep flying ants from infesting your home.
Kitchen waste is a primary food source for winged ants and other pests, so making sure you clean the area and promptly store any leftover food is essential if you want to get rid of sugar ants and flying ants. Make sure that any leftovers are stored in tightly covered containers and kept in the fridge.
Poison the Flying Ants
Borax is a popular home remedy for eliminating ants and other pests. How does Borax kill ants?
After you've eliminated the initial swarm of ants, rather than using a poison that kills the ants on the spot, consider using a poison that they will eat and bring back to their colony to infect the rest of the ants. Use this same remedy to kill flying termites.
You can make a homemade Borax trap to poison the ants invading your home, as well as those back at the colony.
In a small bowl add the ingredients and stir to combine. Dip cotton balls into the solution and leave them where you found the initial swarm, or in any place where you think they might be gaining entry.
The ants will take the poisoned cotton balls back to the colony, where the poisoned solution will kill the rest of the ants. If you don't want to spend the time to make traps, you can purchase ready-to-use liquid bait traps that use Borax as the active ingredient from your local home improvement or hardware store.
Use a Vacuum
One of the quickest and easiest ways for how to get rid of flying ants in your home is to suck the pests up with the vacuum cleaner. You can use a handheld or full-sized vacuum to get rid of the ants quickly. As soon as you suck up these flying pests, make sure you replace the vacuum bags immediately.
Use Sticky Tape Traps
Another great way to stop flying ants in their tracks is with sticky tape traps. If you don't have any commercial glue traps at your house, you can use strips of duct tape. Place the tape, sticky side up where you are having a problem with the flying ants.
Sprinkle some sugar or a few drops of honey on the top of the tape to attract the ants. When the ants fly and land on or walk across the tape to get to the sweet stuff, they become trapped. Replace the tape every couple of days until the ant problem is eliminated.
Kill Them with Peppermint Oil
You can make a homemade spray of liquid soap and peppermint oil if you can't reach the ants with the vacuum, or if they are scattered.
Add the ingredients to a spray bottle. Replace the top to the spray bottle and shake well to combine. Spray the solution directly on the ants and the surrounding area.
The liquid soap sticks to their bodies, dehydrating them and making it more difficult for them to move or fly, then the peppermint oil will effectively suffocate them.
This recipe also works for getting rid of hornets naturally, although you should wear protective clothing and have a safe place to run to after spraying, as the hornets won't be pleased when you attack them and will try to attack you instead.
Sprinkle Diatomaceous Earth at Entry Points
Diatomaceous earth is a natural way to get rid of flying ants. The powder is made up of fossilized diatoms that cut into their bodies and dehydrate them.
Dust diatomaceous earth along your baseboards, under your cabinets, under the sink, and behind all your appliances. If the ants are present during this process, it will take approximately 20 minutes to kill the ants with the diatomaceous earth.
Use Baking Soda
Use a mixture of baking soda and powdered sugar to get rid of flying ants and the entire colony. While ants tend to stay away from baking soda, mixing it with some powdered sugar will force the ants to digest the baking soda and carry the toxic ingredient back to their nest.
To get rid of ants in your home, create a mixture that is one-half baking soda and one-half powdered sugar and then sprinkle it over the affected areas. You can also add a little bit of water to the mixture to create a paste you can apply to affected areas around your home.
Invest in a Commercial Insecticide Spray
When it comes to the bug poisons that you can buy at the store, any that are labeled for use on ants will also work on flying ants. The best way to kill them is by selecting an aerosol spray that comes with a spout that is easy to direct.
Make sure to read the instructions carefully and avoid directing the spray at animals or humans. Find a spray that is safe to use indoors and ensure that it is legal to use in your area.
Hang Up a Bug Zapper
If you want to eliminate flying ants from your outdoor living area, you can hang a bug zapper near your porch. The best part about bug zappers is that they take care of all types of flying insects, not just flying ants.
They come in different sizes and can be hung anywhere you are having a problem with flying pests. Make sure to keep these flying insect killers out of the reach of children.
While flying ants aren't dangerous to humans, they can be a pain to deal with, especially if you find them in your home during the winter, which is their mating season. Even though they aren't dangerous to humans, they can indicate a more severe problem of carpenter ants, which can quickly destroy the structure of your home.
If you notice flying ants in your home, it's best to promptly take care of the issue, before it becomes a significant concern. With these simple methods for how to get rid of flying ants, we can help you quickly get rid of the problem.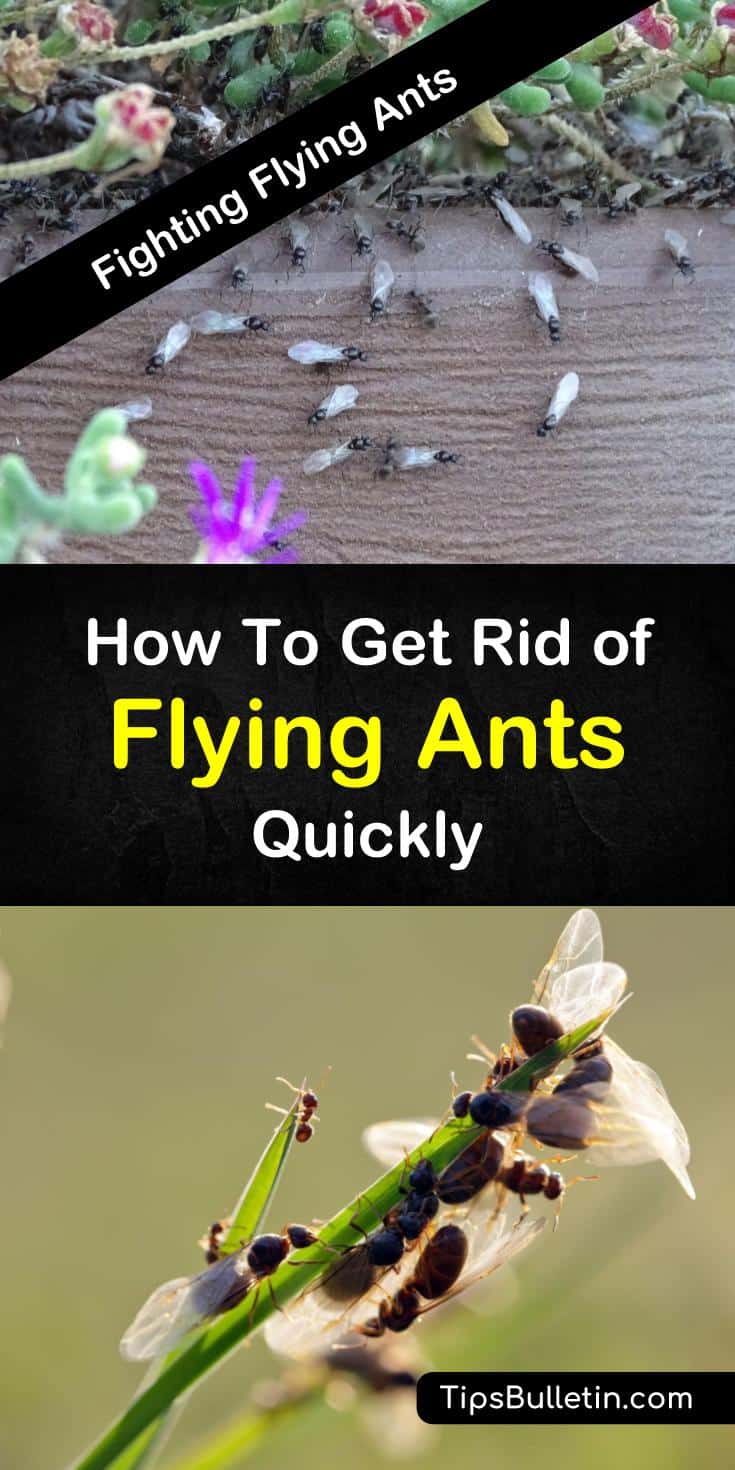 We hope you enjoyed learning about how to get rid of flying ants quickly. If you found these tips for eliminating flying ants in your home useful, please feel free to share the list with your family and friends.