Composting is an excellent way to turn food scraps and yard waste into usable material for your lawn and garden. However, the compost heap is not a pleasant smelling area of the yard, often drawing flies, gnats, fruit flies, and other annoying insects. Find out how to get rid of fruit flies in the compost bin and keep your composting material as pest-free as possible.
If you're an avid fruit eater, your compost pile probably has plenty of banana peels, apple cores, orange peels, and other rotten fruit scraps. While these green materials are necessary for the composting process, they are magnets for adult fruit flies and fungus gnats, often leading to a fruit fly infestation.
Nothing ruins an outdoor experience more than an overpopulation of compost flies. You spend more time swatting at the pests than working in the garden or doing lawn work and may even give up and head back indoors. Fortunately, there are steps to eliminate fruit flies and keep them out of the compost pile.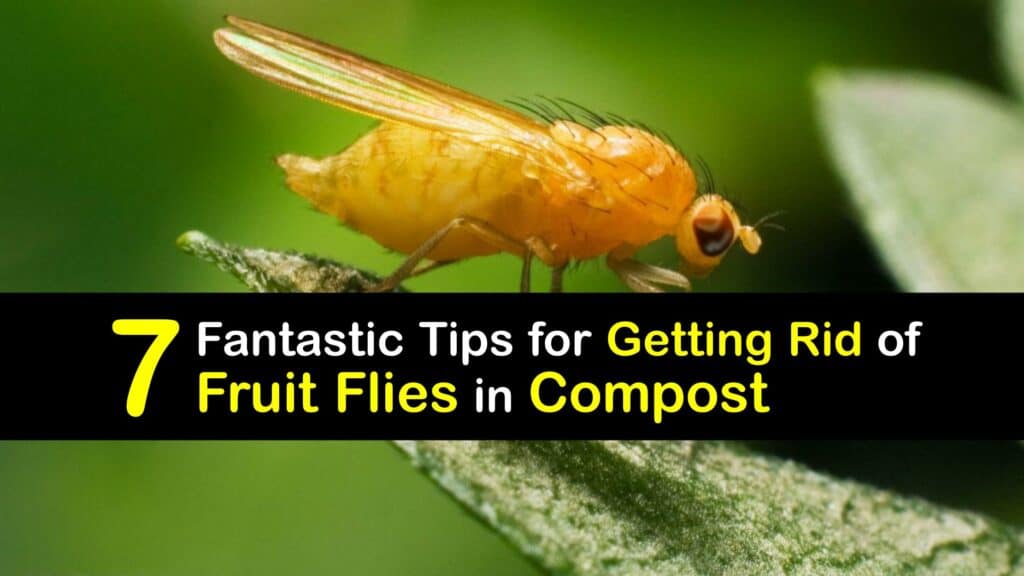 Ways to Keep Fruit Flies Out of Compost
Overripe fruit is a favorite food source for fruit flies, so it's no wonder they spend their time feasting and breeding in a compost bucket or pile. Discover how to eliminate these pests and prevent a fruit fly problem.
Why Are There Fruit Flies in the Compost Pile?
The best way to keep flies out of compost is to understand why they are there. Explore what attracts fruit flies to composting material and what causes them to become an infestation.
Compost flies are common since composting materials consist of ripe fruit scraps. Adult flies enjoy the alcohol produced from fermenting food waste. They lay their eggs in moist, organic material near this food source to ensure larvae have plenty to eat.
Are Flies Harmful to Compost?
All insects are a necessary part of nature, but are flies good for compost? No major issues arise from fruit flies hanging out in the compost pile. Nevertheless, they quickly become a nuisance. On the other hand, worms are good for composting, whether you have a vermicomposter or a standard compost pile or tumbler.
Fruit Flies and Compost
Fruit flies and other insects are beneficial to compost, helping to break down the organic matter. You may not want a fruit fly infestation since their presence is unbearable as you turn and water the material. However, while there are advantages to flies in the compost, each female fly lays up to 500 fruit fly eggs when given the opportunity.
Ways to Keep Flies Out of Compost
Though fruit flies do not affect the composting process, you don't want them flying around, especially when they start breeding. Here are a few simple ways to catch a fruit fly and keep them out of the compost.
One of the more obvious and best ways to keep fruit flies out of the compost is to cover it with a lid or a tarp. It's also useful to wrap kitchen scraps in paper bags or newspapers before tossing them into the compost bin. The paper contains the food smells as they break down, making it less noticeable to pests.
Consider applying fruit fly repellent oils around the compost bin. Pour some lavender, eucalyptus, lemongrass, or peppermint essential oil onto a cotton ball and wipe it on the bin's edges to confuse the insects and deter them.
Changing the Compost Material to Get Rid of Fruit Flies
Fruit flies become a problem if left unchecked, whether you have flies in compost tumbler, bin, or heap. Luckily, they are easy to control by adding different composting materials.
Fruit flies prefer an environment with high humidity, and adding more brown material, like cardboard, to the top of the compost heap lowers moisture levels. Additionally, flies enjoy the high nitrate content of compost and adding crushed eggshells remedies this problem.
How to Get Rid of Fruit Flies in the Compost Bin
One of the best ways to prevent fruit flies in your compost bin is to hot compost rather than cold compost or worm compost. Hot composting is a method that uses heat to break down materials, creating fast compost with fewer pests.
Hot Composting
A hot compost pile contains brown and green materials broken into small pieces. You turn and water the compost regularly, which heats the compost between 130 and 140°F. The heat allows microbes to reproduce and quickly break down the organic matter. The high temperature prevents fly larvae in compost while killing harmful bacteria and weed seeds.
Using a Trap to Get Rid of Compost Fruit Flies
The most straightforward way to get flies out of your compost bin is to make a fruit fly trap. This homemade trap is simple to put together, and lures and traps flies for convenient disposal. It kills fruit flies that become a problem near your composter.
Take a clear plastic container, like a plastic soda bottle, and pierce three or four holes in it with a toothpick. Place a banana peel or apple cider vinegar inside the container, close the lid, and set it on top of the compost pile. The flies enter the holes in search of food and cannot escape.
If you have an indoor compost machine, pour fruit juice or cider vinegar into a container with a squirt of dish detergent, and cover it with a sheet of plastic wrap. Poke holes in the plastic and set the container near a fruit bowl to lure and trap flies.
Ways to Prevent Fruit Flies in Your Compost Bin
Composting takes time and effort; the last thing you want to deal with while turning and watering the compost is flies. There are several ways to prevent fruit flies in your compost bin and stop an infestation before it starts.
Since the food scraps, vegetables, and fruits are what attract vinegar flies, bury these nitrogen-rich materials beneath a layer of brown materials and soil.
Aeration is also a great way to deter these pests. Turn the pile regularly to increase oxygen levels and encourage decay. Keep the pile level and avoid letting the compost pile up in the center, which causes a warm center with cool edges.
For preventing fruit flies completely, avoid putting fermenting foods into the compost pile. While this slows the composting process, it eliminates a fruit fly problem. Instead, add grass clippings, perennial and annual plant trimmings, eggshells, seaweed, and coffee grounds.
Composting is one of the best forms of recycling. You end up with a rich soil conditioner for your vegetable garden, lawn, and plants. However, compost is a free meal for fruit flies and other pests. Fortunately, there are simple ways to prevent fruit flies from taking over the compost pile and becoming a nuisance.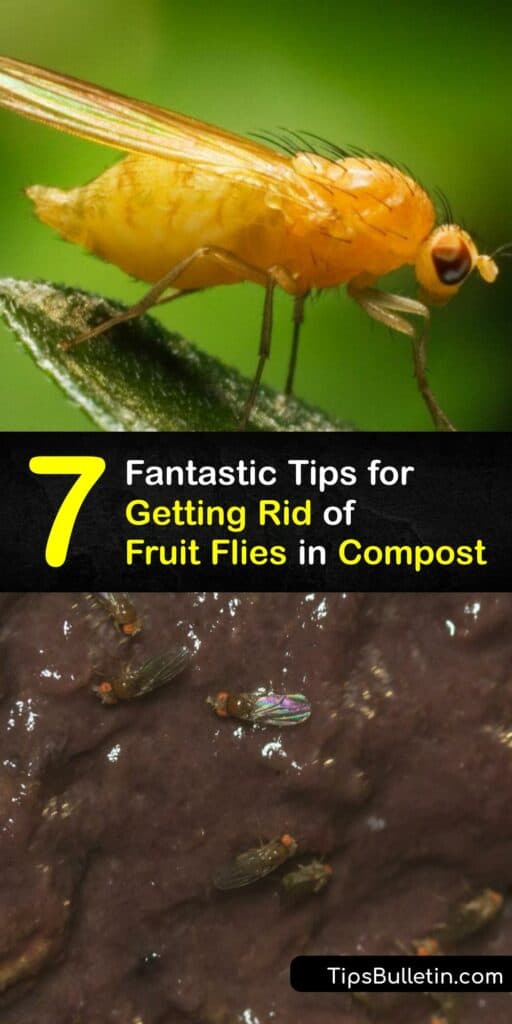 Now that you discovered how to get rid of fruit flies in the compost bin, why not share our compost fruit fly eliminating tips with your family and friends on Facebook and Pinterest?