All manner of insects play an incredibly vital role in our ecosystem; however, their place is outdoors. Fungus gnats, also known as mold gnats, are those annoying little pests flying around your houseplants, while not harmful to people or pets, can be incredibly frustrating have in your home. When you find them swarming around your indoor plants, it's time to find out how to get rid of fungus gnats for good.
The first thing that you need to do is make sure that you are dealing with fungus gnats and not fruit flies. Both are tiny insects that are often confused with one another. However, fungus gnats, also known as soil gnats, resemble small mosquitoes and measure just 1/16 to 1/8-inch in length.
As fungus gnats are weak fliers, they will remain somewhat stationary and are often only discovered when they are disturbed from resting on the soil surface of potted plants, wet bags of soil, and compost piles.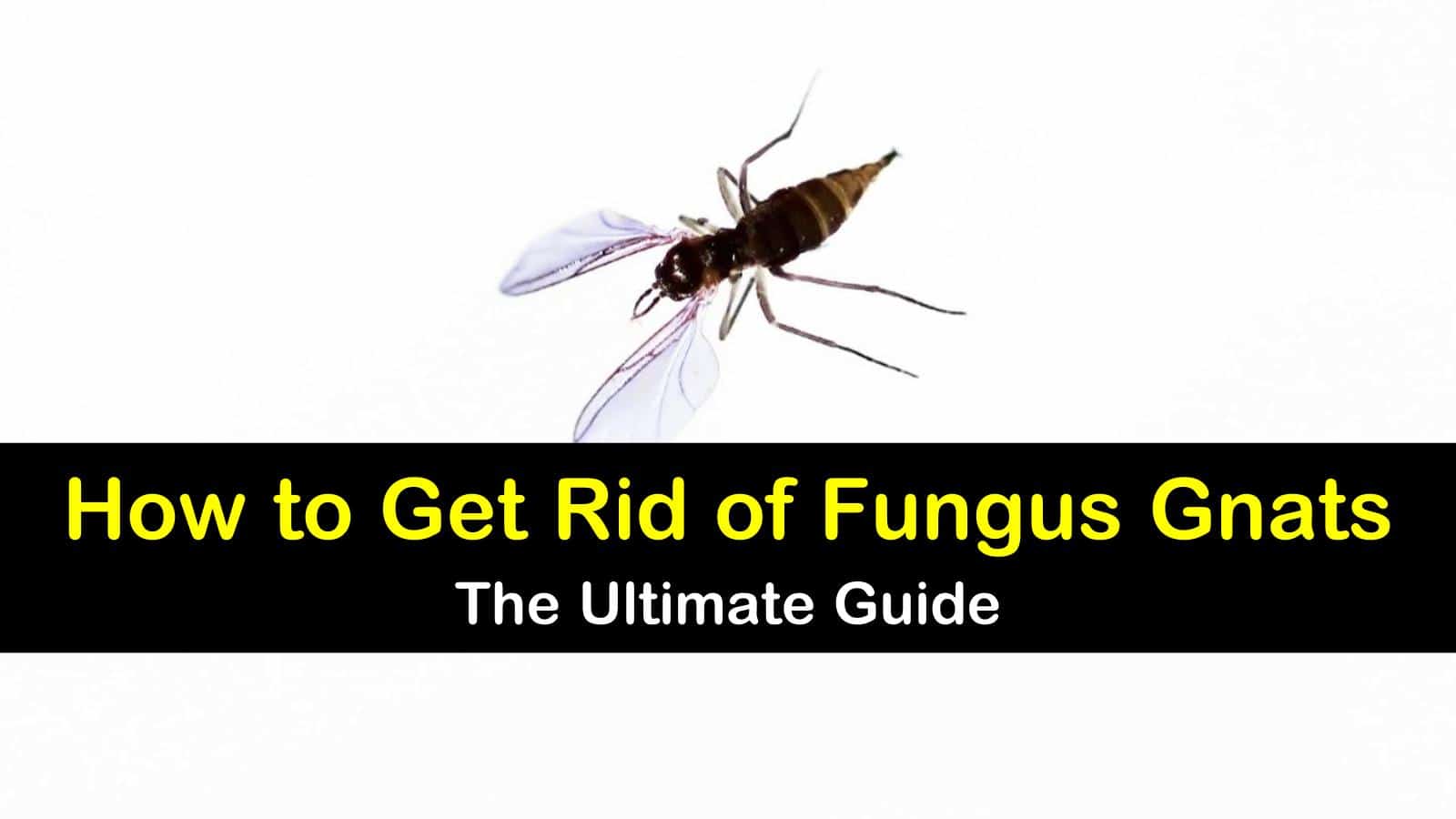 The adult, female fungus gnats will lay up to 300 eggs in the potting soil and other moist organic debris. After three to four days, the tiny fungus gnat larvae appear and feed on the plant roots. When they feed on the roots, it can stress out the plants and open the door to disease.
The first symptom of damage that you'll notice is wilting and a general decline in the health of the plant. Read on to find out how to kill fungus gnats with simple DIY remedies.
How to Control Fungus Gnats
Fungus gnats, thankfully, are nothing more than a tiny annoyance. They are harmless to humans, and the adult gnats won't feed on your plants, unlike many other common houseplant pests, so fungus gnat control is rather straightforward.
They look for moist organic materials, like fir bark and peat moss, which you can find in many potting mixes, and if you tend to overwater your plants, you'll draw them in like flies. If you discover a gnat infestation in your home, you'll want to treat your plants quickly.
How long do gnats live? The fungus gnat life cycle is quick, and they can quickly take over your entire interior plants if they are left untreated. Most of the fungus gnats are female and can lay up to 300 eggs in the crevices of the soil, and the fungus gnat eggs will hatch into larvae within six days.
Once the larvae hatch from their eggs, they will feed on the plant roots, damaging them and making them more susceptible to disease. In less than two weeks, they emerge from the soil as adults and start the cycle over again.
For the best way to learn how to get rid of a gnat infestation,you should know that there are many ways to get rid of gnats that don't require you to spend a ton of money.
Many of the following DIY solutions need nothing more than a few ingredients that you probably already have in your kitchen or bathroom. Continue reading for the best pest control methods for dealing with fungus gnats in your home.
Treat the Soil
Since fungus gnat larvae make their home in moist soil, keeping the soil dry will go a long way in disrupting the fungus gnat life cycle and ridding your home of these flying pests.
When it comes to watering your plants, it is crucial that you make sure not to overwater your potted plants and allow the soil to dry a little between waterings. This is also one of the best ways to treat soil mites and mealybugs, too. Too much water can cause a lot of problems.
If you live in an area that sees a lot of rainfall, or if you have soil that is slow to drain, consider watering less frequently to keep the fungus gnats at bay.
You will also need to continually remove organic debris from the soil, as this is the kind of material that the fungus gnats like to feed on. On a regular basis, rake up dead leaves, grass clippings, flowers, and other debris from your yard and potted plants. After you've cleared any organic waste from the soil, add some diatomaceous earth to the potting soil.
Diatomaceous earth (DE) is a powder that consists of fossilized crustaceans, known as diatoms. The sharp edges of the DE cut into the bodies of insects, causing them to die of dehydration. While this won't help with an adult fungus gnat infestation, it will take care of the larvae, effectively ending their life cycle and getting rid of them for good.
Set Out Yellow Sticky Traps
You can find these sticky traps in the garden center of your local home improvement store or online at various websites. To get rid of adult fungus gnats, place the yellow sticky paper anywhere that you have a gnat problem.
The egg-laying female gnats are attracted to the yellow paper and will land on the traps, becoming stuck. Once the traps are filled with gnats, remove the sticky trap, leaving them unable to get to the moist soil to lay their eggs.
The sticky traps are one of the best ways for how to get rid of fungus gnats in houseplants.
Make an Apple Cider Vinegar Trap
This fungus gnat trap is exceptionally effective at eliminating fungus gnats from the home. Fungus gnats, as well as fruit flies, are attracted to the smell of apple cider vinegar.
To effectively deal with gnats around your houseplants, you can make a simple homemade fungus gnat trap using white vinegar or apple cider vinegar and dish soap.
Place the vinegar in the jar and add the dish soap. Stir the ingredients to combine. Take the lid of the pot and create small holes using a nail and hammer. The holes should be approximately ½ a centimeter in diameter.
Place the top on the pot and set it in an area that fungus gnats have infested. The scent of the apple cider will attract the gnats, and they will enter the jar through the holes in the top.
When they hover over the surface of the liquid, the dish soap will reduce the tension of the solution, and the gnats will drown. This method will also work with any leftover red wine that you might have in place of the apple cider vinegar.
Kill the Larvae with Cinnamon
Along with being useful in adding flavor to meals, cinnamon is also a natural fungicide. To get rid of gnats in plants and kill the fungus gnat larvae, you can sprinkle some cinnamon on the surface of the potting soil of your houseplant or garden beds. The cinnamon will kill the soil gnats.
Use Hydrogen Peroxide to Kill Fungus Gnats
Hydrogen peroxide is an excellent and inexpensive method for killing and adult fungus gnat infestations in the house and garden. Not only is hydrogen peroxide for fungus gnats a natural remedy, but it's safe to use around your family, pets, and garden plants.
The delicate bodies of the fungus gnats are incredibly susceptible to hydrogen peroxide and are instantly killed when they come in contact with the peroxide. You can make your own fungus gnat spray to eliminate these pests from your household plants and garden.
Place the hydrogen peroxide and water into the spray bottle. Replace the lid and gently shake the bottle to combine the ingredients. Allow the top of the potting soil to dry before you begin the treatment. Spray the solution under your plants, over the top of the soil.
Don't worry if the mixture gets on to the leaves of the plants, it's harmless and won't harm them. The fungus gnat larvae will instantly die when they come in contact with the solution. Repeat the process once a day until you don't see any more fungus gnats flying around the plants.
Kill Fungus Gnats with Rubbing Alcohol
You can use a diluted spray of rubbing alcohol to treat a fungus gnat problem. When the gnats come in contact with the rubbing alcohol, they die almost instantaneously.
To address a fungus gnat infestation, add some alcohol and water to a spray bottle, and spray any gnats you see. When the solution makes contact, they will almost immediately die.
Use Citronella Oil as a Fungus Gnat Repellent
Fungus gnats and other species of flies, can't stand the smell of citronella. One way to deter gnats and keep them from swarming around your plants outside is to use a simple citronella oil spray that you can make at home.
Pour the citronella oil, water, and dish soap into the spray bottle. Replace the lid and gently shake to combine the ingredients.
Spray the solution around your home, making sure to spray near your trash cans and plants. This spray is safe to use around your pets and won't kill your plants.
Use Neem Oil to Get Rid of Gnats
Neem oil is an excellent gnat repellant with a bonus of also killing aphids. When gnats and fruit flies ingest a substance that contains neem oil, it works to disrupt their ability to lay eggs, as well as the development of gnat larvae.
This natural neem oil, pest control method is safe enough to use around plants but strong enough to eliminate and destroy the gnat larvae that are killing your plants.
Combine the neem oil and Castile soap and pour it into the spray bottle. Fill the container with the water, replace the top, and shake to mix the ingredients.
Liberally spray around the roots of the plants infested by fungus gnats. This will help to kill off the gnat larvae and the eggs that are under the top layer of soil. To repel the adult gnats and fruit flies, liberally spray the leaves to keep them from destroying the plants.
This neem oil spray is also extremely effective against mosquitoes and will kill spiders too.
Nematodes for Fungus Gnats
You can top dress your houseplants with Steinernema feltiae, or beneficial nematodes to destroy the fungus gnats during their larvae stage. The microscopic roundworms penetrate the fungus gnat larvae, then release a bacterium that works to consume the insect from the inside out. They are safe to use around plants, pets, and your family.
Before adding the nematodes to the soil, make sure you soak the area because, like the fungus gnat, they prefer dark, moist environments. Once you've added the nematodes to the soil of your houseplants, they will get to work feeding on any gnat larvae that they find.
Soil Drench to Kill Fungus Gnats
A soil drench is a chemical pesticide that saturates the soil and kills pathogens and insects like the fungus gnat. Bacillus thuringiensis (Bt) are a naturally occurring soil bacterium, and according to the Colorado State University Extension, it is the only microbial insecticide that is available for everyday use (..).
Different strains of the microbial insecticide kill different insect species. To kill fungus gnats, you need to use bacillus variance israelensis (Bti), also called H-14 strain.
When you apply a Bti soil drench to your plants, it saturates the soil, harmlessly coating the roots of the plant while providing a toxic snack for the fungus gnat larvae.
Natural Pest Fungus Gnat Control with Hypoaspis Miles
Predatory mites, like hypoaspis miles and hypoaspis mites, feed on small, insects that inhabit moist soil, primarily the fungus gnat larvae. If you are into organic gardening, you can release the hyposaspis miles into the soil of your plants before the fungus gnats become well-established.
The mites, like the nematodes, will feed on the fungus gnat larvae, eliminating the problem before you even see an adult fungus gnat take to the skies.
Eliminate Fungus Gnats with Diatomaceous Earth
An effective pest control solution for dealing with fungus gnats is food-grade diatomaceous earth (DE). DE is made from the fossilized skeletons of diatoms.
When the fungus gnat larvae come into contact with the razor-sharp powder, it removes the waxes from the insect's body and absorbs the oils located on their outer cuticle. This causes them to become dehydrated and die. To use DE for your fungus gnat problem, sprinkle some of the powder on the soil around your potted plants.
This will help keep the topsoil dry and kill any larvae that are already in the ground. It is essential to continue to add diatomaceous earth after watering the plants to keep the gnats away.
Essential Oils to Kill Fungus Gnats
Essential oils have long been used to repeal all kinds of insects, including fungus gnats effectively. At the first sign of a gnat infestation, you can add one of the essential oils that has proven to be effective against fungus gnats to your diffuser.
If you want to keep them away while you are outside working in your garden, you can apply a small amount of the recommended essential oils to your skin. Before you do this, however, make sure that you test for allergies by using a small amount to your forearm or wrist.
Use an Insecticidal Soap
If you find you have a gnat infestation in your home, you can head to your local home improvement store to pick up a bottle of insecticidal soap. When you get home, spray the soap over your plants.
The chemicals will kill off the adult gnats but is safe to use around your plants and family. You'll have to continue to use this method until you eliminate all of the adult fungus gnats.
Fungus gnats, while not dangerous, can be an annoying little problem that can quickly get out of control. Luckily, there are many ways that you can deal with the problem and effectively eliminate them from your life.
By using any of the methods outlined above, you can safely get rid of fungus gnats in and around your home.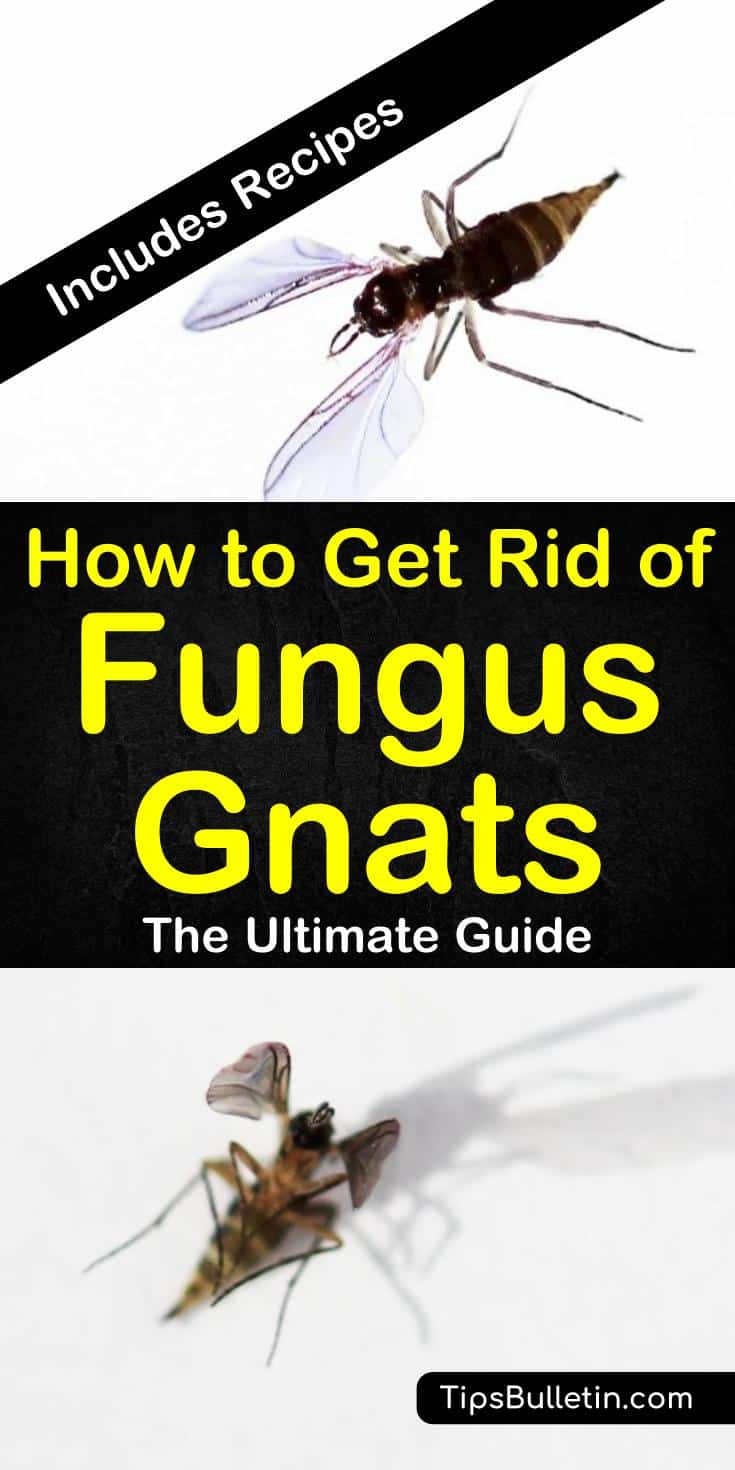 We hope you enjoyed learning how to get rid of fungus gnats with these simple and effective techniques. If you found this fungus gnats information in this article useful, please feel free to share it with everyone you know.