Although they aren't harmful to humans, gnats are especially annoying, especially when they take up residence in the house. The mere existence of these pesky insects in the house can leave you feeling a bit twitchy and contemplating what led them inside, to begin with. The good news is, we've compiled this ultimate guide on how to get rid of gnats.
A common culprit for drawing gnats is rotting fruit, but that isn't the only thing that will make these tiny flying insects find their way inside. Everything from trash bags containing spoiled food, dirty dishes, and damp potting soil will bring these pests into your home.
If you've discovered you have a gnat infestation in your home; there are a handful of cunning tactics and DIY repellents that will work in getting rid of gnats in your house. These clever tricks require nothing more than everyday household products that you probably already have in your refrigerator, pantry, and kitchen cabinets.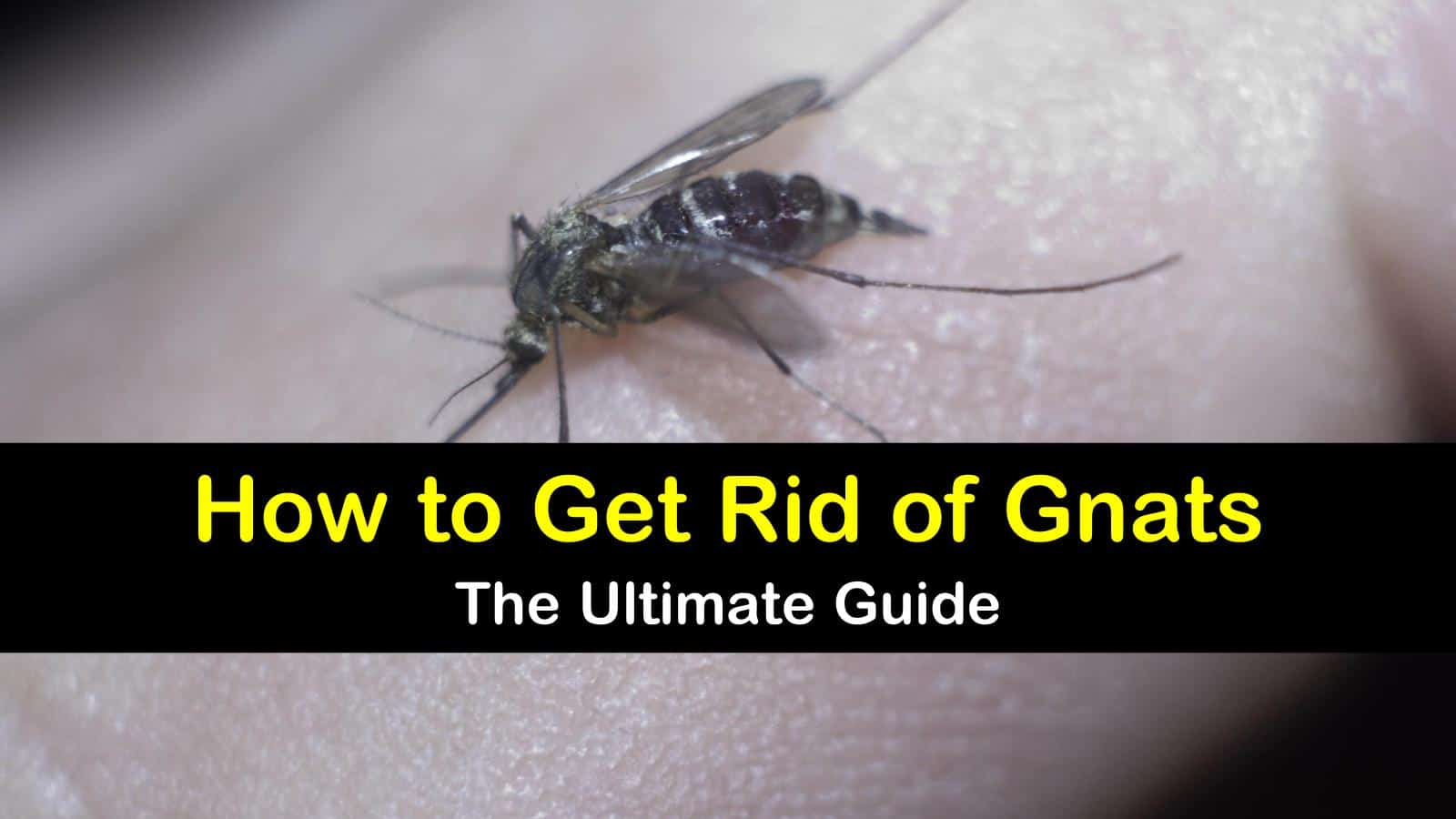 Getting Rid of Gnats
While most species of gnats can't harm you, they can be extremely annoying, leaving you wondering how to get rid of these pesky, flying insects.
Fortunately, there are several clever tactics for getting rid of gnats that require nothing more than a few everyday ingredients that you probably already have in your kitchen. Here are the different strategies you can employ to get rid of gnats in every room of your house.
How to Effectively Eliminate Gnats in the Kitchen
If you have a swarm of gnats hanging around the fruit basket in the kitchen, you can trap gnats through a variety of means. There are numerous types of homemade gnat trap solutions that you can make at home that will quickly get rid of gnats in your kitchen.
If you don't have the time or resources to make a homemade gnat trap, you can opt to use disposable gnat traps or a UV light bug zapper.
Disposable fly traps are great for getting rid of flies fast, and are generally effective against most kinds of flies. These traps contain an attractant in a dormant state that is activated when you fill the trap with water. The attractant starts to emit a strong scent that gnats can't resist. They enter the trap and then can't escape, effectively drowning the gnat.
DIY Gnat Traps
If you want to make a DIY gnat trap, you can use apple cider vinegar, dish soap, and a small container to effectively trap and kill gnats or as a natural fly killer.
Add the cider vinegar to the jar and the liquid dish soap to the liquid. Stir the ingredients, so the dish soap is thoroughly mixed with the vinegar. Take the lid of the jar and make small holes approximately ½ centimeter in diameter.
Place the top on the pot and place it in an area that is infested with gnats. Gnats are attracted to the scent of the apple cider vinegar and will enter the holes in the lid to reach the solution.
When they sit over the surface of the liquid, they will drown because the dish soap reduces the surface tension of the solution. This is also an excellent fruit fly trap if you find you have an infestation of these pesky insects in your kitchen. Use this simple remedy to get rid of fruit flies in your house, office, or any other indoor area.
Gnats are also attracted to red wine. If you happen to have some leftover red wine, you can make an efficient gnat trap to rid your kitchen of gnats.
Pour the leftover red wine into the container or glass. Next, put the dish soap into the glass. Stir the mixture well so that the dish soap thoroughly combines with the red wine. Make small, ½ centimeter holes in the piece of cardboard or plastic wrap and place it over the glass or the container.
As soon as the gnats smell the solution they will enter the pot, and like with the apple cider trap; they will get stuck in the liquid and drown.
How to Eliminate Gnats in the Bathroom
It can be particularly aggravating to have gnats swarming around your sink or tub drains. Unfortunately, apple cider vinegar or red wine won't be enough to handle the problem in this instance.
If you find gnats in bathroom hovering near the surface of the drain, use can use bleach diluted with water to control fungus gnats and drain flies. Combine half a cup of bleach to one gallon of water and pour it down the drain.
Repeat the process as needed until you effectively get rid of the gnats. Make sure that you wear protective gloves and a mask to avoid inhaling the harmful bleach fumes.
Kill Drain Flies with Ammonia
Ammonia is also an active pest control ingredient for fungus gnat control. If the source of your gnat infestation is the bathroom sink or tub drain, pour a cup of ammonia down the drain.
The toxic fumes from the ammonia will damage the breathing tubes of the fungus gnat larvae, as well as killing the adult gnats. Be careful when working with ammonia because it is toxic to humans, always make sure to wear protective gear when working with ammonia.
Pour Olive Oil Down the Sink
If you don't have any vinegar or red wine handy, you can pour vegetable oil or olive oil into your kitchen sink. These oils will create a thick coating around the gnats, making them immobile, and keeping them from being able to feed and reproduce.
While you may need to repeat this process multiple times, it is an extremely effective method for getting rid of gnats and other flying pests.
How to Rid Your Office of Gnats
You can effectively get rid of gnats in the office with the help of a spray bottle, vinegar, and dish soap. All you need to do is fill an empty spray bottle with one tablespoon of vinegar, one cup of water, and a few drops of liquid dish soap.
When you see a gnat flying around your head, spray it in the air with the solution. The dish soap will coat their wings, making them unable to fly. The most significant part of this solution is that it won't harm any of your indoor plants.
How to Get Rid of Gnats Outside
Like mosquitoes, gnats can be extremely challenging to control outside, because the issues may reach beyond your property lines. It can be challenging to repel gnats in the yard if they are flying in from a nearby farm or lake.
You can take the following steps to make your yard a bit less inviting for these pesky flying insects and learn how to get rid of gnats outside.
Keep Rotting Plant Debris to a Minimum
For how to keep chiggers away, as well as gnats, mosquitoes, and spiders, start by keeping your garden free of fungus, mold, and rotting plant debris.
Pay particular attention to any shady areas in your yard that might have poor circulation. If you compost, make sure that you locate your compost pile as far from your house as possible and cover your trash cans.
During the fall, make sure you clean up the fallen leaves and debris quickly. Don't overwater your yard and allow enough time between watering to allow the top layer of soil to dry out for one of the best natural ways to get rid of chiggers, gnats, and other unwelcome insects.
Avoid Standing Water
You can also adjust your garden soil to improve the drainage and make sure that you don't have any standing water in low spots, gutters, and drainage areas. To help moldy layers dry out, occasionally rake or turn sodden mulch over.
Keep Gutters and Drainage Areas Clean
Finally, if your garden or yard has naturally damp regions, dress the soil with an inch or less of sand to help discourage gnats that are looking for moist soil to lay their eggs.
How to Get Rid of Gnats in Plants
In most cases, your houseplants are to blame for a recent infestation of gnats in your home. One sure-fire way to rid your home of gnats is to get rid of your houseplants.
However, this isn't always a popular move since you can gain a tremendous number of benefits from having plants indoors. Here are some practical ways for repelling gnats that don't require you to get rid of your plants.
Use a Garden and Fruit Insect Killer
When gnats are invading your plants, you can head to your local home improvement store and purchase a safe fruit and garden insect killer, as well as a natural repellent for chiggers and other annoying bugs. The only step you have to take is to spray the commercial insecticide over your houseplants.
The chemicals are safe to use around your plants and fruit while eliminating the adult gnats and are sometimes effective for how to get rid of fire ants, as well.
Remove the Top Layer of Soil
Gnats will generally lay their eggs on the top layer of potting mix in your indoor planters. To get rid of this nuisance, take your plants outside and remove an inch of the soil's top layer.
Once you get rid of the top layer of soil, add some more potting mix to the plant if needed and bring them back inside.
Spray Your Windows and Doors with Gnats Spay
Some gnats will leave the comfort of your plants and congregate near your windows and doors. Spray these areas with insect killer to kill the adult gnats and keep them from laying new eggs.
Add Dish Soap to Your Watering Can
When you water your houseplants, add a tablespoon of liquid dishwashing soap to the water. Make sure you stir the liquid to thoroughly combine the ingredients, then water your plants as usual.
The soap in the water will help to get rid of the gnats without harming your plants.
Home Remedies for Getting Rid of Gnats
When dealing with pesky gnats, there are several inexpensive and quick-fire ways to eradicate the pests. From natural repellents to homemade gnat sprays, the following methods will help you kill fungus gnats and keep them away for good.
Vanilla – The Powerful Gnats Repellent
Gnats detest the smell of vanilla. One way to keep gnats from swarming you is to apply homemade vanilla repellent over the exposed areas of your skin.
Take the vanilla extract and add it to the water, stirring to combine. Take the cotton ball and dip it into the vanilla repellent and apply it to a small section of your skin, preferably your forearm, to test for allergic reaction.
If you don't show any signs of an allergy, then apply the mixture to the exposed areas of your skin before venturing outside.
Repelling Gnats with Citronella Oil
One of the few things that gnats and other species of flies hate the most is citronella oil. To deter gnats and keep them from swarming around you and invading your home, and to kill chiggers in the yard, you can prepare a spray using citronella oil.
Mix the water, citronella oil, and dish soap. Pour the mixture into the spray bottle and spray the mixture around your home. Make sure you spray near your garbage cans and plants.
This spray will not only kill gnats, but it is safe to use around your pets and won't kill your plants.
Diluted Rubbing Alcohol Spray
When gnats come into contact with a mixture of diluted rubbing alcohol, they quickly die. Add some rubbing alcohol and water to a spray bottle and spray any gnats that you see. When the mixture makes contact, they will die almost instantaneously.
Lemon Oil
When you have gnats invading your home and kitchen, lemon oil is one of the best essential oils to keep spiders and gnats away, and it leaves your house smelling citrusy fresh.
This is one of the easiest methods for repelling gnats because all you have to do is add the essential oil to your diffuser and turn it on. The continuous mist released from the diffuser will both deter gnats and leave your house smelling fresh.
Essential oils, like lemon, have been effectively used for years to repel all kinds of insects. At the first sign of a gnat problem, add one of the essential oils that have been proven effective for repelling gnats to your diffuser and watch as they quickly disappear.
Non-DEET Gnat Repellent Spray
This revolutionary anti-gnat spray is made entirely from natural ingredients. It's safe to use on kids, and you won't have to worry about rashes, itching, or the unpleasant smell that accompanies repellents that contain DEET.
Not only does it repel gnats, but it also takes care of mosquitoes, ticks, chiggers, fire ants, fleas, and sand flies. The active ingredient in the spray is Geraniol, which is twice as potent as DEET and approved by the FDA.
If you need to get rid of chiggers in your house, use another method like diatomaceous earth or DE.
Diatomaceous Earth
Food-grade diatomaceous earth is a significant pest control solution for not only dealing with gnats but for dealing with a whole host of other insects. Diatomaceous earth is composed of fossilized skeletons of diatoms.
It works by removing the waxes from the insect's body and absorbing the oils from their outer cuticle, effectively killing them through dehydration. To use diatomaceous earth on fungus gnats, sprinkle some of the material on your potted plants to help keep the topsoil dry and kill any larvae in the soil or gnats that might land on the plant.
Every time you water the plant, make sure to add more diatomaceous earth to the soil to keep the gnats at bay.
How to Keep Gnats Away
There is very little that is more annoying than a swarm of gnats congregating around your house. The best method to keep you from having gnat problems is to keep them from coming into your home in the first place. There are several solutions that you can employ to prevent gnats from getting into your home.
Keeping areas in and around your house clean will reduce the chances of attracting gnats. Don't allow food and drinks to sit out. If you spill something, clean it up immediately and make sure you are using a sealed trash can.
You also want to remove moisture from areas around your home, since this not only attracts the gnats in the first place, but moisture also creates the perfect environment for them to breed.
Take some time to walk around your house and note potential problem areas like pet bowls, bird baths, rain gutters, and low spots in your yard. If you have a plumbing leak, get it repaired quickly.
How to Kill Fungus Gnats
There are numerous ways to kill fungus gnats before they become a significant problem. You can use homemade drenches, cultural controls, bacterial insecticides, predatory nematodes, or any of the homemade gnat repellent sprays mentioned previously.
Homemade Dish Soap Methods
You can effectively treat gnat infestations and deal with a variety of pests with a homemade insecticidal dish soap spray. These kinds of sprays won't hurt the beneficial insects in your garden, like ladybugs and bees, but will effectively eliminate pesky fungus gnats and other harmful insects.
Researchers theorize that liquid dish soaps remove the waxes that coat the insects and cause them to dry out, effectively dying from dehydration.
To use dish soap to get rid of fungus gnats, combine two tablespoons of liquid dish soap with one quart of water. Add the mixture to a spray bottle and spray the solution over your plants.
You may want to test the solution on an inconspicuous leaf to ensure that it won't damage the plant. If the spray causes damage, you can adjust the formula by mixing one tablespoon of dish soap with one quart of water.
Castile soap and other all-natural soaps contain fatty acids, which are the active ingredient in most insecticidal soaps. Pour the ingredients in an empty spray bottle and vigorously shake to combine the ingredients. Spray the plant and the soil with the solution to eliminate fungus gnats.
Some plants are sensitive to soap solutions, so always test the solution on an inconspicuous leaf and wait 24 hours before applying the solution to the rest of the plant.
Kill Fungus Gnats with Hydrogen Peroxide
When they come into contact with hydrogen peroxide, fungus gnats will die. To use hydrogen peroxide to kill the fungus gnats, mix one cup of 3% hydrogen peroxide, with three cups of water.
Water your plants with the mixture. When the hydrogen peroxide makes contact, it will kill the gnat larvae and eggs without damaging your plants.
Cultural Controls
The easiest way to eliminate fungus gnats around your plants is to allow the top one to two inches of soil to dry out before you water the plants. If the ground tends to stay wet for long periods, you may want to consider repotting the plant with the fresh potting mix.
Start by removing any decaying or dead bulbs, roots, or other organic material before replanting in a new pot. Add new potting soil to the pot to fill in around the root ball and gently tamp the soil down.
Once the plant has been re-potted, thoroughly water it and allow the soil to completely dry before you water it again.
Biological Controls
Steinernema feltiae or predatory nematodes will feed on the larvae of fungus gnats and a variety of other insects. Before adding the microscopic worms to the soil, make sure to soak the area because nematodes prefer dark, moist environments.
After the nematodes are added to the earth, they will feed on any larvae they find. You can also add the beneficial bacteria Bacillus thuringiensis, or Bti, to the soil. Bti is exceptionally effective against fungus gnats and other fly species.
Physical Barrier
You can also create a physical barrier that will prevent fungus gnats from being able to access the soil. Gnat nix has been scientifically proven to be effective in creating a physical barrier between the soil and the gnats. The product is made from 100 percent recycled glass and is non-toxic making it safe to use around your house.
Covering the ground with just a ½ of an inch of the Gnat nix will prevent the gnat eggs from hatching, will keep the larvae from growing, and deter female gnats from laying their eggs.
There is no doubt about it; gnats are annoying pests that everyone could do without. If you find your house has become infested with these flying insects, there are plenty of non-toxic and inexpensive ways you can deal with them.
Let's look into what gnats are and why they seem to attract gnats to your home.
What are Gnats?
Many people are under the belief that gnats are the immature stage of flies. However, in reality, they are tiny adult flying insects in the Diptera order. The Diptera order also includes mosquitos, midges, black flies, and crane flies. Due to their small size, the gnat is commonly referred to as the "no-see-ums."
Gnats are considered "true" insects based on their anatomy. They have three body segments that include the head, the thorax, and the abdomen, as well as six legs, and either a single or double pair of wings. Most types of gnats have long legs compared to the size of their body, and while most have wings, they aren't great fliers.
Gnats also have different mouthparts that fall into one of three categories. They are either sucking, piercing, or lapping. Some of the species are biting gnats that feed on blood, while others will feed on plants and other insects.
Types of Gnats
Many different kinds of gnats can invade your home. However, there are only a few varieties that make their home in the United States and that are common invaders of homes.
Fungus Gnats
Fungus gnats, also known as winter gnats or soil gnats. These kinds of gnats, as the name suggests, are linked to microscopic fungi and are one of the more common household pests. Fungus gnats thrive in damp environments that contain decaying matter where fungi can grow.
You will typically find winter gnats in places where the humidity levels are high. They are commonly found in ordinary houseplants where the potting soil is overwatered, or around potted plants where the water can't properly drain. The moist soil creates an extremely favorable environment for the gnats to feed on decaying matter and thrive. Leaky roofs and plumbing leaks can also cause breeding sources.
Drain Flies
Drain flies are also known as the moth fly. These small flies are less than one-fourth of an inch in length and appear to be furry because of their hairy bodies and wings.
Adult drain flies have long antennae and broad, leaf-shaped wings and are typically found in kitchens, bathrooms, and other damp environments. These pests are aptly named because they lay their eggs in drains, so their larvae can feed on the bacteria inside the pipes once they hatch.
Midges, both biting and non-biting
Midges are a flying insect that closely resembles the mosquito. The main difference between the two is that the midges have a much shorter snout. Their wings also differ from those of mosquitoes, in that the female midges wings are feathered and the males are bushy.
They have soft bodies and range in length from a tiny one-thirty-second of an inch to one inch. You usually find midges in large swarms around lakes, ponds, and slow-moving streams. They are attracted to light and like to congregate around streetlights and porch lights.
Sand Flies
Depending on the species, sand flies can be golden, gray, or brown. They are tiny flying insects, only measuring approximately one-sixteenth of an inch in length. However, even with their small size, the bite of these flies feels more like a sting and pack a painful punch.
Sand flies are native to subtropical and tropical regions. The female sand flies have piercing mouthparts and feed on the blood of humans and other mammals. The United States is home to six different species of gnats, none of which are known to transmit disease. However, in other parts of the world, sand flies have been known to spread the sandfly fever virus to its unsuspecting prey. Fortunately, this virus is very rarely fatal.
Eye Gnats
Eye gnats are known by many different names, including eye flies and grass flies, and they belong to the Chloropidae family of flies. They are very tiny flies and are attracted to the fluids that humans and animals secret from the nose, eyes, and ears.
They are known to transmit eye diseases and conditions like pink eye. They can thrive in a variety of environments but prefer to live in areas with loose sandy soil.
Buffalo Gnats
Buffalo gnats, also known as black flies, are named so due to their humpbacked appearance. They are only one-eighth of an inch in size, and you can usually find them in late spring and early summer.
To fulfill their protein needs so they can produce eggs, female buffalo gnats are known to swarm around birds, humans, and other animals and bite them. Male buffalo gnats feed on nectar and don't typically bite. They are mostly found near streams and lakes because they prefer the clean, fast-running water in which to lay their eggs.
Life Cycle of a Gnat
Gnats have a relatively short life cycle but reproduce regularly. From egg to adult, gnats only live for about four weeks, but each female can lay up to 300 eggs.
They like to lay their eggs in areas with moist soil, which hatch into larvae after just a few days of incubating in the warm temperatures. The larvae stages last about ten days, after which they will enter into a pupal stage, and then metamorphosis into winged adults within a week.
The adults can live up to ten days more and may produce up to 300 eggs before they die.
Do Gnats Bite?
Yes, several species of gnats will bite humans. However, it is only the females of these species that will bite; the males only feed on flower nectar and other plant juices. The females bite mammals because they need a blood meal in order to reproduce effectively.
For them to create eggs, they need a good amount of protein, and to fulfill this requirement, they will bite both humans and cattle. Fortunately, most biting gnats won't transmit diseases.
Gnat Bite Symptoms
A gnat bite can be extremely painful and can cause the skin around the bite to swell and itch for several days. The area where you've been bitten will become red and may cause skin irritation or a burning sensation around the bite.
Unfortunately, you may also experience fever for several hours after being bitten, and less than two percent of people may find it difficult to breathe or may break out in hives.
Treating Gnat Bites
The most important step that you can take if a gnat has bitten you is to disinfect the area. Use soap and water to clean the area or use alcohol or vinegar based disinfectant. To ensure that the wound heals quickly without further complications, you can apply an antiseptic to the area with a cotton swab.
If the bite starts to itch, then you can apply an anti-itch product or pain reliever, depending on the severity of the pain you are experiencing. Whatever you do, try not to itch the wound to avoid introducing bacteria to the area.
How to Protect Yourself from Gnat Bites
If you find yourself getting bitten by gnats, there are several ways you can prevent these pesky insects from taking a bit out of you. Start by wearing long-sleeved shirts, long pants, and try to leave as little of your skin exposed.
If you are planning on being outside for a while, apply DEET repellents and stay inside during dusk when biting gnats are most active. If you are sitting on your porch or in your yard, use a table fan to keep the gnats from invading your space.
Finally, avoid wearing cologne, perfume, and other scented lotions as these will attract both sand gnats and other pests.
Difference Between Fruit Flies and Gnats
Both fungus gnats and fruit flies are common household pests that can be a nuisance to homeowners. They also cause many of the same problems, making it easy for homeowners to misidentify them.
While these flying pests have very similar habits and look alike, they are entirely different.
Appearance
Both gnats and fruit flies are common nuisance insects that are often confused for one another because it can be difficult to tell them apart.
In the fruit flies vs. gnats debate, gnats are typically one-sixteenth of an inch long and are glossy black and have long legs that are noticeable when they are flying and have segmented antennae that are longer than their heads and wings. Fruit flies, on the other hand, are typically brown-orange or beige and have bright red eyes and black tails.
Family
Both fruit flies and gnats belong to the insect order Diptera, which are considered the true flies. However, they belong to distinct families within the Diptera order.
The common fruit fly falls under two families, the Drosophila, and the Tephritidae. The smaller fruit flies belong to the Drosophilidae, while the larger and more colorful fruit flies belong in the Tephritidae family.
Gnats, on the other hand, belong in the suborder Nematocera and are usually separated into the families, Mycetophilidae, Sciaridae, and Anisopodidae.
Habitat
You can find fruit flies all over the world. Since they are attracted to ripening fruit, you will typically find them in the kitchen, restaurants, and anywhere else you might find fruit.
Female fruit flies lay their eggs on decaying fruits and vegetables so that the larvae have food when they emerge. You can typically find fruit flies in tropical rainforests, desert, cities, swamps, and alpine zones; however, there are more species found in tropical regions than any other climate.
You will find gnats in damp and moist places like the forest, swamps, and meadows where they thrive in the foliage and flowerpots. Gnats also like to congregate around large bodies of water so they can absorb the carbon dioxide released by the algae. They tend to fly together in large flocks, known as ghosts. Female gnats lay their eggs in the soil and will begin to consume any food source within reach.
Life Cycle
Female gnats will generally lay about 200 eggs, with approximately 90 percent of them being female. Within a week the gnat eggs will hatch, and the larvae will start to emerge and feed on fungi, decaying organic matter and animal feces.
About a week later, they will metamorphose into pupae, before developing into adult gnats about a week later. After this, they typically last for another week, when the females mate and once again lay their eggs.
Fruit flies will live for approximately 30 days, but if the conditions are right, they can live up to three months. Female fruit flies will lay up to 400 eggs, which hatch within 15 hours. The larvae take four days to grow and feed on microorganisms the decompose the fruit along with the sugar found in the fruit.
After four days, the larvae metamorphose into pupae for another four days. Then they emerge again into adult fruit flies. Within 12 hours of appearing, the females will start laying eggs starting the cycle over again.
How to Effectively Get Rid of Fruit Flies and Gnats
When interacting with humans, both the gnats and the fruit flies are considered pests. Unlike fruit flies, gnats can bite humans; however, their bites aren't harmful. The good news is that both gnats and fruit flies seem to respond to the same methods when it comes to how to get rid of gnats and fruit flies.
Conventional methods for how to get rid of fruit flies fast include, trapping them in a jar of apple cider vinegar and dish soap, pouring leftover red wine in a pot to catch them, and pouring bleach down the bathroom and kitchen sink.
To prevent a gnat infestation be sure to clean dirty dishes, taking out the garbage often, changing out potting soil, and drying damp areas in the house.
What Attracts Gnats?
It doesn't matter what type of gnat is flying around you; one thing's for sure, they are annoying pests. While many small, flying insects are characterized as gnats, many of them, like the fungus gnat, buffalo gnat, and black gnats, are in actuality small flies.
The common flies that are considered gnats are phorid flies, fruit flies, and sand flies. Regardless of the name you give them, they always tend to show up when you least expect it.
Scent
The majority of the various gnat species and flies are attracted to certain smells, like fruit and other sweet scents. Many of the personal hygiene and skin care products that you use contain flowery and fruit scents that will draw these tiny pests to you.
Also, the various scents of laundry detergents and other additives on your clothing could bring them your way.
Moisture
Body heat and humidity will also play a role in attracting gnats. Outside, your yard contains various items that will entice gnats and flies to stick around your home.
If you have fruit trees, flower gardens or a vegetable garden, you are providing a source of food and moisture for the gnats. When you overwater your lawn or flower garden, not only are you providing the gnats with the moisture they are looking for.
Overwatering will also create the molds and fungus that are the primary food source for several kinds of flying insects like the fungus gnat.
Organic Matter
The fruits and vegetables that you have in your home could also be the source of a fungus gnat infestation. Your indoor plants and fresh flowers can also be the source of your gnat problem.
The fungus gnat and others will live in and reproduce in the soil of your potted plants, especially if they have a high moisture content. Spilled food, garbage cans that aren't sealed, and a sink drain that isn't cleaned regularly provides them with water, food, and shelter and are a common breeding site for many different kinds of flying insects.
Where Do Gnats Come from?
You will find gnats in all sorts of places, but the particular species will depend on the location and the source. Fungus gnats, which is one of the most common types that homeowners have to deal with, are found near the plants around your home.
They congregate around your houseplants because they are the best place for this particular species of gnats to reproduce because they lay their eggs in the moist soil surface. They like to feed on the fungus and decaying organic matter.
Non-biting midges typically come from freshwater sources and damp soil. This gnat species loves moisture because it can feed off most kinds of vegetation that grow in bodies of water, like algae. While these gnats are incredibly irritating, they won't bite.
Unfortunately, if you have decomposing plants, sand or mud near your home, you may have to deal with biting midges. The female biting midges look for blood meals to consume enough protein for reproduction.
If you find gnats in the house, they probably made their way into your home through gaps around your windows and doors, through the small holes in your window screens, or openings around where the utility lines enter your house. Once they find their way inside the home, they will seek out food, water, and shelter.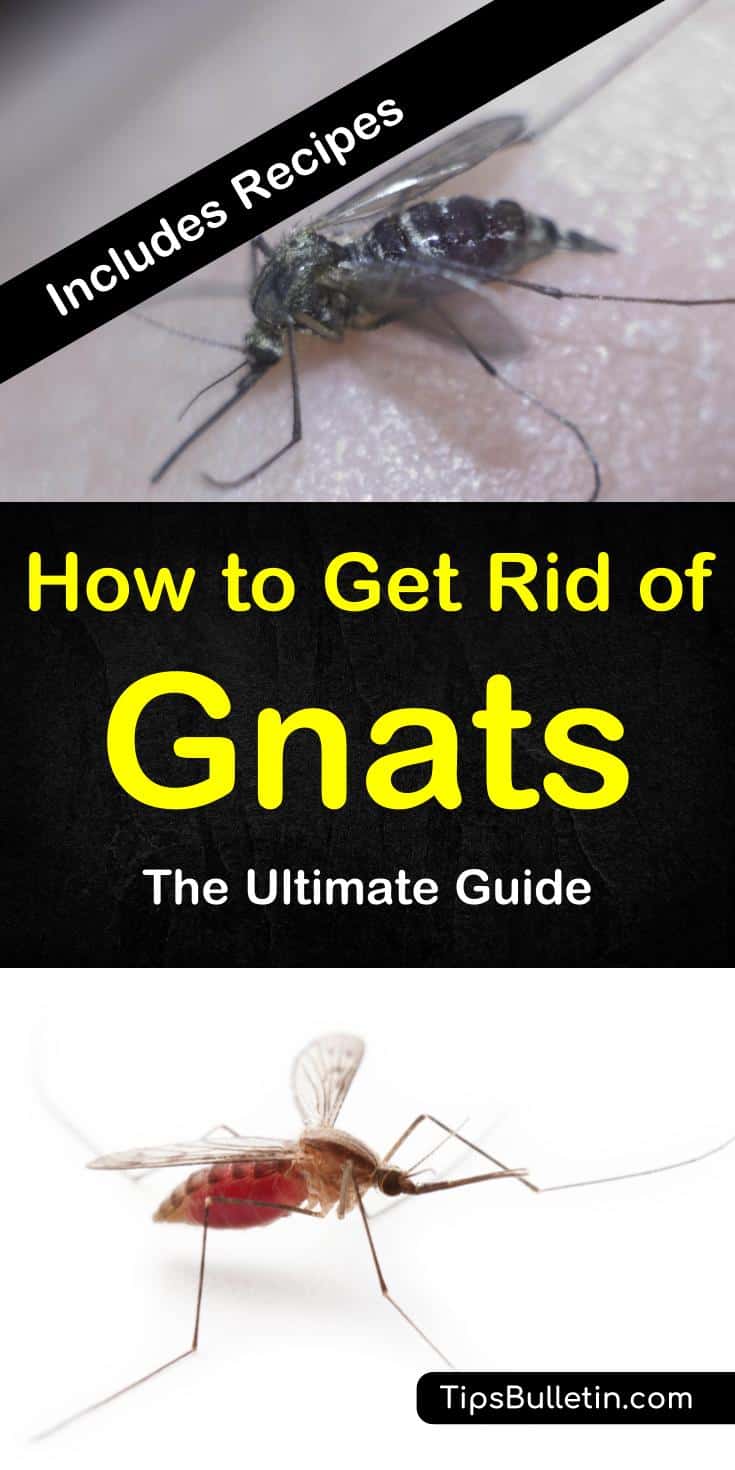 We hope this ultimate guide to gnats will help you identify the particular species you are dealing with and provide you with practical measures for getting rid of these pesky, flying insects. If you enjoyed the information you found in this article and found it useful, please feel free to share it with everyone you know.