While bees, in general, are unpleasant to contend with, ground bees are particularly tricky, especially if there is an entire colony. Many times, you don't even know they are there until you step on one. Discover how to get rid of ground bees safely and effectively.
The Andrenidae, or miner bee, does not form a bee hive. Ground nesting bees, or Hymenoptera, are a species of bee that creates underground galleries with the nest entrance concealed as patches of bare soil. While the nest entrance is noticeable in a well-tended lawn, they do not harm the soil or grass.
Unlike hornets and yellow jackets, the varying types of ground bees are pollinators. The ground queen bee is considered docile and generally does not sting. While the males may appear aggressive, they lack the stingers that female ground bees have.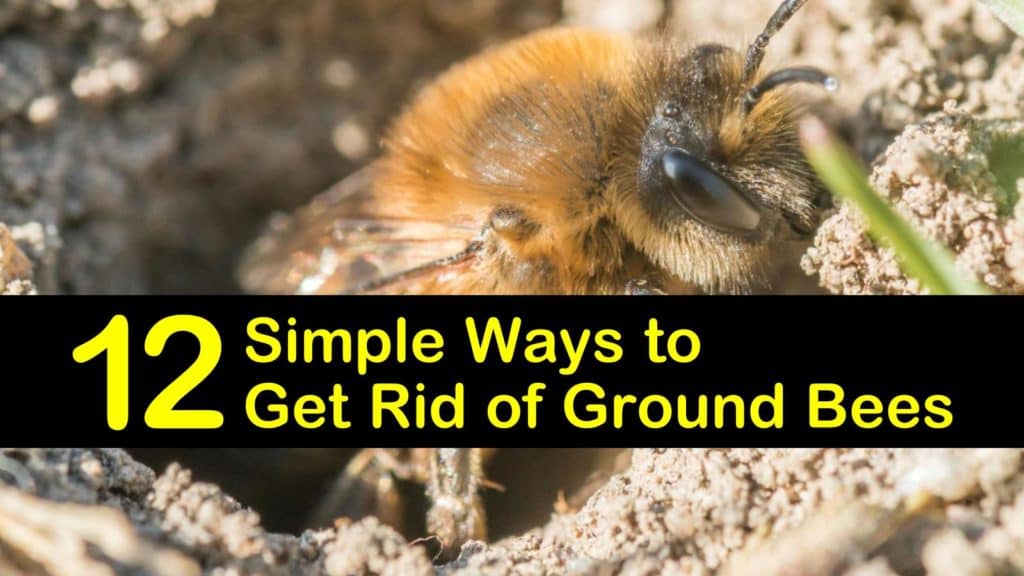 Getting Rid of Ground Bees
While ground bees are not honey bees, they are pollination bees, which makes them a beneficial insect. However, if you feel it's necessary to remove mining bees from your lawn, we have several safe and simple solutions for you without calling in an exterminator.
What to Look for Before Killing Ground Bees
Before determining what kills ground bees, it's wise to know a little bit about them. With more than 20,000 species of bees and 70% of these bees making nests in the ground, it gets difficult to tell them apart.
Identifying Ground Bees
It's common to notice that you have ground bees in the early spring when they become active, and you're doing yard work. You spot them hovering about close to the ground, and if you observe, you can see them entering the underground burrows.
Common ground bees have a similar appearance to the European honeybee with their gold and black striped, hairy body. Other ground bee types have a more vibrant and colorful range, including metallic green. These types of bees include sweat bees, bumblebees, digger bees, carpenter bees, mining bees, and certain leafcutter bees.
Ground bees are solitary insects, with the female bee living alone to raise her offspring in the ground bee nests. Many times, they use their nest for a period of four to six weeks in the spring before moving to a new location.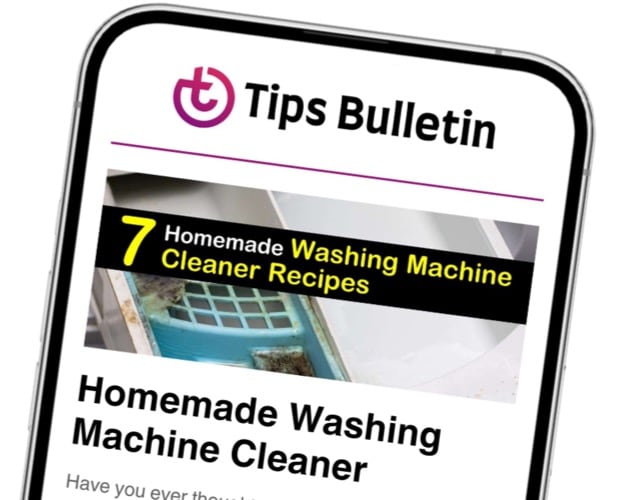 Finally, an email that Transforms Your Home.
Get the latest home and garden tips from our experts, delivered straight to your inbox.
Get Rid of Bees with Natural Ingredients
If you'd rather use insecticides to kill ground bees than homemade remedies, there are a variety of natural and organic pesticides on the market that are better for the environment than using harsh chemicals. Instead of laying insecticide dust, try using a natural ingredient to repel them without killing them.
Bees are not fond of cucumbers and the smell of garlic and find other locations to make nests if you use these items in your yard. As soon as you notice an area in the lawn where bees are entering the ground, sprinkle a decent layer of ground garlic powder around the vicinity of the nest entrance.
Rather than throw away your cucumber peels, place them in your yard to repel ground bees. The same applies to your used coffee grounds. Use coffee grounds for gardens and plants to keep bees away and fertilize the soil at the same time.
How to Get Rid of Ground Bees with Traps
Getting rid of ground bees by trapping them is one of the easiest ways to eliminate them, and you probably have items around your yard that do the trick. It's also an eco-friendly way to eradicate bees.
Trapping Ground Bees
Once you discover the location of the bees nest, fill the burrow with soil or concrete, or cover the entrance with a heavy brick, or landscaping stone. Almost any heavy, solid material is suitable for trapping the bees.
Use a Minty Spray to Kill Ground Bees
Bees do not like peppermint, and soapy water makes them unable to fly while suffocating them. Eliminate an underground bees nest with a natural soap and peppermint spray. This solution kills just about any insect it contacts.
Combine the water and Castile peppermint soap in a saucepan and bring to a boil. Allow the mixture to cool before pouring it into a spray bottle.
Spray or pour the minty solution directly into the entrance of the ground bee nest to saturate it. This spray also works when sprayed directly onto the bee.
How to Get Rid of Ground Bees with Vinegar
White vinegar is a natural bee deterrent and killer. The acidic liquid dries out their exoskeleton and drives them out of their nest. This solution is also great for killing many other insect pests in the yard, like gnats on plants and slugs or mosquitoes in the area.
Fill a bottle sprayer with equal parts white vinegar and water and shake well to mix. If you plan on using the solution more than once, make sure to label it.
Spray the vinegar solution in and around the nest. This spray may anger the bees, so wear protective clothing and spray the nest at night to prevent bee stings from female bees.
Vinegar has numerous uses in the garden. It works to eliminate aphid infestations, serves as a grubworm treatment, and is one of the best home remedies for fungus gnats that may have invaded the soil of container plants.
Zapping Away Ground Bees
Insect zappers are an excellent tool if you desire a hands-off approach to kill ground bees and many other flying insects.
Ground Bee Zapper
Bee zappers are large sheets of metal wiring and mesh with a light source encased within them. Hang zappers strategically around the perimeter of your yard to electrocute any bees and flying insects that come its way. Note that zappers do not discriminate so you may end up destroying beneficial creatures, too, like butterflies and moths.
Making a Soda Bottle Trap to Eliminate Ground Bees
Bottle traps attract ground bees to them with sweet liquid. It draws bees to the solution where they become trapped and eventually drown. These traps are also excellent home remedies for wasps.
Cut the top portion off of a plastic soda bottle and set it aside. Pour fruit juice or sweet soda into the bottom part of the bottle and replace the top in an upside-down position to create a funnel. Set the bottle trap near the vicinity of the ground bee nest.
Watering Your Lawn to Force Ground Bees to Move
Ground bees love living in their underground nest when the soil is dry. That's why you generally find their nests in outer edges of gardens where the dirt gets less water. Encourage bees to find a new home by making their current one wet.
Spray the dry soil regularly to keep the ground moist. Once the ground bees evacuate, place layers of mulch in areas around the garden that tend to dry out quickly or plant more vegetation.
Make a DIY Ground Bee Spray
While bees have an affinity to certain scents from flowers and fruits, they also hate specific scents and steer away from them. Use these scents to drive ground bees from your yard naturally. As a bonus, keep a bottle of this remedy as a way to repel yellow jackets from your deck or patio when you are outside.
Pour baby shampoo into a spray bottle and add one drop each of peppermint, tea tree, and cinnamon oil to the soap. Swirl the bottle gently to mix and spray the solution around the bee infested area.
Use dish soap as a substitute if you do not have baby shampoo. The soap helps the oils to stick longer, providing an unpleasant smell for the bees.
Using Plants to Deter Ground Bees
Just as ground bees are attracted to pollinating flowers by their floral scent, they are also repelled by the smell that other plants produce naturally. Planting these around your yard keeps bees at bay.
Ground Bee Deterrent Plants and Shrubs
Begin by ensuring that your lawn is thick and full of healthy grass to make burrowing more difficult for bees. Plant peppermint, eucalyptus, basil, geraniums, marigolds, wormwood, and pitcher plants around the vicinity of your lawn to force ground bees to choose another location for their home.
Repelling Ground Bees with Cinnamon
Cinnamon is another scent that ground bees cannot stand, and they avoid nesting areas that are anywhere near it. This common spice is an excellent way of getting rid of wasps naturally. It's a straightforward cure to repel bees, and you probably have some in your spice cabinet.
Cinnamon Bee Repellent
Once you find the location of the ground bee nest, sprinkle a generous amount of ground cinnamon over and around the nest entrance. Reapply after each rainfall until the bees vacate the area. If you do not have any cinnamon powder, place cinnamon sticks around the bee nest.
Using Moth Balls to Drive away Ground Bees
Mothballs contain a strong pesticide that drives away and kills many insects, including bees. Here is a smart way to utilize them to drive away large numbers of ground bees without calling in a pest control company
Place several mothballs into a fine mesh bag. Find the location of the ground bee nest and push the stake end of a garden plant hanger into the ground beside it.
Tie the mesh bag to the hook portion of the plant hanger so that it is hanging directly over the underground nest. The smell of mothballs over their nest quickly drives them to look for another home.
While ground bees are not a threat to your lawn, or you and your family, knowing how to remove a bee problem safely from your yard using easy pest control solutions puts your mind at ease when it comes to stinging insects. The first step is to understand the difference between digger bees and other bee types.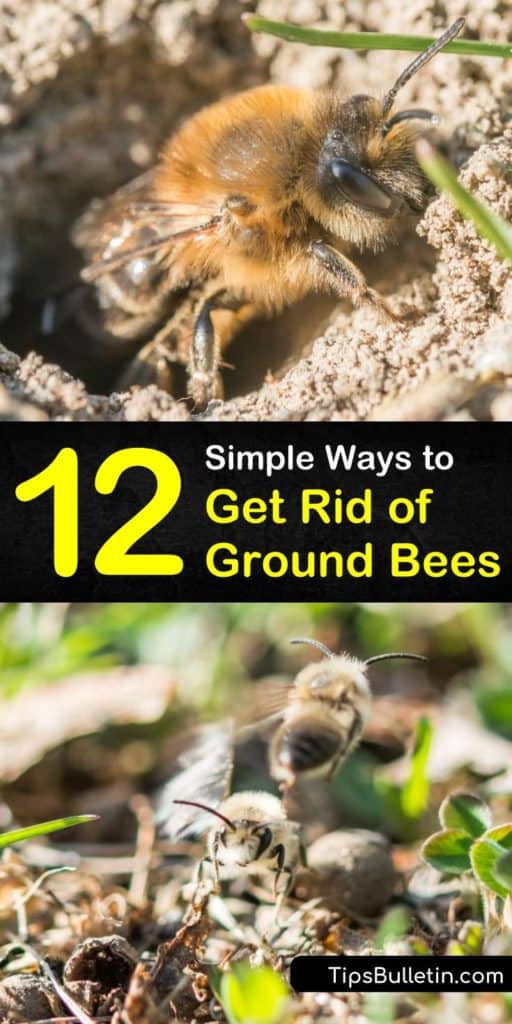 Now that you know how to get rid of ground bees in your yard effectively, why not share our ground bee removal tips with your friends and family on Facebook and Pinterest?