The first thought that comes to mind when thinking about a wasp or hornets nest is an ugly, papery nest hanging in a tree, but most ground hornet nests hide underground. If you notice a flurry of hornet activity around your home but cannot locate the nest, it's probably in your lawn. Discover how to get rid of ground hornets using a variety of solutions and techniques.
A hornets ground nest is not as obvious as a traditional yellow jacket nest hanging in your home's eaves. Stumbling upon one of these hidden nests while mowing your lawn is quite alarming. The aggressive insects hide their nests in old rodent burrows, shrubs, rotting wood, and other secret spaces.
The simplest way to get rid of wasps and remove a hornet nest is to call pest control, especially if you are allergic to bees. However, there are many ways to take care of a bee problem yourself if you don't have any issues with stinging insects.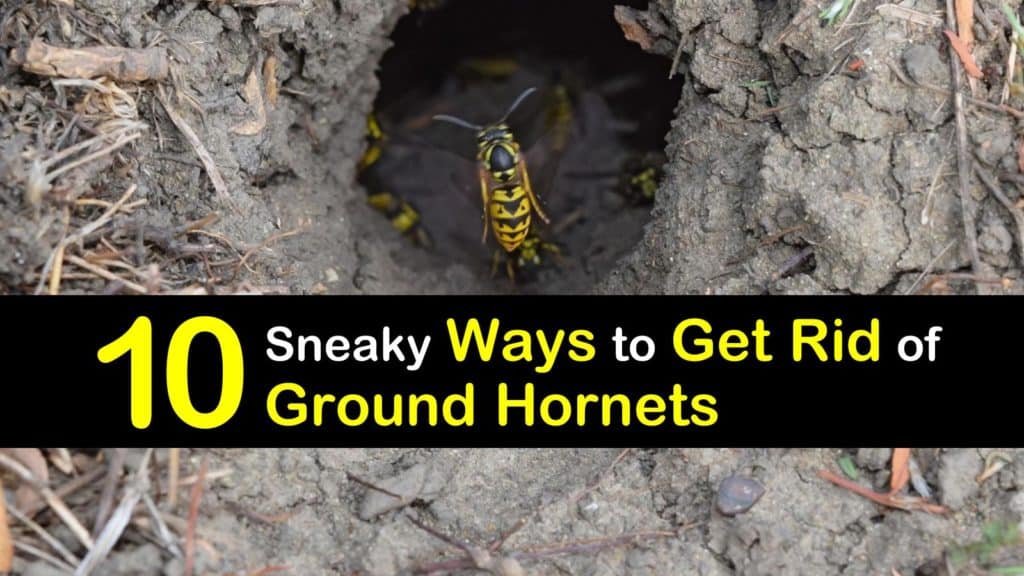 Finding and Eliminating Ground Hornets
Getting rid of yard bees is relatively simple as long as you take the proper precautions. Begin by finding their nesting sites and then determine which types of wasps or hornets are infesting your yard.
It's important to know whether you have a carpenter bee problem, yellow jackets, hornets, or wasps so you can treat them effectively.
How to Tell if You Have Ground Nesting Hornets
There are several things to understand before getting rid of ground nesting hornets. Are they hornets or another type of stinging insect? Where do they nest, and what does their hive look like? These common questions have uncomplicated answers.
Ground Hornet Identification
Ground hornets, or cicada killers, are the largest species of ground wasps, growing up to two inches in length. They have black and yellow bodies, similar to yellow jackets, but tend to be more solitary.
There are a few signs to look for if you suspect you have a ground nest in the yard. Check for nesting spots in sunny areas near trees, and pay attention to areas of dry soil. They do not like the wet ground and prefer constructing with dry earth.
Watch your yard on a sunny day for hornet activity. They are easy to spot going to and from their nest. Look for small holes in the dirt with grainy piles of soil nearby.
They sometimes build new nests in wall voids, shrubs, and trees, so watch for activity around those areas.
Kill Ground Hornets with Soapy Water
One of the simplest ways to kill ground hornets is with a solution of soapy water. Soap is a surfactant that helps the water seep into the exoskeleton of bees, causing them to drown. This simple mixture kills bees without leaving behind harmful insecticidal residue.
To make this homemade organic wasp killer, pour hot water and dish soap into a large bucket and agitate the solution to form suds. Put on protective clothing such as pants, long sleeves, gloves, and a hat and carefully approach the nest.
Pour the soapy water directly into the wasp nest and return to your home immediately. Keep an eye on the nest for a couple of days. If you still notice activity, consider using an alternative method.
You may wonder about adding vinegar to this mixture to see if it will help. Does vinegar kill hornets? Pouring vinegar into the soapy water can ensure that hornets do not return to the nest if any escape as they don't like the smell.
Use this same tactic to get rid of carpenter bees that may be boring holes in exposed wood. Spraying the mixture in the holes deters the bees and encourages them to nest elsewhere.
Killing Ground Hornets with Bait Kits
If you do not have time to create a homemade bee-killing contraption, get rid of a hornets nest using commercial products.
Hornets are meat-eaters with an appetite for anything from beneficial insects to your picnic hamburger. There are a variety of hornet bait kits on the market, and many of them are non-toxic.
Use this technique from spring to late summer when hornets crave protein. Follow the instructions on your bait kit and wear protective clothing while setting the trap.
Arrange the bait station, mix the required amount of insecticide with the meat of your choice, but keep the ribeye for yourself. Set out the bait and watch the hornets eagerly eat the poisoned meat.
This bait will also work to attract carpenter bees to traps to get rid of any nasty flying bugs in your yard.
How to Get Rid of Ground Hornets using Traps
Expensive commercial products are unnecessary for killing pesky insects. One of our favorite home remedies to keep wasps away is a homemade hornet and wasp trap. These handy traps lure the bees in and prevent them from escaping.
Use a sharp knife to slice a plastic two-liter bottle in half. Set a piece of meat or sweet bait such as juice, soda, or fruit, into the bottom portion of the trap.
There are different traps for different times of the year. To trap hornets in the warmer months, use meat as bait. Sweet liquids are the best choice to kill them during the cooler months.
Flip the top portion of the bottle over and fit it inside the bottom to form a funnel. Set the wasp trap near the nest and leave it to do its job.
The hornets fly into the small hole of the bottle for a tasty treat. Unable to find the exit after filling their bellies, the hornets eventually die.
Killing Hornets with Insecticide Dust
A hornet's nest often goes unnoticed, and if you discover that your yard has a rather nasty infestation, try using insecticide dust to kill them. This remedy is quick and efficient, but care is required if you have pets, children, or garden plants nearby.
Ground hornets reside deep below the nest entry point, and dust insecticides are more effective at killing them. Many formulas contain carbaryl or chlorpyrifos and also kill beneficial insects such as honey bees, so use with caution.
Always wear protective clothing when getting rid of ground wasps and approaching a hornet nest. Follow the instructions for your product and fill the hole with the recommended amount of dust.
The insecticide only takes a couple of hours to work and is highly effective for eliminating hornets.
Get Rid of Hornets with Lemon Ammonia
Ammonia is a cheap alternative for repelling bees in the ground and from other specific areas, and just about any store has it on hand. This non-toxic chemical is safe and straightforward to use as long as you do not mix it with other liquids such as bleach.
Most hornets are out and about during the day, so this process is best completed in the evening. To prepare for the night-time attack, put on protective clothing and insert a plastic knife near the opening of the nest so that it's easy to find as evening sets in.
As the sun goes down, put on protective clothes and slowly approach the nest with a measuring cup and jug of ammonia.
Use your flashlight if necessary to locate the hole and quickly pour two to three cups of ammonia into the entrance. Leave the knife in place and make a quick exit.
How to Repel Ground Hornets with Plants
The best way to prevent painful stings from bees is to stop them from taking up residence in your yard. Many plants are a delight for the yard not only because of their beauty but their ability to repel hornets.
Plants are a great way to deter hornets after you eliminate the problem. Plant herbs and flowers around the perimeter of your yard, garden, or other problem areas to keep wasps away outdoors and enjoy your garden or patio.
Spearmint, wormwood, lemongrass, and thyme are useful herbs for keeping these stinging bugs out of your yard. Hornets avoid hanging out around marigolds and pennyroyal but are attracted to yarrow, sweet fennel, and Queen Anne's lace.
Eliminate Ground Hornets by Sealing the Nest
If you know the exact area of a ground hornet nest and prefer using the quickest method possible to eradicate them without using chemicals, try sealing up the nest entrance.
Make sure to locate the nest's exact place during the daytime hours and mark the spot for quick identification. Wait until the evening to seal the hornet nest entrance to ensure that all of the bees are back from their daytime expeditions.
This strategy also works as a carpenter bee deterrent. Sealing holes in the wood with putty eliminates the problem.
For ground bees, put on protective clothing and fill the hole with dirt as quickly as possible. Place a brick, large rock, or another object over the top to seal the soil in place.
Using Essential Oils to Discourage Ground Hornets
Believe it or not, but many insects do not tolerate certain smells and avoid areas that carry the scent. Essentials oils are a natural way to drive hornets away with an easy-to-make fragrance spray.
Fill a glass bottle sprayer with water and five drops of each essential oil. Shake the container vigorously, and label it for safety purposes.
Spray the liquid around areas of the yard where you notice hornet activity to repel them from future visits. If you know the nest's exact location, pour the liquid directly into the hole to encourage the bees to find a new place to build their home.
Preventing Ground Hornets in Your Yard
Eliminating hornets from your yard with an insecticide or homemade remedy is the first step to making your backyard a safe place for you and your family to enjoy. Now it's time to take the next step and prevent them from coming back.
Ground Hornet Prevention
Since many hornets use existing rodent burrows to make their nest in, it's essential to fill these holes as soon as you discover them. Keep your yard clean and free of decaying logs, old stumps, and other unsightly areas where bees love to nest.
Hornets favor building in dry soil, so keep your lawn relatively moist by watering it frequently. Hornets prefer bare soil, too, so it's good to keep your lawn and flower gardens full.
Leftover food and sweets are enticing to bees and lure them to your area. Keep all garbage can lids in place and always put unused food items away immediately during barbecues.
Hornet and wasp stings are something we avoid at all costs, and the painful stinger of these insects is especially harmful if you have allergies.
Therefore, it's vital to prevent an infestation of stinging bees, whether they are yellow jackets, cicada killer wasps, paper wasps, digger wasps, or hornets, using safe and effective measures.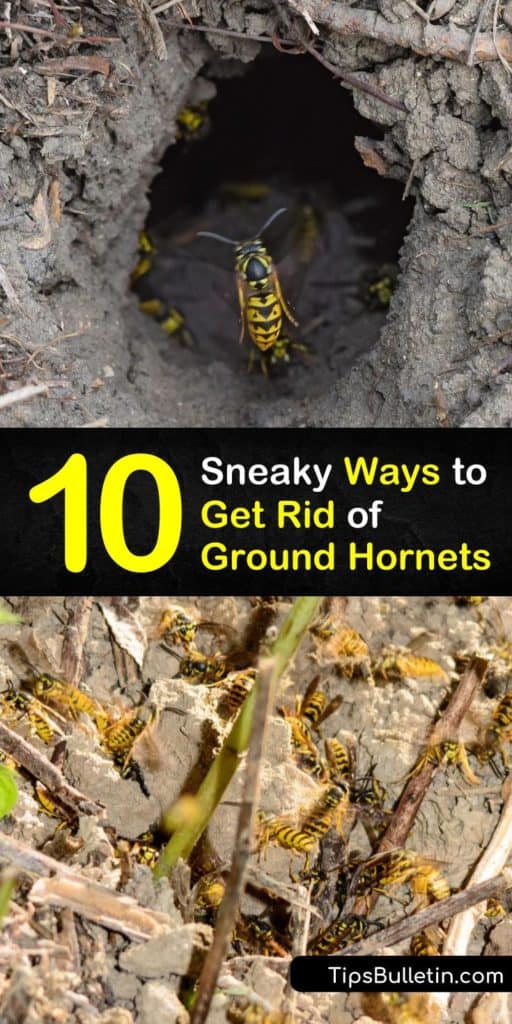 Knowing how to get rid of ground hornets keeps your yard safe from angry bees and painful stings, so why not share our hornet elimination tips and techniques with your family and friends on Facebook and Pinterest?