They may be beneficial insects whose larvae eat pests, but wasps are one part of summer that no one looks forward to. Although we tend to picture these black and yellow insects building their nests high off the ground, some species set up camp in holes in the soil or wall voids. Only yellow jackets are particularly aggressive among ground nesting wasps. Still, stings are no fun, particularly if you're allergic, so we'll show you tricks for how to get rid of ground wasps.
Ground wasps are either solitary, like ground digger wasps or cicada killer wasps, or social wasps, like yellow jackets. Solitary wasps, as you would imagine, dig individual nests where they store the insects that they use as hosts for laying eggs.
Social wasps, meanwhile, live in large nests that often contain over 500 adult wasps. As the workers' food supplies diminish in the late summer, they become increasingly aggressive. Workers have a short life cycle, with only queens surviving long enough to seek a new nesting site in the spring.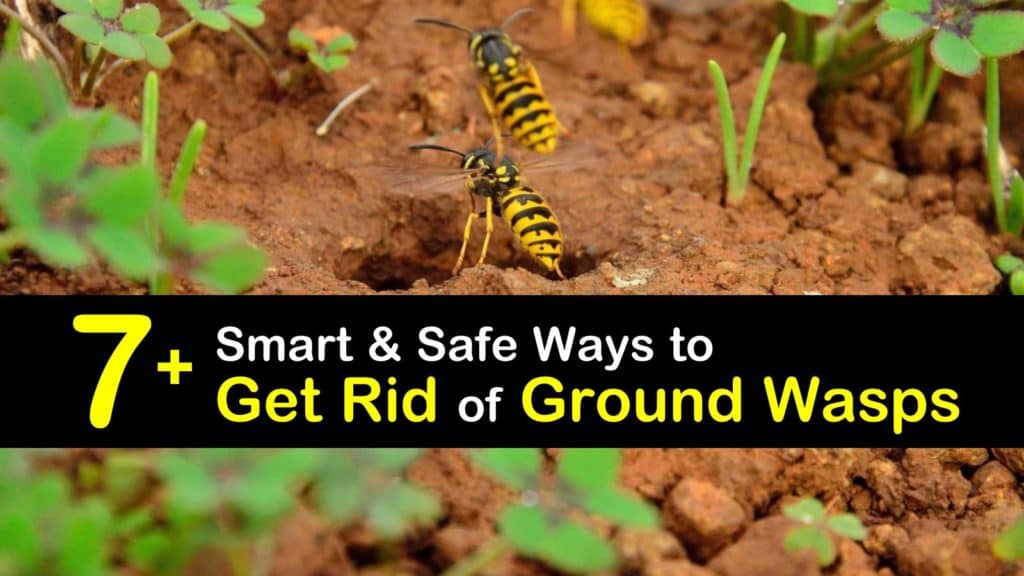 Easy and Safe Methods for Getting Rid of Ground Wasps
Maybe you discovered a ground wasp nest while you were mowing your lawn, but, ideally, you located it by observing the pests from a safe distance. Now that you've identified the hole of approximately one and a half inches in diameter, you're probably wondering how to kill ground wasps.
The first thing that you should do is mark the spot to return at night when the pests are less active, making sure to wear long-sleeved clothing to protect your skin.
Make Your Yard Less Attractive for Ground Wasps
Before taking drastic measures to kill the pests, it's worth eliminating the food sources that attract them to your garden. Keep wasps away by clearing away or covering up food once you're done with it, especially meats and sweet foods. Cover all trash and compost bins with well-fitting lids, as well.
Reduce your yard's appeal for these sweet-toothed pollinators by avoiding floral patterns and perfumes. Unfortunately, that means that hummingbird nectar, and other types of bird food, also need to go to ensure that your yard remains free of ground wasps.
The best way to get rid of carpenter bees is to ensure that all exposed wood on your house is sealed or painted in some way. Plug holes with caulk or putty to discourage carpenter bee nests.
Discourage Ground Nesting Wasps by Maintaining Your Lawn
Ground wasps like to build their nests in loose, sandy soil. A simple method to convince them to leave your lawn alone is to ensure that you completely cover your yard in grass or another groundcover. Also, water it regularly.
Keeping your lawn thickly planted and well soaked makes it difficult for wasps to dig their nests. Ground wasps also prefer nesting in sunny areas, so encourage them to make their home somewhere else by building a shade garden.
How to Get Rid of Ground Wasps by Sealing Their Nests
Since ground-nesting wasps spend a lot of time underground, particularly at night, covering their nest is an easy way to eliminate the problem and effectively take care of ground bees removal.
Once you've safely identified the holes that serve as their entry and exit points, cover these openings with a clear bowl or a layer of packed soil.
Wear protective clothing and carry out this pest control measure at night. Also, consider proactively filling in abandoned animal burrows before the pests decide to use them as their nesting sites.
Repel Ground Nesting Wasps with Plants
Although wasps are attracted to sweet-smelling flowers, some plants, including several herbs, put the pests to flight. The strong-scented plants are an excellent way to get rid of wasps naturally. What deters yellow jackets? These plants all appeal to humans but not stinging bees.
Whether you choose to intersperse these potent plants throughout your yard or to create a separate herb garden, this wasp control solution also adds diversity and fragrance to the landscape.
It is worth noting that wormwood is toxic to humans, animals, and plants, so it's a less-than-ideal option if you have pets or small children.
How to Get Rid of Ground Wasps with Essential Oils
If you don't feel like planting wasp-deterrent plants in your garden, it's possible to combine the essential oils of several of them to make a homemade wasp repellent.
Although this natural wasp spray doesn't kill wasps, it does chase them away from your garden and sends them elsewhere.
For one of the natural ways to get rid of hornets, shake the ingredients in a spray bottle, then squirt the wasp repellent wherever you have a wasp problem.
Alternatively, spray the mixture onto your clothing and skin like you would with bug spray, repeating every few hours. This natural repellent for yellow jackets and wasps is safe for children.
Kill Ground Wasps with a Homemade Wasp Trap
It's easy to kill solitary ground dwelling wasps with the help of an old pop bottle and a sugary liquid. Wasps fly into the container in search of sweetness but find themselves trapped with no escape route.
Carefully cut off the top of the bottle several inches below the cap. Pour approximately one inch of your choice of sweet liquid into the lower half of the bottle. Remove the bottle's cap and nestle the upper section upside down to form a funnel to the bait below.
Place the trap on the ground near where you've been having a wasp problem. Remove drowned wasps and replace the ingredients regularly to ensure the trap's continued effectiveness.
Use Dish Soap to Decimate Ground Nesting Wasps
Diluted dish soap is an effective way to kill wasp nest in the ground as well as to eliminate grub worms in lawn areas. During the night, cover the ground nest hole with some landscaping fabric held down with stones or other heavy objects.
Use a knife to cut a hole that's big enough to allow the liquid wasp killer to make its way into the nest underground but small enough to prevent the wasps from escaping.
Combine a quarter cup of dish soap with one gallon of water. Pour the mixture down the hole in the fabric, then quickly evacuate the area. Dish soap coats wasps' wings, making it difficult for them to fly, while the water drowns their nest.
Kill Ground Wasps with Diatomaceous Earth
A versatile white powder composed of tiny fossils, food-grade diatomaceous earth (DE) kills several types of insects by cutting their bodies. At nighttime, sprinkle DE around and inside the wasps nest. As the pests travel back and forth, they'll carry the lethal powder with them.
Add more DE every few weeks or after it rains to continue to benefit from this wasp-killing solution. DE is an easy way to kill ground wasps and regain control of your garden.
How to Distinguish Types of Wasps
Wasp identification can be tricky, but the insects' appearance and nest style give you some clues. Knowing the type of wasp helps you determine its level of aggression and the best form of pest control.
Digger wasps diverge from the coloring that you might expect for wasps, being black and orange-red, and often dig in sandy soil by patio stones. Cicada killers, or ground hornets, are black with yellow markings and distinctive amber-colored wings and enjoy burrowing in lawns.
Both yellow jackets and paper wasps are yellow and black, although the more aggressive yellow jackets are stockier and yellower. While you might find yellow jacket nests beneath your feet, paper wasps build their small paper-like homes above the ground.
Hornets are as aggressive as yellow jackets and carry more venom in their stingers. A hornet nest can be as large as a basketball.
How to Stay Safe while Getting Rid of Ground Wasps
Wasp stings are an obvious concern when you're considering how to get rid of ground wasps. An individual insect may sting several times, which is particularly dangerous for those with wasp allergies.
Before setting out to spray essential oils or lay a trap, it's vital to prepare by putting on clothing that covers your skin, such as jeans, a hoodie, long socks, and gloves. Next, plan and clear your escape route.
You don't want to apply the wasp deterrent or killer and then realize that you're not sure of the best direction for your rapid escape. Finally, make sure to perform your wasp control operation at night or during the early morning.
Ground nesting wasps are least active during this period and tend to stay inside their nest. Follow these tips to kill ground wasps safely and successfully.
You now know how to clear your yard of ground wasps. It starts with removing and covering up any food sources. Then, you may choose to discourage the formation of their nests, repel them with plants or essential oils, or use a natural wasp trap or killer.
If your lawnmower happens to disturb a swarm of yellow jackets, stay calm and remember that you now know how to get rid of ground wasps. The first thing is to clear away those dirty dishes and wait until nightfall.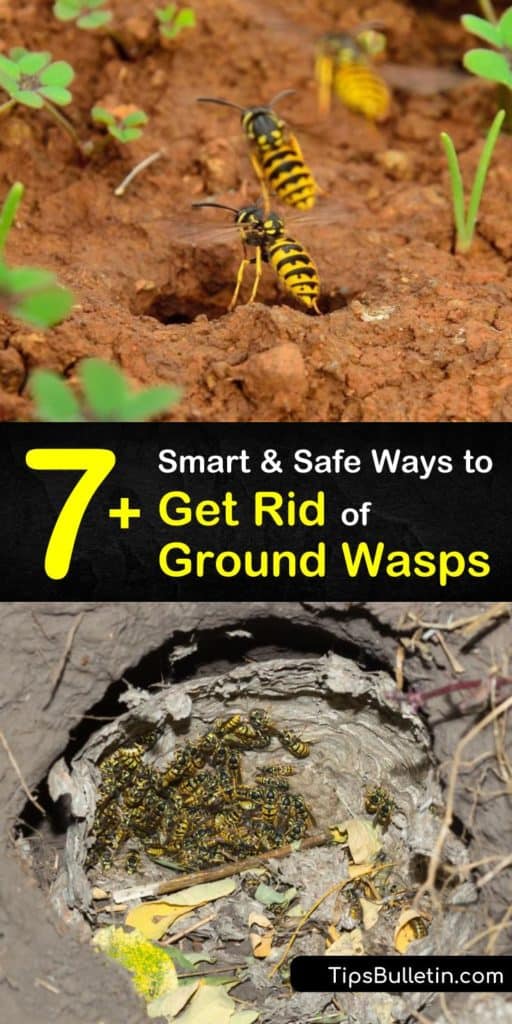 If you liked our tips for getting rid of ground wasps, please share these wasp control tricks on Facebook and Pinterest.