Appliances around your home that use water, like coffee pots, washing machines, dishwashers, and toilets, are all prone to developing hard water stains. The limescale buildup results from excess minerals in your water source that leave behind a chalky residue on your faucets and toilet bowls. Learning how to get rid of hard water stains in a toilet is more manageable than most people assume.
A variety of everyday household cleaning products is excellent at removing toilet stains. We provide you with excellent DIY tips to clean calcium buildup in a toilet bowl. These cleaning suggestions not only work well, but they also remove grout and hard water deposits quickly.
Easy to find toilet bowl cleaner products include baking soda, lemon juice, and vinegar. Several of these cleaning hacks are inexpensive and simple to eliminate hard water stains from a toilet. Find out how to remove hard water stains in your toilet with basic cleaning ideas that call for minimal cleaning products.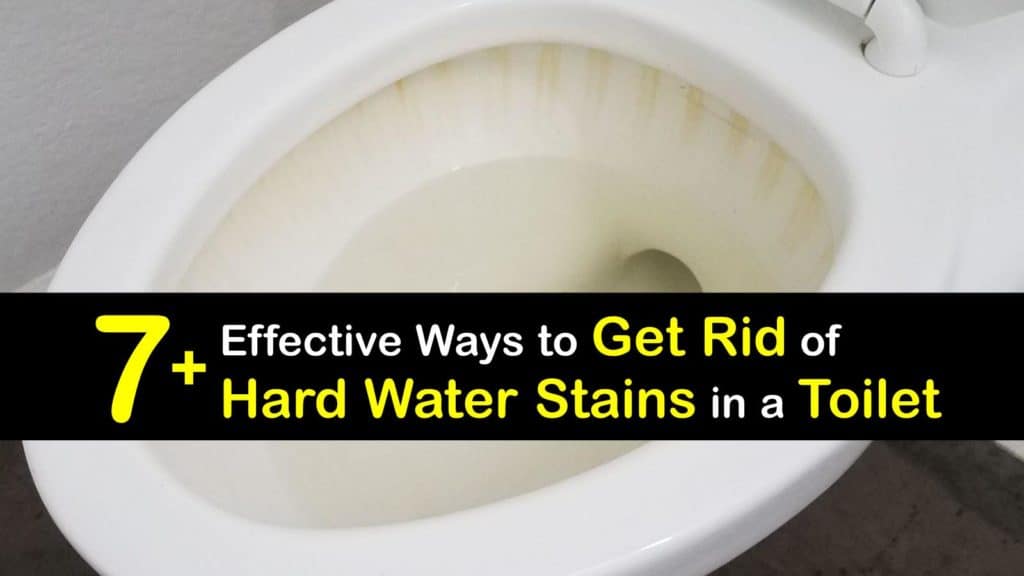 Cleaning Hard Water Stains in Your Toilet is Easy
If you do not clean hard water stains from a toilet bowl, significant damages to the fixture can occur. Water leaks and erosion of the toilet are potential side effects of an ongoing hard water buildup problem.
Fortunately, there are several tools and techniques to use for cleaning mineral deposits and removing hard water stain from toilet bowls. To use the best all natural toilet bowl cleaner, we offer product suggestions that include no harsh chemicals.
If you're going to use cleaning products with chemicals, like bleach and Borax, we also show you how to use these solvents correctly.
How to Get Rid of Hard Water Stains in a Toilet with Lemon Juice
Both lemon juice and lime juice contain acids that are outstanding as an all-natural limescale remover. The acids in these fruits break down and eat away at the mineral buildup quickly, without damaging your toilet tank.
Eliminating toilet stains with a lime or lemon is easy and effective and works just as well as store-bought cleaners. Cut a lemon or lime in half using a sharp knife. Scrub the open side of the fruit on the limescale buildup on the inside of the toilet.
If you have hard water stains in other parts of your bathroom, it is safe for you to use lime or lemon on those areas as well.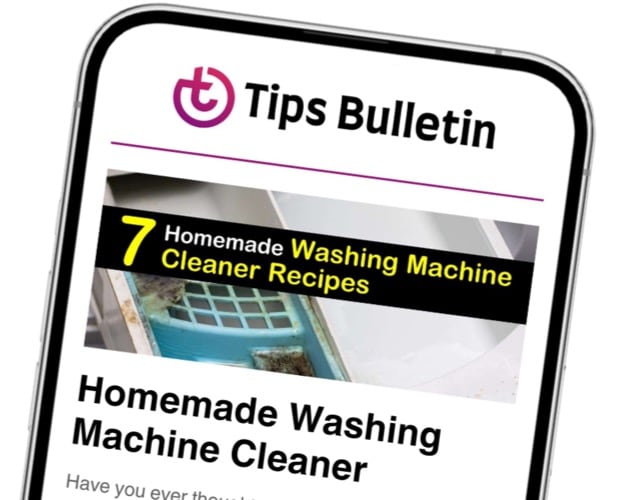 Finally, an email that Transforms Your Home.
Get the latest home and garden tips from our experts, delivered straight to your inbox.
Continue scrubbing the calcium deposits on faucets or in the toilet until they are completely removed. Finish cleaning the hard water deposits by flushing the toilet to rinse away the lemon juice.
Baking Soda Cleans Calcium Buildup in a Toilet Bowl
Baking soda is a magnificent ingredient to fight calcium buildup and rust stains that reside in your toilet bowl. Baking soda eats through dirt, grease, grime, and other stains when the powder reacts with water.
Expect the baking soda to start fizzing once you put it in the toilet bowl. Making a baking soda paste is the most effective way to clean calcium buildup in a toilet bowl. A paste also allows you to clean a large area with a small amount of baking soda.
Pour the baking soda and water into a small dish and stir the ingredients until they form a paste with peanut butter consistency. You may find that you need to put a few more drops of water to make the paste thinner.
Wearing rubber gloves, spread the paste over the affected areas and let it sit for ten minutes to let the baking soda work.
Scrub the baking soda with a toilet brush to clean hard water stains from a toilet bowl. Removing limescale buildup could not be easier with baking soda.
Use this method as a way to remove rust and stains from a bathtub, too. Baking soda paste is an excellent stain remover.
Baking soda and vinegar can be used to take care of a smelly toilet drain, as well.
Bleach will Clean Hard Water Stains from a Toilet Bowl
Bleach is a powerful cleaning product that is ideal for cleaning toilets and any other surface it comes in contact with. Not only does bleach eat away at the mineral buildup in the toilet bowl, but it also disinfects and kills bacteria in the area.
Mixing warm water with the bleach before cleaning with the product. Bleach contains several chemicals, and diluting it with water makes it safer to use in a confined space like the toilet bowl.
In a large spray bottle, pour one part bleach for every two parts of warm water. Spray a generous amount of the solvent on the limescale buildup and scrub it with a nylon brush.
Bleach is a fantastic product to use to clean all areas in your bathroom, and especially in your toilet bowl.
Vinegar Eliminates Hard Water Deposits in Your Toilet Bowl
A unique all-natural cleaning product is vinegar. Cleaning vinegar works well on various surfaces containing calcium deposits, including your shower tiles, dishwasher, and toilet. It's also great to remove hard water spots from windows and glass shower doors.
The acids in white vinegar dissolve any dirt, grease, or limescale buildup. Another benefit to utilizing vinegar is that it is very inexpensive and easy to find in the grocery store.
In a spray bottle, pour equal parts cleaning vinegar and room temperature water. Spray the mineral deposits. Let the vinegar sit on the limescale for ten minutes to let the vinegar work.
Use an old toothbrush to brush and break through the calcium buildup in a toilet bowl.
How to Get Rid of Limescale Buildup with Borax
Borax loosens calcium deposits that accumulate in your toilet bowl over time. The ingredients in Borax convert some of the water molecules into hydrogen peroxide.
Similar to baking soda, it is feasible to make a Borax paste. Using the water in the toilet bowl to mix with the Borax. Pour ¼ cup of Borax into your toilet bowl and swish it around with a toilet or nylon brush.
Add one cup of cleaning vinegar to the toilet bowl and allow the mixture to sit for 20 minutes.
Scrub the mineral deposits with the toilet brush before flushing your toilet to rinse away the cleaning solution. Learning how to get rid of hard water stains in a toilet with Borax and vinegar is effortless.
Use Toilet Bowl Cleaners to Treat Small Mineral Deposits
If you have a small amount of limescale buildup in your toilet bowl, use a specialized toilet bowl cleaner. A common misconception is that toilet bowl cleaners are only meant to kill germs.
However, toilet bowl cleaners break down small calcium deposits very well. Distribute some of the toilet bowl cleaner to the affected area.
Use an old toothbrush or a nylon brush to scrub at the cleaner and break away the mineral deposits. As you flush the toilet, utilize a plunger to work the cleaning ingredients into every part of the toilet.
Pumice Stones Loosen Calcium Deposits
If the cleaning solutions you use to clean calcium buildup in a toilet bowl leave sediment behind, getting rid of excess limescale with a pumice stone is easy. A pumice stone has a rough exterior that efficiently loosens mineral buildup in your toilet bowl.
Although the pumice stone has a rugged surface, it is still safe to use on your toilet. Wear plastic gloves while scrubbing at mineral deposits with a pumice stone to protect your skin from bacteria and germs.
Rub the calcium buildup in a circular motion to break through the debris. Combining the pumice stone's tough exterior with another mineral deposit cleaning solution is the best way to ensure every area is completely cleaned.
Purchase a New Water Softener if Mineral Deposits are Severe
When it becomes nearly impossible to clean calcium buildup in a toilet and other appliances, plumbers suggest purchasing a new water softener.
Also referred to as ion exchange units, these helpful appliances exchange the calcium and magnesium in your water with sodium and potassium.
A water softener improves your water quality and removes hard water stains from plastic. It can eliminate the white chalky residue that you find on your appliances that use water.
If you notice several areas in your home with mineral deposit buildup, investing in a brand new water softener is the best way to treat the problem.
Understanding how to get rid of hard water stains in a toilet is important to ensure that you do not experience another problem down the road, like having toilet paper back up your pipes.
Products like white vinegar, baking soda, and bleach are used for many cleaning tasks. These cleaning solutions are also efficient at breaking away and eliminating excess mineral deposits that collect in your toilet tank.
If you have limescale deposits in all your water-using appliances, buying a new water softener may be the only way to completely clean calcium buildup in a toilet bowl, dishwasher, and faucet.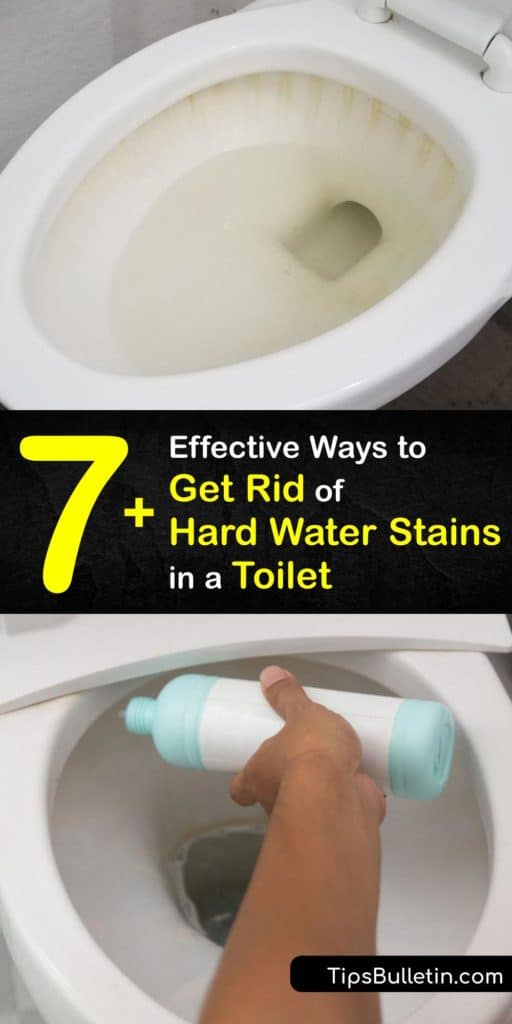 If you discovered how to get rid of hard water stains in a toilet, please share this article with ways to clean calcium buildup with your family or neighbors on Facebook and Pinterest.