The Japanese Knotweed displays large, heart-shaped leaves that protrude from bamboo-like stems and produce small clusters of creamy white flowers, which bloom in late summer. The attractive qualities of this plant prove one thing: looks can be deceiving. As one of the most invasive plants throughout North America and the U.K., you would sooner be asking yourself how to get rid of Japanese Knotweed, rather than how to maintain it.
Even mortgage lenders are cautious of this plant species, noting the potential damage to homes and properties the invasive species may cause.Growing at an exponential rate, this weed is almost impossible to kill without the proper removal techniques and overruns most native plants in the area.
However, learning how to kill Japanese Knotweed is not entirely out of reach. Many homeowners successfully dispel the plant from their yards using basic control methods. To remove Japanese Knotweed from your yard for good, follow these helpful tips and tricks to get you started.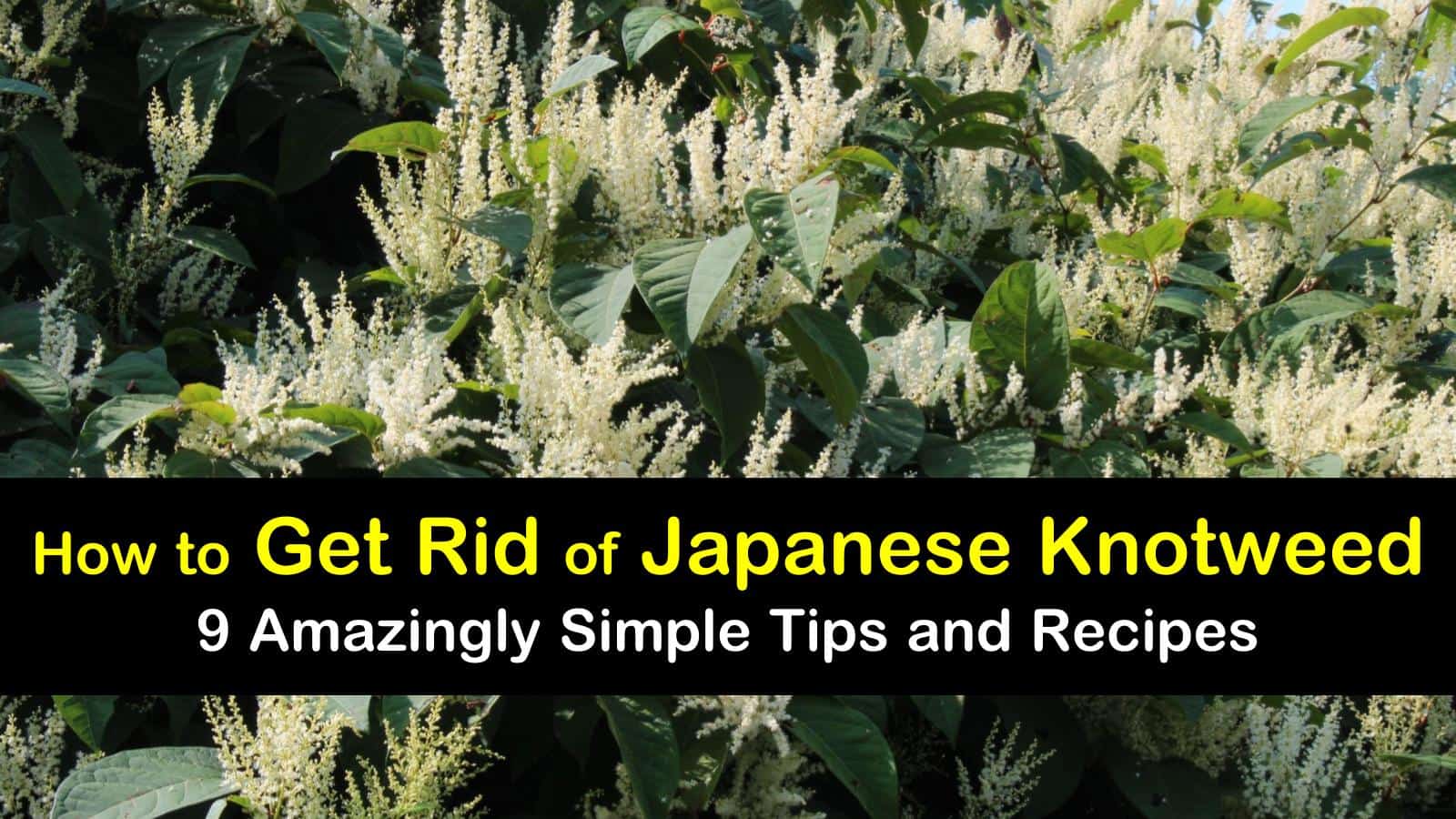 Remove Japanese Knotweed and Banish It from Your Yard
Now that you're ready to get rid of these invasive plants, something you might want to do to prepare for the process is to gather your supplies. Depending on which method you choose, the exact items will vary. However, these are all great to keep on hand throughout your yearly yard work endeavors anyway.
The most crucial step to remember when attempting Knotweed control is knowing that this isn't a one-time solution. You will likely have to use multiple methods over many days to completely eradicate the issue.
Similarly, because there isn't a cure-all remedy to kill all Knotweed with a single spray, most of these solutions include techniques you should follow, rather than an organic weed killer recipe with ineffective ingredients for this particular yard pest.
1. Start by Cutting Down Japanese Knotweed Canes
Cutting down the canes on Japanese Knotweed is a controversial topic, mainly since the plant quickly regenerates from fragments of branches and rhizomes. Without cutting the canes accurately, and removing them entirely, this may cause an even more significant infestation than before.
Even considering this problem, cutting is still a useful resource to use when managing an overgrowth of the plant. Use this method alongside herbicides or stem injections for it to be effective, however. Remove all traces of branches from the area.
This strategy works best throughout the summer, preventing the plants from functioning at their optimum capacity. Use loppers to cut back the canes at ground level and garbage bags to collect all the pieces and intercept any possibility of regrowth. This strategy is also ideal because it kills weed but not your grass and other wanted vegetation.
Hand-pulling or cutting is also an excellent thistle weed killer. Ensure that you eliminate the entire plant, from the top down to the roots, however, to completely get rid of this or other weeds.
2. How to Kill Japanese Knotweed with Commercial Herbicides
Using an herbicide like glyphosate, traditionally found in commercial products like Roundup, is a solution to kill nutgrass in your yard. The rapid pace at which this plant grows often requires chemical control – a weedkiller powerful enough to eliminate the plant.
A glyphosate herbicide alone isn't usually enough, however, and you need to incorporate additional strategies into your weed removal plan. To apply the herbicide, use a sprayer and wear protective coverings to prevent getting any in your eyes or on your skin.
The best time to apply this method is throughout the summer and on into early fall. Like most techniques, when trying to get rid of Knotweed, this plan may not take one or two tries alone to eradicate the weed. You may have to apply the weedkiller once a week over multiple weeks before the plant disappears for good.
As long as you spray carefully, this solution is also what kills clover but not grass, although DIY weed control mixtures are more effective on this annoying weed.
3. Wait to Remove Sprayed Weeds
After you've used your herbicide, don't pull the weeds immediately. Instead, give the glyphosate plenty of time to soak into the root system and kill off the plant. This process takes approximately one week.
During this time, hold off on cutting, mowing, or disturbing the area in any way. After the seven days are up, uproot the plants and bag the weeds. This is also the best weed killer for Creeping Charlie, although homemade weed killers can be effective if you persistently re-apply them.
Use a shovel or rake to do this efficiently. As always, ensure you have collected all the remaining pieces from the ground to prevent new plant growth.
4. Curb Japanese Knotweed Infestation by Mowing Regularly
Similar to cutting, mowing down small pieces of Knotweed is a great way to regulate their growth levels. Over time, these plants will weaken due to the effects of excessive trimming and will stop spreading as quickly.
Mowing should take place approximately once a week to be effective. This method should also be used alongside other methods for knotweed control, like herbicides and adding a root barrier.
5. Remove Japanese Knotweed by Digging Out the Roots
Whether you spray herbicide in the area or not, digging out the Knotweed roots is another strategy you can use for long-term removal of the weed. It's important to know that this method is not as effective on its own, especially since the root systems spread up to several feet across and deep.
In fact, the roots may travel as far as ten feet deep and 20 feet in width. When removing the roots, one supplementary technique to use is a root barrier. This barrier should consist of a reinforced, non-permeable material that prevents roots from breaking the surface and rejoining other plants.
6. Getting Rid of Japanese Knotweed Organically
If you want to get a headstart on keeping your Japanese Knotweed at bay before the growing season, the best technique to use is by smothering them with a tarp. This prevents them from receiving the necessary nutrients and sunlight to thrive and grow before they reach their full potential in the summer.
The best time to do this is in early spring when the plants are still young and weak.Smothering your Knotweed plant may turn into a long-term solution. In some cases, this strategy has taken five years to eradicate the Knotweed problem effectively.
However, some homeowners and gardeners have made the best of it by placing mulch over the area and creating a whole new look in their garden. It also makes an excellent foundation for a raised bed. This method is also a powerful home remedy to kill poison ivy.
7. Avoid Using "Natural" Weed Killers
Because Knotweed is so invasive and difficult to remove, it is not recommended to use natural weed killers like vinegar or coffee. Many homeowners love to shy away from heavy-duty weed killers in favor of safer, healthier alternatives. However, glyphosate is a relatively safe chemical to use in your yard without harming the people and animals in it.
It also provides the appropriate level of strength needed to deal with this invasive weed. The DIY remedies don't work, and a stronger method of killing off this horrible weed is necessary. Instead, stick to industrial-strength herbicides that will get rid of this overactive weed killer faster and much more successfully.
8. How to Get Rid of Japanese Knotweed Properly
In some cases, getting rid of these weeds may be as simple as tossing them in the trash. As long as none of the particles can escape into other areas, and the bag is completely sealed, this is an appropriate disposal method. You also don't want to use any of the remaining pieces as compost.
However, some regions require stricter procedures when throwing out Japanese Knotweed, especially if you live in an area where the weed needs to be regularly controlled.As a result, proper disposal is key to preventing further spread of this invasive plant.
Classified as "controlled waste" as part of the Environmental Protection Act, you may only be able to dispose of your Knotweed clippings at a landfill site that is licensed to take this plant. No matter what region you live in, check the regulations in your area before disposing of your discarded plant pieces.
9. Know When to Call the Professionals
When it becomes necessary, sometimes the only way to combat an infestation of Knotweed is to call the professionals. While this is a costly solution, many companies offer a removal guarantee, eradicating your yard of the intrusive plant with a powerful Japanese Knotweed treatment.
Trained professionals won't leave behind any stray pieces of the plant, which is easy to do if you are trying to cut and remove Knotweed on your own. If the plant problem has grown too far out of control, it's time to seek help from the pros.
This is similar to a duckweed killer, as well. Eliminating duckweed from your pond can be a challenge if you do not know what you are doing.
Additional Questions about How to Kill Japanese Knotweed
Still unsure about what you're dealing with or why you should even bother handling this weed at all? These final tips and answers will give you some insight into why Knotweed control is so important.
What is Japanese Knotweed, and why does it need to go?
Japanese Knotweed is known by many names, including Polygonum cuspidatum, Fallopia japonica, and Reynoutria japonica. This plant is a fast-growing weed with the potential to spread as much as four inches every day. This invasive weed proliferates alongside riverbanks and is particularly harmful to native species.
It can even grow in sidewalks and will take advantage of the slightest cracks in concrete walls. This overgrowth is one of the many reasons why the plant needs to be eliminated from lawns as soon as the weed is visible. Lawsuits have even been fought over this plant, surrounding its upkeep and the damage it causes to neighboring properties.
Many places even have restrictions on how to interact, remove, and dispose of Knotweed due to concerns about it spreading. If you are unsure which way to tackle Knotweed removal, consult a professional first.
Now you have several different strategies to choose from when it comes to implementing the perfect Japanese Knotweed removal regimen. Many of these options work throughout the year in warmer regions and go exceptionally well together, too.
Choose the best one based on your circumstances and level of infestation. And, always follow instructions to prevent future outbreaks.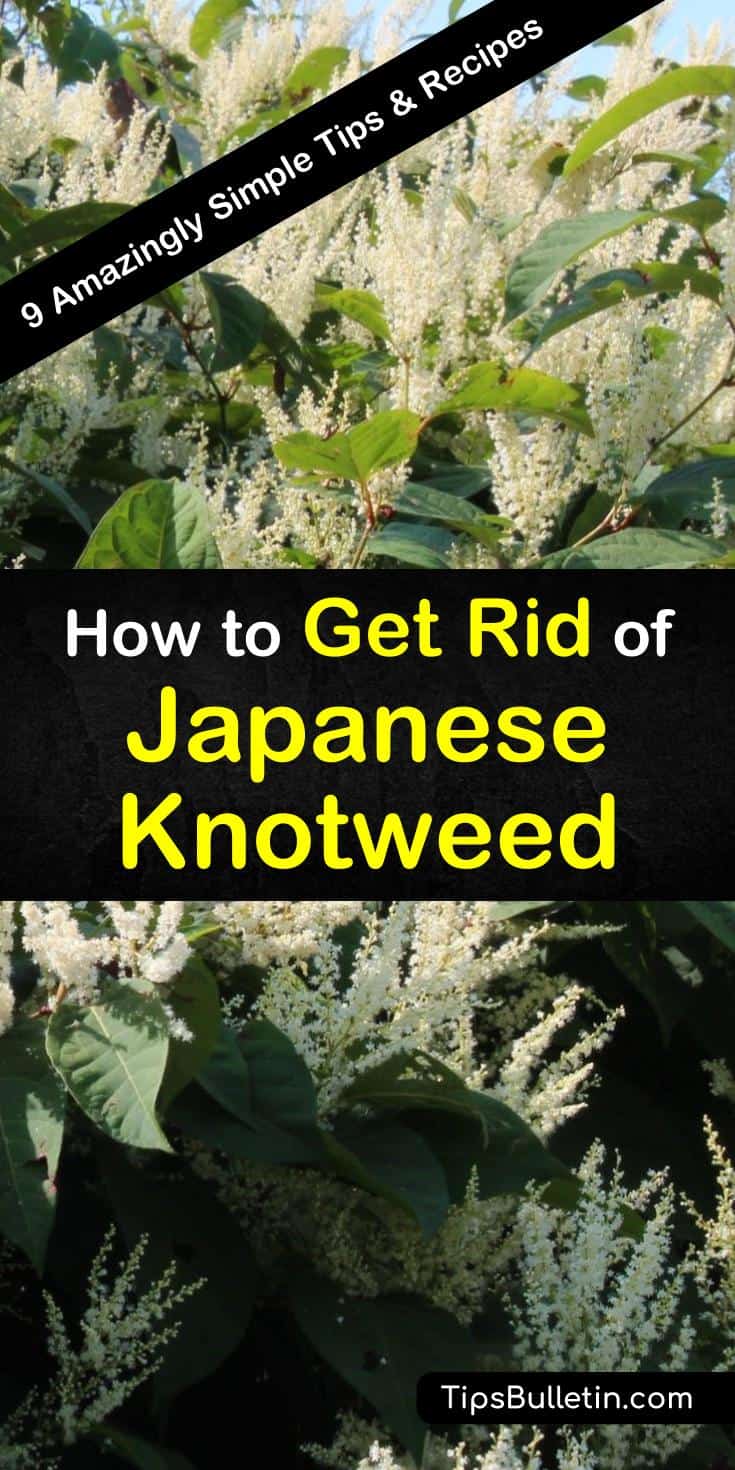 If you enjoyed these Knotweed solutions for permanent removal, be sure to share how to get rid of Japanese Knotweed with everyone you know on Facebook and Pinterest.