Getting bitten by a kissing bug is the last thing you want, so learning how to get rid of kissing bugs is paramount. They're known in the insect world for being assassins and for taking up residence practically anyplace on your property. Find out how to kill kissing bugs and make homemade kissing bug spray for home treatment choices to get rid of cone nosed bugs fast.
Don't be deceived by the innocent-sounding name: kissing bugs, sometimes known as assassin bugs, transmit diseases to humans if the bite is scraped, allowing bacteria to enter the skin. While these bugs kill other insects infesting your garden and home, keeping them around may not be worth it since they feed on humans.
Because these bothersome nocturnal insects tend to live near beds and bite near the eyes and mouth, it's critical to find ways to keep them out of your home. Although a kissing bug bite doesn't harm everyone, there is still a danger of infection from the insect's venom or feces.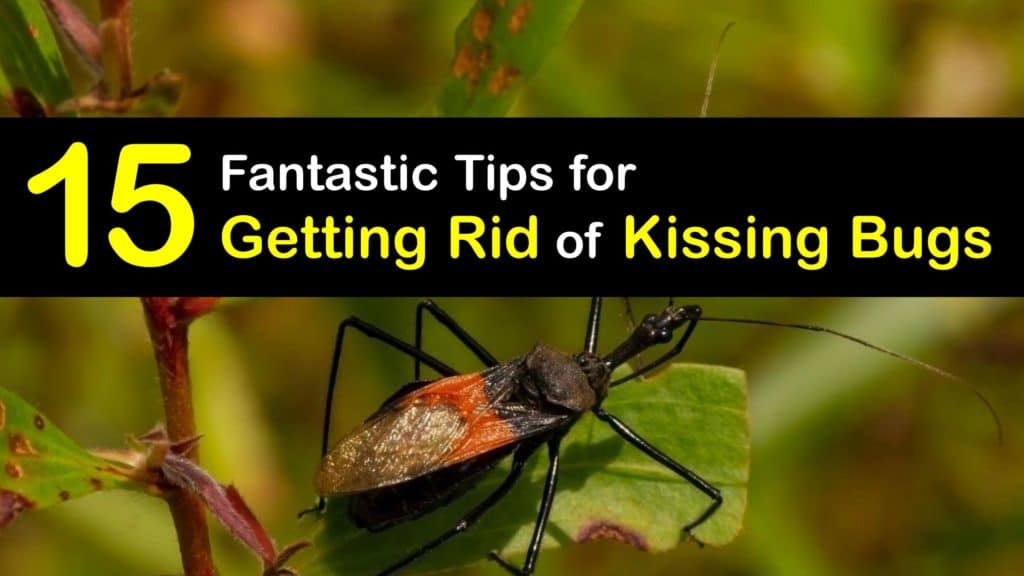 Smart Tips for How to Kill Kissing Bugs
If you live in the United States southern regions, Central America, or South America, you've probably spotted them and want to know about getting rid of vampire bugs.
The Western Conenose bug carries the Trypanosoma cruzi parasite, which bug infestations pass to humans through their kissing bug bite.
According to top medical providers like the Mayo Clinic and Hartford Healthcare behavioral health library, Chagas disease, an inflammatory, infectious disease, is caused by triatomine bugs or the kissing bug. The condition basics include acute illness, fever, fatigue, and inflammation of insect bites.
Due to the dangers associated with this pest, understanding how to get rid of kissing bugs from cracks and crevices in your home or your box spring is essential. Like spider bites, the assassin bug has a painful and itchy bite.
These wingless insects are pests and cause a nuisance, though they have no bearing on sexual health despite their name. Learning how to kill kissing bugs is critical for disease control and preventing insect bites from leading to an allergic reaction or worse.
How to Get Rid of Kissing Bugs Using Yellow Light Bulbs
Using a porch light at night offers security to the home, but it draws unwelcome insects. Bright lights attract flies, mosquitoes, moths, and kissing bugs. If you've observed a lot of insects surrounding your outdoor lights, consider replacing them with yellow light bulbs.
Yellow light bulbs are specifically tinted to repel insects. Kissing bugs can't see the yellow light from energy-efficient LED bulbs and therefore aren't attracted to the entrance of your home where they could slip inside.
How to Kill Kissing Bugs with a DIY Bottle Trap
Create an efficient DIY kissing bug trap for very little money at home. You most likely already possess everything you need to complete this trap. These bottle traps help keep kissing bugs out of your house while also killing any already there. The best part of making your trap is the lack of harsh chemicals and reusing items.
Cut off the top 1/3 of the bottle with the knife, leaving a funnel to flip and put back into the bottle. Use the packing tape to line the outside of the bottle. Wrap the remaining 2/3 of the bottle with packing tape all around.
The goal is to provide something for the kissing bugs to crawl up the tape to the top of the bottle, so apply lots of vertical tape strips from top to bottom.
Turn on your LED candle and put it at the bottom of the bottle. Place the cut-out top of the bottle upside down in the bottle. You should now have a funnel to draw the assassin bugs into the bottle and to the light. They'll then tumble down the funnel and into the bottle, unable to get out.
Place the trap where you believe kissing bugs may be present. Allow it to sit out overnight and find bugs inside the bottle the next day. Kill and dispose of them, then re-set the trap for the next night. Kissing bugs are nocturnal, so utilize the trap only at night.
Homemade Kissing Bug Spray with Neem Oil
Neem oil is well recognized for its insecticidal properties and provides an excellent homemade kissing bug spray option without using chemical compounds. Neem oil is a natural and safe pesticide effective on all stages of bugs, from egg to adult.
Clean around your bed, box spring, and any other area in the house to deal with a kissing bug infestation. Combine the ingredients and spray on clean areas for a homemade insecticide and repellent.
Use this homemade bug spray for vegetable plants, too. Kill aphids and other insects that target your veggies. It will kill squash bugs, too.
Seal Holes to Eliminate Kissing Bugs
For kissing bugs to plague you, they must first enter your home. When you seal your house and eliminate any open cracks, the assassin bug has a more challenging time gaining entry.
This helps keep you safe or ensures they can't re-enter once you kill the bugs inside your home. Think of any small opening where the bugs could be coming in, and seal them appropriately and completely.
Make sure kissing bugs can't enter in the first place, or stay out once you get rid of them by sealing your home.
Diatomaceous Earth Kills Kissing Bugs
Learn how to kill kissing bugs with diatomaceous earth for a straightforward and safe way to remove an insect issue. Sprinkle food-grade diatomaceous earth anywhere kissing bugs are present.
The powder is a natural insecticide and a mild abrasive that quickly kills assassin bugs without chemical exterminators. Vacuum up any excess powder and dead kissing bugs and repeat until no more insects are observed.
Garlic Kissing Bug Spray
Garlic is an insect repellent that naturally makes bugs steer clear, including kissing bugs.
Mince the garlic and combine it with liquids. For best results, shake well and leave overnight. Spray the repellent around beds, windows, and doors to keep kissing bugs away from these locations.
Lure Kissing Bugs with a Shiny Trap
Like most bugs, kissing bugs are attracted to light and shiny objects. It's possible to lure kissing bugs into a trap and remove them from your home.
Fill a shiny container like a foil turkey pan with soapy water and set it out at night with the bright light shining into it. Kissing bugs head to the shiny surface illuminated by the light and drown.
DIY Kissing Bug Spray with Essential Oils
Similar to garlic, essential oils are natural insect-repelling compounds. Their strong odors deter bugs, making them helpful in concocting a homemade kissing bug spray repellent.
Combine and spritz heavily over spots where bugs are lingering, or use in clean areas to ensure no bug infestation occurs. This spray has the bonus of smelling nice while discouraging kissing bugs from entering.
Keep Wood Piles Away to Deter the Kissing Bug
Avoid worrying about how to get rid of kissing bugs by making your home a less appealing target for bug infestation. Relocate firewood piles away from the house to avoid assassin bugs. Pests and rodents who dwell in or feed off wood are common in piles of wood.
Kissing bugs go to a plentiful food source because they are predators to practically any other insect. If the woodpile is too close to the house, kissing bugs and other pests have an easier time finding it and getting in, whether by undetected cracks or a determined effort.
Even if there isn't an active infestation, it's a good idea to move a woodpile away from the house to prevent one in the future.
DIY Lemon Eucalyptus Bug Repellent
Lemon eucalyptus is a natural bug repellent with sharp-scented ingredients that repel insects, including witch hazel. It may also be used as a multipurpose cleaning solution.
Mix and spray on bed linens, carpets, box spring, skin, or anywhere kissing bugs are an issue.
Pyrethrin Spray for Kissing Bugs
Pyrethrin is an organic high strength insecticide found at most home stores. It is easy to add to your homemade kissing bug essential oil or garlic spray or mix it at home according to the manufacturer's directions and use it to destroy bugs.
Pyrethrin is one of the most potent ingredients to add to a homemade kissing bug spray and quickly kills adult bugs and larvae to ensure the end of painful bug bites and any bug infestation. Multiple applications may be required to eliminate every insect.
Spritz a stink bug on tomatoes or eliminate kissing bugs with this effective insecticide. It will do the trick.
Get Rid of Kissing Bugs with Commercial Pesticides
There are a plethora of pesticides available at any hardware shop, some of which specifically kill kissing bugs while others kill a large number of insects at once.
Investigate and select the option to best suit your needs. Choose a cleaner with natural chemicals safe for pets and children. Follow the instructions for using the bug killer and always be cautious and read the labels. Bug killers labeled for stink bugs often work for kissing bugs.
Kill Kissing Bugs with a Bug Zapper
Bug zappers generate UV light, which attracts insects to the device's center, where they are electrocuted between two metal panels. Bug zappers are highly successful in killing bugs due to the seductive appeal of their light.
Bug zappers work similarly to bottle and shiny traps to lure and destroy kissing bugs. Though some run off solar power, most bug zappers need to be plugged in to an outlet. Ensure you choose an appropriate zapper for indoor and outdoor use and maintain it according to directions.
A bug zapper is perfect for mosquitoes, moths, and it also kills stink bugs instantly.
Repel Kissing Bugs with Dryer Sheets
Dryer sheets have long been hailed as an easy and cost-effective bug deterrent if you have a kissing bug infestation. Head to the laundry room and grab some dryer sheets for a simple, fast kissing bug repellent solution.
Dryer sheets may be rubbed over surfaces like walls and carpet in problem areas to repel assassin bugs, carried in pockets, placed under bed linens, or rubbed on the skin to help avoid bites from these pests. The strong aroma of the dryer sheets repels kissing bugs and helps keep them away from problem spaces in the home.
Dryer sheets also help keeping mosquitoes away when you're outdoors. They're simple and effective.
Relieve Kissing Bug Bite Irritation
Oatmeal is the best home remedy to soothe bites if the worst happens and you are bitten by kissing bugs.
Mix to form an oatmeal solution and submerge a washcloth. Place the oatmeal soaked washcloth over the affected area and leave for at least fifteen minutes to soothe the bites. If you don't have oatmeal, a store-bought anti itch cream or a commercial oatmeal product like Aveeno colloidal oatmeal or O2 I works well.
These tiny insects pose a significant nuisance, whether you call them kissing bugs, vampire bugs, or assassin bugs. Their bites are itchy and painful, with the potential to carry dangerous diseases like Chagas disease and serious long-term effects.
If you suffer from any illness associated with kissing bugs, contact your local doctor and search the health library for support. For kissing bugs in your home, select from the available supplies and treat them as soon as possible.
Whether you use traps, homemade sprays, or a bug zapper, address environmental factors and move woodpiles away and seal any cracks to get rid of conenose bugs for good.
We hope you loved this article on how to get rid of kissing bugs; please share these clever tips on how to kill kissing bugs with your friends and family on Pinterest and Facebook.