Mealybugs are a persistent problem for many home gardeners. These waxy, white bugs damage stems, wilt foliage, and stunt plant growth by excreting a sticky, suffocating substance. Discover how to get rid of mealybugs outside with our inventive and practical solutions.
Mealybugs, or mealies, are tiny bugs capable of inflicting much damage to your home and yard plant life. Mealybugs are sap-sucking pests that feed on plants and then excrete a waxy substance called mealybug honeydew. This honeydew dries and attracts ants, sooty mold, and other unwanted garden guests.
There are over 2,000 species of mealybugs worldwide, and approximately 275 identified species of these scale insects reside in America. While mealies usually hang out on the undersides of plant leaves, flower petals, and around the base of the plant, there is a soil-dwelling root mealybug variety to worry about, too. Discover home remedies for mealybugs to get rid of these destructive insect pests for good.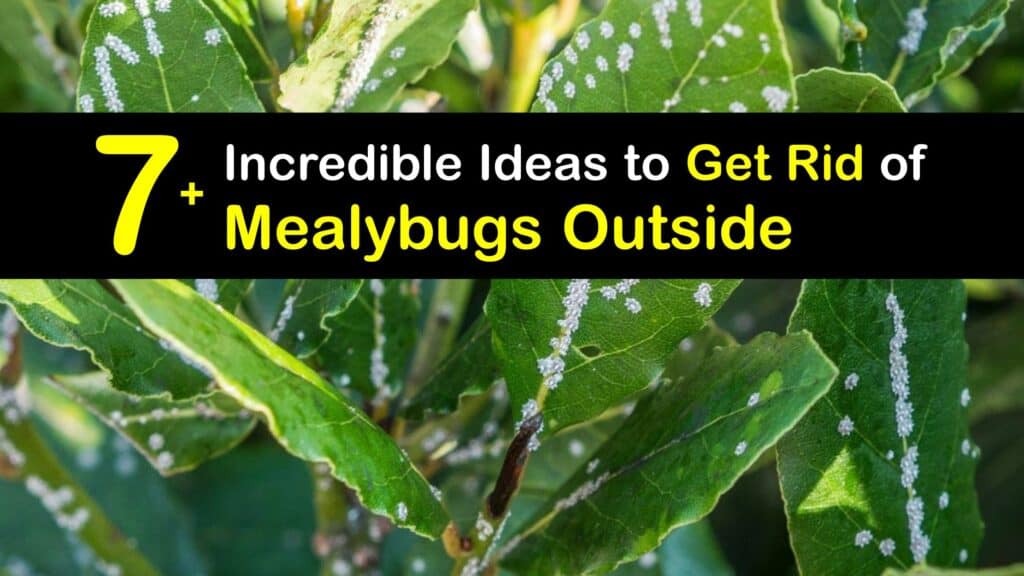 How to Get Rid of Mealybugs on Outdoor Plants
Mealybugs make life tough for plants and can destroy them pretty quickly. Mealybugs are attracted to plant sap and suck vital nutrients away from the plant's structure, weakening the stem and stunting the fruit and leaves. If you notice yellowing, droopiness, or sooty mold spots, chances are that mealybugs are infecting the plant.
Fortunately, there are some tactics you can learn to turn the tables on mealybugs in your home or garden. Pick up some helpful tips and DIY recipes to aid in your fight against a persistent mealybug population. All our strategies are safe, effective, and inexpensive.
Get Rid of Small Mealybug Populations Manually
Mealybugs are pests both indoors and out. They attach themselves to most kinds of plant life but prefer ornamental plants, fruit trees, and soft-stemmed succulents. Mealies are attracted to warm, moist environments and often make their way into your home or greenhouse by hitchhiking on other plants.
Female mealybugs have white, oval, waxy bodies. They grow up to ¼ inch long and are hard to spot. A sure sign of mealybug infestation is a puffy white mass; female mealybugs look like tiny cotton balls grouped around the base or branches of your plant.
If you're keen to learn how to get rid of mealybugs outside, start by being vigilant; keep your eyes peeled for mealies. As soon as you notice a small population, either pick them off by hand or use the hose to spray them off the plant tissue. The adult females won't be able to get back onto the infected plant and eventually starve.
Control the Ant Population
It might sound strange to start your mealybug population control by eliminating ants. However, ants have a symbiotic relationship with mealybugs. Ants keep the mealies safe to feed on a continuous supply of honeydew. Follow these tricks for how to get rid of mealybugs on outdoor plants by controlling ants with DIY bait stations.
Always use safety gloves when handling insecticidal substances like boric acid. Make a mixture of water, sugar, and boric acid, and pour it into several bottle caps. Place the bottle caps around the base of affected plant pots or where you notice increased ant activity. The ants come by for a snack and return the poisoned food to the colony.
Try Dish Soap for Mealybugs
Discover how to treat mealybugs on outdoor plants with dish soap. A simple dish soap spray is often enough for large concentrations of mealybugs, spider mites, or even the odd fungus gnat. Dish detergent will kill mealybugs while being gentle enough to use on most plants.
To rid your infested plant of invaders, mix two tablespoons of gentle liquid dish soap with 2two cups of room temperature water to create a non-toxic mealybug control spray. Use the spray to coat your plants thoroughly; treat the underside of the plant leaves, as that's where mealy bugs typically congregate.
Leave the dish soap spray for a few hours, then hose the host plant off with the mealybugs or any other pest. Collect any dead mealybugs still clinging to the soil or underside of the leaf and dispose of them. Repeat this process every week until your mealybug infestation is under control.
How to Kill Mealybugs Outside with Natural Enemies
If you're interested in getting rid of mealybugs outdoors without synthetic pesticides, this biological mealybug control option is for you. Beneficial predatory insects are a hugely popular way to control and prevent mealybugs in the home garden.
While there are several predatory insects to consider, the Cryptolaemus montrouzieri, or mealybug destroyer, is a top choice. Originally brought to America from Australia to combat the citrus mealybug in the 1890s, these small beetles feed on and destroy scale insects like mealybugs.
Mealybug destroyers cleverly lay their eggs among the mealybug eggs, so when the larvae hatch, they consume the mealy bug young. This method is excellent for greenhouses or outdoor plants.
To kill mealybugs outside, pick up some destroyers at your local garden center, and add a few to your infested plant. Within a few weeks, your mealybug problem should disappear.
Getting Rid of Mealybugs Outside with Insecticidal Soap
Low-toxicity insect control is more important than ever. No toxic chemicals are needed in the garden as long as you have an excellent insecticidal soap to treat pests. Strike a balance with nature and preserve biodiversity in your backyard.
Insecticidal soap kills and controls soft-bodied insects like spider mites, aphids, and mealybugs with an active ingredient called potassium salts of fatty acids, or soap salts for short. Purchase a bottle of your preferred insecticidal soap, follow the manufacturer's mixing directions, and treat your plants as required.
How to Make Insecticidal Soap from Scratch
Explore how to get rid of mealybugs in the garden with this non-toxic, DIY mealybug treatment. It's deceptively simple to make insecticidal soap at home. Find a gentle liquid dish soap and a natural oil such as coconut or vegetable.
Fill the water jug almost to the top with distilled water, as hard water makes the soap less effective, and choose fragrance-free soap to avoid unintentional harm to beneficial insects. Stir in the ingredients, and pour the mixture into a small spray bottle. Pop the lid on your homemade insecticidal soap jug, and store it safely for later use.
Use your spray bottle of insecticidal soap to lightly spray leaves, stems, and all the nooks and crannies. This spray is suitable for most flowers, fruits, and veggies as woolly aphids treatment or for mealybugs and other unwelcome critters. Some plants like rhododendron, sweet pea, and begonia may develop leaf damage. Treat your plants in the early morning, and repeat weekly as necessary.
While insecticidal soap is a relatively low-toxicity solution to unwanted pests, you should still use it with caution around friendly pollinators. Always test a small area before soaking the entire plant. Avoid spraying flowers or areas where pollinators gather, and discontinue use if you notice any issues.
If spiders are building webs where you don't want them to, use this spray for getting rid of spiders outside naturally. Spritz them and remove the webs with a broom.
Rubbing Alcohol for Indoor Plants
You've got the tips to help kill mealybugs outside, but what about vulnerable indoor plants? Mealybugs are common pests on indoor plants. They loaf around on the undersides of leaves and gather in groups around the base of your plant.
If left to their own devices, mealybugs feast on delicate plant tissue, robbing your houseplant of nutrients and inhibiting plant growth; it's best not to ignore these waxy white invaders. Use an alcohol-soaked cotton swab or Q-tip to penetrate the bug's waxy coating and pull them off the plant.
Pop the mealybugs in a bit of soapy water to finish them off, then dispose of the dead bugs and the contaminated water safely outdoors. Use a rubbing alcohol-soaked cotton ball and wipe the plant. This method is best for indoor plants because rubbing alcohol combined with the sun may burn outdoor plants.
How to Suppress Mealybugs with Neem Oil
Once your mealybug population is under control, consider introducing a neem oil spray to keep garden pests at bay. Neem is a non-toxic, natural insecticide we get from processing all the parts of the neem tree into a cold-pressed oil.
Neem oil preventative spray is a fabulous strategy for anyone wanting to know how to get rid of mealybugs on outdoor plants without using harmful pesticides. Discover how to suppress and control mealybugs.
Fill a 1-gallon bucket about two inches from the top with water. Blend the neem oil and liquid soap separately before adding them to the water; allowing the oil and soap to emulsify in the water without separating. Use a pump sprayer, or transfer your neem mixture to a spray bottle for ease of use.
A regular neem treatment provides a protective coating for your plants as a way to treat aphids on hibiscus plants or mealybugs. We recommend a bi-weekly treatment. Neem oil will kill mealybugs easily – rotate with different horticultural oils to prevent pest resistance. While neem oil is considered generally safe, it's still important to avoid spraying the tops of flowers or places where beneficial insects congregate.
We hope you enjoyed our insights into insect control and found value in learning how to get rid of mealybugs outside with simple solutions. The best way to stop the mealybug population from feasting on your plant sap is by keeping a watchful eye; white, waxy bugs or spots of sooty mould mean it's time to take action or risk losing the plant altogether.
Start simple with a strong blast from the hose to dislodge hungry mealies. Follow up with our DIY dish soap spray to help speed the process. Consider adding natural enemies like Cryptolaemus montrouzieri, the mealybug destroyer, to your garden plots to keep mealybugs in check.
Safe, natural pest control is easy and inexpensive and benefits the ecosystem. When you get a new plant, isolate it to see if unwanted plant pests lurk on the leaves or soil. Prevent mealybugs by keeping things dry and incorporating a mild neem oil spray into your gardening routine.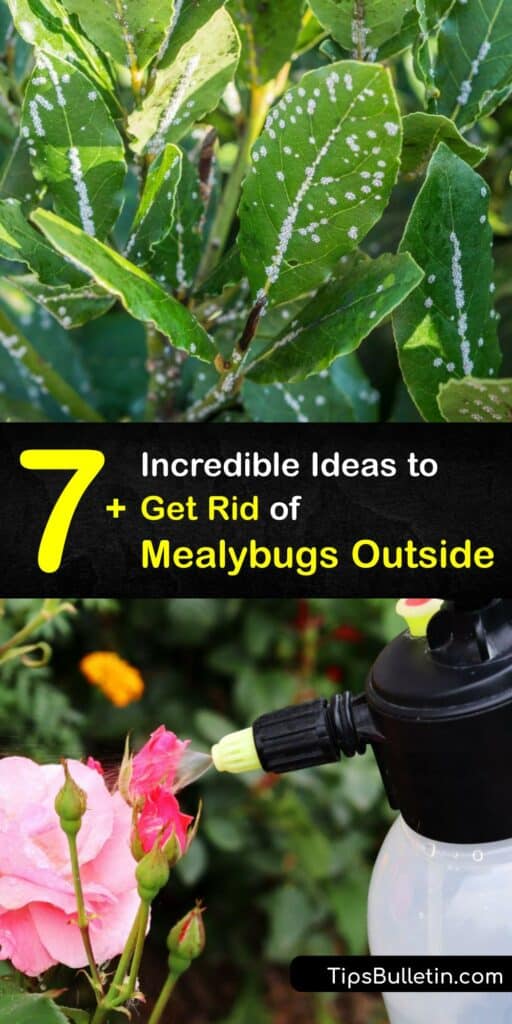 If you loved learning how to get rid of mealybugs outside with our amazing tips, share this how-to article with your friends on Pinterest or Facebook who are always looking for natural, affordable pest-fighting fixes.