Mealybugs harm their host plants by feeding on them, but fortunately, it is easy to learn how to get rid of mealybugs. Nearly 300 of the numerous insect species commonly referred to as mealybugs are located in North America, and these small, oval, sap-sucking mealybugs are related to scale insects. Mealybugs are 1/4-inch long warm-weather beetles covering themselves in a powdery white wax material for protection.
Mealybugs are typically an issue with houseplants in Northern latitudes and are seen in greenhouses, although they are rarely seen outside. However, they can be a significant issue for entire crops in warmer locales. Many growers struggle with getting rid of mealybugs, and their feeding eventually causes the leaves to turn yellow and fall off the plant.
Fruit, vegetables, and flowers may bud prematurely due to mealybugs. The insect's waxy excretions, commonly known as honeydew, promote the growth of the sooty mold fungus in a severe infestation. Discover natural ways to stop mealybugs and eradicate these pests fast.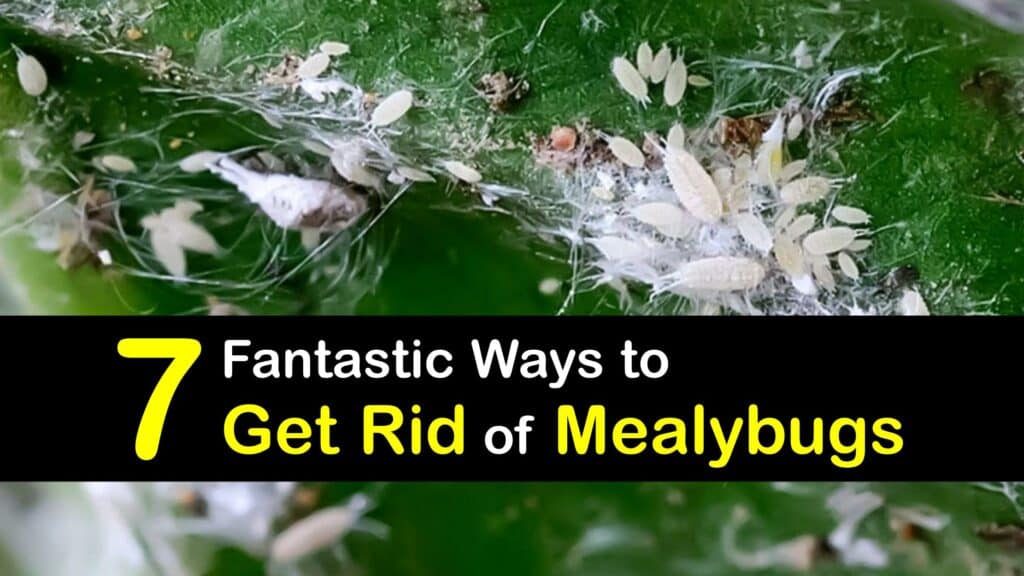 Natural Ways to Get Rid of Mealybugs at Home
Every gardener should know how to get rid of mealybugs. These garden and houseplant pests are incredibly damaging and ravage plant leaves and new growth if not treated.
Luckily, there are several home remedies for getting rid of mealybugs without using toxic substances and heavy chemicals in your home or garden. Save money and time using products from around the house to handle your mealybug problem.
In addition to these excellent remedies, using diatomaceous earth dust for insect control is still another option to totally eliminate unwanted bug pests.
What Causes Mealybugs?
Mealybugs, or Cryptolaemus montrouzieri, are plant pests affecting outdoor and indoor plant life. Whether you have a longtailed mealybug infestation or root mealybugs, these critters feast on the affected plant and leave secretions that promote the growth of sooty mold.
Mealy bugs are attracted to houseplants and outdoor plants with high nitrogen content and soft growth on their plant leaves. These conditions are fostered by over-watering and over-fertilizing. It's critical to kill mealybugs outside or indoors after discovering them, as they quickly destroy a plant if left unchecked.
Mealybugs are drawn to particular plants because they have many liquids they like to eat. Mealybugs are a significant hazard to some commercial crops, such as mango, and citrus trees are especially susceptible. Numerous indoor plants, particularly tropical species, are susceptible to mealybug infestation.
How to Get Rid of Mealybugs with Neem Oil
Neem oil is an ideal way to eliminate the citrus mealybug without harming the beneficial insect population in your garden. Preparing neem oil as a soil soak and providing it to the roots of your plants allows it to work as a systemic insecticide. Neem oil does work great on stink bugs and other insects, too.
A neem oil drench can be efficient in getting rid of mealybugs on succulents and other indoor plants. You can use this soil drench in the same concentration for indoor plants.
The plant roots take in the neem oil mixture and circulate it throughout the tissue, so the next time a mealybug feeds on a leaf, it ingests neem oil and perishes.
Add three cups of neem oil soil drench to the soil around the roots of each plant when you use neem oil for mealybugs. Repeat every two weeks to attack an established infestation. Because soil drenches are non-toxic and stay in plants for up to 22 days without harming them, it's safe to use them on food crops close to harvesting.
Getting Rid of Mealybugs with Insecticidal Soap and Neem
Combining insecticidal soap and neem oil creates a powerful mealybug destroyer. It's easy to make an organic insecticide for aphids that works on many unwanted bugs. Buy insecticidal soap products or mix your own by combining soap with water. Look for a product devoid of unnecessary toxins and scents that could hurt plants.
Disperse the solution using a spray bottle or a sprayer to get rid of woolly aphids on trees or to tackle mealybugs and other insects. The infected plant leaves should be entirely covered, particularly the undersides. Spray early in the day or late at night to ensure the mixture has time to distribute before any helpful pollinators visit the garden.
Home Remedies for Getting Rid of Mealybugs – DIY Spray
If you have a mealybug population on your ornamental plants or an infested plant in your home, keep pest control simple and craft your own spray. Use potent ingredients such as cayenne pepper, garlic, and onion to eliminate mealybugs without worrying about bringing harmful substances into your home or garden.
Add the garlic bulb, small onion, and cayenne pepper to a food processor or blender and process until paste forms. Mix in a quart of water, steep for an hour, strain through a cheesecloth, and add the liquid dish soap. Mix well.
In areas where mealybugs are present, spray the solution over the entire plant. Keep the mealybug spray in the fridge for seven days.
Treat a Mealybug Infestation with Horticultural Oil
Horticultural oil products are made using mineral oil and an emulsifier; sometimes, additional insecticidal ingredients are added to increase effectiveness. Read the oil's label and combine it with water per the guidelines to make a spray to eradicate mealybugs.
Horticultural oils obstruct the mealybug's breathing holes, causing it to suffocate. It is preferable to use horticultural oil as soon as a mealy bug is first noticed before an infestation takes hold.
Control Mealybugs Using Isopropyl Alcohol
Isopropyl alcohol is most commonly blended with water to make a rubbing alcohol cleaner or antiseptic, yet it is an efficient way to get rid of mealybugs. Mealybugs are promptly killed using a cotton swab to dab either rubbing alcohol or a 70% isopropyl alcohol solution onto them.
Test the alcohol on a leaf first before applying it to the whole plant to ensure the alcohol won't burn it.
Tips to Prevent Mealybugs
Female mealybugs quickly reproduce, and even one insect soon becomes a plant-threatening infestation. Mealybugs are best controlled defensively, as with other pests. Infestation is less likely to affect solid and robust plants than weak, stressed, and under potted ones.
Make sure your plants are vigorous in general to reduce the likelihood of attracting these bugs in the first place. Taking precautions minimizes the need for mealybug control and protects your plants from damage.
Reducing common mealybug precursors like overwatering, over fertilizing, and overcrowding and inspecting new plants to ensure you don't accidentally introduce pests helps keeps them out of your garden.
Since greenhouses make ideal breeding grounds for mealybugs, they frequently arrive at your home on new plants. Before adding a new plant, scrutinize purchases.
More growers are choosing natural ways to get rid of mealybugs. Whether you have spider mites or a scale insect invasion, organic and safe treatments for insect pest issues are the superior choice. Mealybugs are a devastating pest. Taking prompt action keeps them from destroying indoor plants or your garden.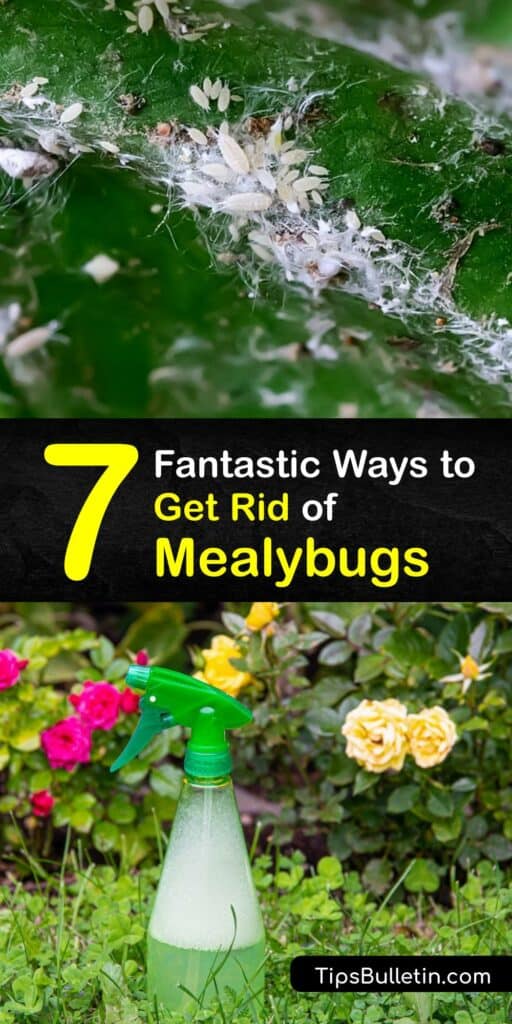 If you loved this info on how to get rid of mealybugs, please share these brilliant tricks for getting rid of mealybugs with your friends and family on Pinterest and Facebook.