Mice are one of the most infuriating challenges homeowners face worldwide. It is crucial to learn how to get rid of mice in the basement and prevent rodents from entering your home to protect your belongings.
In addition to being carriers of a wide variety of viruses and diseases such as leptospirosis and rat-bite sickness, mice inflict property damage, create chaos in the household, and give the appearance of a dirty house lacking in sanitation. It is uncomfortable and upsetting to have a mouse infestation. Find a way to get rid of mice in a basement as quickly as possible.
There are a variety of home treatments and mouse repellents to make yourself to help you deal with the rodent problem and achieve pest and disease control. The good news is getting rid of mice in your basement doesn't have to be a frustrating or complicated process.
Getting Rid of Mice in Your Basement
There is a mouse control solution suitable for every house and circumstance, whether you favor natural approaches like essential oils or are concerned about safety because you have kids or animals.
Getting rid of mice in your basement or crawl space, as well as getting rid of mice in the attic with blown insulation, often feels like a real struggle. Mice multiply quickly and are often destructive and messy. If you notice signs of rodent activity, such as mouse droppings, chewed boxes, or other property damage, it's time to figure out how to get rid of mice in the basement.
When looking for a way to get rid of mice in a basement, decide if you prefer to use natural and humane methods and account for the safety of your family and pets. Cruel traps like snap traps and glue traps stick or snap closed to injure children and pet animals as quickly as they do mice. Live traps and natural options are generally safer and kinder.
How to Get Rid of Mice in the Basement
If you've devised a live trap and need trustworthy bait, a small dab of peanut butter on a cotton ball is attractive to mice. Rodents can't resist the nutty, sweet scent, and it's strong enough that they smell it from a long distance and are more inclined to engage with the trap.
Peanut butter is inexpensive, readily accessible, and won't harm your children or pet animals if they discover it first. Use peanut or another nut butter as a reliable rodent bait, whether refilling a bait station or creating a humane trap.
The Best Way to Catch a Mouse in a Basement
The most ethical and responsible technique to deal with mice is a live trap. If you don't want to kill mice naturally, humane mouse traps address your mouse problem and catch house mice and other rodents kindly so they can be released away from your home. Live traps will get mice out of your house and are not harsh like snap traps or sticky traps. They pose no risk to people, pets, or the environment.
Placing a bucket under a tabletop is a simple live trap and is one of the favored home remedies for trapping mice. Rest a spoon on the counter with the handle dangling over the bucket and a small blob of peanut butter at the end.
The spoon and the mouse both fall into the bucket when the mouse steps out onto the spoon to grab the peanut butter bait. Release the mouse away from your house and repeat the process nightly until the mice no longer threaten your property and home.
A Snap Trap is a Way to Get Rid of Mice in a Basement
Spring and snap traps have mouse bait like fruit or peanut butter on a weighted surface. The trap opens and springs or snaps closed on the mouse when it walks on the scale, maiming or killing it.
Snap traps are cruel, and mice are frequently left injured, dying a slow and agonizing death. They're messy, with decapitated or otherwise mutilated mice to clean up. The trap must be emptied and reset, which means the user comes into contact with a dead mouse.
Pets and small children could easily trigger a snap trap if they find one accidentally, with catastrophic results. Spring traps should only be a last resort. Strive to use less invasive, more humane, and environmentally friendly pest management methods first.
Kill Mice in a Basement with a Glue Trap
Glue traps catch several mice despite being a harsh and unkind pest control option. These glue traps are usually board sheets with a strong adhesive affixed to one side, similar to the glue traps for insects. The mice become trapped when they walk over the sticky part and perish. Set traps wherever you notice mice droppings or other signs of activity.
When you utilize these traps, there's a strong chance you'll find a mouse still alive and suffering, and you'll have to deal with it. These traps are not reusable; if they come into contact with pets, children, clothing, or shoes, they may cause injury.
Prevent Mice with Essential Oils
If you're eager to get rid of or repel mice from your house without using poison or traps, a variety of essential oils will likely work. To keep mice from returning, make a DIY rodent repellent and spritz it throughout your home, focusing on places where you've seen rodent droppings.
Mix 20 drops of your preferred mouse repelling essential oil with two cups of water in a spray canister and spray generously around the basement and your home. The spray leaves your property smelling fresh and deters mice from entering. When combined with removing potential food sources, essential oil helps keep mice out of the basement.
Commercial Pest Control
A range of commercial rodent control options is available from rodent poison, bait stations, and mice traps, all meant to get rid of mice in walls and ceilings. Choose the solution most appropriate for your home and your pest control goals. Always read the manufacturer's guidance and use the product per safety instructions.
Prevent and Reduce Mice Infestation with Management Strategies
One of the best ways to significantly reduce the chances of a mouse infestation is to keep your basement and crawl space clean and make conditions uninviting for a house mouse, rodents, or rat. Rodents generally head indoors in search of food and nesting material.
Address the environmental elements leading to your mouse infestation before setting up a mousetrap. Seal any potential food sources like grass seed, birdseed, and pet food in rodent-proof and airtight containers. Check the door and the walls for any cracks or openings that allow rodents to get inside the basement.
If you find cracks, patch them. Clean any nesting materials like old clothes, boxes, or paper. By making the environment less inviting, it's possible to deter rodents from moving into your home.
A mouse infestation may feel difficult to eradicate. However, getting rid of mice is vital, whether you have seen mouse droppings, observed many mice, or spotted holes in pet food bags. Because the house mouse is looking for a place to nest and eat, removing desired items before using traps boosts your chances of successfully eliminating the rodent problem.
If you employ the techniques above and still have mouse troubles, consider contacting the National Pest Management Association for further advice. It's a good sign that your pest control measures work if you find a dead mouse or notice fewer mice. Always think about how any mouse control tactics will affect children, animals, and other adults in the house.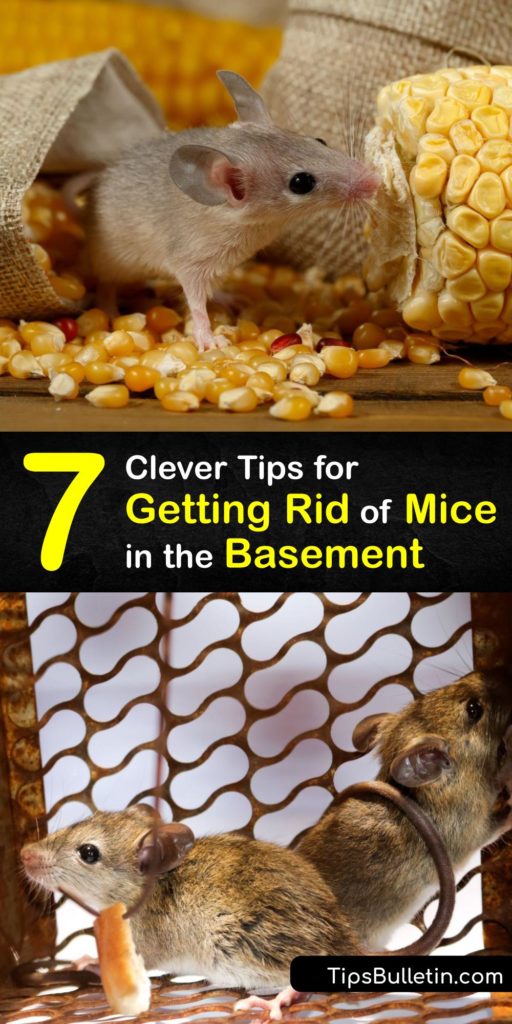 If you loved this article on how to get rid of mice in the basement, please share these clever tips for getting rid of mice in your basement with your friends and family on Pinterest and Facebook.