You sneak into the kitchen for an evening snack when you notice a small shadow dart across the counter, and it seems you have a house mouse joining you for cookies and milk. Unfortunately, this uninvited guest is a common pest in homes, and it's essential to take steps to remove them. Discover how to get rid of mice in your house and tips for preventing their return.
While a mouse is not as disturbing as a rat, its presence is startling, particularly if you fear rodents. They chew holes in food packaging, leave mice droppings wherever they go, and they are not welcome indoors.
If one mouse finds its way inside your house, there's bound to be more, eventually leading to a rodent infestation. It's vital to take pest control measures immediately to ensure that one mouse doesn't become a family of mice.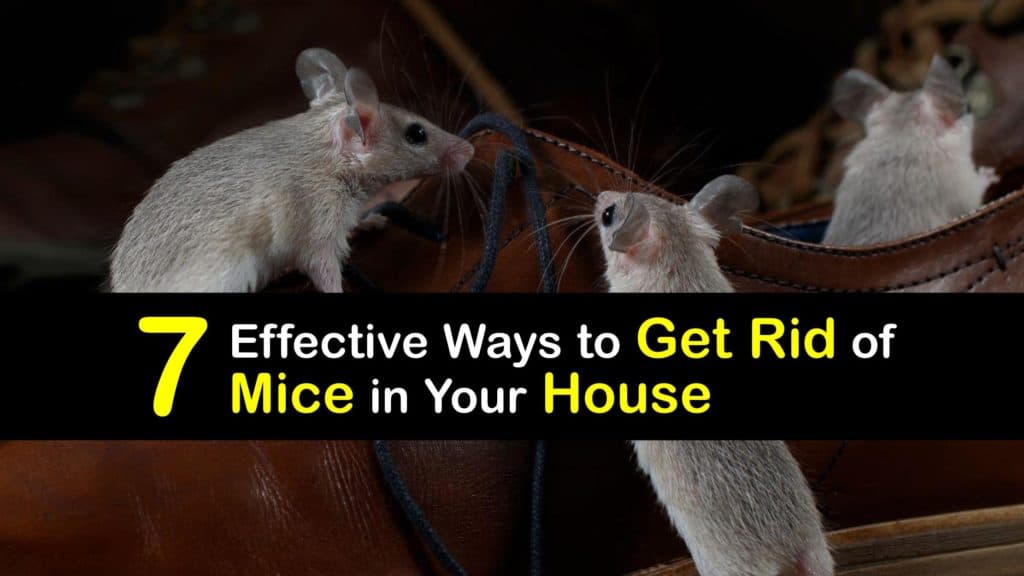 Ways to Get Rid of House Mice
Mouse droppings are sure signs that you have a mouse problem, and it's time to take action. Learn how to get mice out of your home and keep rats and mice away from house areas in a few simple steps. Prevent a mouse infestation by mouse proofing the house.
Why It's Essential to Keep Mice Out of the House
There are many types of mice, and they all play important roles in nature. However, there are many reasons why you don't want them in your home. Discover why it's necessary to get rid of house mice and prevent them from getting inside in the first place.
Mice chew through everything from drywall and insulation to electrical wiring, causing damage. It's important to keep field mice out of your house as they are vectors for salmonella, Hantavirus, leptospirosis, and other diseases through fecal matter that dries up and spreads through the air.
Mouse poop is not the only problem. While you can't always see it, mice leave a trail of urine wherever they go, including your counters, cookware, and dishes, so it's vital to keep mice out of the house as a form of disease control. Getting rid of mice urine odor is important so other mice cannot follow the scent.
Ways to Tell if You Have a Mice Infestation
House mice leave behind many telltale signs of their presence while living inside. To prevent or handle a mice infestation, learn where these rodents like to hang out and what to look for to determine if you have a mouse problem.
One of the most notable signs of mice is the sounds they make as they scurry around at night. You may hear them in the ceiling or walls, making scratching noises as they move around their nest. Holes and chewed edges on cereal boxes and other food packages indicate a mouse infestation.
Mouse droppings are another sign, and you may spot them in the pantry, kitchen cabinets, and in bags and old boxes. Check areas where you hear sounds or find mouse poop and look for gnaw marks or nesting material.
Getting Rid of Mice in Your Home With Traps
Mouse traps are the most common way of getting rid of mice in your home. They are affordable, and you can find them at most hardware stores. Set up a mouse trap to eliminate mice.
One of the quickest ways to kill mice is to use a trap; however, avoid using a glue trap since these are an inhumane way to get rid of mice. Traps will also work to remove squirrels from walls or any other small animal.
Fortunately, there are other trapping systems than glue traps. You can even make humane homemade mouse traps where you release a trapped live mouse outside – far from your house. This is often the best way to get rid of mice in the basement, garage, or attic. All you need is a bucket, a spoon, and a dollop of peanut butter.
The snap trap is the most common, and it has a quick-trigger system that kills mice fast. Place peanut butter, cheese, or another bait in the trap and discard the dead mouse in the outside trash.
Electric traps lure the mice inside a chamber, eliminating them with fatal shocks. Live catch traps are trigger-activated when the rodent enters the cage, trapping the live mouse inside for release in a different location.
Using Essential Oils to Get Rid of House Mice
While mouse traps kill mice in your house, they are not for the faint of heart since the trap lures the rodent to its death, and spreading used kitty litter around your home is less than appealing. Making a DIY mouse repellent is far easier and it smells much better.
Essential oils are a great alternative to traps and cat litter; they are effective at keeping mice out of your living space and getting rid of rats in your garage or other outbuildings. Get rid of rodents in walls with scents they hate and find out how to use these oils to get rid of house mice humanely.
This is one of the easiest and best natural ways to kill mice and keep them away. To use scents to keep mice away, apply straight peppermint oil or clove oil to a cotton ball, and dab it in areas where you notice mouse activity.
The scent of these oils drives mice to look for a more pleasant place to call home and is ideal for getting rid of mice in apartments or other areas you don't want them. Place essential oil-soaked cotton balls under cabinets, behind appliances and furniture, and in basements and attics.
How to Get Rid of Mice in Your House With Bait Stations
The best way to catch a mouse in a house if you have children and pets is to use bait stations. They are easy to set up and eliminate up to 12 mice, unlike a trap that only kills one at a time.
Baiting Mice
A bait station is a way to kill mice without spreading poison around your home. The units contain a bait block that lures mice inside for a snack, and within a day or two, the mouse dies from poisoning. Place the stations eight to 12 feet apart and check around your home regularly to locate the dead mice. Use a bleach and water or vinegar and water cleaner to sanitize the area afterward as ways to get rid of dead mouse smell after trapping and killing them.
Sealing Entry Points in Your House to Get Rid of Mice
The ideal way to avoid getting rid of mice in your home is to stop them from having easy access indoors. Seal up your house to keep this rodent outside where it belongs.
Check outside your home's structure and seal each entry point with caulk or steel wool. Replace the weather stripping around windows and install door sweeps on exterior doors. Screen vents and chimneys, repair damaged window screens and keep exterior doors shut.
Ways to Prevent Mice From Getting in Your House
There are many reasons why mice find your home so inviting, from food and warmth to safety. The easiest way to prevent them from taking up residence in your living space is to remove their creature comforts.
Prune the shrubs around your home and keep firewood at least 20 feet away from the house since these are areas where mice like to hide. Always check cardboard boxes from the basement or garage for signs of mice before bringing them indoors.
Keep a tidy kitchen by cleaning dishes, taking out the trash, and sweeping the floor daily. Never leave food sitting out, and store pet food in a container with a lid. Seal food in airtight containers before storing it in the pantry or kitchen cupboard.
There is nothing more startling than coming across a house mouse in the middle of the night. Fortunately, it's easy to get rid of these rodents using bait and traps, and essential oils keep them out of your home.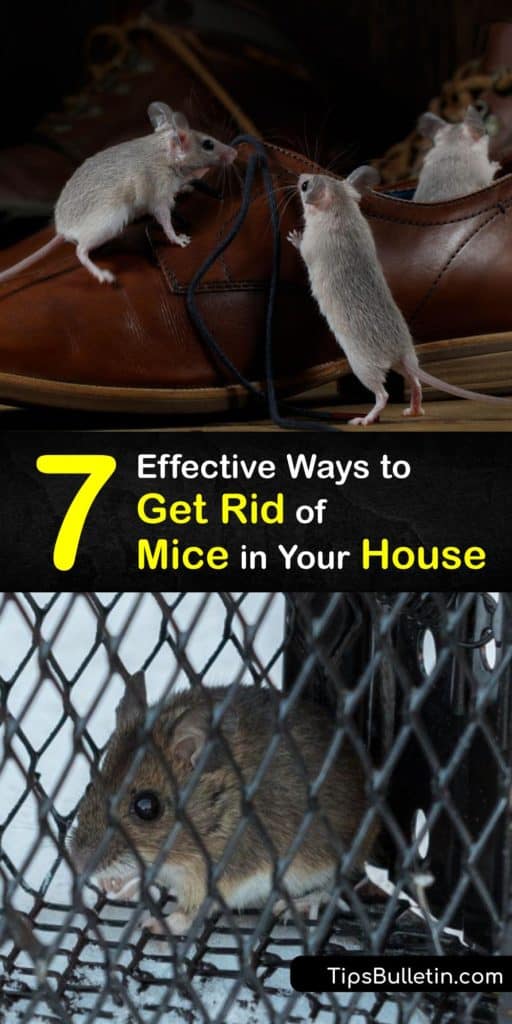 Now that you know how to get rid of mice in your house quickly and prevent their return, why not share our tips for getting rid of house mice with your family and friends on Facebook and Pinterest?