You're watering your aloe vera and notice white mold creeping over the potting soil of your favorite indoor plant. It looked okay yesterday, so where did this mold growth come from? Learn what this white stuff is, what causes it to grow, and how to get rid of mold on houseplant soil using a few simple steps.
We all know that a houseplant requires some responsibility with regular watering and TLC. However, we don't expect to deal with powdery mildew, sooty mold, or fuzzy mold on an indoor potted plant. This white or gray mold spreading over the plant's soil is gross and seems to happen overnight.
There are many reasons your houseplant grows soil mold, from overwatering and poor soil drainage to contaminated potting mix. Fortunately, houseplant soil mold is not as dangerous to your plant as it appears. The fuzzy, white fungus growing over the soil surface is usually harmless and easy to get rid of if it's not too severe.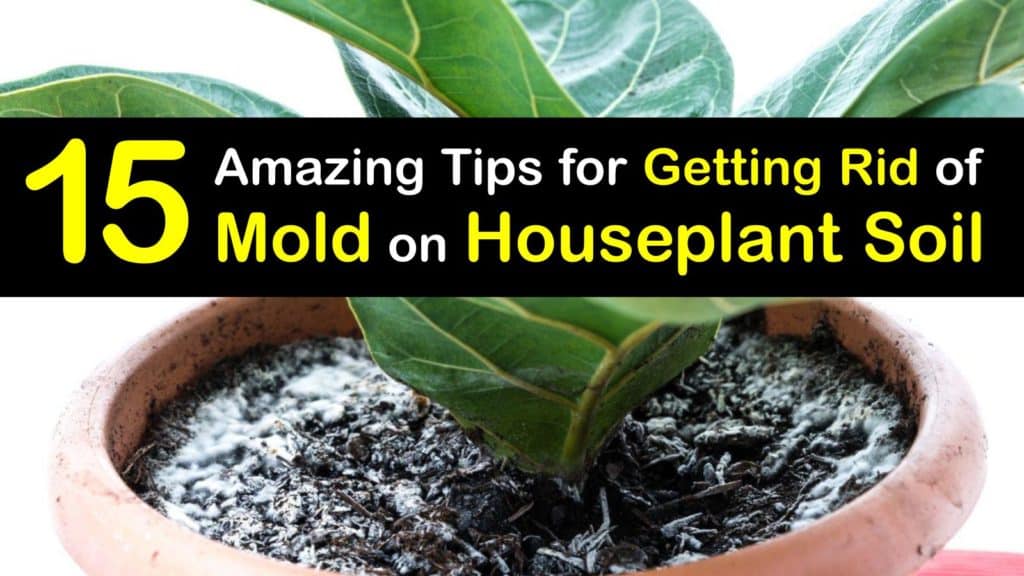 Getting Rid of Mold on Houseplant Soil
While a moldy plant is not very attractive, there is usually no cause for concern, and there are many simple remedies to the problem, just like there is for soil mites and fungus gnats.
Discover which fungus types affect houseplants and how to eliminate white mold using a commercial or natural fungicide to restore the plant soil. Find ways to prevent houseplant mold from returning.
What Causes Fungus on Soil of Houseplants?
There is white mold growing over the dirt in your indoor plants, and what looked nice and healthy yesterday now looks creepy and disturbing. It's important to know what causes fungus on soil of houseplants to ensure this doesn't happen again.
The white fuzzy stuff you see on the dirt of your plant is most likely from the harmless saprophytic fungus. It's often the result of contaminated potting mix, poor soil drainage, overwatering, and low sunlight. These all play a factor in mold growth, and dampness and low light are the perfect environments for fungus.
Different Types of Mold that Affect Houseplants
While many mold types look similar, there are a few different ones that affect houseplants. Explore some of the most common fungus varieties that are a problem for indoor plants.
The primary fungus type to affect houseplants is saprophytic fungi or mycelium. This white, thread-like growth is harmless, even if it covers the entire soil surface. Another harmless type of this fungus is yellow fungal mold, which is also caused by saprophytic fungi. Botrytis fungus causes a harmful gray mold if left untreated.
Black and dark green patches are signs of sooty mold that result from insects feeding on the plant's sap, and a light, flour substance on the plant's leaves and stems is powdery mildew.
Does Moldy Soil Harm Houseplants?
You tend to your houseplants and find that the soil around the base is covered with a white, fuzzy layer of mold. Your first thought is probably that your indoor plant is doomed. However, this isn't usually the case, depending on the fungus type and severity of the spread.
Plant Mold
While it is unsightly, most plant-soil molds are not harmful to your houseplants. However, your plant does not flourish and often ends up with stunted growth if you do not deal with the problem right away. Fortunately, white mold is easy to rectify, and there are several steps to take to prevent it from returning.
Treat Mold on Houseplant Soil by Transplanting
One of the best ways to treat mold on houseplant soil is to repot the plant with fresh dirt to eliminate the contaminated soil and give your houseplant a fresh start. While the process takes longer than applying a fungicide, it's well worth the effort. to get rid of powdery mildew on garden plants you have indoors.
The first step to transplanting your houseplant is to use a damp cloth to remove any white dust off the foliage and stems. Carefully remove your plant from the pot and discard the moldy soil in a plastic bag.
Rinse the roots beneath running water and inspect them for signs of disease. Prune damaged or diseased sections as needed.
Fill a sterile pot a third of the way with sterile potting soil and position the plant in the container at the same height as before. Pour the remaining soil into the pot and water the plant thoroughly.
How to Get Rid of Mold on Houseplant Soil with Baking Soda
Baking soda is a natural powder that we usually use in baking. However, it is also an antifungal agent that works great for getting rid of the white stuff in the soil of a houseplant.
Baking Soda Mold Treatment
To eliminate and prevent white mold from growing on your plant's soil, sprinkle some baking soda over the top of the dirt. This powder is a natural antifungal that deters mold growth and stops a mold spore from spreading. It does not harm your plant and is safe to use as needed.
Getting Rid of Houseplant Soil Mold with Vinegar
Vinegar has antifungal activities that kill mold and fungus on soil of houseplants. However, it is an acidic liquid that damages plants if you use a full-strength application. Here is how to use apple cider vinegar and water to kill mold growth in your houseplant dirt and to get rid of powdery mildew on houseplants.
Combine a gallon of water and three tablespoons of apple cider vinegar in a container and pour the solution into a spray bottle. Spray the liquid over the white powder on the soil every four to five days until the mold growth is gone. Label the bottle, store it in a safe place, and use it whenever necessary.
Use this DIY solution as a homemade spray for mold gnats, too. It will kill them quickly.
Using Hydrogen Peroxide to Eliminate Soil Mold
Hydrogen peroxide promotes healthy plant growth by introducing additional oxygen to the soil, and it's also useful as a pesticide and fungicide. Here is how to treat mold on houseplant soil and to treat aphids on indoor plants with hydrogen peroxide.
Pour a gallon of water into a container and add the hydrogen peroxide. Pour the liquid into a spray bottle and spray it on the soil surface once a day for three days to kill the white mold. Label the container and store it for later use.
Get Rid of Houseplant Soil Mold with Neem Oil
While there are many commercial fungicides on the market, nature has a way of providing us with everything we need. Neem oil is a popular choice for preparing natural pesticides and fungicides. This oil comes from the Neem tree, and it has many uses, from skincare to insect repellent and plant treatment.
Combine half a gallon of water with two teaspoons of Neem oil and one teaspoon of liquid dish soap in a watering can and water your contaminated plant thoroughly.
Wait until the soil dries out between applications and water your plant with the natural fungicide once a month to prevent fungus growth. Neem oil does work to repel the fungus gnat and other houseplant pests, too.
How to Use a Fungicide to Get Rid of Soil Mold
If you'd rather not fuss with preparing a homemade treatment to get rid of soil mold, your local garden center has an array of fungicides that do the trick. However, it's vital to choose the right product and follow the manufacturer's instructions for application.
Fungicide Treatment
To eliminate white mold on your houseplant's soil, use a commercial fungicide to eliminate saprophytic fungi and follow the manufacturer's instructions for proper application. Spray the solution over the soil as directed to kill the mold spores and follow up with preventative steps to ensure the fungus doesn't return.
Using the Sun to Kill Houseplant Soil Mold
The sun has more abilities than warming the earth. It also provides us with vitamin D and can kill germs, bacteria, and mold. Therefore, sunshine is the ideal natural remedy for eliminating white mold in your plant's soil.
Sunlight Soil Treatment
If you'd rather not repot your plant or use a fungicide, move your houseplant outside to a sunny location. Mold lives in the top layer of the soil and cannot survive in dry environments. The sun's ultraviolet rays kill the spores while drying the dirt for quick mold elimination.
Treating Moldy Houseplant Soil with Cinnamon
We all know cinnamon as a spice that tastes great on toast and sprinkled in a hot bowl of oatmeal. However, cinnamon also has powerful antifungal and antibacterial properties, and it's perfect for adding to your plant's dirt to eliminate mold growth.
Use paper towels to wipe thick patches of mold away from the surface of the dirt and sprinkle a layer of cinnamon over the soil around the base of the plant. The spice kills the mold spores while filling the room with a pleasant scent.
What's a Good Soil and Pot Type for Stopping Mold Growth?
If you just purchased a new plant from the garden center or decide to transplant it into a new pot, it's a good idea to know which potting mix and container types are ideal for preventing plant soil mold.
The best type of pot for a house plant to prevent the soil from being too damp is terra cotta. This material is a porous clay, and it can breathe, while containers like plastic hold in moisture, which may lead to mold growth.
It's also vital to use a pot with drainage holes to allow excess water to escape while watering your plants. Always use a sterile potting mix from your garden center when transplanting houseplants, and avoid using soil from the garden since it may be contaminated with fungal diseases.
How to Prune Your Plants after Getting Rid of Soil Mold
Getting rid of the mold growth in the soil is only the first step in the plant care process. Your plant's stems and leaves often suffer from mold, and pruning is necessary to promote good health to the rest of the houseplant.
Check the foliage of your house plant for mold contamination and spores, and use a damp cloth to clean them gently. Use pruning shears or sharp scissors to prune away stems or leaves if they are yellowing, wilting, or damaged from excessive fungal growth and discard them in a plastic bag.
How to Remove the Houseplant Soil Mold Manually
One of the most straightforward methods to get rid of mold from your plant's soil is to remove it by hand. This method is helpful if the mold growth is newly grown and on the top layer of dirt.
Move the plant in front of a sunny window as you work. Use a spoon to scrape the top layer of moldy soil out of the pot and discard it into a plastic trash bag.
Continue removing the soil until there is no longer any mold around the plant. Let the plant sit in the sunshine to dry out the dirt and add fresh, sterilized soil to the pot if necessary.
Ways to Prevent Mold on Houseplant Soil
While a house plant usually recovers just fine after eliminating mold from the soil, repeated occurrences cause the plant to suffer and struggle, leading to stunted growth. Here is how to prevent mould growth from taking over your indoor plants.
The best way to stop white mold from growing in your houseplants is to start with sterile soil. Another way to prevent mold from spreading is to give your houseplant the right environment, including sufficient sunlight and air circulation.
For example, position the plant near a sunny window and use an oscillating fan on the low setting if the room is stuffy.
Avoid over watering your plant since soggy soil increases the chance of fungal growth, and only water it when the top of the dirt is dry. Keep the plant clean by removing dead leaves, debris, and organic matter from the pot.
While most plant-soil molds are harmless, they are unsightly and not something we want growing inside our home. Fortunately, soil fungus is easy to eliminate and prevent by taking the right steps.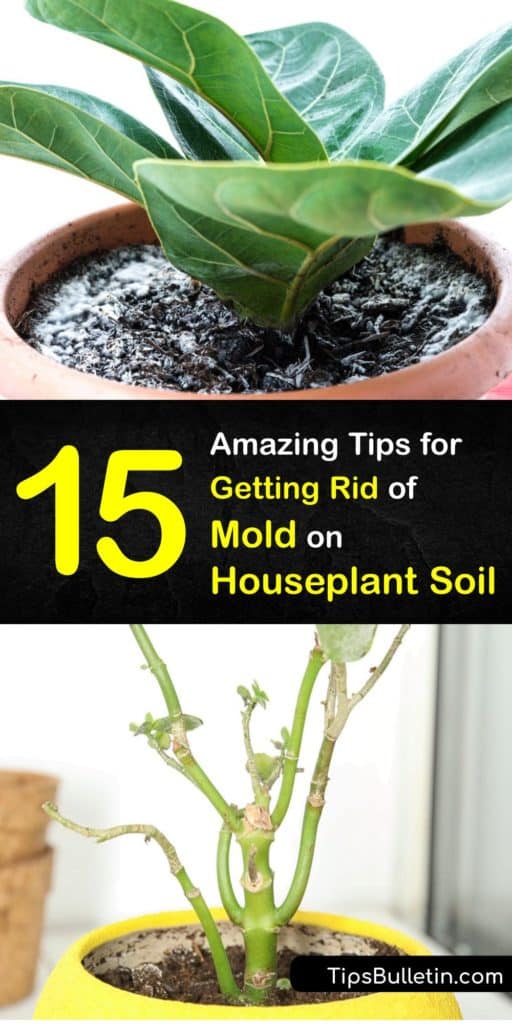 We hope that knowing how to get rid of mold on houseplant soil keeps all your indoor plants healthy and beautiful, and we'd love it if you'd share our plant-soil mold elimination guide with the plant-lovers in your life on Facebook and Pinterest.