Do you know how to get rid of mold on the ceiling in your home? Mold spores are abundant; all they need for activity are humidity and heat. Your house soon grows a mold colony once the environment is right. Mold growth happens wherever the conditions are conducive, whether on materials like tile, popcorn texture, or paint.
Unfortunately, ceilings have a predisposition to mold. Warm air rises, as does warm water vapor, so we often see beads of water on the ceiling. Your bathroom ceiling is exposed to high humidity every time you bathe or shower, creating abundant opportunities for mold spores to proliferate.
Finding mold on your ceiling is shocking and worrisome, yet many homeowners experience this issue. Understanding how to remove mold from the ceiling with DIY techniques puts you in control. Don't let toxic mold spores leach into the air and harm you and your family. Cleaning mold off the ceiling is easy with the proper knowledge. Use distilled white vinegar or bleach, or blend your own mold eraser and make quick work of ceiling mold.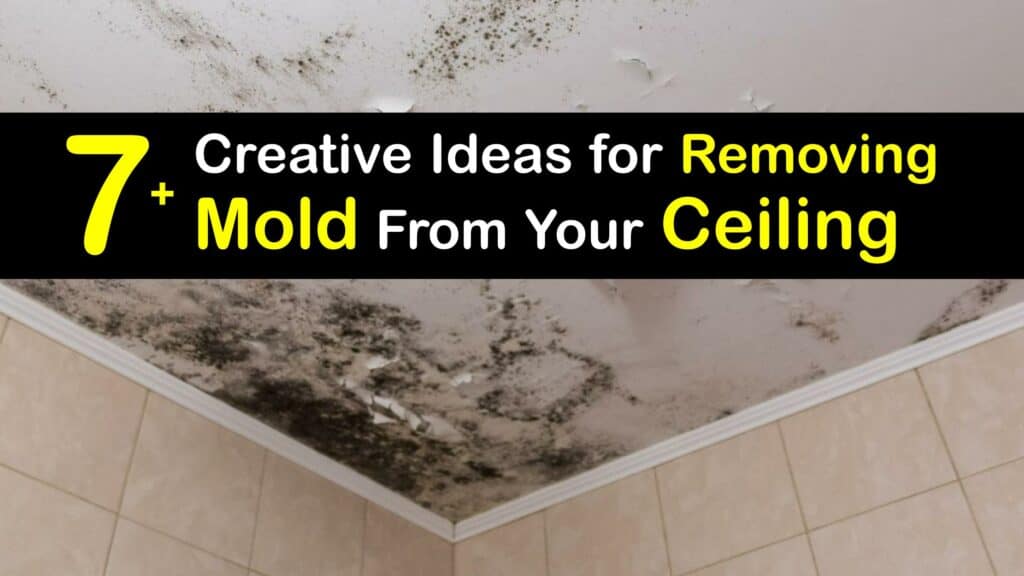 How I Remove Mold from My Ceiling
Instead of spending a fortune on expensive professional mold cleaners, it pays to find out how to get rid of mold on the ceiling using everyday items. Store-bought mold removers are loaded with caustic ingredients, making them unsafe for your family and your ceiling.
Due to the health implications, you must remove mold as soon as you find it. Removing black mold in the shower before it reaches the ceiling is the best way to avoid further mold growth in the bathroom.
Though it could seem challenging, cleaning mold off the ceiling is pretty straightforward if you have the correct information and tools. Rely on proven tricks to eradicate mold spores and enhance air quality without requiring professional mold remediation services.
Why Cleaning Mold from My Ceiling Matters
If you spot black mold on your bathroom ceiling, it's more than just a cosmetic issue. A mold stain is unsightly and looks unhygienic, yet the threat caused by bathroom mold spores affects more than your style.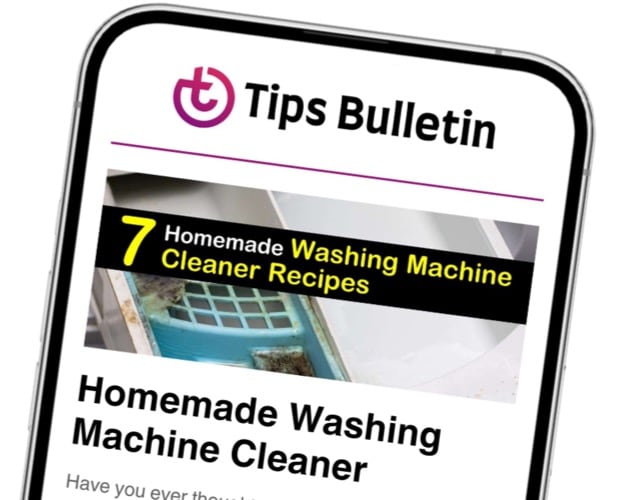 Finally, an email that Transforms Your Home.
Get the latest home and garden tips from our experts, delivered straight to your inbox.
Whether you had a mold inspection with concerning results or noticed spore material growing, keeping your living quarters clear of mold is essential. When bathroom ceiling mold is growing, it can cause everything from allergies to headaches to respiratory problems.
People most vulnerable to severe mold reactions include the very young or old, who have compromised immune systems, are allergic to or hypersensitive to mold, or have asthma. A mold colony on your ceiling affects your and your family's health, making mold removal vital.
Signs I Need To Get Mold Off My Ceiling
Mold comes in many different forms. Identifying a mold problem can be tricky, but visible surface mold is a sure indicator. However, more subtle markers may also denote mold on your ceiling.
All molds have the potential to facilitate health issues, regardless of the variety you're living with—black mold is particularly poisonous. It's crucial to recognize the symptoms of mold and catch it on your ceiling early to minimize its impact.
If you discover bathroom ceiling mold, don't panic. Use an uncomplicated technique to eliminate it and restore the air quality in your living quarters.
How I Get Rid of Mold
Mold is readily removed from ceilings around your home using hydrogen peroxide. Purchase this inexpensive cleanser from your neighborhood pharmacy or first aid supply. Hydrogen peroxide is a fantastic alternative to harsher products to clean mold.
Peroxide is safe, doesn't hurt the environment or leave dangerous residue, and doesn't release hazardous fumes. Pour undiluted 3% hydrogen peroxide into a clean spray bottle and use it to soak the moldy ceiling surface thoroughly.
Ten minutes later, scrub the surface well to guarantee all mold is eliminated. To remove any last bits of mold and spores, wipe the bathroom ceiling with a moist towel and leave it to dry naturally.
Getting Mold Off My Ceiling Naturally
Acetic acid swiftly kills mold, making it straightforward to remove. Distilled white vinegar is a budget-friendly and safe tool for cleaning mold off your ceiling. Because of its high acetic acid content, vinegar kills mold on basement walls and ceilings. Use the vinegar undiluted at its highest concentration to optimize its ability to destroy mold.
Spray distilled white vinegar over the moldy section of the ceiling and let it sit for an hour to get rid of all mold spores. Keep wiping the region with a fresh towel until there are no signs of mold. Use distilled white vinegar judiciously on painted ceilings since the acid content might cause the paint to peel or split.
Cleaning Mold Off My Ceiling Tiles
Traditional or chlorine bleach has various applications in cleaning and sanitizing, so it's no surprise it eradicates mold spores. The powerful chemicals in chlorine bleach halt black mould growth and efficiently dispatch many types of mold. Combine chlorine bleach and cold water to make a mold removal spray ideal for a porous surface like foam tiles.
Shake the spray bottle full of water and bleach until thoroughly blended. Spray the moldy area, so it is moist and not drenched. Scrape off the mold remnants with a scouring pad using light pressure.
Use a small amount of bleach cleaner again, let it dry for 20 minutes, and clean it off with a moist towel. Leave the ceiling to dry, examine it the next day to see whether mold is still present, and repeat the cleaning.
DIY Cleaner for Removing Mildew from My Ceiling
Save money on expensive mold removers with harsh chemicals and create your own mold-killing spray. Combine the power of distilled white vinegar with boric acid to destroy mold particles fast. Wear gloves while handling and preparing the cleaning solution.
Spray only in well-ventilated rooms and keep pets and children away from the space. The spray loses potency if stored longer than three hours; it shouldn't be retained or mixed with other mold removers.
Vigorously shake the contents of the sprayer. After spraying the affected area uniformly, immediately scrub off the top part of the mold using a brush or cloth. Re-spray the ceiling until sufficiently damp, wait ten minutes, and clean it with a fresh rag.
Let the ceiling dry without rinsing to get rid of hidden mold. This cleaning liquid is ideal for treating porous material, such as a popcorn ceiling. Spray liberally to ensure the treatment saturates the ceiling.
Commercial Products I Use to Clean Mold
Consider the type of ceiling you're fixing and what substances you feel comfortable bringing into your house. If you're uncomfortable treating the mold on your ceiling with a DIY remedy, pick up a commercial mold cleaner. Store-bought mold cleaners come in a wide variety and vary in price and ingredients.
Read the user instructions and safety precautions carefully before deciding which mold eliminator to buy. Use the item per the manufacturer's guidelines. It's wise to do a small test spot to ensure no damage to your ceiling before making a broader application.
My Straightforward Tips to Prevent Mold
Moisture, such as that following water damage, helps mold grow on your ceiling. The most effective ideas to halt mold growth are focused on lowering the humidity and moisture.
Ceilings, especially in bathrooms, are prone to mold due to the high moisture. Warm air and water vapor rise, leaving your ceiling damp and facilitating the formation of a mold colony. Reduce the risk of your ceiling becoming host to mold by performing a little maintenance to keep dampness to a minimum.
When you find mold on your bathroom wall or ceiling, there's no simple fix like carpet cleaning. Luckily, there's no need to puzzle over how to remove mold from the ceiling.
Working with mold is daunting. It's a dangerous substance and has the potential to cause harm. Choose a simple-to-follow method and use everyday items in your house to get the mold off your ceiling for good. Always wear a face mask and gloves and open the windows to ventilate the space during mold removal.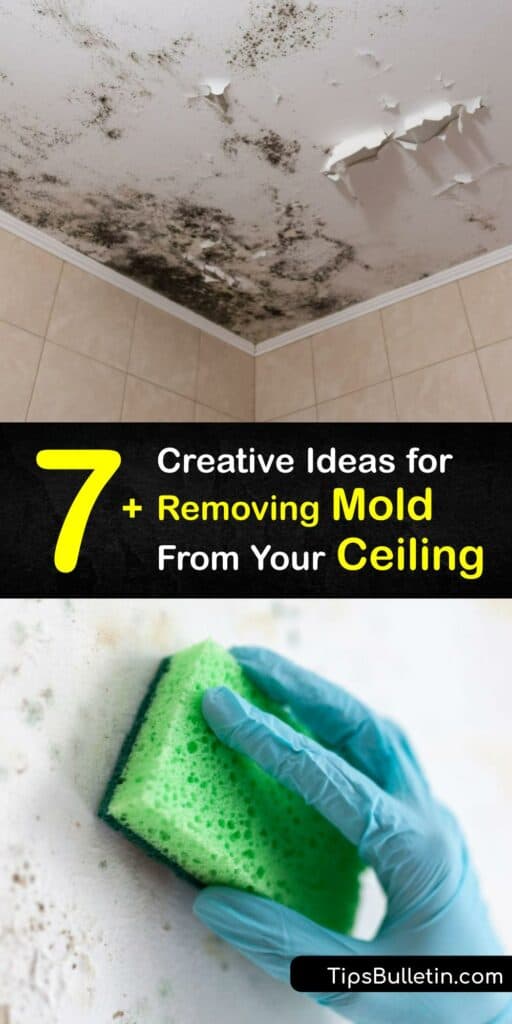 If you loved this concise article on how to get rid of mold on the ceiling, please share this knowledge with your friends and family who are cleaning mold off the ceiling on Pinterest and Facebook.