Black mold, or any mold, can be incredibly harmful. Not only can mold and mildew ruin your home, but it can also destroy your health. Mold in your home is a significant nuisance, and almost every home gets mold.
It discolors the drywall, blackens grout lines in the shower, darkens decks, and grows on and rots damp wood, creating a headache for homeowners and causing them ill health. Mold releases microscopic spores that cause severe allergic reactions, including runny nose, sneezing, and irritating odors.
The trick to getting rid of mold is to get to it before it spreads too far and can cause harm to you and your home. Here's how to get rid of mold in your home and keep it at bay.
How to Identify Mold
Mold is a type of mildew that develops out of tiny spores that can be found floating in the air. Anywhere that these spores land and find moisture ends up in mold growth, which generally includes every damp surface in your house.
Mildew is a type of mold spore that you can easily spot in and around your home. It starts as tiny black spots, that if left untreated, can grow into much larger mold colonies that can become difficult to remove. These are the black spots that you find in the grout lines in your shower, on outdoor surfaces, and damp walls.
Unless you're dealing with blue cheese, mold is a bad thing. Is mold on bread bad for you? Mold on virtually any food item is a sign not to eat it.
To test to see if you have mildew, dab a few drops of chlorine bleach on the black area to see if it lightens. If after a few minutes the black area appears lighter, you have mildew. If it doesn't, you probably have nothing more than some dirt.
Mildew is a surface mold that won't do damage to the structure of your home. Other types of mold spores, however, will cause rot.
To test to see if you have a more serious mold problem, remove the mildew from the surface and probe the area with a sharp tool. If the area crumbles or is soft, the mold spores have taken hold, and the area has begun to rot.
If you have high concentrations of mold growing in your home, you might be able to smell it. If your home smells musty, check for mold on damp carpet, rugs, walls, crawlspaces, and wet wood under your floors. If you discover mold growth in your home, clean it right away with a mold remover, before it gets worse.
How to Get Rid of Black Mold
If you have discovered mold or mildew in your home, you may wonder what kills mold and mildew? How to kill molds and how to use a black mold treatment is accomplished with ordinary household cleaning products like chlorine bleach and vinegar.
However, disturbing large mold infestations can be bad for your health, particularly if you suffer from allergies or have a weakened immune system. If you have an extensive mold and mildew infestation, consider hiring a professional to come in and perform mold remediation to kill mold.
If you're confident that you can remove mold from your house yourself, here are some effective natural home cleaners and mold removal techniques on how to get rid of black mold in your house.
Does Bleach Kill Mold?
When dealing with a mold infestation, you may wonder does bleach kill mold? Fortunately, bleach is a powerful ingredient that can kill virtually every kind of mold, along with its spores, leaving surfaces affected by mildew not only sanitized but resistant to future mold growth.
Unfortunately, using bleach for removing mold is only useful when removing mold from non-porous surfaces like bathtubs, tiles, countertops, and glass. Cleaning black mold spots with bleach on porous surfaces does not work as well, because it doesn't come into contact with the natural mold growing beneath the surface of materials like drywall or wood.
Using chlorine bleach on this kind of moldy surface kills mold on the surface but does not penetrate into the wood or drywall fibers below, allowing mold to grow back and cause even more problems later.
Bleach produces harsh fumes, so you need to make sure that the area is well vented by turning on an exhaust fan. You also need to protect your hands by wearing rubber gloves during the cleaning process. To make this DIY mold cleaner, add the bleach and water to a large bucket, and apply the solution to the mold growth with a sponge or scrub brush.
You can also add the bleach solution to a spray bottle and spray the mold directly. If the area you're cleaning is used for food preparation or may be touched by children or pets, make sure to rinse the surface with warm water. Otherwise, you can leave the bleach to help inhibit future mold growth.
This remedy works well for removing mold from a drywall ceiling or one with a popcorn finish. Spray and let it dry. Check the next day to see if re-application is necessary. Try this solution for cleaning mold from plaster walls, too. Replacing drywall or plaster is often preferred if there is a lot of mold.
Remove Mold with Borax
There are several advantages to using Borax for killing mold. Borax is a natural cleaner that doesn't emit dangerous fumes or contain hazardous chemicals like other mold killers. Borax is a white mineral powder that possesses a pH level around nine and low toxicity.
It is something that is commonly used to deodorize as well as for cleaning drains and toilets. You can purchase Borax for a few dollars at your local supermarket.
Here's how to kill mold using Borax. Add a cup of Borax to one gallon of water to create a Borax and water solution. Next, use a HEPA filter vacuum cleaner to remove any loose mold and lessen the number of mold and mildew spores that get stirred into the air during the process.
Dip a scrub brush into the Borax solution and scrub the moldy area. Wipe up any moisture and mold particles with a clean cloth to prevent them from spreading through the air when the surface has dried. There is no need to rinse the area if you want to prevent mold from returning. Allow the surface to dry out completely.
Does Vinegar Kill Mold?
Vinegar has recently made the rounds on the Internet as a powerful cleaner and anti-bacterial agent that can clean anything from your windows to your floors to your stove. So, does vinegar kill mold? Vinegar can kill both mold and mildew without introducing any harmful chemicals that most household cleaners contain.
The acetic acid in white distilled vinegar kills approximately 82% of the most common mold species. Plus, it is non-toxic and will get rid of mold without emitting dangerous fumes as bleach does.
To kill mold and mildew with distilled white vinegar, whether you use vinegar to clean mould off a ceiling or the shower, pour some vinegar in a spray bottle, and spray the moldy surfaces. Allow the vinegar to sit for an hour, then wipe the area clean with hot water and allow it to dry. If you don't prefer the vinegar smell, add some lemon essential oil to the mix.
If you want to prevent mold and mildew from growing on surfaces around your home, spray some of the vinegar on those surfaces and leave it. Repeat the process every couple of days to make sure that the surface stays mold free.
To get rid of mold in dishwasher, put a cup full of vinegar on the top rack and run a complete cycle without any dishes. Wipe the dishwasher interior clean afterward, and you should be mold-free for a while.
Remove Mold with Ammonia
Ammonia, like bleach, kills mold and mildew on non-porous materials like glass, countertops, and tiles, but is not effective at getting rid of mold in porous materials like drywall and wood. Ammonia is also incredibly toxic and a harsh chemical that can harm you and your family, especially if mixed with bleach.
When bleach and ammonia are combined, they create a toxic gas. To get rid of mold using ammonia, mix equal parts water and ammonia in a spray bottle.
Spray the solution on affected areas with mold growth and allow it to sit for several hours. Wipe the area clean with a clean, damp rag. Unfortunately, you can't leave the ammonia on the surface to prevent mold because it is unsafe for children or pets.
How to Remove Mold with Hydrogen Peroxide
Hydrogen peroxide is anti-fungal, anti-bacterial, and anti-viral and will kill mold. It is a safe alternative to bleach because it doesn't damage the environment and won't leave behind a toxic residue. You can use it to get mold off bathroom walls, clothes, floors, and other items, like your refrigerator and freezer.
Since peroxide is a bleaching agent, it can also help to fade mold stains that are often left behind. Make sure that you spot test an area that you are going to clean to ensure that the hydrogen peroxide won't fade the material.
Pour a 3% hydrogen peroxide concentration into a spray bottle. Spray the surface you are cleaning. Make sure that you completely saturate the mold with the hydrogen peroxide.
Leave the peroxide on the area for ten minutes, so it has a chance to kill the fungus. Use a soft scrub brush to scrub the area, making sure that you remove all of the mold and the mold stains from the surface. Finally, use a clean cloth to wipe down the surface to remove residual mold spores.
Remove Mold with Baking Soda
Baking soda has been popular for centuries as a natural and safe cleaner and it also works as black mold treatment. Unlike other harsh mold killers that contain toxic chemicals, baking soda is a mild alternative that is safe for your family, as well as being environmentally friendly.
Along with being an effective mold killer, baking soda also works as a deodorizer, which helps you to get rid of the musty smell of mildew that is left behind. Baking soda also absorbs moisture, which keeps mold from returning. You can also use it with vinegar since white vinegar is capable of killing different species of mold.
Pour the water into a spray bottle and slowly add the baking soda. Replace the lid and vigorously shake the bottle to help the baking soda dissolve. Spray the mold with the cleaning solution.
Use a scrub brush or clean sponge to scrub the mold away from the surface. Rinse the area with warm water and make sure that you've removed any residual mold from the surface. Respray the area and let the baking soda and water solution dry to kill any leftover mold and mildew and prevent it from returning.
Remove Mold with Tea Tree Oil
The most effective natural mold removal ingredient is tea tree oil. Tea tree oil is an anti-fungal essential oil, which makes it capable of killing all kinds of mold.
You can purchase a small bottle of tea tree oil for around $10 at your local natural food store. It is essential to get an oil derived from the Melaleuca alternifolia tree, which is the scientific name for the tea tree.
Add two cups of water to a spray bottle, then add two tablespoons of tea tree oil to the container. Replace the lid and shake. Spray the solution directly on the moldy surfaces that you are treating. Leave the solution on the area to kill the mold and prevent it from returning.
How Do I Remove Mold from My Composite Deck?
Composite decks have risen in popularity over the years because they don't splinter and don't rot due to water damage. Unfortunately, even with their low maintenance, they are still susceptible to mold growth.
If you find that you need to remove mold and mildew from your composite deck, here is a homemade composite deck cleaner that will get you results fast.
Use a pressure washer to pressure wash mold off the decking as much as possible. For areas that do not respond to simple high pressure water, mix the water and vinegar in a bucket and stir to combine. Pour the mixture over the mold and sprinkle baking soda over the area.
Allow the mixture to stand for 20 minutes. Use a coarse bristle brush to scrub the area to remove residual mold, mildew, and stains. Rinse the area with clean water. Keep an eye on the area to ensure that the mold does not return.
How to Prevent Mold from Growing
Mold is a kind of mildew that grows naturally in many places, but when it appears in your home, it can pose a health risk to you and your family and negatively affect the air quality in your home. Preventing mold from growing in your home is essential for your health and the safety of your family.
Fortunately, preventing mold is a simple task that you can easily do yourself. The key to preventing mold from growing in your home is to control moisture and humidity in your home and clean regularly.
Control Humidity Levels
When it comes to the humidity levels in your home, keep it below 60% if you're going to prevent the growth of mold. Since mold likes to grow where there is moisture, an essential way to prevent it from growing is by keeping your home dry.
When you take a bath or shower, open the windows or turn on the fan to prevent too much moisture from accumulating in the bathroom and wipe down the walls when you finish.
Use a cleaner for your bathroom that includes one of the key mold-removing ingredients listed above and use it regularly to stem the growth of this harmful fungus. Using the bathroom fan when showering removes some of the humidity but if your bathroom or other areas of the home are not dry enough, it may be time to invest in a dehumidifier.
Don't Ignore Damp Clothes
When you are doing laundry, make sure that you don't leave wet clothes sitting in the washing machine because mold will start to grow on the clothes after a short amount of time. Make sure that you transfer your clothes to the dryer or hang them up as soon as the wash is complete.
If you prefer to line dry your items, always hang them outside to dry. When you hang the clothes inside the house, the water from the clothes will evaporate into the air, which may lead to the growth of mold on your floors, walls, and other surfaces.
Use Exhaust Fans and Vents
The exhaust fans in your kitchen, laundry room, and bathrooms are crucial for keeping mold from growing. Anytime you cook or bathe, remember to turn on the exhaust fans and vents to prevent moisture from settling.
In the laundry room, it is essential to make sure that the dryer vents outside. You also need to make sure that your basement and crawl space are adequately ventilated to prevent mold growth in these areas.
Fix Leaks
The leading cause of moisture issues in a home are leaks, which can come from appliances, pipes, faucets, taps, and the roof. A couple of times a year, inspect your home for leaks and signs of possible water damage and repair the problem immediately.
Keep Your House Clean
Use house cleaning checklists to clean your home regularly. Make sure that you keep your house vacuumed and dusted to help remove mold spores that enter your house. This will help to prevent mold from taking root in your home and growing out of control.
Run filters or air purifiers to help eliminate any mold spores that may be in the air. In damp areas like your basement, attic, and bathrooms, air filters can be particularly helpful. Using a HEPA filter helps to remove over 99% of pollutants from the air in your home.
Let the Sun In
Mold tends to grow best in dark, moist areas, so opening your window shades and allowing natural light into your home can help prevent the growth of mold. Opening your window coverings also allows the heat from the sun to dry up any moisture that might be in the house.
Maintain Your Home's Temperatures
Along with liking dark places, mold also grows better in warmer areas. Use your air conditioner to keep the house cool in the summer and to keep it comfortable.
Most fungi aren't able to grow when the temperature is below 70° F. However, it can be expensive and inefficient to keep your home at this temperature, but you can still utilize your air conditioner to keep the air in your home dry and relatively cool.
It is never a good sign when you discover mold in your home. Not only is it harmful to your health, but it can end up damaging your home and costing you a ton of money to repair.
If you've discovered mold in your home, it is essential to know how to get rid of mold. Keep these tips and cleaning techniques in mind when you have to get rid of mold from your home.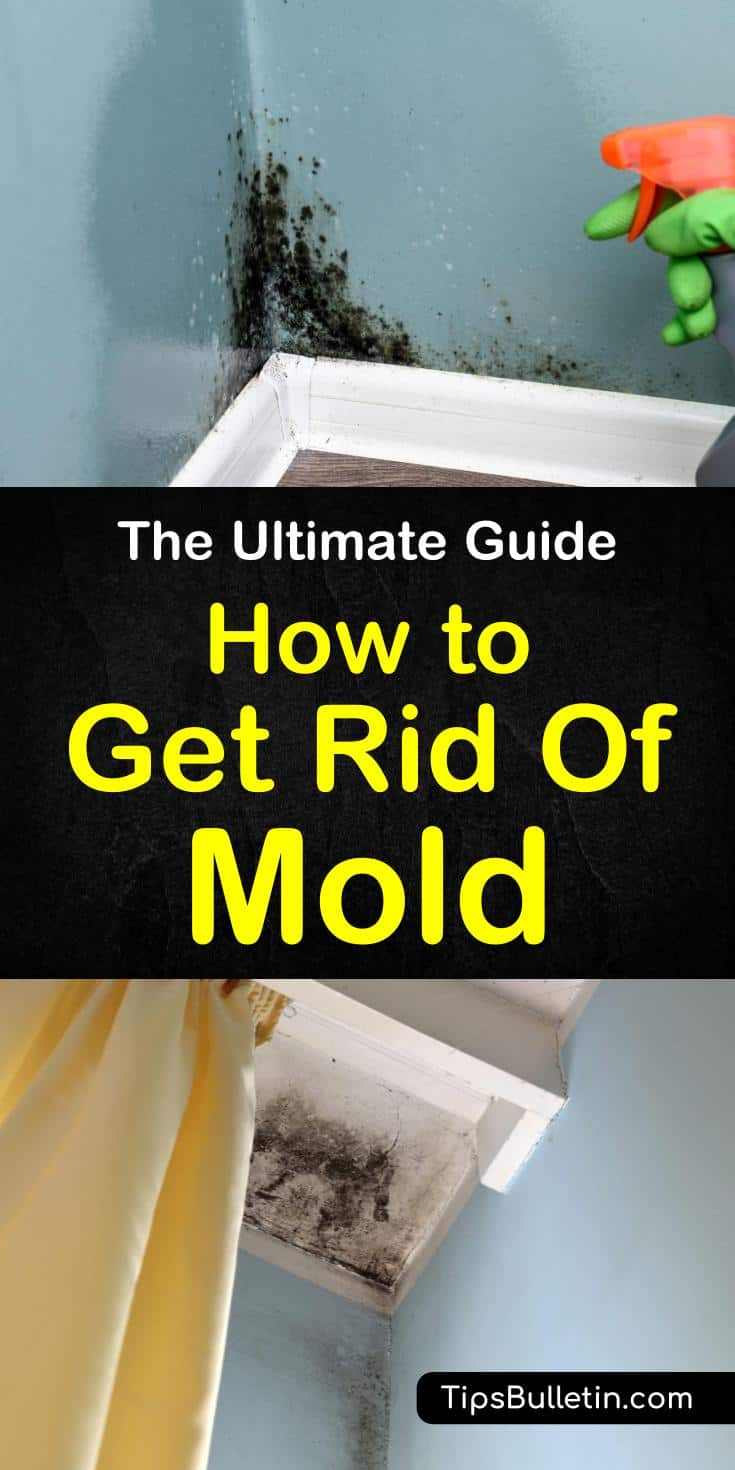 We hope you found this information on how to get rid of black mold helpful. If you found the mildew and mold removal tips useful, please spread the word by sharing these mold cleaning recipes on Facebook and Pinterest.