Homeowners spend a considerable amount of time taking care of their lawns and backyard gardens. However, some pests like gophers, voles, skunks, and moles search for their food source in yards and gardens, destroying the grass and plants. Learning how to get rid of moles is simple when you have the proper tools and techniques.
Fortunately, several everyday household products double as mole repellents. Products like castor oil, mothballs, and even loud noises help with mole control.
This article teaches you how to deter and kill moles without hiring a pest control service, which is usually quite expensive. If you have a mole problem, you do not have to endure the constant destruction the pests create.
Instead, learn about the natural ways to get rid of moles with certain flowers, spices, or essential oils.
In addition to providing you with the know how for controlling a mole problem, we also describe the popular attractants that draw moles to your backyard in the first place.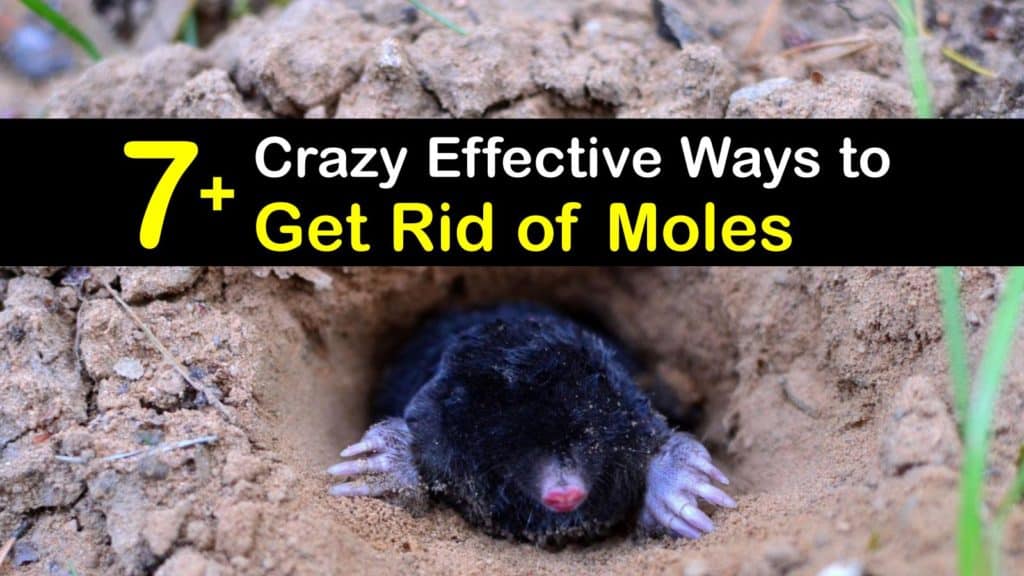 How do Moles Search for Food?
The most prevalent reason moles invade your backyard is to search for food. Because these critters are insectivores, most of their food source is found beneath the ground.
Moles dig tunnels with their front feet to access grubs, earthworms, and larvae. A couple of mole tunnels do not cause that much damage to your yard.
However, when you do not address a mole infestation right away, the critters continue to dig tunnels and cause significant destruction to flower beds and lawns.
Signs of a Mole Infestation
Before discovering the various home remedies for getting rid of moles or to even kill moles in lawn areas, it is necessary to understand the signs of a mole infestation, as well as the popular attractants that draw moles to your yard.
If you have a home garden, moles take advantage of the nutrients found in vegetables and fruit, eating the bulbs out of the soil. In addition to the plants in your garden, moles also eat insects in the ground.
To search for food, moles dig tunnels just below the surface with their front feet. The tunneling leads to raised ridges that criss-cross each other in your yard, often killing the grass as they dig.
The best way to get rid of moles is to eliminate their food source using insecticides. You can get rid of grubs naturally, as well as larvae and ants, with homemade remedies, too.
Natural ways to kill moles include drawing owls to your property, as they are a favorite food for these predators.
How to Get Rid of Moles with Cayenne Pepper
An excellent DIY method that deters moles from your lawn without killing them is cayenne pepper. The active ingredient in cayenne pepper that makes the spice hot is capsaicin, ranking between 30,000 and 50,000 units on the Scoville scale.
Once moles smell and taste the cayenne pepper, the critters quickly move to a different location to find food. Another terrific thing about using cayenne pepper is that it also repels other pests like skunks, voles, and chipmunks.
Combine your cayenne pepper powder and water in a standard spray bottle. Make sure to shake the contents gently so the powder absorbs into the water and is evenly distributed.
Spray the DIY mole deterrent around the open end of the mole tunnels, garden areas, and along the raised ridges throughout your lawn. Continue to spray the cayenne pepper mixture once every two weeks for the best protection.
The Best Way to Get Rid of Moles with Sound
Instead of using chemical pest controllers like bromethalin or learning the best way to kill moles in your yard, utilizing one of the numerous natural ways to get rid of moles like sound waves is the perfect solution.
Moles are very sensitive to loud noises and become scared when they hear them. Like other mole deterrents, sound also scares nocturnal animals such as raccoons and skunks.
Set up your noise creators near the mole tunnels and tunnel openings to best repel the moles from your yard. A benefit of sonic vibrations is that the noise is undetectable to the human ears, so you get rid of moles without causing a nuisance.
Although ultrasonic sound devices may cost a little more than other sound creators, they are an incredibly effective and hands-free way to deter pests. Understanding how to get rid of moles is almost effortless when you utilize powerful sound waves.
Natural Ways to Get Rid of Moles Include Neem Oil
Neem oil works like a granular repellent to deter moles and gophers, effectively killing their food source and is one of the best ways to repel moles. It is easy to implement and does not take very long to spread in your yard.
This mole repellent is designed to use around a garden area, as there are plenty of grubs that live near plants.
Mix the measured neem oil and water into a spray bottle and shake, so both ingredients are mixed evenly. Thoroughly spray your flowers, soil, and other plants with the neem oil mixture.
Another advantage of utilizing neem oil is that it also repels Japanese beetles. Japanese beetles are notorious for destroying plants in gardens by chewing holes through the leaves and stems.
How to Use Castor Oil to Repel Moles
Another type of oil that repels moles from your yard is castor oil. A castor oil based mole repellent is fantastic because it is straightforward as far as usage and also deters gophers, voles, and other unwanted pests from your garden and lawn.
Castor oil does contain dangerous ingredients poisonous to pets and humans. If your yard is frequently occupied with young children and pets, castor oil may not be the proper mole deterrent for you.
To make this castor oil mole repellent easier to spread throughout your yard, mix the ingredients in a large spray bottle. Spread the castor oil mole repellent around the open mole tunnels and your garden.
To ensure that your lawn is safe from moles and other pests, spray the solvent once a month for the best protection. When you have castor oil on hand, learning how to get rid of moles is easy.
How to Get Rid of Moles Quickly with Mothballs
Mothballs are one of the quickest natural ways to get rid of moles in your garden or lawn. As mothballs break down and release their pesticide, the moles inhale the strong chemicals.
Because moles hate the scent of mothballs, and since the chemicals become toxic the longer they inhale them, moles quickly move on to a different location for food.
Instead of buying a mole trap, place a few mothballs down the tunnel openings that moles have created in your yard. Soon after implementing the mothballs, you will notice your yard is mole and vole-free.
One advantage of using mothballs to eliminate a mole infestation is that it only takes a few minutes to spread the mothballs, saving you time.
Plants that Naturally Repel Moles
If you are looking to add more flowers to your garden while also repelling moles, many plants naturally deter pests. These flowers release an odor that pests and other insects that harm plants do not like.
As soon as critters identify the scent and where it is coming from, they move to a separate area to find food.
The best way to get rid of moles with flowers is to use beneficial nematodes, which kill grubs known to harm your soil and lawn. Similar to granules, beneficial nematodes eliminate a mole's food source, encouraging them to move away from your property.
How to Use Essential Oils to Protect Your Lawn
Learning how to get rid of moles is manageable when you use all-natural deterrents like essential oils. Essential oils release a strong scent that moles and other pests do not like.
Another advantage of using essential oils to repel moles is that the smell also deters harmful insects, skunks, raccoons, and voles.
To get rid of moles in your grass, soak three to four cotton balls in the essential oil of your choice and set it inside the mole tunnel opening.
For the best yard protection, continue to put essential oil-soaked cotton balls in the mole tunnels once a week until you have confirmed your lawn is mole-free.
A clean yard is what every homeowner strives for. Unfortunately, various pests attempt to wreak havoc on your lawn and garden areas.
Moles are one of several unwanted pests that kill your grass and eat the plant bulbs in a garden by digging tunnels just below the surface. Since some snakes eat moles, among other things, getting rid of moles may keep snakes away from your house, too.
As moles dig, they leave behind raised ridges and tiny dirt hills. Several easy-to-find solvents repel moles and other unwanted critters from your lawn.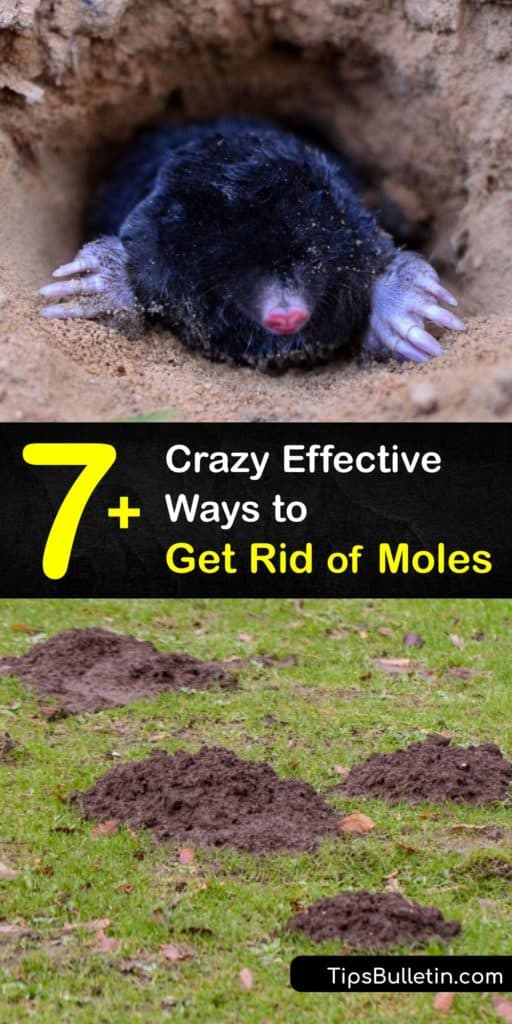 If you learned how to get rid of moles, share these tricks for repelling moles with your neighbors and best friends on Pinterest or Facebook.