A brick wall, brick patio, roof of brick shingles, or row of pavers is a handsome sight that adds grace and elegance to any home. However, a leak or damp spot on the bricks can lead to unsightly moss buildup that can damage the bricks and reduce their lifespans. Knowing how to get rid of moss on bricks naturally will help you maintain your home and keep your bricks looking their best.
When you know how to stop moss growing on bricks, you can relax and enjoy your home and its beauty all year long. This guide examines how to remove moss from bricks with vinegar, bleach, and other cleaning agents.
We show you how to maintain your home so that moss doesn't have a chance to grow on your bricks, and you'll also learn methods for killing moss on brick using sunshine and household cleaning products. You'll be ready to take on the worst moss that nature can send your direction by the time you finish this article.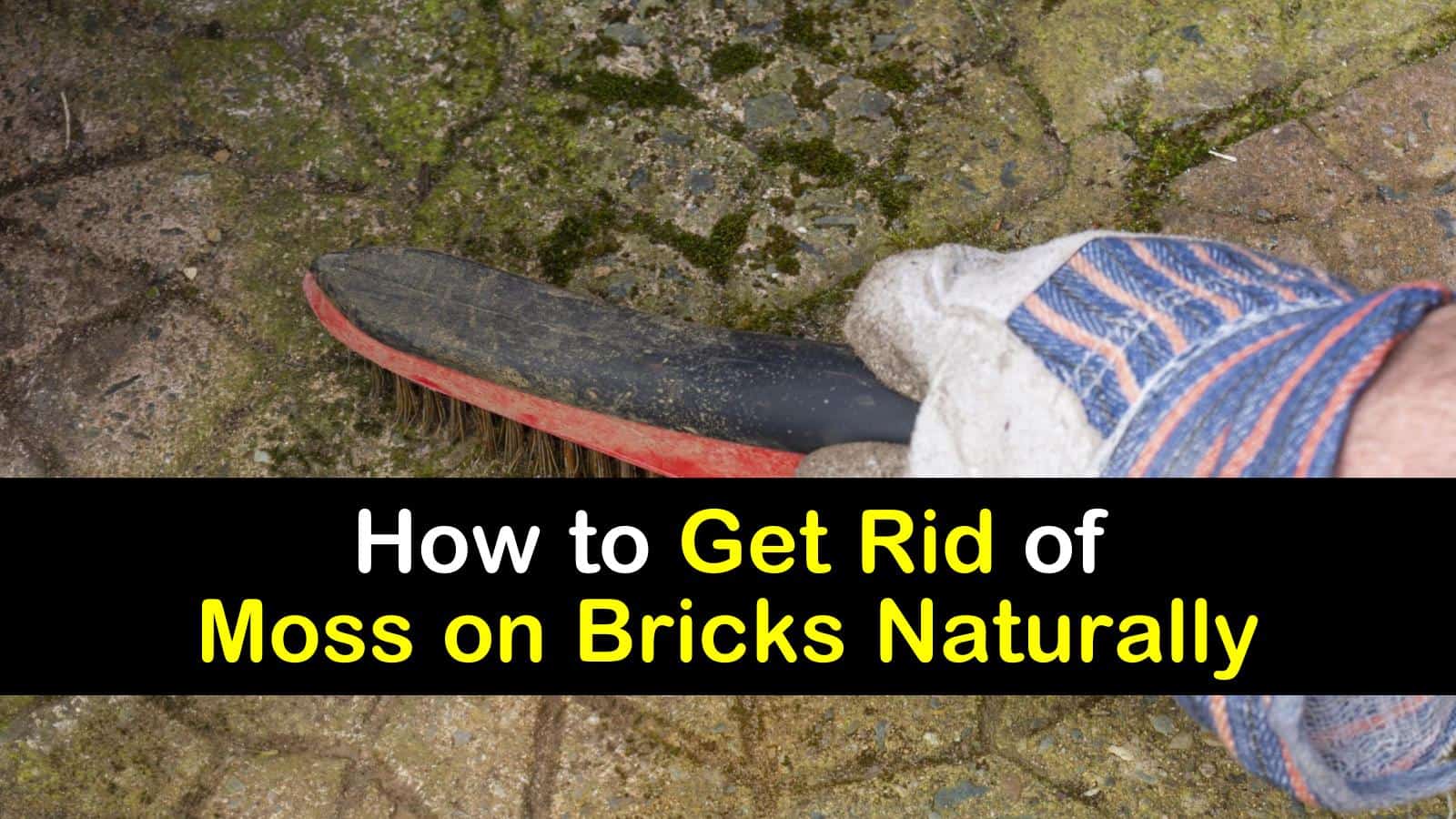 Getting Rid of Moss on Bricks the Natural Way
Eliminating moss from lawns is a little different than getting rid of moss on your pavers or bricks. When you set out to start killing moss on brick, your first instinct is probably to reach for a hardcore herbicide or a natural moss killer with vinegar. There's no need to think so big so quickly, though.
You can reduce and prevent moss growth without scrubbing an inch of brick or spraying a drop of cleaner. All you need are your hands, Mother Nature, and just a little bit of time.
Regular Cleaning and Prevention
This section looks at ways to stop moss from growing and even gives you a key to preventing moss growth from starting in the first place. We show you how to check the system and eliminate water leaks that feed the growth of moss, and you'll also get some pointers on how to use the good old sun to do your work for you.
How to Get Rid of Moss Naturally by Taking Care of Water Leaks
You might not think that a leaky faucet or broken sprinkler head or pipe could be the cause of so much moss growth, but a little bit of water over time becomes a gallon of water. A tiny leak is all it takes to grow moss if the source doesn't dry up.
To prevent new moss from forming, you first need to repair any water leaks that touch your brick walls. Once you take care of your leaks, the moss will dry up and stop forming.
The best way to check for leaks is to locate the center of a mossy area on the bricks. Check for moisture around the faucets, examine your sprinklers, and see if you have any damp brickwork near your garden hoses or pavers. Taking care of leaks will also bring you into compliance with water conservation regulations if you live in California.
Expose the Moss to Sunlight
The old saying that sunshine is a fantastic disinfectant has some truth behind it. Sunlight does a number on moss, so if you want to prune moss and keep it from returning, make sure that your bricks all get plenty of sunshine every day. If the moss has to deal with the sun regularly, it'll pack up and look for friendlier terrain.
You'll see the most improvement near ground level once the ground cover is gone, but clearing your brick roofing of leaves and debris will help, as well. If you clear out the undergrowth on your lawn, the moss on the lower bricks will clear away as well after it deals with the sunshine for a while.
Brick pavers also benefit from sunlight, so make sure to clear them of debris so they get a full day's sun. Sweep them down, and scrub away any dirt or mud that might block the sunlight.
How to Stop Moss Growing on Bricks
Prevention goes a long way toward taking care of your moss problem, but it won't eliminate the moss. You're probably going to find yourself cleaning moss off brick at some point, and you need to have a few cleaning recipes in your back pocket and ready for action. There are plenty of DIY cleaners you can use to clean moss off brick quickly and thoroughly.
Remove Moss from Bricks with Vinegar
This section provides you with cleaning solutions you can use to get your bricks free of moss and looking like a million bucks. We include a vinegar solution to kill weeds and moss, and you'll also learn how to get your bricks clean with bleach and with a pressure washer. With our cleaning solutions, you'll never fear a mossy brick again.
Clean Your Bricks with Bleach
Bleach is a potent agent and will clean all kinds of surfaces. It also works very well as an herbicide and will kill off all sorts of vegetation when applied regularly. It can take care of poison ivy, and it'll make short work of the moss on your bricks.
Try bleach when sunlight by itself isn't getting rid of the moss; it'll bring your bricks back to like-new condition. Don't use this option on bricks near a flowerbed; the cleaner will kill off your flowers as well as the moss.
Add equal parts water and bleach to a spray bottle. Spray down all the moss on your bricks with the bleach solution, making sure to coat every bit of it.
Repeat the spraying after the solution dries and repeat the spray down every day for two weeks. You'll have nothing but dead moss after a week or so.
Scrub Away Moss with Baking Soda and Vinegar
Vinegar and baking soda are for more than building toy volcanoes. You can combine the agents to create a fantastic cleaning agent that will knock out the moss without thinking twice. The vinegar and baking soda eat at the vegetation, and the liquid dish soap in the recipe coats the moss and prevents respiration.
Add the soap, vinegar, baking soda, and water to a spray bottle and spray down the mossy bricks. Make sure that you coat every surface with the spray so that the moss begins to die.
Repeat the spray down every couple of days or after it rains. The moss should die in a week or two.
Vinegar is also an excellent tool to kill weeds naturally that are growing in places you don't want them to. Mix the vinegar with some dish soap and Epsom salt for a dynamite weed killer.
Use a Pressure Washer on the Bricks
Perhaps you're uncomfortable using chemicals on living things, or maybe your bricks are filthy and require a full-on cleaning. In these sorts of situations, pressure washing is just what you need to get the job done. A pressure sprayer exerts enough force on the brick to clean away dirt, grime, and any mildew or moss that might have taken root.
Put on your safety gear, and get dressed in your long pants and long-sleeved shirt. Always follow the pressure washer manufacturer's instructions so that you remain eligible for support if anything goes wrong or an issue arises. Spray the bricks with the power washer from the top down to the bottom.
Make sure to get in any crevices or corners. Use a scrub brush to hit hard-to-reach spots. When you finish your power washing, your bricks will look the way they did when you bought them at the home improvement store.
If you notice moss in a shady corner of the lawn, you can kill moss in your yard easily by simply hand-pulling it up. Since the roots are not deep, the moss comes right up. Immediately add some grass seed to the area to discourage further moss growth.
We hope you had a dynamite time reviewing our moss removal suggestions. Bricks add a look of class and solidity to any home, but bricks and moisture can sometimes equal moss. Our guide gives you the tools you need to keep your bricks moss free and looking like you just laid them yesterday.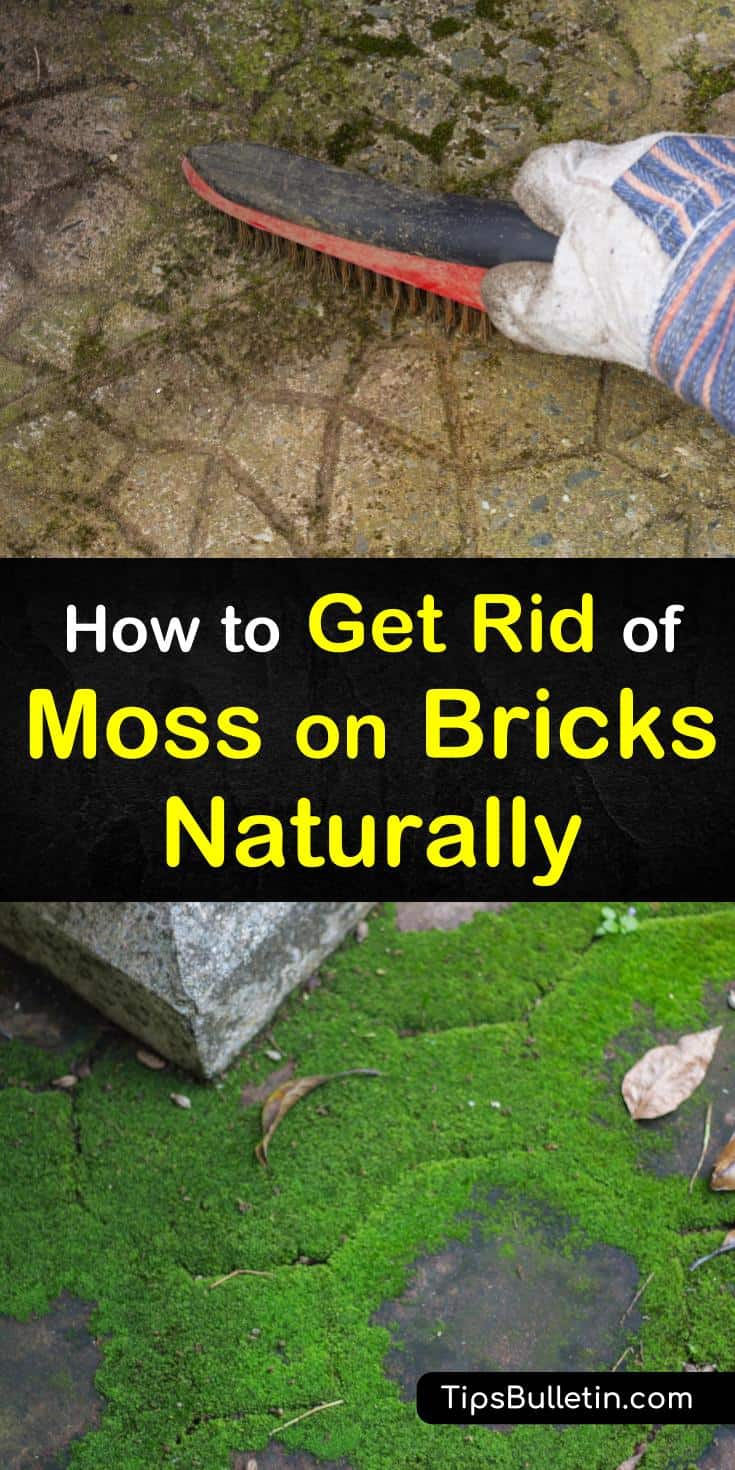 Thanks for checking out our moss killing tips. Help others learn about how to get rid of moss on bricks naturally by sharing this informative article on moss removal on social media outlets such as Facebook and Pinterest.