Nothing is more stomach-turning than finding a creepy, wriggling insect gorging on the food in your kitchen. These little critters may seem harmless, but they can cause a full-blown infestation that's expensive to control. If you're suspicious that you may have a moth infestation, you need to know how to get rid of moths in the kitchen.
Avoid a moth infestation in the kitchen at all costs. If you've spotted these pests in your home, it may be early enough to get rid of them on your own before calling pest control.
This article is your guide to identifying a potential problem and keeping moths out of your kitchen for good.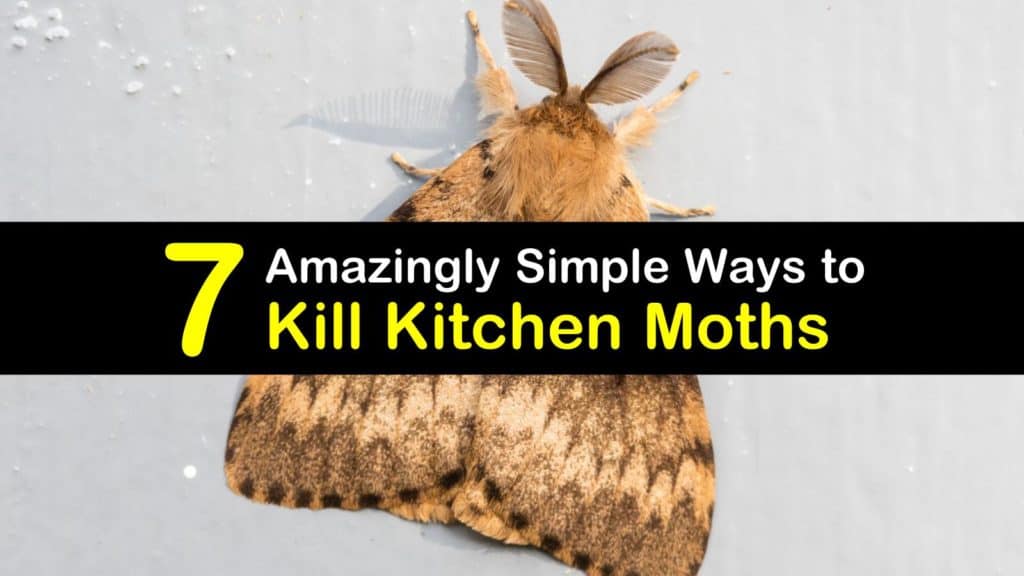 Identifying a Moth Infestation in the Kitchen
No one wants bugs in the kitchen, much less anywhere else indoors. It's important to learn how to get rid of weevils, moths, roaches, and other unwanted critters before they take over.
If you've spotted small moths in the kitchen, the chances are that they're Indian Meal moths. These pantry moths are tremendously common in the United States. They are small, winged insects with brown, tan, and grey coloring.
Meal moths are likely to be found indoors wherever food is sold or stored. Although they don't bite or sting, they can contaminate your food, causing severe health risks. Always be on the look-out for signs of a moth infestation.
If you're unsure if you have a pantry moth infestation, start by scoping out all food items and packaging in your home. Moth eggs are small and nearly invisible. The eggs likely got into your house from eggs attached to food brought home from the store.
Check for eggs and larvae on all your dry goods and dry food products. Find them lingering in pasta, a bag of flour, dried fruits, cornmeal, bird seed, cereals, grains, dog food, or any other type of pet food, and candy. From there, the life cycle continues, only to start wreaking havoc on your home.
Next, the eggs hatch, and the new larvae feast on any food items around them. These small worms grow to approximately an inch long and have dark brown heads with white bodies.
The larvae start searching for dark crevices to pupate into cocoons. They spin clumps of webbing, so look out for mothballs or worms hanging from your walls, ceiling, and tops of cabinets. The pupae then grow into winged enemies that soon start laying more eggs. It's a vicious cycle.
These moths are around a half-inch long in size and are attracted to your kitchen lights at night. Knowing what to look for when you have a moth infestation in the kitchen prepares you to remove them and keep them out.
How to Get Rid of Moths in the Kitchen
Knowing how to kill kitchen moths requires hard work. If you looked over your entire kitchen and discovered that you have a moth problem or need to kill bugs in the kitchen of other varieties, take immediate action. Moths reproduce several times each year, as do other creepy crawlies, so acting quickly to remove them is imperative.
Eliminating the Food Source
Throwing away all the dry goods in your house probably feels like the last thing that you want to do, but it's the only way to guarantee that you won't have another infestation in the future. Try not to worry about the cost of trashing everything.
If you found eggs or larvae on one package of food, they've likely spread to many other food products in your kitchen. Getting rid of your dry food products immediately halts any new moths from hatching and is less costly down the road than hiring pest control.
Gather all your dry food products, boxes, shelf liners, and plastic bags. Put them in a garbage bag and take it out to the curb to kill weevils in rice and other dry goods. Keeping the bag in your home or garage risks bringing the infestation back inside your house, so make sure you clean out your pantry on a day that your trash goes straight to the landfill.
Be wary about any food source you decide to keep. Chewing through paper and plastic is easy for moth larvae. Even if the package looks untouched, it's best to err on the side of caution and just throw it out.
Deep Cleaning
Cleaning after you've spotted signs of a moth infestation is a critical step. Don't let moths eat anything else. Take back your pantry!
Don't forget to add these measures to your kitchen cleaning checklists, or you may never permanently get rid of the infestation. Once you discard anything that might contain moth larvae or eggs, give all jars, containers, and cabinets a deep clean.
Start by vacuuming out your pantry and cupboards to pick up any webbing or moth balls before wiping them down. Check for every small nook and cranny possible, and then check again.
Use a toothpick to scoop out any moth remnants if you have peg holes for your pantry shelves. Don't forget to look under and around your dishwasher. After you vacuum, replace the vacuum bag and set the old one outside.
Wash all jars and containers thoroughly in hot soapy water. For your cabinets, shelving, and countertops, several recipes are useful for killing any leftover eggs and larvae that still linger.
Removing everything from your clothes closet or wardrobe before cleaning it thoroughly is also the best start when trying to get rid of closet moths.
Cabinet Cleaner for Moth Larvae
Wiping down your entire kitchen is another essential step in getting rid of a moth infestation. Use this recipe before bringing any other food in the house or setting pantry moth traps.
Combine hot water and dish soap in a sink or bucket. Soak a soft cloth in soapy water and wipe down all cabinets in your kitchen and pantry area. Drain the bucket and refill with hot water. Add one tablespoon of bleach for every gallon of water.
Use the same soft cloth to wipe down your kitchen with the bleach solution. The bleach does an excellent job to properly disinfect your kitchen. Make sure to deeply scrub in any dark corner or crevice where eggs and larvae might hide.
How to Kill Kitchen Moths with Peppermint Oil
Peppermint oil has many uses around a house, and killing kitchen moths is another strength of this ingredient. We suggest applying this recipe in your cupboards even after washing everything down with bleach.
The peppermint oil helps repel moths and kill any eggs. If there is any packaging you didn't throw out, spray the following solution on the outside of it to be safe.
There is a bonus to this oil mixture. Peppermint oil is one of the scents spiders hate. Knock two birds out with a single stone and keep both of these bugs at bay with this recipe.
For this home remedy to get rid of moths, combine equal parts water and vinegar in a spray bottle. Add peppermint oil and shake to combine. Spray your entire kitchen and wipe down with a hot, wet cloth.
Use lavender oil for moths if you don't have any peppermint oil at home. Simply substitute lavender oil for peppermint oil for equally effective results.
This mixture also makes an excellent DIY gnats spray, gets rid of spiders, and takes care of silverfish or centipedes inside the house. It's an all-purpose bug killer.
Setting Pheromone Traps
Moth traps alone won't eliminate moths from your house, but they are an excellent ally in preventing the moths from laying eggs and for gauging the severity of the infestation.
Moth traps release pheromones that attract adult male moths. The adult moths get stuck to the glue and die. This stops the mating process, so you'll have even fewer eggs to worry about.
If you discover that fewer moths get caught in each new trap you put out, then your cleaning and pest control efforts are working.
Avoid using any moth-killing sprays inside your house. Pesticides should never be used near food products and could cause someone in your home to get sick.
Preventing Future Moth Infestations
Prevention when learning how to get rid of moths in the kitchen is the most useful. When you focus on preventing entrance for small moths in the kitchen, you won't have to put in the time and money to get rid of them.
Be Cautious at the Grocery Store
Prevention begins in the grocery store. Thoroughly check every food package before placing it in your cart and only buy small quantities of food if possible.
Letting grains sit in your cupboard for a year is an open invitation for a moth to lay eggs. If you want to be extra careful, wash any jars or cans you bring home and inspect the packages before putting them in your pantry.
How the Freezer Prevents a Moth Infestation
Moth eggs frequently enter a home inside bags of flour. Place the bag of flour in the freezer for at least a week to kill any eggs. This treatment is successful for rice and other grains as well.
Changing Your Food Storage Options
A simple trick to preventing a moth infestation in the kitchen is by changing your food storage habits. Put all dry goods inside airtight containers for a homemade moth repellent. Choose between glass and plastic containers.
Both are sold at your local home goods store. These food containers provide an added hurdle for moths trying to lay eggs.
Place exposed peppermint, bay leaves, or mint in your pantry or kitchen. These act as natural moth repellents. Scattering a few leaves from these plants around your food items is a smart course of action. You can also use cinnamon for flies and moths. Sprinkle cinnamon in out of the way corners.
The last step in moth prevention is inspecting your kitchen cabinets and pantry every two to three months. The sooner you can get ahead of a moth infestation, the less work it takes to get rid of one.
Knowing how to get rid of pantry moths is the only way to avoid and prevent future infestations. You don't have to stand by while pests take over your home and food supply.
Even if you don't have any signs of moths in your home, use these tips to make sure you're not inadvertently welcoming a pantry pest inside.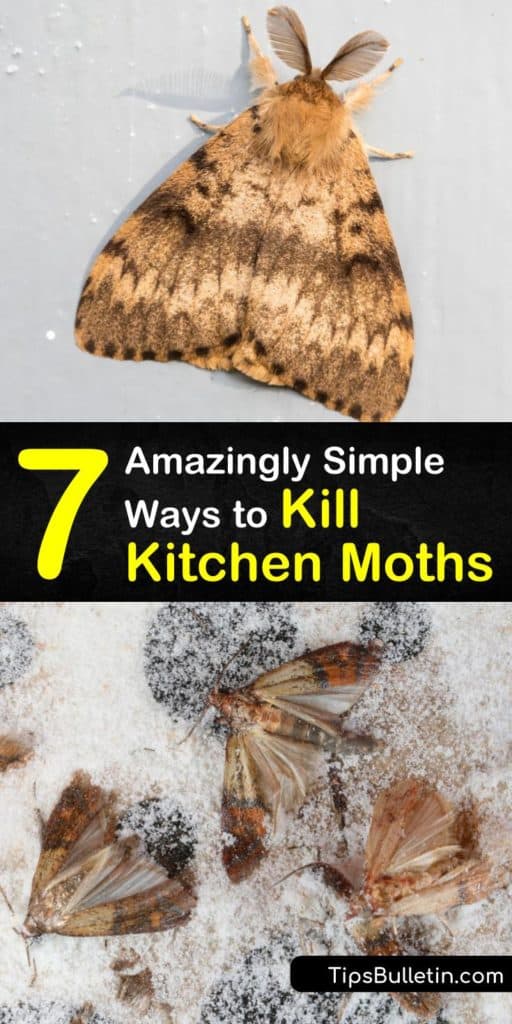 If you had success in using our tips for how to get rid of moths in the kitchen, share this article on how to kill kitchen moths on Facebook and Pinterest.