Moths bumping into the windows and flapping against the screen door of your home on a summer evening is a nuisance, especially if you have one fly into your face as you walk out the door. A moth infestation is also destructive, and their caterpillars wreak havoc in the yard. Learn how to get rid of moths outside from the porch, patio, or yard by taking a few simple steps.
Moths and butterflies are related, but moths are more drab in appearance than butterflies and are nocturnal by nature. Adult moths feast on flower nectar, rotten fruits, and other sweet fluids.
While these nocturnal fliers do not bite or sting, they are an annoyance while enjoying a relaxing evening on the porch.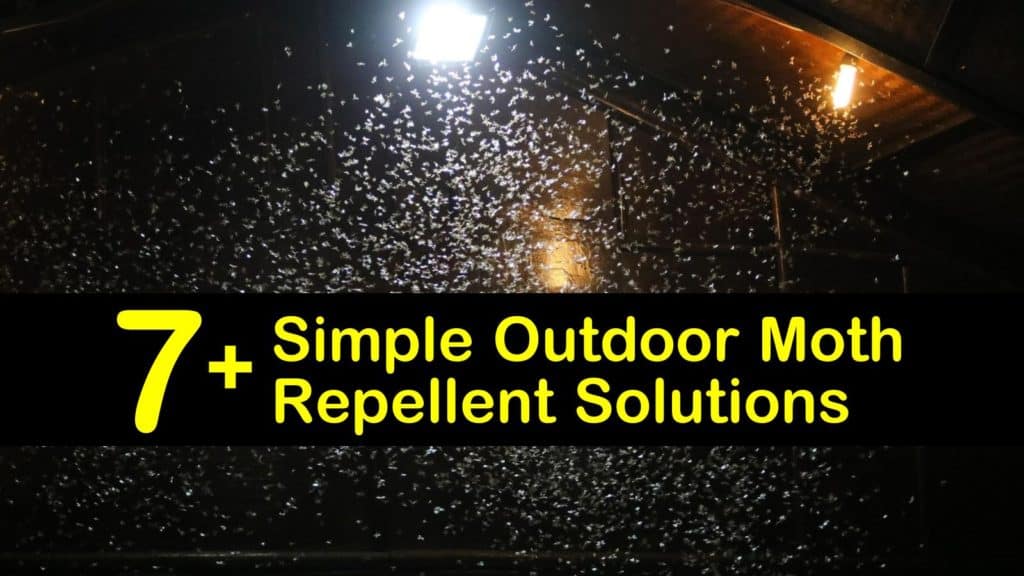 Getting Rid of Outside Moths with Outdoor Lighting
There are different species of moths in the United States, including the clothes moth, gypsy moth, and Indian meal moth, and they all lay eggs, which can lead to a moth infestation.
There are many simple ways to get rid of moths, moth larvae, and moth eggs, and many of them are simple forms of pest control.
How to Kill Moths in Your Yard
It's easy to prevent clothing moths inside of the home by storing your cashmere and wool clothing in airtight containers with mothballs and repellent sachets or taking them in for dry cleaning.
However, these tactics don't help get rid of outdoor moths. What do moths eat and drink? Knowing the answer to this question helps you know how to get rid of them. Here is how to kill moths in your yard with outdoor lighting.
Many insects, including moths, are attracted to lights. Moths see the ultraviolet end of the spectrum, and this is part of the reason they are drawn to outdoor lights. Reducing the number of moths around your home is as simple as turning off the lights.
If you prefer keeping your lights on in the evening, consider replacing fluorescent and incandescent bulbs with yellow bulbs. These lightbulbs are easy to find at many stores and are labeled insect-repellent lights on the packaging.
Place a couple of drops of citronella oil on the bulbs during the day. The oil heats up when the bulb is turned on and repels moths. It may also serve as a homemade bee repellent, too.
Another form of outdoor light that is effective at killing moths is a bug zapper. These units emit an ultraviolet light that attracts insects. An electrical wire mesh grid surrounds the light and electrocutes insects on contact.
Get Rid of Moths with Outdoor Moth Repellent
Moths do not like certain smells and avoid areas where the scent is detected. Fortunately, the scents that repel moths and other insects are pleasant smelling to us. It's easy to create an outdoor moth repellent with homemade sachets using ingredients you already have in your home.
Cut pieces of cloth into a square shape and lay them on a flat surface. Place a few drops of either one of the recommended essential oils on each cotton ball. The oils are also useful when combined.
If you do not have any essential oil, use fresh or dried herbs such as bay leaves instead. Place the scented item in the center of the cloth and pull each corner up and together. Secure the corners with a string, forming the material into a sachet.
Hang the pouches with hooks or hangers near all entryways to the home. Place them around the patio, and on the porch to keep moths at bay.
Using these sachets not only repels moths but may be what deters mosquitoes, as well. The blood-sucking creatures do not like many essential oil smells.
Instead of sachets, you can also combine water with several drops of each of the essential oils in a bottle sprayer to make a spray to kill gnats, mosquitoes, and moths on contact.
How to Get Rid of Moths Outside with Citronella
Moths hate the smell of citronella, and there are several different forms of this oil sold in many hardware and home improvement stores. It's easy to use and provides ambiance to any sitting area.
Stick tiki torches in the ground around the perimeter of your outdoor seating area. Fill the torch cans with citronella oil and light the torches during the evening hours to repel moths. Place lit citronella candles on patio tables or a picnic table to keep moths at bay with the heated scent.
Use a Water Trap to Get Rid of Outdoor Moths
Using a water trap in addition to a DIY moth repellent gives you double protection from annoying moths. While you can always use a moth pheromone trap, a water trap is a cheap and effective way to kill bothersome moths.
Fill a shallow bowl or container with a few inches of water and squirt a few drops of dish soap into the liquid. Agitate the soapy water with your hands and place the container beneath an outdoor light.
The light reflects on the surface of the water and attracts moths with the glow. They flutter into the trap and die.
Treat the Surrounding Area to Prevent Lawn Moths
One of the best ways to prevent a moth problem is to eliminate them while they are in the egg or larvae stage. Not only does this prevent an infestation, but it stops the larvae from destroying your plants and garden.
Many types of moths and larvae such as sod webworms are destructive and destroy an entire lawn in no time at all. Signs of moths in the yard are brown patches of grass that increase in size, or moths flying above the grass during dusk.
Apply a lawn insecticide to the affected areas by following the directions for the chosen brand. Another sign of webworms is large clumps of webbing that cling to tree branches. These masses of webbed material are filled with the larvae of white moths.
It's easy to eliminate these nests by cutting open the webbing and allowing nature to take its course. If you prefer to remove them quickly, cut the infected branch off the tree and submerge it in soapy water before placing it into a plastic bag.
Remove Moth Attracting Materials from around Your Home
Moths are attracted to specific food sources such as the nectar of night-time flowers and the juice of a fruit. Eliminating these sources of food from your property lowers the number of problem-causing moths.
Yard Clean Up
If you grow fruit trees on your property, clean the area around your trees to remove any fallen fruit. The sweet smell of the ripening fruit is a food source that attracts moths. Avoid planting certain flowers that attract moths.
Flowers that bloom in the evenings and have dull or white blooms are deep nectar sources for moths. Flowers such as the moonflower, yucca, and flowering tobacco are all favorites among moths.
Getting Rid of Moths with Natural Predators
A natural way to eliminate moths in your yard is to use nocturnal predators to do the job for you. One of the best predators for the job is the bat. Not only do bats eliminate moths, but they are great for getting rid of other pests as well.
Natural Moth Predators
While insects flying around your yard in the evening seems like the most logical way to attract bats, this isn't enough. The best way to entice bats to hang out in your area is to give them a place to roost during daylight hours.
Getting rid of moths starts with a bat shelter. Build or buy a bat house from your local garden center and place it in a sunny area of the yard. Make sure to anchor it 15 to 30 feet above the ground to protect the bats from predators. Lots of insects and a nice habitat to rest may entice a bat or two to check out your property.
Reduce a Moth Population by Eliminating Caterpillars
Lowering the moth population outside lessens the risk of moths getting in your home and causing destruction to food and clothing. Moths eggs hatch into larvae, or caterpillars, before weaving cocoons and tuning into adult moths. It's easy to eliminate a moth infestation by removing the caterpillars from your yard.
Fill a bucket or large container with hot water and add several squirts of dish soap. Walk the perimeter of your yard and check your gardens and critical areas for caterpillars.
Look in crevices, on stems or leaves, and in decaying material such as old wood. Pluck the caterpillars on the spot and drop them in the soapy water.
If you have a large caterpillar infestation, consider using Bt-k, a naturally occurring soil bacteria that is harmless to humans, pets, and beneficial insects. The caterpillars ingest the bacteria, and this creates a stomach toxin that kills them before they turn into a moth.
Eliminating a moth problem inside the house involves some of the same measures. For a moth infestation in the kitchen, cleaning and wiping down all surfaces, including the interior of the pantry, can help.
Pantry moths and other species of moths are annoying when fluttering around the entryways to your home. These flying insects are also destructive, causing moth damage to outdoor plants and gardens.
Fortunately, it's easy to kill a moth species by changing the outdoor lighting, removing certain food items, and using moth traps and repellents.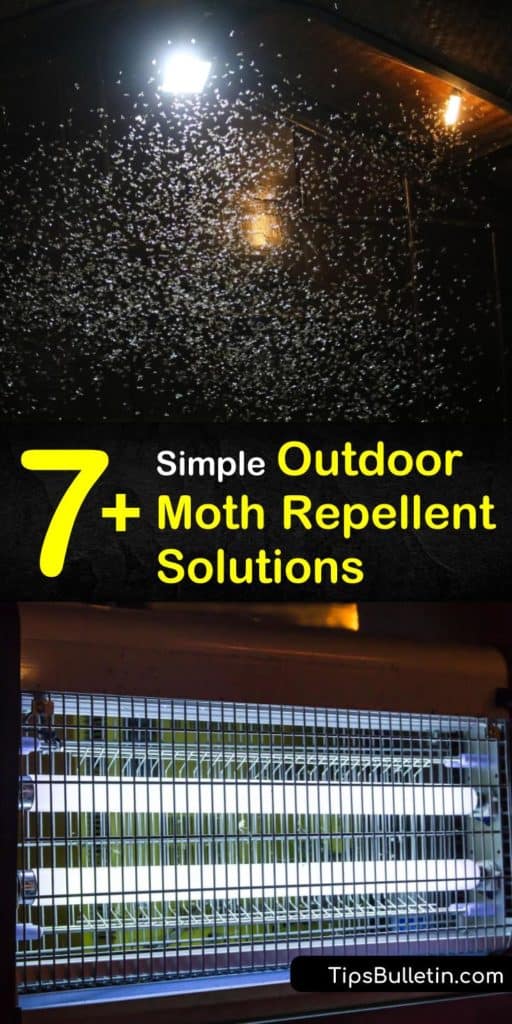 We hope that our guide shows you how to get rid of moths outside so that you can enjoy your summer evenings in peace, and we'd love it if you'd share our moth repellent techniques with your family and friends on Facebook and Pinterest.