If there are minuscule creepy crawlers in your cupboards, you need to find out how to get rid of pantry mites. These incredibly small creatures range in color from black to white. Because they are so small and easily blend in due to their coloration, flour mites within soiled objects might be difficult to identify unless an issue is serious.
Grain products and other stored goods have been found to be infested with more than 50 different varieties of mites. Technically, the mites you observe might be any members of the Acaridae family. Fortunately, getting rid of pantry mites includes the same procedures regardless of the particular type of mite.
Explore uncomplicated home remedies for how to kill pantry mites and eliminate this insect pest before it destroys more of your food. Though there are chemical treatments for pantry mites, nobody wants harmful substances around food items. Rely on familiar products to oust the mites and keep your family's dry goods safe.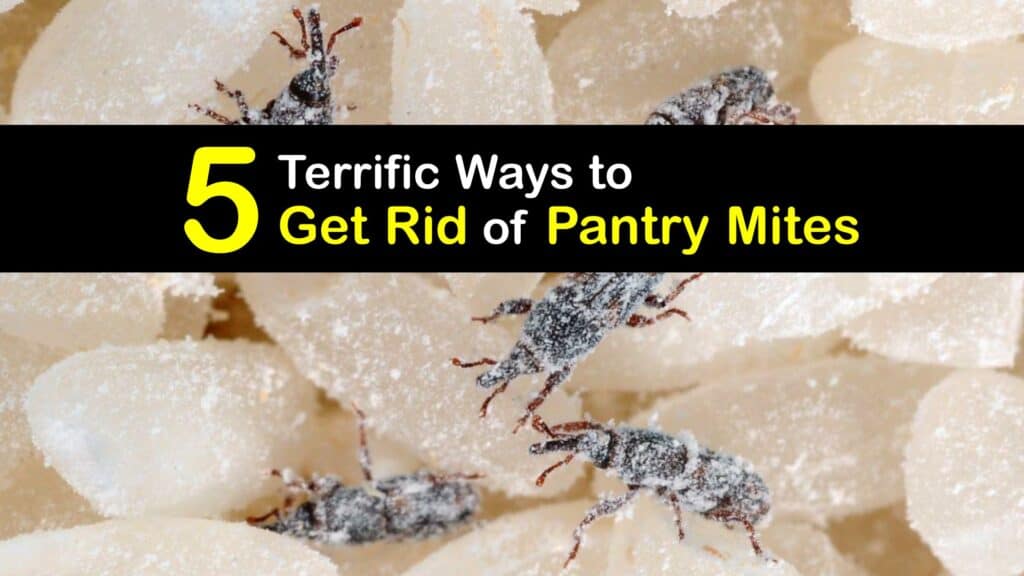 Easy Ideas for How to Kill Pantry Mites
If you open your pantry and see a confused flour beetle staring back or open a canister to find infested flour, it's important to know how to get rid of pantry mites. It's upsetting to see bugs in your food. Often, grain mites come from bagged food that has tiny holes in it. Always inspect packages before buying.
Many people store dry food ahead of time and rely on it for specific dishes. Crawling little insects in your dry good and grain is disgusting. Most people don't want to eat them. Fortunately, there are numerous proven remedies for getting rid of spider mites and pantry mites and saving as much grain as possible.
What Are Grain Mites?
Grain mites are tiny pantry pests that go by multiple names and destroy stored food. Many of these little crawling bug species are the larvae of moths, such as the pantry moth, Indian meal moth, and clothes moth. A tiny crawling insect in rice, grains, or pet food, is typically part of a grain mite infestation.
Though they're often confused with fruit flies, pantry weevils target dry food rather than moist decaying matter. Seal infested food in a bag and discard it outside your residence as soon as your notice signs of flour mites. Choose a treatment and begin promptly to prevent this pantry pest from taking over.
How to Get Rid of Pantry Mites Using Scent Deterrents
Like many insects, the flour mite has a developed sense of smell. It's highly sensitive to certain aromas, which provides several natural pest control avenues. If you're opposed to harsh chemicals, natural scent deterrents are an excellent option to drive away a pantry bug invasion.
Remove infested grain, clean your pantry, and set out the repellent. Ensure your dry goods are sealed in airtight containers to keep bugs out and stop the odor of the repellent from flavoring them. Add small amounts of your chosen remedy throughout your pantry and change every week to keep the smell potent.
Getting Rid of Pantry Mites With Dish Soap
To prevent the spread of weevils and remove mites in flour and other dry goods, wipe your pantry shelves with a soap-and-water solution and remove adult, larval, or egg stages. Put the contaminated food in a sealed garbage bag, then throw it away outside. If you intend to keep the food and plan on killing weevils, put food items in a bag and freeze it right away.
Scrub the shelves thoroughly with a sponge or towel dampened in soapy water. Open the doors to your pantry or cabinets to let the space dry, and give everything a close look. Repeat the cleaning if you are unsure that the pantry mites have been eliminated.
Killing Pantry Mites With White Vinegar
Another easy remedy to clean your cupboards of pantry mites and their eggs is distilled white vinegar. Acetic acid, a weak acid found in distilled white vinegar, instantly kills pantry mites on contact.
Find vinegar in the pickling and canning section of the grocery store – it's very budget-friendly. To make a shelf cleaner spray, combine white vinegar and water.
Spray the inner surfaces of your cupboard, including the walls, after shaking the white vinegar mixture in the sprayer to kill moths in the pantry as well as mites, weevils, and other unwanted pantry pests. Wipe the shelves with a clean, dry towel, then let them air dry.
Tips to Prevent Pantry Beetles
Though sometimes pantry mites are unavoidable, a few maintenance steps help decrease the likelihood of an infestation.
By not cramming your pantry, you can easily inspect your grains and ensure damage caused by pantry mites is limited. Check packages carefully for tears, holes, and any evidence of tiny, black insects.
Weevils cannot enter your home from the outside and cannot damage your grain if entry points are sealed. Prevent pantry mites from accessing your food by maintaining basic pantry hygiene, such as storing all grains in containers and cleaning frequently.
At some point, many people need to learn how to kill pantry mites. These annoying grain beetles show up at the worst times from a moth entering and laying eggs or an infested food item. If you spy a pantry bug, securely dispose of affected food and begin pest control immediately.
If you loved this article with tips on how to get rid of pantry mites, please share this knowledge with your friends and family who are currently getting rid of pantry mites on Pinterest and Facebook.