You're excited to make a batch of cookies, and you grab the chocolate chips, eggs, and other ingredients, open the bag of flour, and discover it is crawling with bugs! Not only are those cookies out of the question, but now you're left wondering where those creepy-crawlies came from. We'll show you how to get rid of pantry moths and ways to prevent their return.
Otherwise known as the Indian meal moth, pantry moths are a nuisance in the kitchen. An infestation of these insects is not only disgusting but ruins dry goods such as cornmeal, flour, cereal, dried fruits, and other food items like dog food. While it seems an impossible task, eliminating and preventing a pantry moth infestation is quite easy.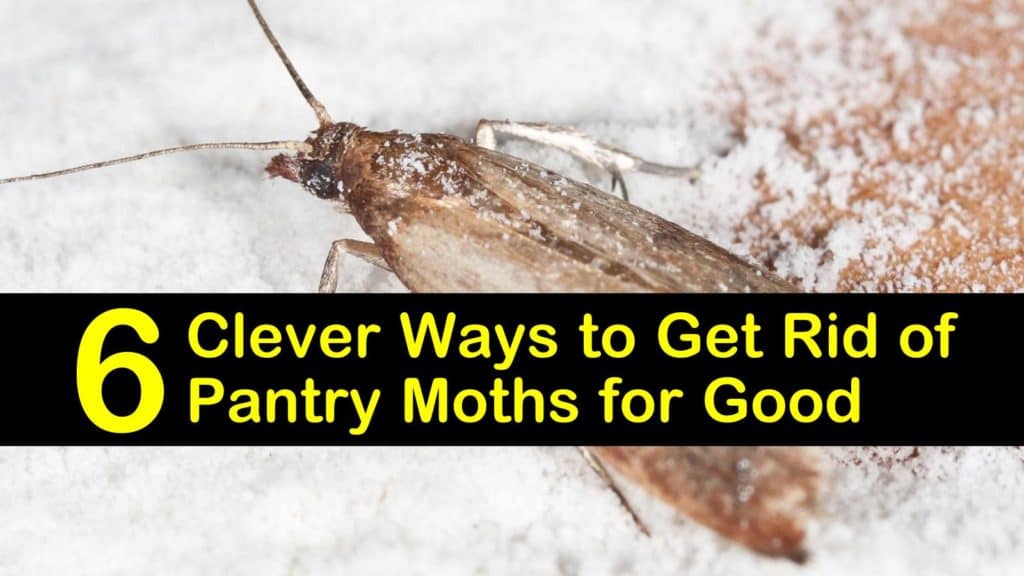 Eliminating and Preventing Pantry Moths
Before calling pest control, there are several ways to get rid of pantry moths. We'll show you how to remove this pantry pest, how to protect your food products after purchasing them from the grocery store, and how to prevent future infestations.
What are Pantry Moths?
To get rid of moths in the pantry, it's a good idea to know what they are and why they are hanging out in your kitchen. While it may seem obvious, these kitchen pests are not always what they seem.
Some of these same solutions can also be used to eliminate other pesky insects. Try a homemade gnat trap recipe for fungus or drain gnats or use a peanut butter and Borax mixture to get rid of ants or roaches.
Pantry Moths
Indian meal moths stand out from other moths because of their appetite for dried goods commonly stored in the pantry. These small-winged insects have brown, gray, and tan hues.
Packaged items such as flour, grains, cereal, pasta, and dried snacks are a favorite food source to these pests. While these moths are not harmful to humans or pets, they cause a lot of damage to your food storage.
Pantry moths lay up to 400 eggs, and the eggs hatch within one week. During the moth larvae stage, they consume whatever they find and are the most destructive. After two to three months, they go through the pupae stage and move into a cocoon.
They are usually easy to spot in crevices and cracks. Twenty days later, these cocoons turn into adult moths and continue the life cycle and lay eggs in nearby food sources.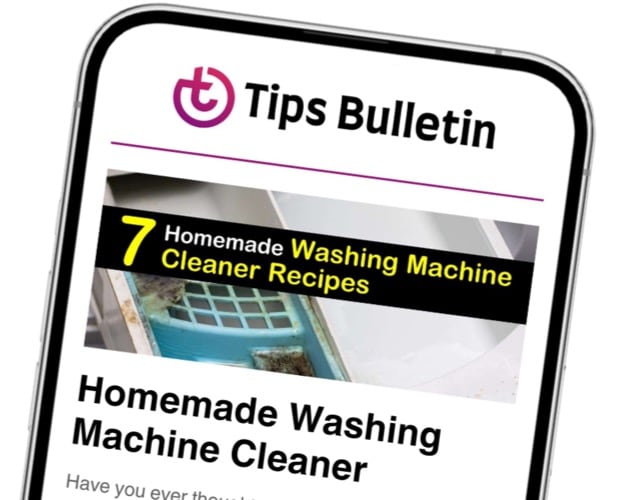 Finally, an email that Transforms Your Home.
Get the latest home and garden tips from our experts, delivered straight to your inbox.
How to Tell if You have Pantry Moths
The best way to prevent pantry bug infestations is knowing what to look for in and around your food. Being aware of the signs helps you stay on top of the situation and stop a problem before it starts.
Evidence of Pantry Moths
Where do pantry moths live? Well, obviously, they need a ready food source so your kitchen pantry is the most likely place. The most apparent sign of pantry moths is seeing the moths flying around inside the pantry and kitchen.
These are usually easy to spot in the evenings. Check for cocoon webbing in the corners of the pantry and inside corners of cupboards in the kitchen.
This form of webbing is a stringy or grainy material left behind in areas where moths crawl. Another less noticeable sign is tiny holes located on dry food packaging.
Learn How to Get Rid of Moths in Pantry
Thoroughly cleaning the pantry is the first step in getting rid of pantry moths. Not only does this help you discover how big of a moth problem you have, but it is a great way to deter all types of insects from invading your food.
How to get rid of moths in the house or the pantry involves first removing everything from the pantry shelving, including all food items and shelf liners. Inspect each food item for insects and discard infested packages into a garbage bag. Place the remaining items in airtight containers and freeze them for one week to kill any eggs.
Use the hose attachment on your cleaner to clean all of the edges and corners of each shelf, as well as the baseboards, ceiling corners, door hinges, and any other suspicious areas.
If your cleaner has a vacuum bag, dump it into the trash as soon as you finish vacuuming and add it to the other infested items. Take it out to the curb right away so that the critters don't have the opportunity to re-home themselves.
Fill a bottle sprayer with hot water and add a few squirts of dish soap. If you have particularly dirty areas in the pantry, add a cap full of bleach to the solution.
Shake the bottle gently and spray it on all of the pantry surfaces, including the shelves, walls, doors, and floor. Wipe the area down with a cloth or sponge and dry with a clean towel.
Cleaning Pantry Items to Prevent a Moth Infestation
After cleaning the pantry to ensure you eliminate all evidence of moths, you still have all of your dried goods to clean. Replacing those plastic containers and cans on the shelves without proper cleaning means the pantry always has a chance of a moth infestation.
Inspect all of your pantry items and pay special attention to any damaged food packaging. Throw away any plastic bags or packages that have tiny holes or tears. If you are not sure whether the food is contaminated with insects, dump the contents out of all glass and plastic food containers.
Fill the sink or a large tub with hot water and add a couple of drops of mild dish detergent. Wash each container in the hot soapy water or wash them in the dishwasher. Allow them to dry completely before refilling with fresh food.
How to Get Rid of Pantry Moths with Essential Oils
While many ingredients kill pantry moths naturally, peppermint oil is one of the best essential oils for moths to deter them from entering the pantry area in the first place, and it doesn't contaminate your food storage area.
Combine the water, vinegar, and several drops of peppermint oil into a bottle sprayer and shake well to mix. If you plan on using the bottle more than once, make sure it is a glass bottle so that the oil doesn't disintegrate the plastic and label it for future use.
Spray the solution on all of the pantry shelves, top and bottom, and wipe the area with a sponge. It's also useful to spray other regions such as the door, walls, and floor.
Using essential oils like peppermint or cedar wood is also beneficial to get rid of clothes moths in your closets. Lavender repels moths and other unwanted critters, too.
Put drops of the oils on cotton balls and spread them throughout the shelves and the floor to keep these pests from devouring your favorite outfits.
How to Kill Pantry Moths using Pheromone Traps
Pheromone traps are an excellent tool to kill moths that fly into the pantry. They also help you monitor how many there are in the area. Here is how to kill pantry moths to prevent them from becoming an infestation in the pantry.
Pantry Moth Traps
Pheromone traps lure male moths to specific areas of the kitchen or pantry. The moths get trapped to the glue boards and die. These traps prevent the males from fertilizing females, stopping the life cycle in its tracks.
Repelling Pantry Moths with Bay Leaves
One way to repel moths from the kitchen is to use bay leaves. Many people swear by this remedy, and it is an inexpensive and natural way to repel moths from the area. These herbs are not only how to get rid of moths in pantry but a great silverfish repellent as well.
After cleaning the entire pantry with soapy water, place bay leaves in the corners of each pantry shelf or cupboard. Use tape to stick the leaves on the underside of the shelves and around the entrance to the pantry. The leaves are also useful for adding directly to containers and jars, although they alter the smell of your food.
Preventing Pantry Moths in the Home
An infestation of moths is not always a result of a messy pantry. Quite often, these pesky insects are the result of the manufacturing process and travel to your home in the packing. While the idea sounds gross, they are not visible to your eye, and it's highly unlikely you even know they are there.
Pantry Moth Prevention
The best way to prevent possible bug problems in your pantry is to freeze the dry goods after you purchase them from the store. Place items such as bagged flour in the freezer for one week after purchase to kill the eggs before storing them in the pantry.
Moth larvae chew through paper and plastic with ease, so it's essential to store flour, grains, and other dry food items sold in paper or plastic packaging in airtight food containers.
Place pet food and bird seed in a large canister in another location than the food pantry, and store small bags of spices in the freezer or fridge.
To get rid of moths outside and keep them out of the house, turn off bright porch lights at night when you are not using them. Moths are attracted to the lights because it also attracts their food sources. Or, you can put in a special bug light that brightens the area without drawing in insects and moths.
Discovering bugs such as weevils and pantry moths creeping around in your food not only ruins your appetite but is a waste of money.
Rather than suffer the disappointment of unbaked cookies or homemade pizza crust, eliminate these pantry pests by following a few easy steps and using repellents to prevent them from returning in the future.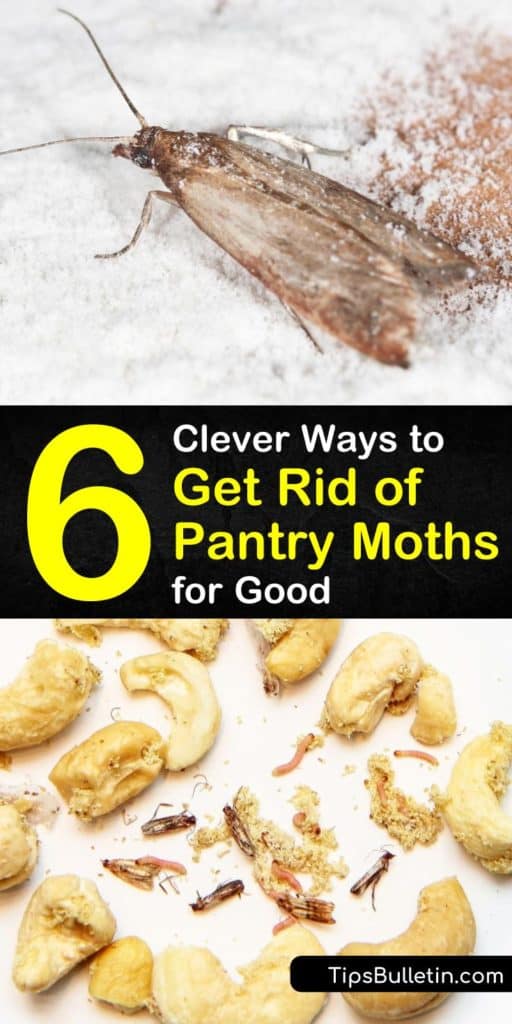 We hope our information helps show you how to get rid of pantry moths so that your food does not go to waste, and we'd love it if you'd share our pantry moth prevention tips with your family and friends on Facebook and Pinterest.