Perhaps you have discovered a patch of poison ivy in the far corner of your yard. Maybe you've taken the family for a nature hike in the woods and have stumbled through poison ivy and fear your trip will have to end abruptly. Either way, we'll show you how to get rid of poison ivy in the yard and on your skin.
Poison ivy belongs to a group in the Toxicodendron genus of the sumac family and grows throughout the United States. Brushing up against the plant's leaves, stems, or berries is an irritant and can cause allergic contact dermatitis in many people and results in redness, swelling, and an almost unbearably itchy rash.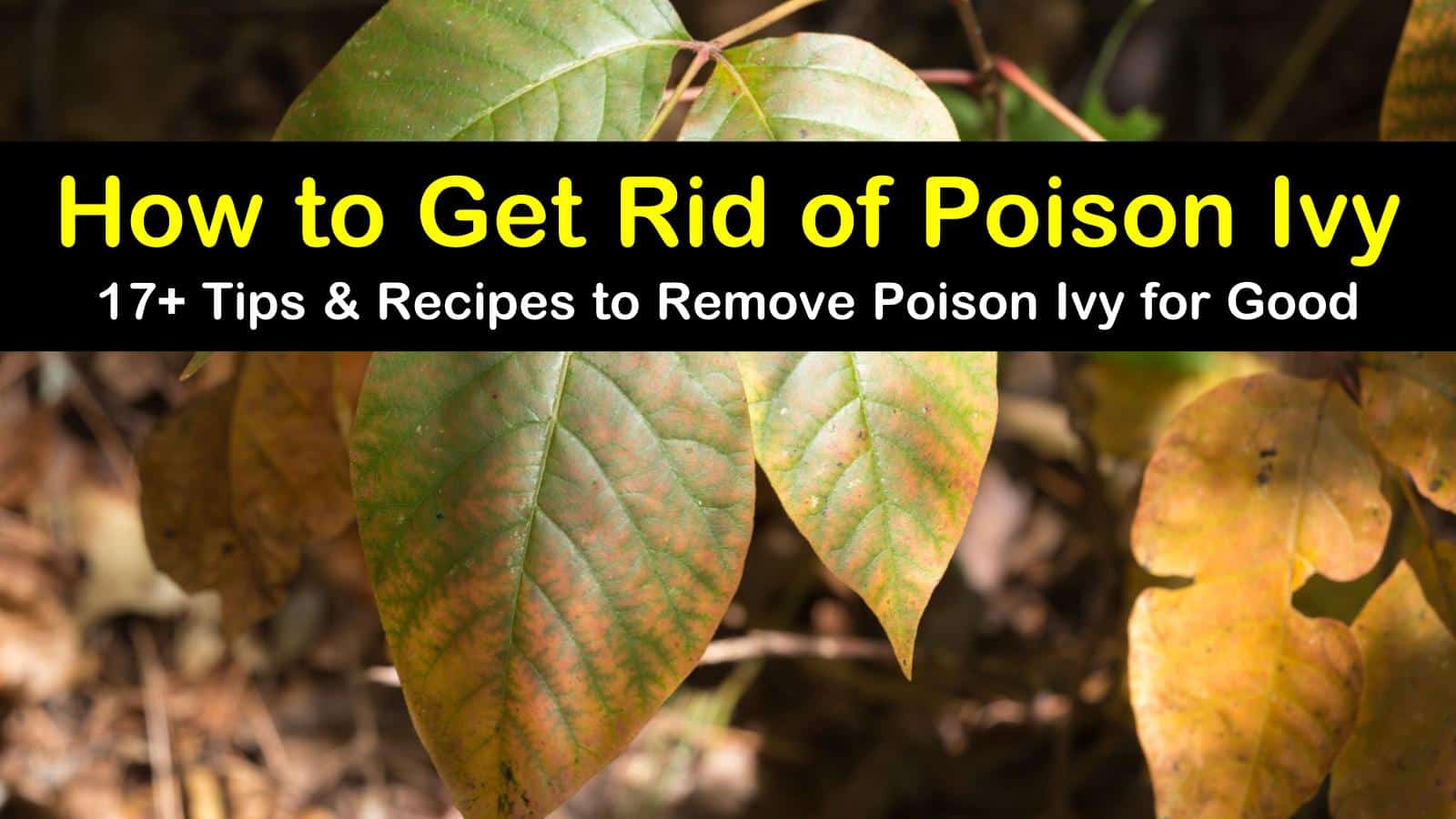 Removing Poison Ivy
In the following sections, we cover both topics, beginning with how to remove poison ivy from your yard and finishing with how to relieve and treat the side effects of poison-ivy-rashes on the skin. Our home remedies show you how to alleviate the swelling and itching associated with poison ivy while saving you a trip to the dermatologist.
Recognize Poison Ivy Plants
You may have heard the old saying, leaves of three let it be. Even knowing this, there may be confusion when it comes to identifying poison ivy. After all, there are quite a lot of plants with three leaves. We'll show you how to identify the poison ivy plant in a few easy steps.
Poison Ivy Identification
Poison ivy plants do indeed have three leaflets, and their edges can be smooth or notched. The leaves are reddish with yellow-green flowers in the spring, green in the summer, and orange to red with off-white berries in the autumn.
During the winter months, the leaves fall off, leaving behind stems that appear hairy. In the east, midwest, and southern regions, the plant grows as a vine while in the northern and western areas, it grows as a shrub.
Fastest Way to Get Rid of Poison Ivy
Complete removal of the plant is the quickest way to get rid of poison ivy from your yard or property. Wear long sleeves and long pants while removing the plant. Doing this will ensure that no poison ivy comes into contact with your skin.
After putting on a thick pair of gloves, use a spade shovel or hand spade to work the poison ivy plant roots loose from the soil. Carefully pull the entire plant out of the ground, making sure that you remove all traces of the plant, including the leaves, stems, and whole root system.
Place the plant in a plastic bag and discard it properly. Do not compost the plant or burn it. The smoke that it releases during the burning process may contain poisonous fumes from the urushiol.
Be sure to wash your gardening clothes on a hot setting using strong laundry detergent. Get poison ivy off shoes by hosing them down and other protective gear to properly remove the urushiol toxins.
Pulling plants up by hand is also the best and most natural way to kill dandelions to prevent re-growth in the yard. It's a good idea to catch these pretty weeds before they go to seed or you will see even more dandelions in the future.
Kill Poison Ivy without Chemicals
The following is a non-toxic recipe to get-rid-of-poison-ivy plants. Be careful when spraying the poison ivy, as this spray will also kill any other plants nearby.
Because of this, it will also eliminate other poisonous plants such as poison sumac and poison oak. If you have desirable plants near the poison ivy, cover them before spraying.
Combine the white vinegar and salt in a large pot and heat on the stove until the salt has dissolved. Remove the pot from the burner and let it cool. Once the liquid has cooled, add the dish soap and stir well.
Pour the non-toxic solution into a spray bottle and make sure that you label it for safety purposes. Spray the vinegar solution directly onto the poison ivy plant. If you do not have a spray bottle, you can also pour the liquid directly onto the plant.
Eliminate Poison Ivy by Using Nature
Sometimes the best way to combat nature that has stepped out of line is to use nature against itself. While the following method doesn't eliminate poison ivy immediately, it is an excellent alternative to use if you do not want to hassle with physically removing it.
Eliminating Poison Ivy Naturally
It's not exactly clear why, but poison ivy will not grow where there is a full lawn of grass. Knowing this, you can plant grass seed around the areas of poison ivy to eliminate further spread and eradicate the plant from your yard.
Poison Ivy and Weed Killer
You probably already have the best poison ivy killer in your kitchen and didn't even realize it. It's just a matter of combining the ingredients and applying them to the plant to eliminate it.
The following method works well for the short term, but you may have to reapply the spray periodically to keep the poison ivy at bay and prevent it from cropping up again.
Mix the hot water, salt, and dish soap in a large container and stir well to dissolve. Pour the soapy water into a bottle and label for future use.
If there are any desirable plants near the poison ivy, make sure to cover them before spraying. Spray the mixture directly onto the poison ivy from leaves down to the lower stems. This way, you take care of weeds without killing grass or unwanted plants nearby.
Salt by itself can also be helpful to remove poison ivy and other weeds. For killing tree roots with salt, drill a dozen or so holes deep into the tree stump and fill with salt. Re-apply as needed. It takes some time but the salt eventually kills the roots and the stump so you can pull it out completely.
Killing Poison Ivy with Water
Sometimes, the simplest method is the best. The following will show you how to kill poison ivy in your yard using plain water.
Boiling Water Weed Killer
Bring a large pan of water to boil. Carefully pour the hot water into a sturdy watering can. Pour boiling water onto all parts of the plant, while focusing areas in the dirt where the roots grow.
If you have neighboring plants that are desirable, be careful that you do not accidentally spill any of the boiling water onto their leaves and roots. You may have to repeat this once a day for a few days to be sure that you have eliminated any hidden poison ivy roots.
Smother Poison Ivy
The following is ideal if you want to eradicate poison ivy but do not want to hassle with digging, spraying, or other time-consuming techniques.
Smothering Poison Ivy
For this method, you will need some material that can be used to smother the plant. Lay a large piece of flat wood or cardboard across the tops of the poison ivy plants to suppress them.
You can also cover the plants with a sheet of plastic or plastic bag to prevent them from further growth while slowly eliminating the plant. Be sure that you also cover the area of the plant's roots.
Homemade Poison Ivy Spray
For particularly stubborn poison ivy plants, try the following homemade weed killer ingredients to make a spray. This method contains bleach as one of its components, so it is not considered non-toxic.
Combine all of the ingredients in a container and mix until the salt has dissolved. Pour the bleach mixture into a spray bottle and make sure to label it for safety reasons.
Cover any desirable plants in the vicinity and spray the poison ivy using a sweeping motion. Make sure that you thoroughly soak the plants completely with the spray.
Kill Poison Ivy in One Day
If the poison ivy is growing in a location where you have a lot of traffic, then you want to kill the plant as quickly as possible. The following ingredients can be combined to make a spray that is great at getting rid of poison ivy plants in one day.
Combine all of the ingredients in a bottle and label for future use. Spray the mixture onto the crown and leaves of the poison ivy plant.
Try doing this during the hottest part of the day to provide the most significant impact on the plant. The poison ivy should be dead by the next day; otherwise, give it one more treatment.
Killing Poison Ivy with an Herbicide
The following is ideal if you do not have the time nor patience to make your own non-toxic poison ivy killer. Make sure that you get an herbicide that contains glyphosate, which will penetrate the plant to kill it from the inside out.
Herbicide Poison Ivy Spray
Start by reading the instructions of the particular herbicide of your choice. Typically, you spray the herbicide onto the leaves of the plant.
The plant will absorb the poison, effectively killing the entire plant. Cover any plants surrounding the poison ivy that you wish to keep to protect them from the poisonous spray.
Stop Poison Ivy from Growing Back
After you have used a treatment meant to kill poison ivy, you want to make sure that it is truly dead. While the top of the plant may appear lifeless, that does not mean that you have killed off the entire plant. The following will show you how to stop poison ivy from growing back.
Prevent Poison Ivy from Returning
The critical thing to remember when eliminating poison ivy from your property is that even though it may look dead, it may not be. There is only one way to ensure that the plant is gone for good, and that is to make sure that its entire root system is gone. Don't let the plant's dead appearance fool you.
Gear up with protective clothing such as long pants, long sleeves, and rubber gloves. Use a shovel to dig around the perimeter of the plant base to loosen its roots. Dig up the entire root system, making sure that you include any runners.
Once the whole root system is pulled out, place it into a plastic bag, and discard it properly. Do not use it as mulch or burn it. Wash off the shovel, boots, and clothing to remove trace urushiol left behind by the plant.
Recognize a Poison Ivy Rash
A reaction to poison ivy is the result of touching the leaves, stems, berries, or roots of the plant. You can also have a reaction by coming into contact with any contaminated objects such as garden tools. The irritating rash is caused by an allergic reaction to urushiol, an oily resin of the plant.
Poison Ivy Reaction
They are a variety of signs and symptoms that can result from contact with poison ivy. They generally include redness, itching, swelling, and blisters on the skin. If you have brushed across the plant, then the rash will appear in a straight line along your skin.
The rash usually appears on the skin 12 to 48 hours after contact with the plant and can last up to three weeks. We recommend seeking medical assistance if you experience blisters that begin oozing pus or a severe reaction to poison plants.
Treat Poison Ivy Contact
After contact with poison ivy, it is critical to wash the area immediately to remove the plant oil. Doing this may lessen the side effects and reduce the chance of developing an allergic reaction and skin rashes. Try the following if you have brushed up against poison ivy before a rash develops.
Rubbing Alcohol Poison Ivy Treatment
If you have just brushed up against some poison ivy, the best thing to do is apply rubbing alcohol. Try to do this within the first ten minutes.
Rubbing alcohol counteracts the plant oils, and may prevent a rash from developing. It's wise to keep alcohol wipes with you whenever you are hiking in the woods or camping.
What to Do if You Come in Contact with Poison Ivy
Once you realize that you have come into contact with poison ivy, begin by applying rubbing alcohol, as mentioned in the last step. This should be followed by proper washing of the affected area.
Showering to Reduce Spread
To limit the spread of poison ivy, try to take a shower within an hour after exposure. Thoroughly wash your skin using standard soap and water, making sure that you clean beneath your fingernails to remove any of the plant's oils.
You can also use a poison ivy soap such as Tecnu to wash away the plant oils. Make sure that your clothing is washed immediately in the hot setting of the washing machine.
Reduce Poison Ivy Inflammation and Itching
Applying cool water to the skin can go a long way at reducing the discomfort associated with swelling and itching that comes from contact with poison ivy.
Reducing Itching and Inflammation
Make wet compresses by holding a clean washcloth under cold water and wringing off the excess liquid. Place the compress against the inflamed skin for up to 30 minutes.
Repeat as needed throughout the day. You can also soak a compress in an astringent such as apple cider vinegar to reduce the swelling.
Relieve Poison Ivy Symptoms Naturally
Oatmeal and baking soda are natural ingredients that work well for relieving itchy skin and can be used as either a bath or a paste to provide relief. These ingredients can be used together or separately.
To relieve itching skin, pour one cup of baking soda into a bath and soak in the water for up to half an hour. If you choose to use oatmeal, grind one cup of oatmeal in a blender until it is a fine powder. Add the oatmeal to your bath and soak in the water for up to half an hour.
Relieve Poison Ivy Discomfort with Antihistamines
To relieve some of the itching and swelling that results from contact with poison ivy, you can try oral antihistamines. You can find these at your local drug store, and they are relatively inexpensive.
Taking Antihistamines for Poison Ivy
Antihistamines work from the inside of the body rather than the outside. Over-the-counter antihistamines, such as Benadryl (diphenhydramine), can reduce many symptoms, including itching, redness, and swelling. Follow the directions and dosing recommendations labeled on the box.
If you are unable to take an antihistamine or it is not working for you, your doctor may prescribe a corticosteroid such as prednisone to relieve the swelling and itching.
How to Treat a Poison Ivy Rash
There are a variety of over-the-counter creams that you can use to relieve the discomforts of a poison ivy rash that include itching, redness, and swelling.
Poison Ivy Treatment
Apply hydrocortisone cream or calamine lotion topically to the areas affected by a poison ivy rash to provide relief. Follow the directions accordingly for the best results. For more severe cases, you can try a steroid cream to relieve the discomfort.
Avoid Accidental Contact with Poison Ivy
Prevention is the best remedy for itchy skin and uncomfortable rashes that can result from contact with poison ivy. The following steps will show you how to avoid a mishap with our least favorite plant.
It's essential that you know what poison ivy looks like. Once you are familiar with the plant, you can identify it while outdoors and avoid contact. Wear protective clothing such as long socks, long pants, and long-sleeved shirts while walking through wooded areas that are unfamiliar to you. You can also apply a barrier cream to any exposed areas of your skin to shield you from the plant oils.
If you have discovered poison ivy plants on your property, go through the necessary steps of removing it safely and correctly. Don't forget to wear protective clothing. Make sure to dispose of the plant properly once it is removed and wash any items that have come into contact with it.
If you have pets that travel the outdoors, be sure that you avoid direct contact with them if you suspect they have come into contact with poison ivy. Bathe them with soap and water as soon as possible. Make sure that you wear rubber gloves while cleaning them.
Getting rid of poison ivy on your property may be a bit of a chore, but it is something that must be done to prevent a nasty case of red and irritated skin.
Fortunately, there are many ways that this can be done, from removing the plant in its entirety to spraying it with herbicides. Not only can you get rid of that nasty little plant from your yard, but you can remedy the ill effects it has caused to your skin.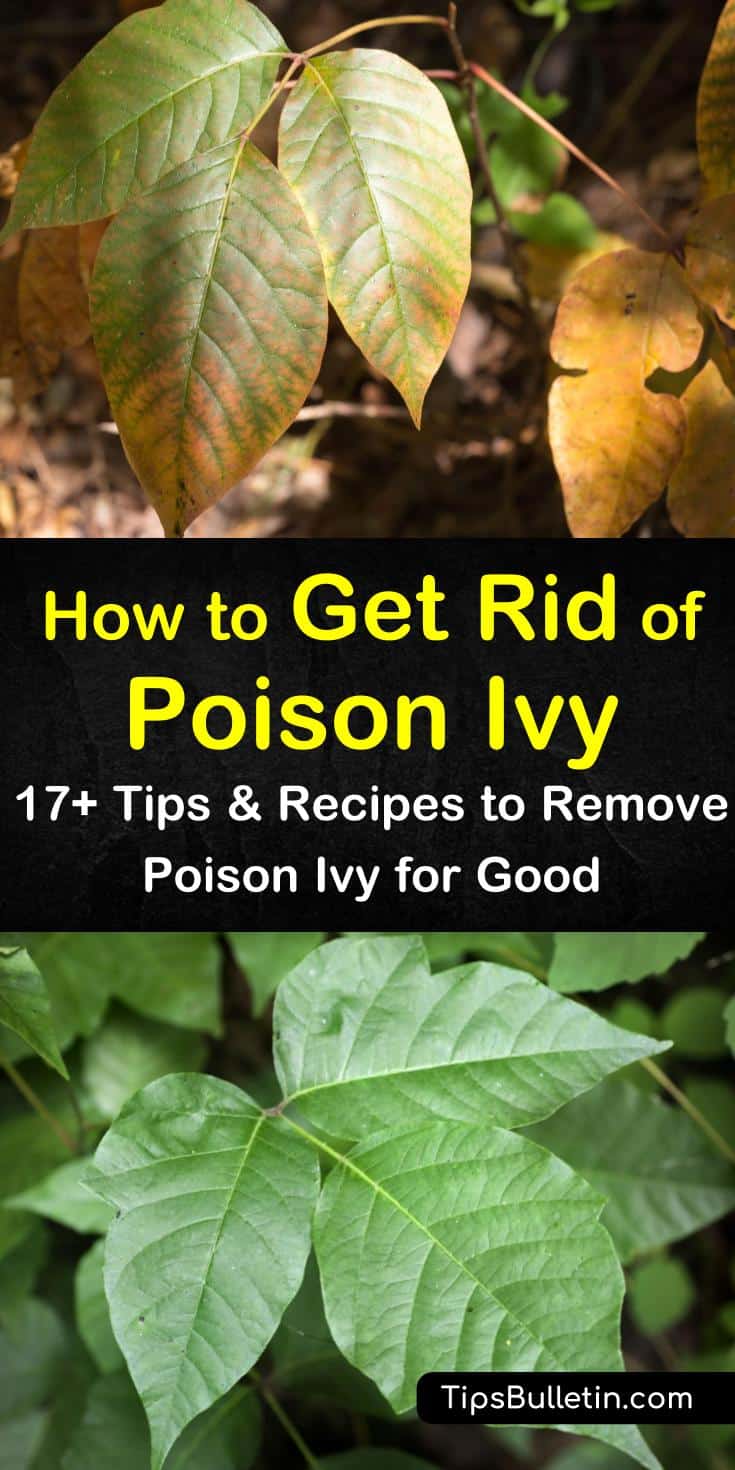 Now that you're well informed on how to get rid of poison ivy on the property and your skin, why not share these poison ivy remedies with your family and friends on Facebook and Pinterest?