Owning pets is a joy, and lots of people consider their dogs part of their family, yet the odors created by our furry friends are sometimes not very appealing. Dog poop is an unavoidable part of dog ownership, but when the stench builds up, and your yard becomes dirty and disgusting, it's time to start getting rid of poop smell in your yard. Many pet owners are desperate to know how to get rid of poop smell outside.
The undesirable aroma may be more intense at certain times, for example, in summer, and worse in specific locations where your pets like to use the potty. Start by picking up solid waste and sealing it in poop bags to contain the stench.
Check out our straightforward ideas to get rid of dog poop smell outside and decide which one might work best for your family. Select a method you have the supplies on hand for, or try something new, and take back your outdoor space to make it pleasant again for you and your pets, without a disgusting smell.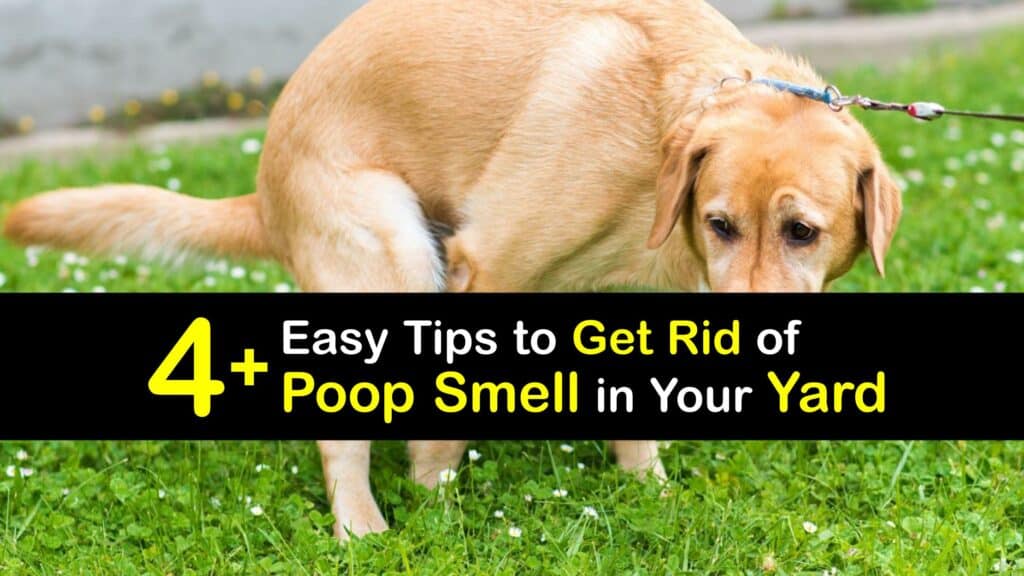 Fantastic Ideas for Getting Rid of Poop Smell in Your Yard
Learning how to get rid of poop smell outside makes your yard an enjoyable location to spend time. Urine and poop are the challenging parts of owning pets, so it's critical to learn how to deal with them. Additionally, you may find that one of these tips is what repels skunks too. Eliminate all kinds of unwelcome odors.
Whether you have a pet dog or a cat, these aromas may become overpowering, especially if you have a smaller yard or multiple animals. Getting rid of poop smell in your yard might seem daunting, yet with the right supplies and a little knowledge, you can quickly and economically eliminate poop odor from the backyard.
Why Your Backyard Smells Like Poop
An unpleasant odor or foul smell ruins your outdoor time and makes your backyard an uninviting place. Pet odor quickly overpowers a space, whether it's dog pee, cat urine, or dog waste.
Much like a cat litter box in the house, your yard requires maintenance to stay clean and sanitary. Your pet dog and cat use the bathroom, and waste builds up without cleaning, and the smell becomes obtrusive.
You might find the issue worse in the summer when warm weather hastens the decomposition of poop and the accompanying stink rises, and smaller yards with more pets tend to have more odor issues than larger ones.
Start by regularly collecting solid waste in poop bags and disposing of it in a sealed container. Spray your yard with the hose to help any remaining dog poo and pet urine disperse. If you have a lingering odor, use one of our simple cleaning ideas to eliminate the bad smell.
How to Get Rid of Poop Smell Outside Quickly with White Vinegar
After collecting all the soil waste and rinsing your outdoor space with a hose, employ a potent deodorizer like white vinegar to tackle the lingering smell of dog poop or to keep cats away from your property and using it as their personal litter box.
The acetic acid in distilled white vinegar efficiently breaks down the bonds in the poop, allowing it to be rinsed away and ensuring no smell stays behind. Mix white vinegar and water to make a cost-effective odor removing yard spray.
Spray the solution generously in your yard, focusing on areas where foul odor arises, whether you are getting rid of cat poop odor outside or dog poo smell. White vinegar solution is also ideal for carpet cleaning when you have a pet stain indoors. Pat the accident dry with a paper towel, and pour the vinegar mix into a spray bottle to soak the area before drying.
Use vinegar and water for cleaning dog poop off your shoes. Get rid of large clumps first and wipe away the rest with the solution.
Try Baking Soda to Eliminate Poop Odor from the Backyard Fast
Baking soda absorbs dog smell and rids your space of urine odor and feces smell. It can be used in your washing machine as one of the best ways to get poop smell out of clothes. This white powder is found at most grocery stores, costs very little, and is renowned for its odor-eating abilities.
Sprinkle a thin covering of baking soda over the problem areas in your yard as a poop and pee deterrent for dogs and cats. Use a garden trowel to mix the powder for loose dirt or soil areas. The baking soda takes in the odor particles, removing them from your garden, and it won't harm your plants. It stops cats from pooping in your backyard without resorting to more extreme measures.
Use baking soda for odors inside, too. To remove dog poop smell from your carpet after you pick up the poop, sprinkle baking soda over the area and use a cloth or brush to work it into the fibers. Let it sit for an hour or two and vacuum. The odor should be gone.
Enzymatic Cleaner Dissolves Dog Poop Odor
Enzymes are microscopic, naturally occurring substances that break down organic particles like poop and pee to make them simple to remove. Enzyme cleaners are made to destroy dog and cat poop smell and persistent pet urine odor. These cleaners are all-natural, safe, and available in pet stores or online.
Look for a bulk cleaner or concentrate designed to be mixed with water to make a large volume of treatment. Use a garden sprayer to treat a large space, and apply the cleaner following the manufacturer's directions. Perform a test patch before using an enzymatic cleaner on your lawn and plants.
Note that it's possible to make a natural enzyme cleaner for dog urine or poop at home, although it takes a few weeks to months to be able to use it.
Activated Charcoal Eradicates Dog Poop Smell
Set out little bowls or hang small bags of activated charcoal around problem areas in your yard to soak up unwanted odor. Activated charcoal absorbs an incredible amount of dog odor and dog urine smell. This fine black powder is unique thanks to its giant surface area, which gives it a sizable absorptive capacity.
Be sure the charcoal items are out of reach of your pets and children. Unlike many odor-eaters, active charcoal works hard on stubborn smells for up to a month. Change out active charcoal baggies after this time to ensure you continue to get the best results.
Dog poop and cat pee make your yard a displeasing place to hang out. Even with regular maintenance, urine and poop particles may linger and emit an unpleasant smell.
Several straightforward and budget-friendly methods are options to clean up your yard and eliminate the unpleasant smell. Implement a regular yard maintenance routine for scooping poop and deodorizing, and get back to enjoying the great outdoors.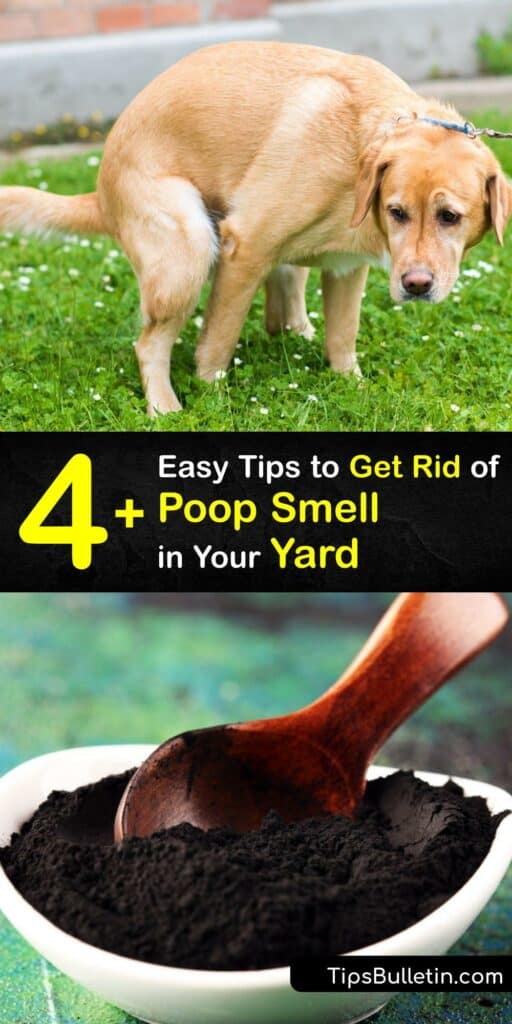 If you loved this article about how to get rid of poop smell outside, please share these brilliant techniques for getting rid of poop smell in your yard with your friends and family on Pinterest and Facebook.