Powdery mildew is a common problem for both expert and inexperienced gardeners, and many struggle with how to get rid of powdery mildew on cucumbers. Powdery mildew is a fungus and one of the most common illnesses for plants. Growers often see white mildew on cucumber leaves.
Plants aren't resistant to mildew unless they're intentionally bred resistant varieties, yet some species are more susceptible than others. The most sensitive plants to this fungus are lilacs, roses, squash, cucumbers, and zinnias.
As the name implies, powdery mildew (Erysiphe cichoracearum) shows as dusty white patches on the leaves and stems of infected plants. Powdery mildew on the tops of leaves is sometimes mistaken for white fluff; however, the disease typically starts on the underside of the leaf and spreads.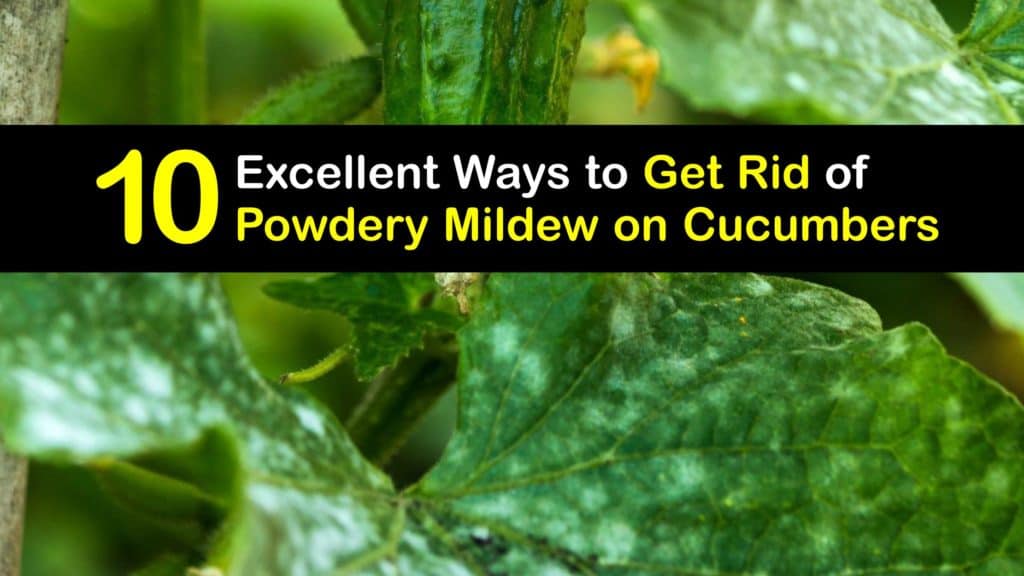 Prevent Powdery Mildew on Cucumber Plants with Home Remedies
Keeping your plants healthy goes a long way to preventing issues with disease and insects. Fertilize cucumber plants with eggshells and coffee to help.
However, problems can still occur. Although powdery mildew affects dozens of plants, each fungal infection is host-specific, meaning the fungi infecting the plant are distinct to the type. To put it another way, the powdery mildew on your cucumbers will not spread to other plants in your yard.
Knowing how to get rid of powdery mildew on cucumbers and prevent powdery mildew on cucumber plants ensures this pesky fungus doesn't get in the way of your harvest.
If you've noticed white mildew on cucumber leaves, don't panic. While powdery mildew is an eyesore, it rarely kills plants. White spots on outdoor plant leaves does, however, put the plant under stress. Frequent infections weaken cucumber plants, making them more susceptible to other plant diseases and pests like cucumber beetles.
Powdery mildew depletes the plant's essential nutrients, causing the leaves to yellow and wither. It's not a good sign having cucumber plant leaves turning yellow. When powdery mildew covers a large leaf surface, photosynthesis is inhibited, and leaves fall from the plant prematurely.
Powdery mildew is often a severe concern for food-bearing plants like cucumber plants because it affects the number of sugars produced, affecting the flavor. Keep reading for everything to know about how to get rid of powdery mildew on cucumbers and prevent powdery mildew on cucumber plants.
How to Get Rid of Powdery Mildew on Cucumbers with Vinegar
Vinegar contains acetic acid and can be used to treat white powder spots on plants and mildew on squash leaves. It's simple to use vinegar as a powdery mildew fungicide by combining it with water. The acidity of the vinegar removes the environment where powdery mildew thrives and quickly restores affected plants. Vinegar is effective for downy mildew treatment as well.
Combine in a spray canister and apply to all affected plant leaves and surfaces where white mold is seen, avoiding the soil. Measure and mix everything precisely, as higher vinegar concentrations burn some plants.
Kill Fungal Spores with Neem Oil
Seeds from the neem tree, native to India and Burma, are used to make neem oil. It's a non-toxic pesticide and fungicide suitable for use at home to treat and prevent powdery mildew on cucumber plants. It swiftly degrades and poses no threat to humans, animals, or helpful predator insects.
Neem oil for cucumber plants is an effective management measure if sprayed immediately when the first indicators arise, such as white dust on plant leaves. This natural fungicide kills powdery mildew spores.
To suppress powdery mildew fungi and spores, combine the ingredients and spray all plant surfaces, covering every leaf. Neem oil is an effective way to prevent powdery mildew on cucumber plants and other plants if the fungus has been a concern in recent seasons.
Make a larger batch of this mixture and add to a garden sprayer to tackle powdery mildew on lawns. Repeat the application as needed.
Potassium Bicarbonate for White Mildew on Cucumber Leaves
Potassium bicarbonate is a powdery mildew therapy working as a fungicide to kill powdery mildew spores on plants. This fine powder is available at most gardening stores and combats other plant diseases like bacterial wilt and black leaf spot.
After mixing the powder with water, lightly spray the affected leaf and any locations you see white mildew on cucumber leaves. Potassium bicarbonate destroys fungal spores and inhibits the growth of powdery mildew on afflicted leaves; it's also practical to prevent powdery mildew on cucumber plants.
Eliminate Powdery Mildew Fungi with Hydrogen Peroxide
Use products from your medicine cabinet for how to get rid of powdery mildew on cucumbers. Hydrogen peroxide is a natural treatment for powdery mildew. A hydrogen peroxide solution is simple to make and inexpensive, making it a solid choice to treat white mildew on cucumber leaves.
To treat white spots on garden plants, combine the ingredients in a sprayer and spray the soil and each infected leaf.
Milk Beats Powdery Mildew Infection on Cucurbit Crops
Milk protein has an antimicrobial effect when exposed to sunlight, which is helpful in treating powdery mildew fungi. The need for light is the rationale for using the solution in direct sunlight.
Both whole and skim milk are viable methods for how to get rid of powdery mildew on cucumbers, but the protein is located in the milk fat, indicating whole milk is preferable.
Apply the milk solution in a spray bottle to to all areas of the plants. Because sunshine interacts with the milk fat, spraying the plants in direct sun gives the mixture its antifungal properties. This treatment works well as a preventative measure, so don't be hesitant to spray plants around your infected plant to keep powdery mildew at bay.
Management to Prevent Powdery Mildew on Cucumber Plants
Powdery mildew thrives in areas with poor air circulation. Improve air circulation in the garden by thinning and trimming your plants and removing any plant debris. This method assists in preventing fungi from spreading and growing on your plants and reducing other incidences of plant disease.
When you're satisfied the powdery mildew infection is under control, treat injured plants with nitrogenous fertilizers like compost tea.
Because the spores love new, succulent growth, feeding the plant's soil while sick could propagate the illness. Watering plants from above encourages the establishment of powdery mildew – water from below instead.
Getting Rid of Powdery Mildew on Cucumber Plants – Baking Soda
Baking soda is an effective tool for preventing powdery mildew, particularly when used with liquid dish soap and water. If a plant gets powdery mildew every year, spraying early in the growing season and regularly, as well as reapplying after rain, helps prevent powdery mildew on cucumber plants the following year.
At the first sign of infection, remove powdery mildew-infected leaves from a plant and treat the rest of the plant. Spray any nearby sensitive plants.
Fill a sprayer with the mix and evenly spray the whole plant, including the lower leaf surface and stems. The soap aids in the mixture's dispersion and adherence to the leaf. Discard any unused chemical because it loses potency over time.
While this mixture is beneficial, it may cause the leaves of some plants to burn. It's essential to give your damaged plants plenty of water a few days before applying this mixture and keep it out of direct sunshine.
Spray a small piece of your plant first to see how it reacts. Do not treat your plants if they are under stress from high humidity or high temperatures.
There are some plants that benefit from baking soda applications. These include tomatoes and a few other vining fruits and vegetables.
Commercial Treatments for Cucumber Fungal Infections
A range of commercial powdery mildew treatments is available at most garden stores if you're wondering how to get rid of powdery mildew on cucumbers using a store-bought remedy.
Select a treatment appropriate for your plants, and read all safety and warning labels. Some medicines are unsafe for pets. For the best result, read the manufacturer's guidelines and apply the commercial remedy to a small area on one of your plants to check for any adverse effects.
Copper Sulfate Removes Powdery Mildew Spores
For over a century, copper sulfate has been regularly utilized as a fungicide in organic agriculture. While it is prevalent in nature, it is a dangerous substance hazardous to humans and aquatic habitats.
Copper sulfate soaks into the infected plant material to kill many types of fungus. However, many organic gardeners are reverting to other methods of fungus control since their land has gotten saturated with copper sulfate, affecting soil health.
Copper sulfate may be a viable option for white mildew on cucumber leaves, but use it with caution and be risk-conscious.
Resistant Varieties Prevent Fungal Disease
One of the simplest ways to avoid having to deal with how to get rid of powdery mildew on cucumbers is to prevent powdery mildew on cucumber plants in your garden. Resistant varieties of cucurbit crops are available. These plants are naturally less susceptible to powdery mildew and more likely to remain healthy and thrive.
If your home garden has an ongoing powdery mildew issue, or you're a new gardener or a grower with less time, consider using powdery mildew resistant varieties of cucurbits for a more effortless gardening experience with fewer worries about plant disease.
The best defense for powdery mildew is establishing an environment not favoring mildew growth. Choose healthy plants and make an effort to maintain their health. Plants stressed due to drought, waterlogging, or other poor growing circumstances are more susceptible to disease.
Invest in resistant varieties, especially if you live where powdery mildew is common. If the worst happens and you notice white mildew on cucumber leaves, you now have the tools and knowledge for how to get rid of powdery mildew on cucumbers.
If you loved this article on how to get rid of powdery mildew on cucumbers, please share these valuable tips to prevent powdery mildew on cucumber plants with your family and friends on Pinterest and Facebook.