Powdery mildew is an easily detectable plant disease spread by fungi that leaves a white powder on grasses and plants. Untreated, grass turns yellow, dries out, and even begins to break, affecting the appearance of your lawn. To protect the health of your yard, learn how to get rid of powdery mildew on grass.
Grass turning white is caused by Erysiphe graminis, a fungus species that specifically targets grass. Even with proper care and maintenance, your lawn is still at risk of becoming affected by mildew.
The ideal environment for powdery mildew to thrive in is cool, humid, and drier climates, where moisture on grass is common due to irrigation systems like sprinklers.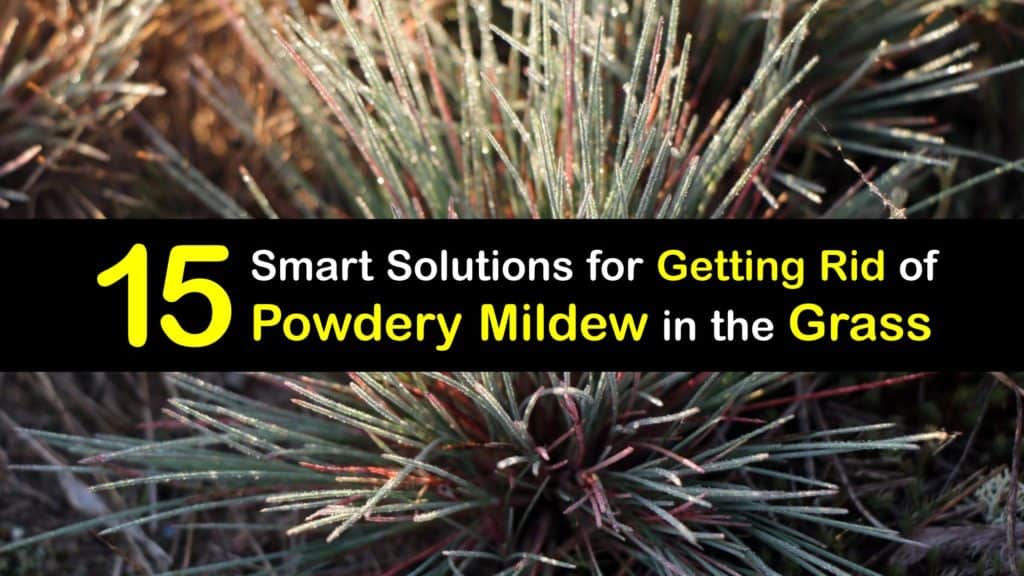 How to Treat Powdery Mildew on Grass
The contributing factors for powdery mildew mean that mildew can appear anywhere. Unlike other diseases, powdery mildew fungi do not require a vector for transmission.
The wind carries powdery mildew spores to nearby plants for infection from the source. The disease also spreads by direct contact with an infected plant and water splashing from infected plants. Although the mildew typically lives on grass and plants, spores survive in soil or debris.
Although powdery mildew is not immediately fatal, its effect on grass weakens it to the point that it may break and die. It's essential to recognize the signs and treat the symptoms of white powdery mildew to keep your lawn healthy, whether you use a diatomaceous earth lawn treatment or one of our suggestions.
Improving Sunlight in Affected Areas
Powdery mildew thrives in low-light areas as the lack of sunlight means grasses do not warm enough to kill harmful spores. With grass that grows in constant or dense shade, the lack of sunlight allows the humidity to rise in the air close to the ground, another condition that mildew enjoys.
Trim back any nearby plants that contribute to the shade on your grass. If large trees are present in your yard, consider pruning branches to improve sunlight on the lawn.
Using Sulfur as a Fungicide
Sulfur is a natural option for controlling powdery mildew and improving plant health. Sulfur is also beneficial for dealing with pests. Studies show that the combination of sulfur and fungus likely interferes with the cellular respiration of the fungus.
Sulfur fungicide is available as a liquid, powder, or dust and is easily combined with water to create a safe solution for grass. Follow the product label instructions to mix and wear protective equipment to protect your skin and face when using.
Treat White Mold with Vinegar
The acidic properties of vinegar are beneficial for controlling the spread of powdery mildew on plants and eliminating mold on plant soil. Because vinegar may burn plants, use diluted apple cider vinegar to treat mold safely.
Combine water and vinegar in a tank sprayer to create a safe acetic acid solution that treats the mildew on your grass without the risk of burning it. To avoid damaging your grass, test in a small patch first before using it across your entire lawn.
Avoiding White Fungus on Lawn Grass
If you've successfully removed powdery mildew from your lawn and want to avoid affecting your yard again, reseeding your property is a great option. Plant a mildew-resistant grass cultivar or turfgrass that is resistant to shade.
Kentucky bluegrass produces lush growth with excellent winter hardiness and limited shade tolerance with the right growing conditions. Fine fescue is a variety of fescue that creates shade tolerant grass with minimal fertilizer or moisture needs.
Manage Air Circulation in Your Lawn
Improve the air circulation in your lawn by regularly mowing to keep grass blades short. Proper air circulation allows moisture in the garden to dry quickly, limiting the time your yard remains damp after watering and is a great natural way to kill moss in areas where you don't want it.
The taller your grass, the denser the lawn becomes, allowing less air to blow through individual blades. A lack of air allows moisture and morning dew to remain on your grass longer, increasing the chance that mildew or Pythium blight may form.
Keeping Your Yard Free of Debris
The powdery mildew disease enjoys weather when the days are warm and the nights are cool with temperatures between 65-85°F. Because fungi overwinter on plant debris, when an infected leaf decomposes, it leaves white fungus in soil under the lawn.
Regularly rake up affected leaves to avoid the fungi overwinter ng in the soil. Controlling infected debris prevents the fungus from infecting new grass growth the following year.
Aerate Compact Soil
Just like air circulation is vital for your grass, proper circulation for your soil is essential for your lawn's health. Compact soil and clumping grasses prevent oxygen, water, and nutrients from fertilizer from reaching the root system of your lawn.
Creating holes in the soil allows the air and water circulation to increase through the ground. With proper circulation, grass grows healthy with more resistance to various lawn diseases and prevents fungus from gathering in the soil.
Properly aerating your soil helps avoid white fungus on lawn grass or a fairy ring from forming in your yard.
How to Get Rid of Powdery Mildew on Grass
Neem oil is a natural non-chemical method for managing fungus if you're dealing with white patches on lawn grass. Neem oil is the cold-pressed product from the neem tree, which possesses anti-fungal properties.
Neem oil is available from gardening stores and is effective against lawn diseases like powdery mildew and lawn rust. When treating plants and using neem oil in your garden or lawn, the oil spray is applied to all leaf blades or parts of a plant. When you treat powdery mildew on grass, use neem oil with water in a tank sprayer to make covering the yard easier.
Combine water and neem oil in a tank sprayer for this mildew treatment with neem oil. Apply evenly to your yard for a pre-treatment, or specifically to any areas of the yard affected by powdery mildew. Treat your yard once a week or every two weeks to manage fungal spores.
Use this solution for getting rid of white tree fungus as well. Several applications may be required.
Removing Weeds to Improve Grass Nutrition
Weeds are a problem for gardens and yards because they are unruly growers that often compete for nutrients in the soil with other plants and grasses. An abundance of weeds may not cause your grass to die, but grass that is competing for nutrients does not thrive and is at risk for mildew.
Grass growing with weeds also has limited access to moisture in the soil and sunlight if weeds grow too tall. These conditions affect your lawn's ability to dry after being watered, allowing mildew to thrive.
Regular Lawn Care
Although many rake up lawn clippings after tending to their yard, it could benefit your yard to leave them behind. Grass clippings decompose quickly to provide nutrients to the soil for your lawn.
If your lawn is growing healthy, leaving lawn clippings in the yard is an easy way to add an organic mulch to your lawn. If you are mowing grass with a powdery mildew infection, promptly remove the infected clippings from your yard.
Boost Your Lawn's Resistance to Disease
While nitrogen is vital for the growth of plants, nutrients such as calcium are essential to grass growth, too. Even with regular testing and maintaining proper soil pH, boosting the calcium levels in your yard is beneficial for the health of your grass.
Calcium builds strong cell walls for plants and allows plants to utilize nutrients available in the soil. Adding calcium to the soil in the spring promotes disease resistance to lower the risk for diseases like powdery and downy mildew from affecting your lawn.
Tackle White Fungus on Lawn Grass with Baking Soda
The science behind why baking soda effectively treats powdery mildew is a compound that grass produces when treated with baking soda. This compound protects plant parts from foreign pathogens. To make an effective powdery mildew treatment, combine baking soda with horticultural oil.
Combine these ingredients into a tank sprayer to create a safe bicarbonate mixture for plants and grass. Because this mixture gathers and builds up in soil without proper drainage and irrigation, it's essential to water your yard as a build-up strips calcium and magnesium from the soil, affecting plant growth.
Remove Excess Plant Matter
Aerating your soil improves the condition of your soil by improving circulation. Aerating also removes soil plugs that contain mixes of dead and living plant matter.
This mix of plant matter, known as thatch, acts as a mulch for your lawn. While this thatch is normally beneficial, if left untreated, thatch builds up in the soil. Too much thatch holds grass fungus that lingers in the soil and infects your yard.
Using Milk to Prevent Powdery Mildew Infection
Starting in 1999, scientists began reporting the effect of milk when used to control fungal diseases. Tests involving a diluted milk solution worked as effectively as a synthetic fungicide.
Combine milk and water in a tank sprayer to treat your grass for mildew. Treating your grass early in the day allows the mixture to warm in the sun. Studies behind using milk to treat mildew believe that the protein in milk creates an antiseptic that prevents fungus when in direct sunlight.
Treating Grass with Potassium Bicarbonate
Potassium bicarbonate is a mineral available in supplement form for various uses. For lawn care, potassium bicarbonate kills spores on contact as an effective method for controlling fungus disease spores and preventing diseases like leaf spot.
Combine the ingredients in a tank sprayer and spray evenly over your lawn. Some fungicides require a horticultural oil to help fungicides emulsify, but potassium bicarbonate does not need oil to support its effectiveness.
Other Ways to Control Powdery Mildew Spread
Aside from standard treatment options, some of the everyday gardening tasks you complete may affect your grass's susceptibility to becoming infected by powdery mildew. Making slight changes to your lawn care improves the quality of your grass, making it harder for powdery mildew to take over your lawn.
Monitor the Use of Fertilizers
If you're using grass fertilizer to improve the growth and quality of your lawn, the added nitrogen present in fertilizer may be contributing to the development of lawn fungus.
Limit the use of high nitrogen fertilizers to early spring and avoid adding them to your lawn during cooler months as winter approaches to prevent snow mold from affecting your yard the following year
While applying too much fertilizer can promote the growth of fungus, unhealthy grass is also susceptible to disease. Powdery mildew and diseases like red thread are common for grass, and by adding a bit of nitrogen to the grass, you can avoid diseases from targeting unhealthy grass. Test your soil to develop a routine for fertilizing.
Adjust Watering Patterns
If heavy shade is standard for your lawn and pruning or trimming isn't providing enough sunlight to improve the humidity over your property, changing when you water your grass helps avoid mildew, especially for grass growing in heavily shaded areas.
Water your grass in the morning to prevent the sun from warming the moisture on the grass and increasing humidity. Keeping humidity low helps prevent other diseases like slime mold from affecting your lawn.
If a sprinkler waters your lawn, adjust the timing to water the yard earlier in the morning, before ten o'clock. Watering your lawn later in the day, especially in the evening, means your grass remains damp longer.
While powdery mildew on your lawn is not fatal, it is unsightly. If left untreated, your entire yard could become coated in this white mold which may give anyone pause the next time they want to walk through the grass barefoot or whenever your kids decide to play outside. Follow our advice to take back control of your yard.
If our article helped you learn how to get rid of powdery mildew on grass, please share our tips on Facebook and Pinterest with others to show them how to treat powdery mildew on grass.