Every gardener has battled a powdery mildew infection; you plant some stunning squash, everything looks beautiful, and suddenly, those unwelcome white splotches appear on the leaves. Don't give in to defeat; we will show you how to pinpoint and get rid of powdery mildew on squash for good.
Cucurbita is Latin for gourd, a broad term for meaty, warm-weather fruits like pumpkin, squash, and zucchini. Unfortunately, all the cucurbit family members are particularly vulnerable to several types of powdery fungus and white mildew, Erysiphe cichoracearum and Podosphaera xanthii being the two most commonly reported by home gardeners.
The Erysiphales order is fungi that science calls obligate parasites, meaning they can't complete their life-cycle without finding a host plant. Powdery mildew growth can be virulent, and some varieties are even resistant to traditional fungicides. Fortunately, there are several clever ways to stand up to white plant mildew and save your cucurbits; let's go over the most effective methods for your garden.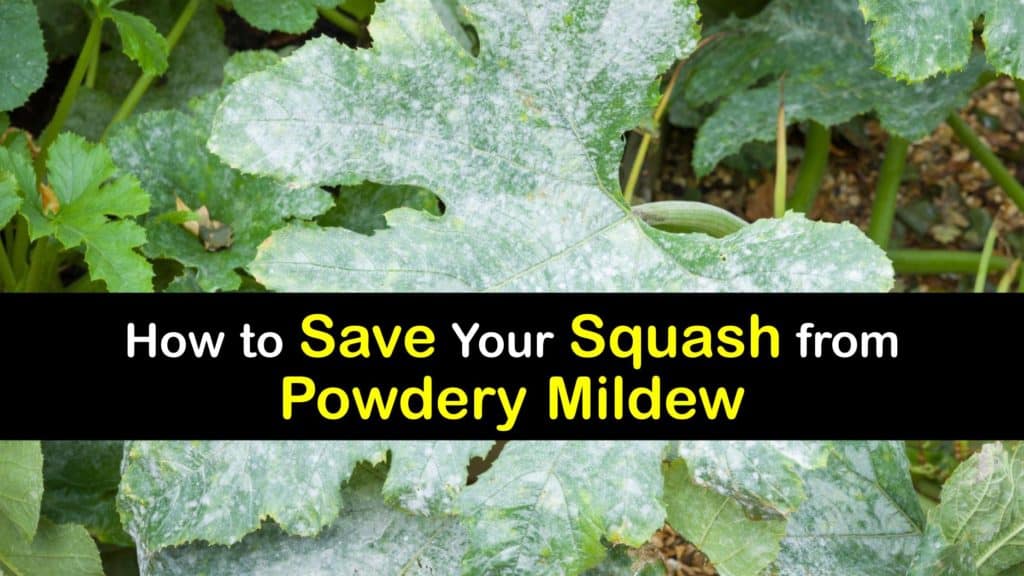 Banish White Mildew on Squash Leaves
Gone are the days of white mold overtaking your fragile cucurbits and forcing you out of your own home garden. It's time to take action against invasive garden fungi with the most effective tips and tricks we could assemble.
Learn everything you need to know about how to get rid of powdery mildew on squash and keep it away this growing season and others to follow. Many of these solutions are effective for a white powdery substance on grass and lawn areas and other types of plants, too.
Where to Begin with White Mold
To prevent powdery mildew on squash plants, you need to know how white mold begins. All varieties of powdery mildew enjoy high humidity and mild temperatures.
Sometimes all it takes is for wet weather to keep your squash leaves damp, then white mold comes calling. Powdery mildew fungi could be more prevalent when growing squash in a greenhouse due to the consistent temperature and inviting environment.
Perhaps you already noticed some white dust on your squash leaves; in that case, it's time to get out the pruning shears. Prune all leaves that show powdery mildew spots.
Spores spread through the air, so it's best to put every infected leaf directly into a paper bag; always wear gloves. To prevent a lingering fungal disease, don't water the plant leaves, only the soil, and clean your pruning shears with alcohol or hydrogen peroxide to stop any harmful fungal transfer between plants.
What's the Difference between Downy Mildew and Powdery Mold?
Downy mildew or Plasmopara viticola is considered a "water mold" closer to something like algae than fungi. Powdery mildew is a splotchy white fungal infection, whereas downy mildew shows up as yellowing on the top side of the squash leaf with a coating of gray fuzz on the underside.
This garden pathogen thrives in humid conditions (above 85%), and with steady rain, irrigation, or even consistent, heavy fog, downy mildew germinates very quickly.
A bi-weekly preventative regimen of organic copper sulfate fungicide is the only way to stay on top of this type of garden pathogen. Many gardeners recommend applying fungicides with different FRAC codes in rotation to prevent any resistance issues that develop over repeated use of the same product.
Avoid over-leaf watering, and do what you can to increase air circulation in your garden by regularly pruning, clearing plant debris, and thinning your plants to improve light absorption.
How Does Copper Sulfate Help with White Mildew on Squash Leaves?
In the long history of human agriculture, sulfur has the distinction of being one of the oldest natural fungicides in the known world. It's been used for more than 2,000 years as a powdery mold treatment because it bolsters the strength of plant tissues against fungal pathogens.
There are even many certified organic varieties available for the conscientious gardener; we always want to avoid harming the delicate biological balance through responsible use of garden chemicals, when butternut squash grows or you have other varieties.
Using metal in your home garden on affected plants can be intimidating, but it's actually pretty easy to use copper sulfate to prevent powdery mildew on squash plants.
Always follow the dosage and rate of application instructions to the letter; the package contains instructions specific to that product, as there is no "one size fits all" approach. Be aware that copper can hang around in your soil and can be toxic to your squash plant if used to excess.
The strategic application of copper sulfate is meant to prevent white mildew on squash leaves. Use immediately upon noticing an infected plant, but be aware copper sulfate won't act as a cure-all for an already existing mold problem.
Maybe you've got a particularly nasty outbreak that you can seem to shake; in that case, cut your losses. It may be painful, but carefully destroying the infected squash, turning over the soil, and rotating the crop saves your garden in the long run.
How to Get Rid of Powdery Mildew on Squash with Baking Soda
Getting rid of powdery mildew on squash plants or for white fungus on tree bark is as easy as grabbing a few things from the kitchen. Sodium bicarbonate, or baking soda, was discovered by a German pharmacologist in 1801.
By 1846 a pair of American bakers opened the first factory to produce it commercially. Since then, we've found tons of uses for it; modern agriculturalists, for example, have been using baking soda as an organic powdery mildew treatment for decades.
After planting spaghetti squash seeds and watching them grow, it can be disheartening to find mold on your seedlings. Carefully trim away any leaf showing signs of white powder. Dispose of them immediately as the white mildew on squash leaves spreads through the air. Fill your sprayer with water and mix the other ingredients until fully dissolved.
Spray your plants early in the morning and repeat the process bi-weekly with other fungal prevention methods. If allowed to build up, the sodium component of baking soda is harmful to plant tissue. Potassium bicarbonate and ammonium bicarbonate are suitable alternatives for an ongoing fungal fight.
Get Rid of Powdery Mildew on Squash with Hydrogen Peroxide
If traditional preventative measures have failed, and you're wondering how to get rid of powdery mildew on squash, standard 3% hydrogen peroxide from your bathroom cabinet will do the job.
Hydrogen peroxide has an extra oxygen molecule that releases to enrich the growing environment, whether it's water or soil. For that reason, hydrogen peroxide is a favorite of those who grow hydroponic vegetable gardens and is a multi-purpose foliar spray that smashes white mildew.
Once you mix your water and hydrogen peroxide, test it on a couple of the affected leaves to see how the plant tolerates it. Sometimes it's necessary to adjust the dilution by adding more or less hydrogen peroxide to the water; observe your plant after application for signs of intolerance.
Spray your squash plant's leaves, stems, and surrounding soil thoroughly. Repeat every morning for 3 or 4 days, and you'll see those invasive powdery mildew spores begin to break apart and disappear entirely.
Try this simple remedy for getting rid of powdery mildew on rose leaves, too. Again, test on just a couple of leaves to start to ensure no harm to your plant. Peroxide works well to get rid of white mold on plant soil, especially houseplants.
Horticultural Oil and Neem Oil for Powdery Mildew
Horticultural oil is a mineral oil that has been refined to remove any impurities known to damage delicate plant tissue. Horticultural oil is typically used as part of a pest-fighting strategy because it minimizes insects that transmit diseases between your plants.
When used according to the package directions, horticultural oil traps harmful fungal spores, preventing the spread of airborne fungal spores to other susceptible plants in your home garden.
Neem oil is a natural fungicide pressed from the seeds and fruit of the neem tree (Azadirachta indica) and is considered an effective pesticide that won't harm beneficial garden life.
A 70% concentration of neem oil will knock out white mildew on squash leaves and works best in humidity around 65%, where it can evaporate quickly. Test the solution on a small patch of your plant first because your plant may experience phototoxicity, which is like an allergic reaction, and it's best to catch it right away.
What is Compost Tea?
Just as it sounds, compost tea is a liquid made from the beneficial microbes in most compost. It's purchased as a powder, added to water, and sprayed on plants to give a foliar vitamin boost.
There's quite a bit of anecdotal evidence floating around that says compost tea works to prevent powdery mildew on squash plants. Unfortunately, there have been quite a few studies with disappointing results to the contrary.
Although compost tea may be suitable for plant diseases like apple scab, grape mildew, or tomato blight, the Ohio State Organic Food and Farming Education and Research program concluded in a 2005 study that compost tea is simply not effective against white mold on cucurbits like squash and pumpkin.
That doesn't mean you shouldn't assess your garden needs to see if using compost tea is right in a nutritional capacity, but it's best to stick to proven, natural fungicides in the fight against white fungus.
Milk Spray to Prevent Powdery Mildew on Squash Plants
It's important to consider natural ways to prevent white mildew on squash leaves to curb reliance on agricultural chemicals. It may surprise you that farmers have been using milk spray as an incredibly effective weapon to prevent powdery mildew disease for generations.
A botanical study from the University of Connecticut showed that milk's superpower kicks in when direct sunlight interacts with the milk protein, producing free radical activity that destroys fungal spores; it's really quite genius.
Mix the milk and water in the spray bottle and give it a good shake. We usually advise against spraying your plants in direct sunlight, but in this case, we're going to make an exception. Coat both sides of the leaves, the stem, and even spray around the base of the plant on the soil.
Repeat this process bi-weekly with other natural fungus control methods to avoid the development of resistant varieties of mold. To adequately prevent white mildew on squash leaves, this recipe can be multiplied to meet the needs of your garden space.
Mold Resistant Varieties of Garden Squash
Of course, if you haven't got a lot of time to put into getting rid of powdery mildew on squash plants, you might want to look into naturally mold-resistant varieties of squash for your home garden instead.
Resistant varieties aren't entirely immune to the destruction of fungal pathogens, but they often display much milder symptoms. Sometimes the tell-tale white powder doesn't appear until after harvest time.
Perhaps you already know that powdery mildew has been a problem for the plants in your home garden; in that case, it's wise to seek squash specifically bred to resist mold. Some seed catalogs list all available mold-resistant varieties of squash. They're accessible as a hard copy and online.,
All growing environments differ based on climate, humidity, and soil quality. Some home garden issues are easy to fix with a bit of ingenuity, but other problems require a little more long-term vision.
Agriculturalists have poured their lives into learning how to make nature work for them, and now you can make those secrets work for you, too! Choose your plant varieties based on what's going to thrive, and when you can't do that, make use of every valuable seed-finding tool at your disposal.
Squash Casserole
The work you do to prevent powdery mildew on squash plants will not go unappreciated. Squash are good growers, and a 10-foot row of yellow squash yields up to 80 pounds of fresh, delicious foodstuffs.
People have figured out how to use squash in a vast array of dishes like soups, curries, salads, and of course, casseroles. This super-easy, ten ingredient squash casserole is light but still so satisfying.
Prepare by preheating your oven to 350°F. Get a large saucepan and cook the onion in butter and olive oil over medium heat until tender. Sprinkle the Italian seasoning and your desired amount of salt and pepper.
Add your sensational squash, and feel free to include any additional vegetables you enjoy here as well; the sky's the limit in a veggie casserole. Cook everything for 5 to 6 minutes. Everything will be tender but starting to crisp a bit.
Grease a 2 qt casserole dish with a small knob of butter, and arrange your squash and onion mixture – some home chefs alternate yellow squash and green zucchini for a fun visual effect.
Mix your cheese, bread crumbs, and melted butter and spread over the squash. Bake this casserole for about 40 minutes, or until you see the bread crumbs starting to brown. Allow to sit and cool for several minutes, as hard as it may be, and then serve.
We hope you feel ready to take on any mold or mildew situation in your home garden this growing season. If you spot that familiar white fungus again, remember all the things you learned about protecting your harvest from fungal invasion.
From simple solutions like pruning and thinning your plants regularly to improve air circulation to more advanced care like developing your own fungicide routine, you're in control now, and vigilance is vital.
Powdery mildew gets the better of even the most seasoned gardeners, which can be discouraging. Every home gardener has their little tricks for how to get rid of powdery mildew on squash, and you have to go with what works best in your home garden and within your comfortable experience level.
There are a lot of wives-tales in the gardening world; fortunately, you've got some helpful (proven) hints up your sleeve, so you'll be able to stay one step ahead of powdery mildew every growing season.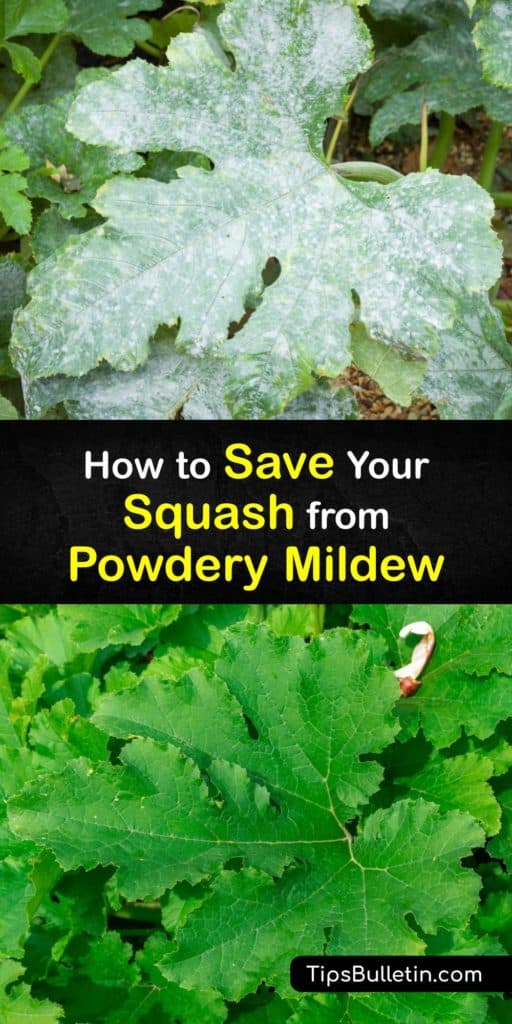 If you enjoyed these helpful hints for how to get rid of powdery mildew on squash, then why not share with a friend on Pinterest or Facebook who needs to end their struggles with squash.