Powdery mildew is one of the most prevalent fungal plant diseases and frequently affects zucchini plants. Luckily, there are numerous practical, non-toxic, and inexpensive remedies for an infected plant. Keep reading to find out how to get rid of powdery mildew on zucchini plants.
Characterized by fuzzy gray or white mildew on zucchini leaves and stems, powdery mildew spreads rapidly in warm, humid environments with moderate to low light levels. However, white powdery mildew prefers dry conditions, unlike most other types of mildew and mold. It does not reproduce as well on wet plant surfaces.
Powdery mildew spores are lightweight and easily spread along moving air currents. They also travel between plants on contaminated tools and gloves as well as through insect activity and splashing water droplets.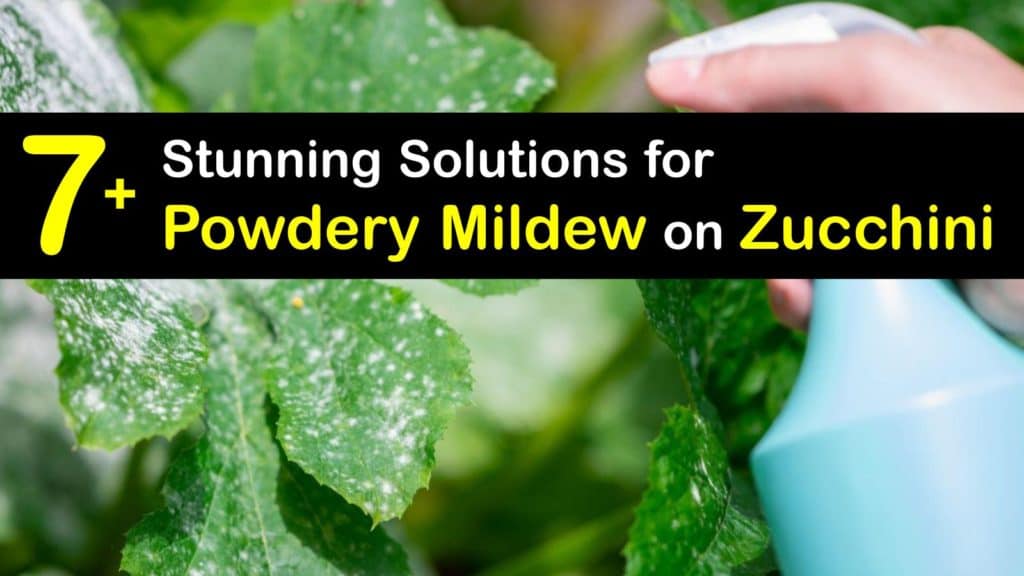 Ways to Prevent Powdery Mildew on Zucchini Plants
The term "powdery mildew" refers to numerous species of fungi in the order Erysiphales. The fungi are host-specific, meaning that each species only infects a specific type of plant. Erysiphe cichoracearum is a species of fungus that attacks cucurbit plants like cucumbers, melons, and squash plants.
The good news is that powdery mildew does not normally kill the affected plants. The best practice is taking preventative measures to ward off powdery mildew before it takes hold and begins to spread around your veggie garden. Nonetheless, if the fungal disease goes untreated, it weakens them considerably as the fungus drains the plants of their nutrients and results in stunted growth and a diminished harvest.
To prevent powdery mildew on zucchini plants, it's critical to understand where this fungal disease comes from. Some noteworthy contributing factors to a powdery mildew problem include poor air circulation, inadequate spacing between plants, and overfertilization.
The fungi favor temperatures between 65-80℉ with dry surfaces and high air humidity. However, powdery mildew spores cannot survive temperatures over 90℉, so the disease doesn't persist in extremely hot weather.
If you've had problems with powdery mildew, downy mildew, or other fungal diseases in the past, be sure to plant disease-resistant varieties. The oldest plant leaves are most susceptible to infection and new growth is more vulnerable.
Watch out for signs like excessive development of new foliage without many flowers, discoloration around leaf edges, or a light-colored crust of fertilizer on the soil surface around the plant's base.
These are indications that your plants are receiving too much fertilizer. For the best results, use slow-release fertilizer instead of liquid plant food.
Grow zucchini in an area that gets full sun, meaning eight or more hours of direct light each day. Train vining cultivars to climb a trellis for better airflow and keep the leaves and fruits off the ground.
How to Get Rid of Powdery Mildew on Zucchini with Neem Oil
Neem oil is a natural insecticide and fungicide that works to prevent and control powdery mildew. It's also a great way to get rid of powdery mildew on cucumbers. Spray all sides of the infected leaf and stem when you first notice spots of white mold. Neem oil kills powdery mildew spores on contact.
Dilute pure neem oil at a ratio of one teaspoon per quart of water. Otherwise, purchase a pre-mixed neem oil spray at your local garden center. If reusing an old spray bottle, be sure to clean it thoroughly before using it to spray your plants.
It's also possible to add a teaspoon of undiluted neem oil to your preferred DIY plant spray for extra potency.
Eliminate a Powdery Mildew Infection using Horticultural Oil
Horticultural oil is another practical method for getting rid of powdery mildew on zucchini plants. Made from lightweight petroleum or vegetable-based oil, it is diluted for use as a foliar spray to control insects, mites, and fungi. The oil coats the leaf and smothers the spores or bugs.
If you're looking for a DIY pest control solution, try making your own horticultural oil by following this simple recipe, as it's the best way to get rid of powdery mildew on squash plants and zucchini leaves.
In a lidded container, mix the oil and dish soap until well blended. Add one and a half tablespoons of your oil mixture for every one cup of water to make an insecticidal and fungicidal plant spray. Treat an infected zucchini plant at the first sign of white powder on the leaves or if you see your zucchini plants turning yellow or brown.
Stop Powdery Mildew Growth with Copper or Sulfur Fungicide
Organic copper and sulfur-based fungicides work well to eliminate most fungal plant pathogens. Ready-to-use mixtures and pure concentrates are both available at your local garden center or from online retailers.
If you're using pure concentrate after you identify white tree bark fungus or powdery mildew on your plants, carefully follow the dilution instructions listed on the product's label to avoid accidentally burning your plants.
Use Vinegar to Eradicate Powdery Mildew Disease
Vinegar is an incredibly helpful DIY ingredient, and powdery mildew control is another one of its many practical uses. The acidity of the vinegar kills fungal spores on contact. In addition, foliar sprays that moisten a squash leaf create an environment too wet for powdery mildew to spread further.
To make your own vinegar spray to get rid of white mold on plant soil, follow this super simple recipe.
Combine the vinegar and water in a sterilized spray bottle and shake to blend. Spray all sides of the affected leaves and stems when you first notice spots of white powdery mildew, whether you are tackling powdery mildew on tomato leaves or your zucchini plants. You may find that this spray also works for zucchini beetles and bugs that you find on the leaves as well.
Make DIY Fungicide for White Mildew on Zucchini Leaves
On its own, baking soda doesn't do all that much for fungal plant diseases. Nevertheless, when combined with liquid dish soap and vegetable oil, baking soda is another viable way to control and prevent powdery mildew on zucchini plants.
It works best as a preventative treatment. Spray your plants once each week, especially in areas prone to powdery mildew infection in the past.
Prepare only as much baking soda plant spray for white powder on indoor plants or your zucchini as you can use at one time. Blend the above-listed ingredients in a sterilized spray bottle. If you end up with some leftover solution, store the spray bottle in a cool, dark location.
Kill Powdery Mildew Fungi using Potassium Bicarbonate
Potassium bicarbonate is a mineral supplement commonly used to prevent or remedy low potassium levels in the blood. It's also helpful in combating powdery mildew, in addition to other fungal diseases like downy mildew, rust, and black spot.
Mix the soap and water in a clean spray bottle, then incorporate the potassium bicarbonate. Spray all parts of the zucchini plant, taking care to cover the leaves' undersides as well. Use this plant spray as a precautionary measure or at the first sign of white mildew on zucchini leaves.
Control Powdery Mildew with a DIY Milk Spray
One of the more surprising home remedies for powdery mildew is milk. The milk proteins have antiseptic capabilities when exposed to direct sunlight. Since these proteins occur in milk fat, it's best to use whole or full-fat milk.
This milk spray remedy is most effective when applied as a safeguard before a full-blown powdery mildew infection occurs. Begin treatment when the conditions for powdery mildew growth first arrive.
Spray squash plants every week or two, beginning at the onset of warm, humid weather or in areas of your garden where you've had previous issues with fungal disease. Continue treatment throughout the growing season to keep powdery mildew at bay.
Experts recommend a ratio of 40% milk to 60% water. Thoroughly wash a spray bottle or garden sprayer, then pour in the milk and water.
Coat all plant surfaces with the milk spray during a period of bright sunlight. If you notice a sour smell shortly after spraying your plants, rest assured that it dissipates quickly after the milk dries.
Prevent Powdery Mildew on Zucchini Plants with Compost Tea
Healthy plants are considerably more resilient against attacks from various pathogens. In addition to providing nutrients, compost tea contains active microorganisms that protect plants against various plant diseases and improve their nutrient absorption.
Although spraying squash plants with compost tea won't cure an active powdery mildew infection, studies show its benefits in warding off potential fungal infections. Aerated compost tea works best, but it's also possible to make it without using an air pump.
Fill a 5-gallon bucket up with water to an inch or two below the rim. If using regular tap water, let it sit for at least 24 hours to dechlorinate.
Place two cups of organic compost in an old nylon stocking or other porous material tied into a bag. If desired, add worm castings to your compost for extra antifungal and nutritional benefits.
Tie the bag with a cord long enough to drape over the side of the bucket for easy removal later or add the compost directly to the bucket of water and strain the liquid when it's finished.
Drop the airstone into the bottom of your bucket and turn the pump on if you're making aerated compost tea. Allow it to steep for up to 24 hours. Note that harmful bacteria may contaminate and ruin the batch if you let it sit longer.
Use your homemade compost tea within four hours to ensure that the beneficial microbes are still active. Dilute it at a ratio of four cups of compost tea per one gallon of water. Apply the solution as both a root drench and a foliar spray twice per week for the best results.
If you notice spots of white dust on your zucchini leaves, chances are the plant may have a powdery mildew infection. Take steps to prevent powdery mildew on zucchini plants by growing zucchini in full sun, providing adequate spacing between plants, and selecting disease-resistant cultivars.
If your plants develop powdery mildew growth, numerous safe and effective home remedies are available.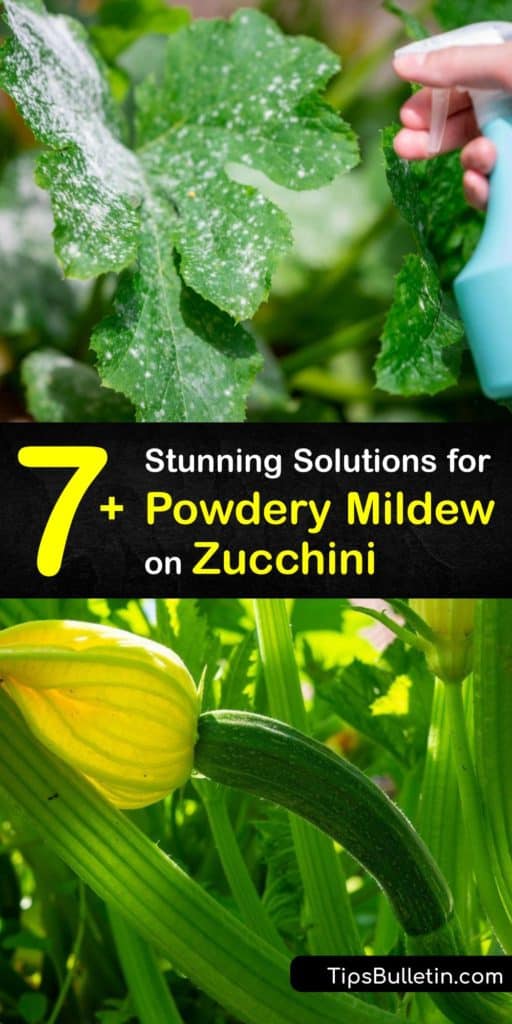 We hope you found these plant care tips helpful and would appreciate it if you shared this article about how to get rid of powdery mildew on zucchini plants with your fellow gardening enthusiasts on Facebook and Pinterest.