While some homeowners have little trouble with rats, some parts of the United States are more likely than others to have rodent issues. Rats may nest in your attic, which could cause several concerns for your family and possessions. Get valuable tips on how to get rid of rats in the attic and evict these unwanted visitors promptly.
If you suspect you have rats, it's time to figure out the best way to kill rats in your attic and get started on pest control immediately. Because rats are nocturnal and look for food at night, live rats are not always visible.
However, recognizing the symptoms of a rodent infestation lets you know when rats are there. Take measures to begin getting rid of rats in the attic as soon as you suspect their presence to avoid property damage and control the population before it explodes.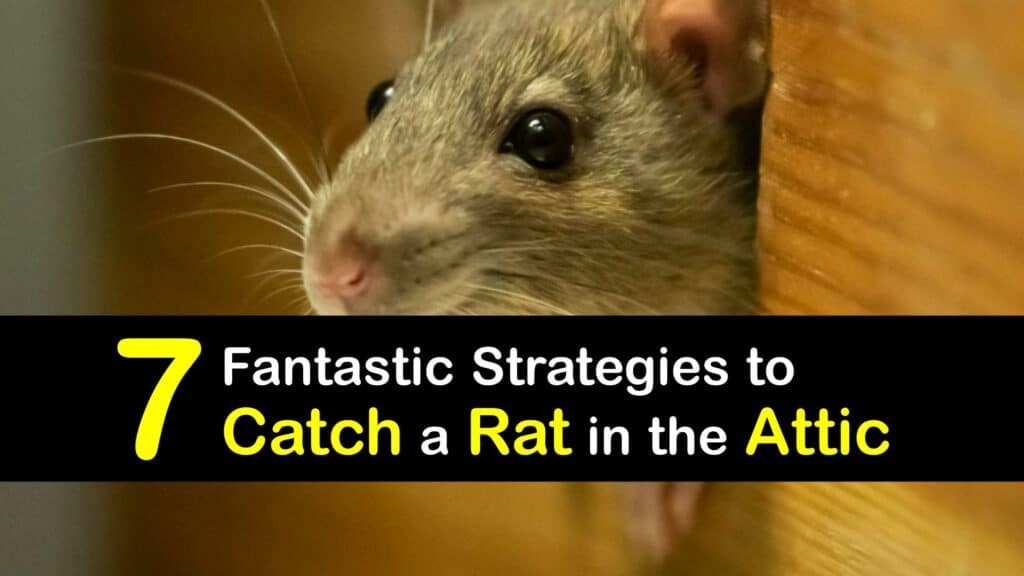 Find the Best Way to Kill Rats in Your Attic Fast
An infestation is an awful experience – rats are destructive, and rodent urine and droppings are smelly and unclean. Discovering how to get rid of rats in the attic or mice in the walls and ceiling prevents thousands of dollars of potential harm to your property. It saves your family from health threats such as rat bite fever.
Fortunately, there are many ways of getting rid of rats in the garden and the attic that aren't a struggle. There are strategies for everyone, whether you prefer to use lethal force or seek a kinder, more humane approach. Uncover simple techniques and take back your attic space today.
Signs of a Rat Infestation
Since they sleep during the day and wake to forage for food and bedding at night, it may take a while to realize your attic needs critter control. Rats could be behind your attic issues, though thankfully, all varieties are treated similarly.
Whether you have a black rat or a roof rat infestation, typical signs include rat droppings on your attic floor and furniture, damage to clothes and books, or an entry hole in your wall or roof. A dead rat is another sign of a rat invasion.
How to Get Rid of Rats in the Attic
Lethal traps are cruel and unethical, and rat poison endangers rodents, your family, and your pets. Live traps are better to keep harmful traps and toxic substances out of your house. Make your own rat traps out of items you already have. Building a bucket rat trap is a frugal and efficient way to trap rats in your attic.
Find a raised countertop or tabletop and set the bucket below it. Dip the spoon into the peanut butter and coat the scooping end for rat bait. Position the spoon so it's balanced on the table's edge with the peanut butter end hanging over the bucket.
Overnight, the rat walks out onto the spoon to eat the bait and falls into the bucket below. The bucket makes rat removal stress-free. Slip a lid over the top and transport the rat to a safe location for release.
Getting Rid of Rats in the Attic With Mothballs
Mothballs or naphthalene balls are an effortless way to drive a rat population out of your attic and have the bonus of deterring other rodent and insect pests. The overpowering smell of naphthalene balls immediately forces rats out of your attic. Set out mothballs with the utmost discretion since they are hazardous to your family and pets.
Despite being dangerous, mothballs are low-cost solution to your rat problem and don't require getting close to the rodents. Wearing thick rubber gloves, distribute the DIY repellent for rats judiciously throughout your attic, paying attention to the cabinets and areas close to the entry points. Mothballs keep rats away from your attic, basement, and any other areas where you place them.
Catch a Rat in the Attic With Glue Traps
Glue traps are available at most home and hardware stores and are intended to catch a mouse or rat through their strong adhesive. Glue traps are strips of cardboard with glue on one side. Bait is added, and the rat walks out onto the glue, becoming stuck.
Though glue traps are efficient in catching rats, they often leave them alive and struggling with grievous injuries. Using a glue trap leaves you with the morbid task of dispatching rats and requires you to come into close contact with them. Consider a cleaner, kinder, and more hands-off technique for catching rats in your attic before resorting to glue traps.
A Snap Trap Helps With Rats or Mice Infestation
Like glue traps, snap traps are a lethal rat trap. Snap traps consist of a small platform with a weight plate on one side and a spring-loaded metal bar on the other. When a rat steps onto the snap trap to eat the bait, the trigger releases and the bar comes down on the rat.
Though the goal is to behead the rodent, these traps often fail and result in needless suffering. If you use snap traps for rat control, be prepared to dispose of mutilated rodents.
Dealing with related issues, such as blood stains on your flooring and furniture, may arise from choosing this pest control technique. Snap traps seriously injure children and pets if they activate them unintentionally.
Catch Rodents in Your Attic Space
A glass and coin trap is an uncomplicated humane live trap. The supplies for this trap are minimal, and if you don't have peanut butter, any food item will do as bait.
Set the food bait on a flat surface like the floor or a table, cover it with the glass tumbler, and stand the quarter on its edge to prop the glass up on one side. As the rat squeezes under the glass to get to the bait, it knocks out the quarter and ends up trapped inside it.
Slide an old magazine under the glass in the morning and transfer the rat to an appropriate container for relocation.
Attic Cleaning Helps Prevent Rodent Infestation
A few straightforward preventative measures help ensure your pest control is a success and hasten the departure of rats from your attic.
Rats come into your attic and stick around if the conditions favor them. Removing sources of food and bedding and blocking their access goes a long way toward keeping them out.
Like bed bugs, rats are an annoyance. When you hear scuttling overhead or find rodent droppings, you want to figure out the best way to kill rats in your attic fast.
Though there are several lethal traps to destroy attic rats, humane traps are ethical. They require less cleanup and less contact with the rodent. Explore your options and choose the most suitable method to rid your attic of a rats or mice infestation permanently.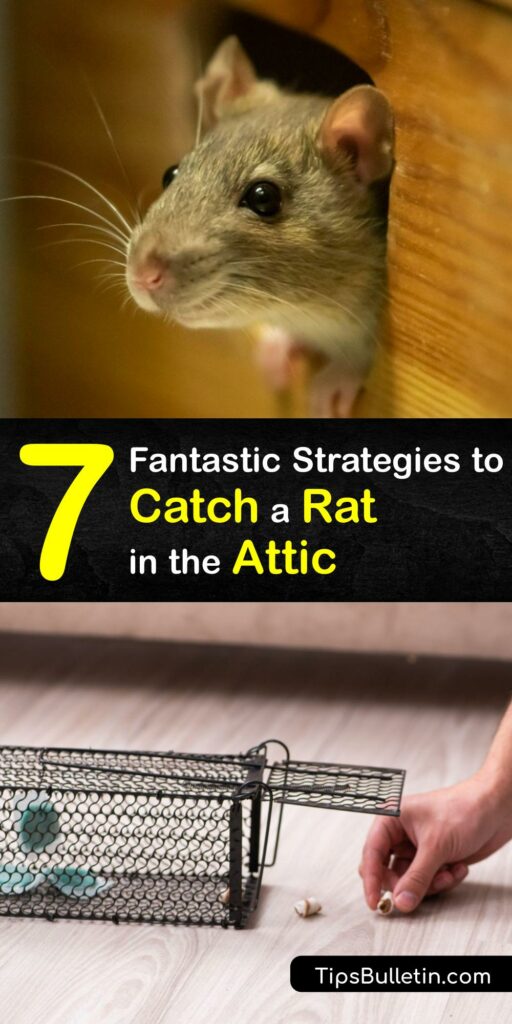 If you loved this informative article on how to get rid of rats in the attic, please share these marvelous tricks for getting rid of rats in the attic with your friends and family with rodent problems on Pinterest and Facebook.