It's always troublesome to discover an infestation of tiny red bugs in your home. In this article, you'll learn how to get rid of red bugs in your house without using harmful chemicals and pesticides. Chances are, you already have everything required for natural pest control at home.
Red bugs, also known as chiggers, jiggers, clover mites, or berry bugs, are nearly microscopic arachnids that feed on humans and animals during their larval stage. Since they're so challenging to see with the naked eye, measuring about one millimeter long, the first sign of them is often the itchy red bumps caused by their bites.
Chigger bites often appear around the borders of where clothing meets skin, such as the tops of socks or pants' waistline. Chiggers live in damp, tall grasses and vegetation. Usually, they hitch a ride indoors on clothing or pets. Read on to find out the best ways of treating clover mites and getting rid of chiggers in your house and prevent a future infestation.
Getting Rid of Little Red Bugs in Your Home Fast
Often confused with bed bugs, which cause similarly painful and itchy welts, chiggers are distinguished by their bright red color and number of legs. Bed bugs are arthropods, meaning they have six legs, and they're dark brown in color.
Red bugs are mites with eight legs as adults and six legs as nymphs, although you'd only be able to see the difference with a magnifying glass. Although they don't harm humans, using natural ways to repel clover mites ensures they don't destroy your plants.
During their life cycle where they cause problems for homeowners and outdoor enthusiasts, chiggers are the immature larvae of red harvest mites. They latch onto a host for several days to feed before morphing into nymphs and maturing into adults.
They tend to emerge in early spring and summer. Chiggers live throughout the US but are most common in the Midwest and Southeast. Treat chigger bites with calamine lotion or hydrocortisone cream.
Before you reach for toxic chemicals and pesticides, consider trying one of the following natural ways to kill red bugs. Getting rid of chiggers in your house is easier than you may think.
Get Rid of Jiggers with Essential Oils
Essential oils are volatile compounds derived from the leaves, flowers, and seeds of plants. Certain essential oils like tea tree, lavender, eucalyptus, peppermint, and citronella act as powerful natural pest repellents and contact insecticides.
Also, tea tree and lavender oils are useful for relieving the itching, swelling, and pain from chigger bites when diluted with a carrier oil like coconut or jojoba.
Tea tree, or Melaleuca oil, is reportedly the most effective at killing the tiny red bugs. Try making a DIY insecticide spray with tea tree essential oil to get rid of chiggers in your home using the following recipe.
Fill up a clean spray bottle with tap water and add 12-15 drops of tea tree oil. Replace the sprayer lid and swirl the mixture to blend.
Spray wherever you've noticed insect activity, making sure to cover cracks and crevices where the bugs like to hide, like baseboards and window sills.
Substitute any of the other essential oils listed above to make a DIY insect repellent spray, and dilute at a rate of eight to ten drops of essential oil per cup of water.
How to Get Rid of Red Bugs in Your House with Apple Cider Vinegar
Apple cider vinegar is a staple ingredient in numerous home remedies. Undiluted apple cider vinegar works as a contact insecticide, so spray it directly onto the tiny red bugs.
To make a DIY chigger repellent spray that's an excellent alternative to DEET, mix equal parts tap water and apple cider vinegar in a clean spray bottle.
Spray your shoes and clothing before going outdoors, and apply the repellent to any entry points where you suspect red bugs are getting inside.
Getting Rid of Chiggers in Your House
Diatomaceous Earth, or DE, is powdered silica formed from fossilized diatoms. The abrasive white powder kills insects with exoskeletons by clinging to their bodies when they walk through it, cutting through their protective outer coating and dehydrating them.
Food-grade DE is safe to use inside your home and in outdoor areas where you suspect chigger activity or as a way to kill clover mites and other bugs. Before spreading the DE, make sure the area is completely dry, as it loses its efficacy when wet.
For simple but effective chigger control with diatomaceous earth, cover the site with a generous amount of the powder every few days until the infestation is gone. Always wear a respirator mask when applying DE to avoid breathing in the powder.
Kill Chiggers with Rubbing Alcohol
Chiggers stay on your skin for several days unless knocked off. If you notice the tell-tale itchy red bumps, it's beneficial to apply a safe topical treatment that effectively kills the red bugs.
Soak a few cotton balls in 70-90 proof rubbing alcohol to get rid of jiggers on your skin. Similarly, rubbing alcohol works as a contact insecticide to spray on any areas of your house where you've noticed red bugs.
For killing chiggers in your house, fill up a spray bottle with undiluted rubbing alcohol and spray affected areas. Test an inconspicuous spot first to ensure that you don't damage fabrics or finished surfaces.
A prevailing misconception is that chiggers burrow into your skin, and putting nail polish on the bites suffocates the insects. This is untrue, and nail polish doesn't do much to relieve chigger bites.
Another harmful myth is that bleach is a practical treatment for chiggers. While bleach does kill insects, it also irritates and harms your skin. Rubbing alcohol is a much safer alternative.
Prevent a Future Infestation of Red Bugs
There are various preventative steps to avoid a future infestation of little red bugs in your home. If you know that chiggers are prevalent in your area, be diligent with mowing your lawn and keeping your landscape tidy.
Damp, dense vegetation is their preferred habitat to lay eggs. When you go outdoors, wear protective clothing like long-sleeved shirts and long pants with the ends tucked in.
Some people report that wearing pantyhose underneath their pants prevents chigger bites, as they can't penetrate the finely woven fabric.
After coming back indoors, remove all of your outer clothing and wash everything in hot water. Use bleach on any items that won't be damaged by it.
Regularly bathe pets that spend time outdoors. If you notice tiny red bugs on your pet's skin or fur, use a vet-approved insecticidal shampoo treatment.
While they are bothersome little critters, red bugs don't transmit any known diseases or pathogens when they bite. There's also no need to spray toxic chemicals in your home to get-rid-of-chiggers.
Using one of the pest control methods listed above, it's possible to kill the red bugs and prevent them from returning. Several of the repellents that work for getting rid of chiggers in your house also relieve the itching, swelling, and pain from chigger bites.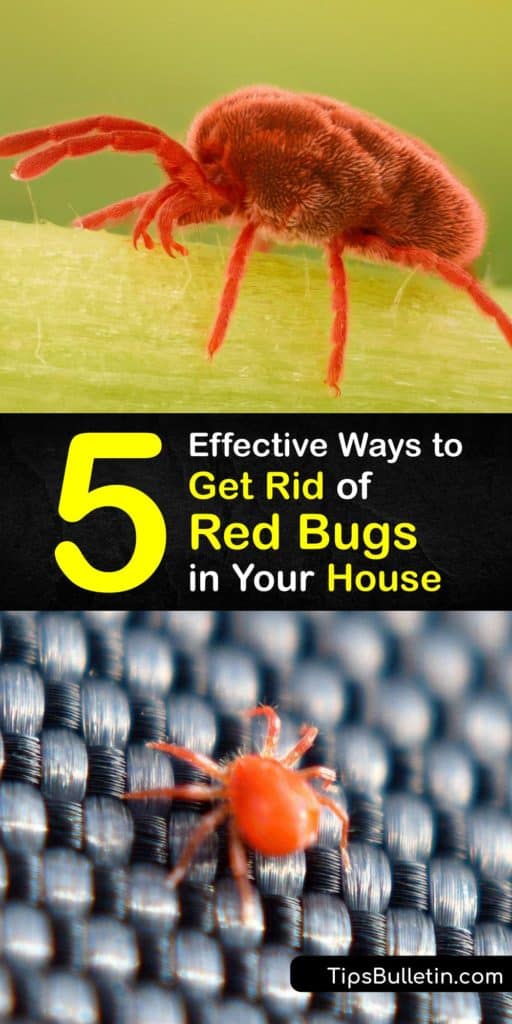 If you found these tips to get rid of jiggers helpful, please consider sharing this article about how to get rid of red bugs in your house with your friends and family on Pinterest and Facebook.