Your bathroom is where you wash your face, brush your teeth, and prepare for the day ahead, and smelling foul drain odors while you attend to business is not a great start. While you are used to certain odors from the kitchen drain or garbage disposal, a bathroom drain smell is unexpected. Learn how to get rid of smelly drains in the bathroom with a few simple solutions.
The kitchen sink drain is notorious for accumulating food bits and grease. However, your bathroom drain builds up debris, leading to a stinky drain. While it's easy to overlook a smelly drain in the bathroom sink or shower, the drain odor may indicate an impending blocked drain.
Over time, soap scum accumulates in the drain pipe, leading to a smelly shower drain or sink drain. Eventually, the clogged drain becomes a problem since water no longer flows freely through the drain pipe. Regular drain cleaning ensures it remains clear and removes an unpleasant odor.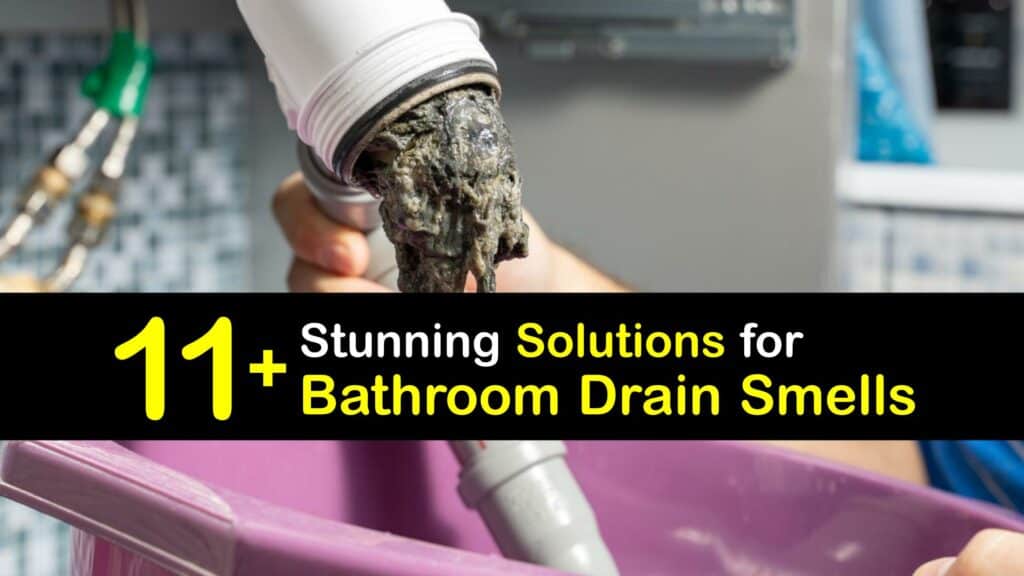 Ways to Clean Smelly Bathroom Drains
Learn ways to clean smelly drains in a few simple steps, whether you have a sewer smell or a musty smell. Discover how to use everything from boiling water to white vinegar and baking soda to clean the bathroom drain and eliminate the foul odor.
What Causes Bathroom Drain Smells?
We know leftover food bits trapped in the kitchen sink cause foul drain odors, but what causes bathroom drain smells? Explore common reasons for a sink or shower drain odor to help you determine your next course of action.
Stinky Drain Causes
Warm and wet drain conditions allow mold growth. Gunk builds up in the drain over time, and odor-causing bacteria feed on this material. As a result, it releases hydrogen sulfide gas or sewer gas and has a strong odor resembling rotten eggs, which can also be a water heater issue.
Each time soap, shampoo, conditioner, and other beauty products flush down the drain, they add to the build-up, trapping hair and other debris, eventually leading to a foul smell and clogged drain. If your sink drain smells like sewage, take action fast to eliminate the odor.
How to Get Rid of Smelly Drains in the Bathroom
Hot water is the quickest way to get rid of stinky drains in your bathroom. Break up gunk and scum in the bathroom drain with boiling water.
Bring a kettle or large pan of water to a boil and pour half of the boiling liquid into the sink. Let the drain sit for a minute or two as the water loosens stuck debris, and run cold water into the pipe to solidify leftover gunk. Finally, pour the remaining boiling water down the drain to flush away leftover bits.
How to Clean Smelly Drains in a Bathroom
You may be aware that vinegar is an acidic liquid, but it has antifungal and antibacterial properties, making it the ideal solution for cleaning drains. Explore how vinegar will kill tree roots in a sewer line to eliminate any odors in a drain.
Heat four cups of white vinegar to a simmer and pour half of the liquid down the drain. Let it rest for a minute, and turn the water on for another minute to flush away loosened bits of gunk. Finish by pouring the remaining hot vinegar into the pipe and flushing the drain with more water.
Eliminating a Smelly Bathroom Drain
Sodium bicarbonate is an odor-absorbing alkaline powder, and salt has abrasive qualities. Combining the two creates a powerful cleanser for getting rid of bathroom drain smells. Use baking soda and table salt to remove drain odors.
Pour baking soda (sodium bicarbonate) and salt down the drain and let them sit for a couple of hours or overnight. Finish by pouring two cups of boiling water into the drain to flush the powder, salt, and dissolved debris through the pipe.
Lemon and Baking Soda Get Rid of Smells in Bathroom Drains
Lemons are a natural source of citric acid, and mixing lemon juice with baking soda creates a foaming action in the drain. Learn how to clean smelly drains in a bathroom to remove odors and loosen clogs.
Pour baking soda into the drain, add the lemon juice, insert the drain cover and let it sit for one hour. Run hot water through the drain to flush away grime and release a fresh lemony scent.
Combine Vinegar With Baking Soda to Clean Bathroom Drains
The most common way to remove an odor in bathroom drain is to use the power of vinegar and baking soda. Mixing these two ingredients creates a bubbling reaction when you clean a stinky shower drain or sink drain, effectively loosening clogs and eliminating smells.
Begin by flushing the drain with a pot of boiling water. Pour baking soda into the drain and top it off with white vinegar. Cover the drain hole to allow the foaming action to loosen grime and debris, and wait for about ten minutes before adding more boiling water to the pipe.
Baking soda and vinegar also work well if your toilet water smells bad. Clean the toilet thoroughly and add the baking soda and vinegar. Swish around and let them sit for an hour or so. Flush the remains.
Freshen Bathroom Drains With Essential Oils
If your bathroom drain has an undesirable odor and doesn't have a clog, try using essential oils to get rid of the bad smell. Eliminate drain odors by making a homemade drain freshener.
Use a spoon to pour some baking soda into the drain hole and squeeze several drops of your favorite essential oil over the powder. Let it sit for several minutes, and pour boiling water into the drain. The hot water forces the baking soda through the drain, and the heat releases the oil aroma.
Getting Rid of a Bathroom Drain Foul Odor With Coffee
Coffee has an aroma that we can't resist, but it's also great at freshening stinky drains and an excellent way to use leftover coffee grounds. Use spent grounds from your morning cup of joe to eliminate drain odors.
Don't toss coffee grounds after drinking your morning brew. Instead, run another cycle of water through the coffee machine with the old grounds and pour the hot coffee liquid directly into the smelly drains in your bathroom. Avoid spilling the coffee on the sink surface to prevent staining.
Commercial Products Remove a Bathroom Drain Smell
Not everyone wants to make homemade drain deodorizer. Fortunately, there are many drain cleaners on the market. Learn the differences between these cleaners to help you choose the ideal one for your bathroom.
Commercial Drain Cleaners
There are powder, liquid, and tablet forms of drain cleaners and deodorizers. Some contain chemicals, and others use natural bacteria to break up debris.
The key to choosing the right cleaner for your situation is to read the product description since some do not work with standing water, others take hours to work, and some may not be safe for your septic system. If you have a stubborn clog, consider purchasing a drain snake or performing a CCTV drain survey.
Is It Safe to Pour Bleach Into a Stinky Bathroom Drain?
Bleach kills odor-causing bacteria, and it is safe to clean your bathroom drains. However, never mix chlorine bleach with other cleaners and avoid pouring straight bleach down the drain. Here is how to safely clean the sink or shower drain with bleach.
It's essential to dilute bleach before pouring it into the drain to prevent damage to the pipes. Combine a half cup of chlorine bleach with a gallon of hot water and pour it directly into the drain. While this method doesn't unclog a drain, it kills bacteria and bad odors.
Things to Avoid When Cleaning Bad Smells Out of the Bathroom Drain
While you may not think twice about what goes down the drain, some chemicals and items damage pipes. Find out what to avoid when cleaning a smelly or clogged drain.
Do not add more water to the tub or sink if standing water is in the drain to avoid causing more work as you bail out excess water. Avoid pouring straight bleach down drains since the corrosive nature of this liquid may damage older plastic or lead pipes.
Try to use biodegradable products that use enzymes to clear a drain since caustic chemicals harm old pipes and soften PVC pipes. Don't force pound a clog with a drain snake to prevent damaging pipes and trap connectors.
Ways to Prevent Stinky Bathroom Drains
The best way to avoid cleaning a stinky drain is to stop the smell in the first place. Prevent the build-up of scum in your drains and keep a sewer or mildew smell from invading the bathroom.
Do not allow debris like hair clippings to fall into the sink drain; use a tub strainer to capture loose hair before it falls into the pipe. Body wash instead of bar soap stops soap scum from accumulating. Pour a cup of straight white vinegar into the drain, followed by hot water, once a week to keep it flowing freely and prevent a sink or shower drain smell.
While food odors in the kitchen sink are common, a sewage smell in the bathroom is disturbing. Fortunately, there are easy ways to clean scum and clogs out of the bathroom drains using everyday items around your home or a commercial drain cleaner.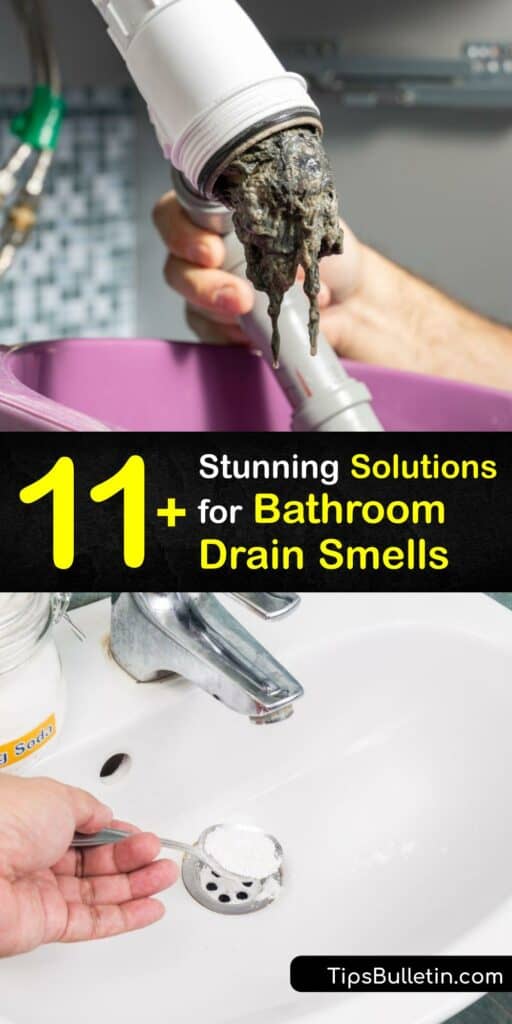 We hope that knowing how to get rid of smelly drains in the bathroom keeps your home smelling fresh, and we'd love it if you'd share our bathroom drain cleaning and freshening ideas with your family and friend circle on Pinterest and Facebook.