Whether it's a favorite running shoe, a dress shoe, sandals, or leather boots, shoe squeak is annoying and embarrassing, and many people are eager to learn how to get rid of squeaky shoes or how to prevent boots from squeaking. Whether it's a new shoe squeaking suddenly or an old shoe that got wet or worn down to a point an unwanted noise begins, squeaking shoes make us feel self-conscious, and walking becomes unpleasant.
Shoe squeak may arise from several sources, from the removable insole to the shoe sole contacting the ground or even the leather shoe body or laces. In general, squeaking occurs when two parts of the shoe, or the shoe and the floor, rub together and experience friction.
Many methods for reducing squeaky noise are based on lowering rub or friction by either providing a barrier or softening the shoe. Fortunately, many everyday items pose an answer to how to get shoes to stop squeaking.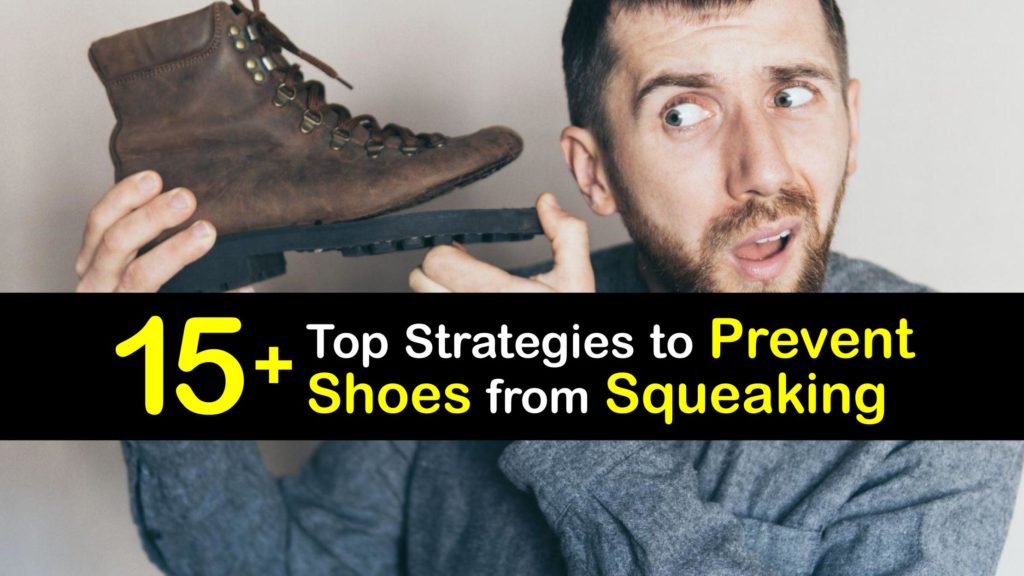 How to Get Shoes to Stop Squeaking Fast
Discover a few simple methods to lower shoe noise, and wear your shoes with confidence, knowing you have plenty of options to halt shoe squeak fast.
Even the most comfortable shoes become a nightmare when they emit a loud squeaky sound with each step. Of course, if you need to widen sneakers or other shoes, take care of that issue first. If your shoes fit well and complement your outfit, it's discouraging when they make an embarrassing sound leaving an awkward impression.
How to get rid of squeaky shoes becomes an urgent question when you're facing a long day at work or traveling with excess shoe noise. Learning how to prevent boots from squeaking and how to get shoes to stop squeaking if it's too late for prevention allows you to use readily available items to stop shoe squeak and get on with your day.
Quiet Squeaky Noise by Location
The first step in removing shoe noise is to locate the source. Anything from a rubbing inner sole to a loose heel, or a stiff rubber sole, may be responsible for the squeaking. Stand up and walk around in your shoes, paying attention to which foot and which part of your step creates the squeak.
Next, rock back and forth and test different areas until you find the part of your shoe the squeak is coming from. By identifying the problem area, you ensure better success when applying a remedy.
How to Get Rid of Squeaky Shoes with Talcum Powder
Talcum powder or baby powder has many uses and is an excellent option to remove squeaky shoe noise in a pinch. Moisture becomes trapped in places where shoe parts rub against each other, resulting in squeaky shoes.
Shake a little baby powder onto the inner sole below the insole your foot sits on to absorb the moisture. If the insoles in your shoes aren't removable, apply the powder on top of the insole instead. Baby powder is also a quick way to get rid of shoe odor. Try baking soda if the baby powder doesn't quite do the job.
Beat Squeaky Soles with Sandpaper
New shoes tend to have stiff soles right out of the box. As the soles are more rigid and inflexible, they are more likely to experience friction with many surfaces, from tile floors to the sidewalk, creating noise. Most new shoes break in as time goes by, and you wear them more, and the squeaking caused by stiff soles will lessen.
If you're self-conscious or annoyed with the sound, speed the process of sole softening using some sandpaper. Choose fine-grit sandpaper from the local hardware store and rub evenly along the soles of your shoes to lessen some of the sharp edges in the rubber and loosen them to eradicate squeakiness.
How to Prevent Boots from Squeaking with Petroleum Jelly
Shoe insoles often rub against the bottom sole, resulting in a noisy shoe. Petroleum jelly has many uses in beauty, cleaning, and more, and it's no slouch when it comes to fixing squeaky insoles.
Apply a thin layer of petroleum jelly beneath the removable insole of your shoe. The petroleum jelly creates a layer of lubrication to eliminate friction and stop the squeak.
How to Remove Squeak with Coconut Oil
For squeaky insoles but no petroleum jelly, head to the kitchen. Coconut oil is an alternative to lubricate the removable soles against the bottom of the shoe and has the bonus of smelling amazing.
The medium-chain fatty acids making up coconut oil have antibacterial and antimicrobial properties. They may stop smelly bacteria build-up or prevent athlete's foot fungus from growing in your shoes, as well as stopping a squeak.
Try a Dryer Sheet for Squeaky Insoles
Dryer sheets are handy multipurpose tools as they have a pleasant smell and reduce static and friction. Slipping a dryer sheet beneath the removable insole of your shoes is an excellent option for lowering shoe noise and leaves your running shoes smelling great. If you don't have dryer sheets, it's simple to make your own.
Lay the fabric squares on a shallow tray and cover them with liquid fabric softener. Wring each square out and allow them to dry by laying flat in a warm place. Store these squares in an airtight container to be added to the dryer or squeaky shoes.
Saddle Soap Fixes a Noisy Shoe
Saddle soap is perfect for cleaning and getting stains out of leather shoes and moisturizing and works well to prevent rubbing in many shoe areas. Apply a decent amount of saddle soap to the shoe body, seams, or beside the tongue where the squeaking is happening.
Though often overlooked, shoelaces sometimes cause squeaky shoes, and saddle soap is safe to use on laces. Apply a thin layer to stiff areas of laces to soften them and reduce shoe noise.
Prevent the Squeaking Sound with a Paper Towel
When you're at the office or away from home and suddenly realize your shoe is squeaking due to the insole rubbing, paper towels are available in almost any bathroom and provide an easy solution.
Fold two paper towels into little squares to fit inside your shoes and place them beneath the insoles. The paper towel underneath your insoles keeps them from sliding around and squeaking as much while you're walking.
Corn Starch to Remove a Squeaky Sound
Corn starch is a fine powder often used in cooking and offers a viable alternative to stop squeaking by absorbing any moisture in your shoes if you don't have talcum powder.
Head to the pantry and grab some corn starch to sprinkle a small amount between the soles of your shoes. You may have to sprinkle more corn starch powder later in the day if the squeaking returns.
Fix Squeaky Shoes Using the Dryer
The tumble dryer is ideal for removing excess moisture from your running shoes and stopping them from squeaking. It can also be used to tighten leather shoes when used with care. Adding a homemade or store-bought dryer sheet reduces static and softens your shoes to increase the chances of stopping the noise by making them more pliable.
Set your shoes on the drying rack or tie your laces at the ends and hang your shoes into the dryer by trapping the laces in the door as you close it. Run the dryer on a delicate cycle, and check on your sneakers every five minutes until warm and dry.
Drying soccer cleats in the dryer is not usually recommended, especially if the cleats are metal. Air-drying is best.
Shoe Repair Helps a Squeaky Heel
A loose heel causes shoes to feel uncomfortable and makes them squeak when you walk. If you located the squeaky sound in the heel of your shoe, dress shoe, or leather boot, it likely needs repair. A shoe repair shop can reattach the heel and restore your shoes to their former glory.
If possible, change out of your broken shoe to avoid making it worse or creating abnormal wear on your footwear due to uneven weight distribution until you take it for repair.
Correct a Squeaking Shoe with Rubber Sole Spray
Your shoe soles may be squeaking on smooth tile or laminate floors due to lack of traction, which allows them to slide against the surface and create a loud noise.
Rubber sole spray or silicone spray is easy to apply and instantly increases your shoe traction and grip and reduces shoe squeak. Rubber reduces static, offers slip protection, and reduces unwanted shoe noise.
Test the silicone spray on a small area of your shoe sole first to avoid adverse effects. Coat the entire bottom sole of your shoes in the spray to create an even surface and avoid spraying inside your shoes. Follow the manufacturer's instructions and safety guidelines for commercial rubber or silicone spray for best results.
Silicone spray also cleans tar off shoes if you accidentally get into a pickle.
Reduce Squeaking Noise with Mink Oil
Squeaking shoes may benefit from mink oil, a natural softener. If you have a squeaky dress shoe or leather boot, use a soft cloth or a paper towel to gently rub a thin layer of mink oil into the problem area.
You may need to repeat the application to ensure the surfaces are sufficiently softened and the squeak is gone. Consider a plant or chemical-based oil or conditioner to soften your shoes for a more humane option.
Quiet Shoe Squeak with Rubber Cement
A damaged or separating sole creates noise when walking and is a tripping hazard. Rubber cement is used to secure soles on running shoes, dress shoes, and more and is an appropriate option for shoe repair to reduce squeaking.
Follow directions carefully when using rubber cement for shoe repair, and ensure the adhesive is completely set before you wear your shoes again.
A Leather Conditioner will Stop Squeaky Shoe Sounds
Leather conditioner is perfect for reducing shoe squeak coming from leather boots, leather dress shoes, or leather-based sneakers. Leather conditioner softens and hydrates leather, leaving it more supple and less likely to rub.
Dip your cloth or sponge in warm water and wring it out entirely so it's damp but not wet, and rub it on the shoe. Work across the surface of your footwear in small, light circles, rubbing the conditioner deep into the material.
Buff with a clean, soft cloth when finished to restore shine and luster. Conditioning stops squeaky shoe sounds and extends the life of your favorite footwear.
How to Remove Squeak from Shoes with WD-40
A well-known multipurpose lubricant found in many homes or at home improvement stores, WD-40 is an industrial-strength lubricant that quickly reduces shoe noise, though it is not appropriate for every type of shoe. Delicate suede shoes, fabric shoes, or soft leathers should not be treated with WD-40 as it may stain or ruin them.
If you have a well-built running shoe or work boot and need to reduce squeaking, apply WD-40 to a small section first to ensure no damage to the stitching or material of your boot.
WD-40 works best for squeaky seams. Use the tube to apply a very light layer along the crease of the seam where the squeaking is happening. Don't put WD-40 inside your shoes.
If you discover a stain while dealing with squeaky leather shoes, there is a simple way to fix that, too. Remove dark spots from leather boots with a mixture of lemon juice and cream of tartar rubbed into the stain.
At some point, we all wish we knew how to get rid of squeaky shoes or how to prevent boots from squeaking. Squeaking shoes are embarrassing, draw uncomfortable attention, and ruin an outfit.
The best shoes are comfortable and stylish and leave you feeling confident. Loud squeaking whenever you take a step makes you feel self-conscious and destroys your credibility, so it's vital to know how to get shoes to stop squeaking.
Whether your shoes are brand new and squeaking loudly, or your old favorite pair has suddenly become noisy, start by locating the problem area and use items you have at home to address the issue efficiently.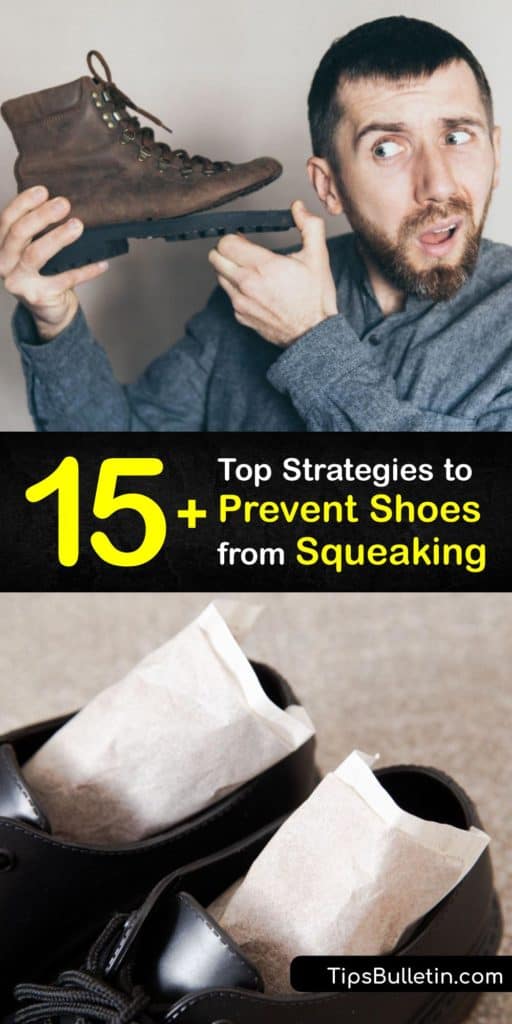 If you loved this article on how to get rid of squeaky shoes, please share these fantastic tips on how to prevent boots from squeaking with your friends and family on Pinterest and Facebook.