Squirrels are fascinating to observe as they leap playfully through the tree branches. Watching the flurry of squirrel activity in your backyard is one thing, but a squirrel infestation in your home is another thing entirely. Discover how to get rid of squirrels in the attic using reliable and easy methods.
Bird feeders are not the only thing around the yard to get harassed by these critters. The attic space is an ideal area for squirrels to take up residence, especially if they have easy access in and out.
The warm and cozy crawlspaces proved a safe place for them, out of the elements and away from predators. While allowing a squirrel to hide their winter food around your house seems harmless, most homeowners agree that this is not the best idea.
One squirrel is bad enough, but a family of squirrels cause damage to the attic structure, soffit, fascia, shingles, and electrical wiring.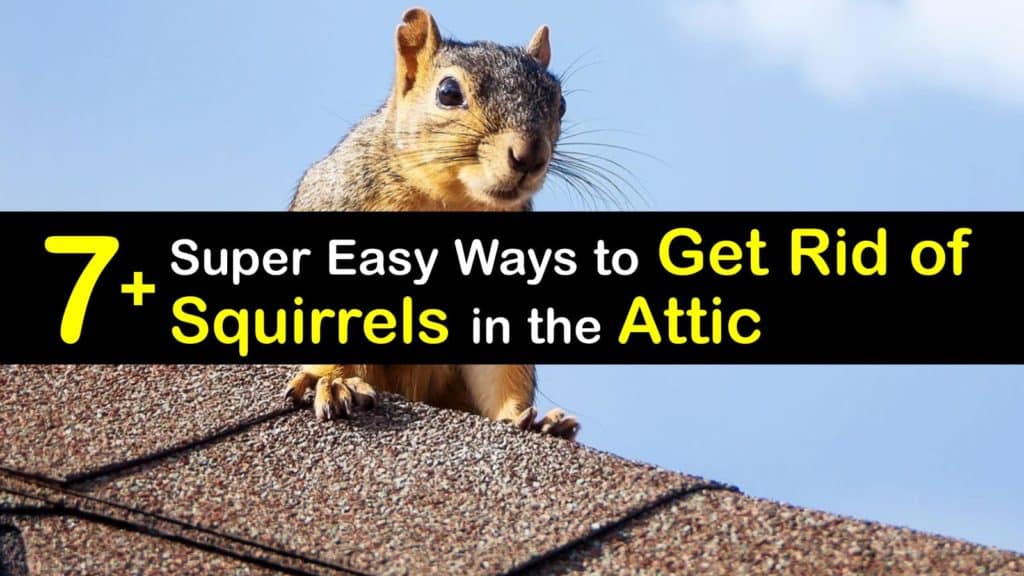 Catching, Removing, and Deterring Squirrels from the Attic
We'll show you how to deal with a squirrel problem in your attic by trapping and releasing them, ways to repel them from the space, and things to do to prevent them from taking up residence inside your home.
How to Catch a Squirrel in the Attic with a Live Trap
There are many types of squirrels, including flying squirrels and gray squirrels, and they all have sneaky ways of finding access points to the inside of your house. Here's how to catch a chipmunk in your house using a live trap to humanely save the animal.
The most important step when trapping a squirrel is to locate the right place to set up the trap. They are not likely to enter a cage set up in the center of the attic but rather one placed near their entrance and exit or the area they spend a lot of their time.
Look for feces, scraps, and chewed material, and try to find the spot where they enter your home. This is likely near a corner or wall.
Use a squirrel trap intended for squirrels and contact your local wildlife specialist to ensure that trapping in your area is legal and safe. Set up the cage according to the instructions and bait it with peanut butter.
Once you capture the rodent, put on a pair of thick gloves, and transport the trap to a safe location in a wooded area away from your home. Release the squirrel by slowly lifting the cage door and stepping back out of the way.
Getting Rid of Squirrels in Attic and Walls with Ammonia
If you prefer not using a hands-on approach to catch a live animal, consider getting rid of squirrels in attic and walls by making the space intolerable to them. They detest the smell of ammonia, and sometimes it is all that is required to drive them out of the space.
Search the attic for the squirrel's nesting spot by looking for droppings and scatters of chewed material.
Soak some rags with ammonia or another strong-smelling household cleaner and set them around the areas of activity to force the squirrels to find a more pleasant home.
How to Get Rid of Squirrels in the Attic by Scaring Them
While using squirrel traps for attic is a great way to move these animals to another location, there are easier ways to get rid of squirrels. Certain things startle these rodents and cause them to flee, giving you the chance to secure entry points to the attic.
Just like humans, squirrels prefer to nest in a dim and quiet location where they feel their baby squirrels are secure. If you suspect that you have attic squirrels, install bright light bulbs in the room and keep the lights on.
Another great method is to plug in a radio, turn it to a talk station, and turn up the volume. These two actions drive the pests out in search of a better place to make a home.
Using a Repellent to Deter Squirrels from the Attic
If you're wondering how to catch a squirrel in the attic but don't actually want to go through the trouble of using a cage trap, try using a commercial repellent to chase the critter from the area and keep them out.
Squirrel Repellent
There are two different types of squirrel repellents on the market. One uses the scent of predators to chase squirrels away, while the other uses chemicals.
Whichever one you choose, read the instructions before using it to ensure proper application. Spray the liquid directly in areas where you notice squirrel activity and near entry holes.
Use Mothballs to Keep Squirrels Out of the Attic
Mothballs are a useful tool for getting rid of squirrels in attic and walls, as well as to eliminate chipmunks in the attic. Like many other rodents and pests, squirrels hate the scent of mothballs and steer clear of spaces with that odor.
Mothball Squirrel Deterrent
Check local laws before using mothballs to deter squirrels since some areas consider this illegal. What smells do chipmunks and squirrels hate? Mothballs! Place them strategically around the attic in all spots where squirrel activity is present.
Set them around holes and crevices where they enter the room, in dark corners, and anywhere that makes a good nesting spot.
How to Make a Homemade Attic Squirrel Repellent
Commercial repellents are great for pest control, but some contain harmful ingredients and are often expensive. However, a homemade squirrel repellent for attic is safe, cheap, and gets the job done.
To make this natural squirrel deterrent spray, pour water into a large spray bottle, add a few drops of dish soap and a half bottle of hot sauce, and shake the container well to mix the ingredients. Walk throughout your attic and look for obvious signs of squirrel activity before you decide to repel squirrels from the area.
These signs include feces, nesting material, chewed up scraps, and other disturbances. Spray the repellent around these key locations and all entry points to the room.
Use this spray outdoors, too, to stop squirrels from eating plants in your yard or garden.
Chasing Squirrels Out of the Attic with an Ultrasonic Repeller
One of the easiest ways to get a squirrel to leave your attic and not return is to use an ultrasonic repellent device. These units are simple to set up, less messy than using sprays, and easier than trying to catch a live rodent.
Ultrasonic Squirrel Repeller
Ultrasonic repellers emit high-frequency sound waves on a short wavelength that is too high for humans to detect. However, pests such as animals and insects detect sounds at a higher range and installing one of these units drives them away from the area.
Follow the instructions for your particular model, and plug the repeller into an outlet in the attic close to the space where squirrels enter and exit the room.
Ways to Prevent Squirrels from Getting into the Attic
Getting rid of attic squirrels is one thing, but now it's time to take action to stop them from returning. Taking the right steps to keep these pests out of your home keeps both your attic and the squirrels safe.
The first thing to do to deter squirrels from entering your house is to walk the perimeter of your property. If you have trees with long branches close to your roof eaves, it's essential to trim them back.
Tree branches provide small animals with easy access to the attic. If you are experienced, use a chainsaw to cut them back or hire a professional to do the job for you.
Inspect the roofline and attic for holes and repair them as needed. Small spaces are an invitation for rodents to make their way indoors for warmth and safety.
Use calk to fill in gaps around electrical wires and plumbing fixtures and contact a contractor to repair large holes and damage. Repair broken windows, vents, and other areas of the attic where rodents gain entrance.
Install mesh screens over the exhaust vents and air intake to keep the pests out without interfering with the vent's effectiveness. If your house has a chimney, install a cap or mesh screen.
If you suspect there are squirrels still hanging out in the attic, install a one-way door for them to exit.
Make a funnel with the narrow end a bit smaller than the entrance hole and place it with the large side facing outward. The squirrel can exit the funnel but cannot re-enter.
We often share our outdoor space with many critters, from chipmunks and raccoons to squirrels. However, this doesn't mean that you want them invading your home.
It's vital to take care of the problem as soon as you see signs of squirrels in the attic to prevent structural damage and a fire hazard.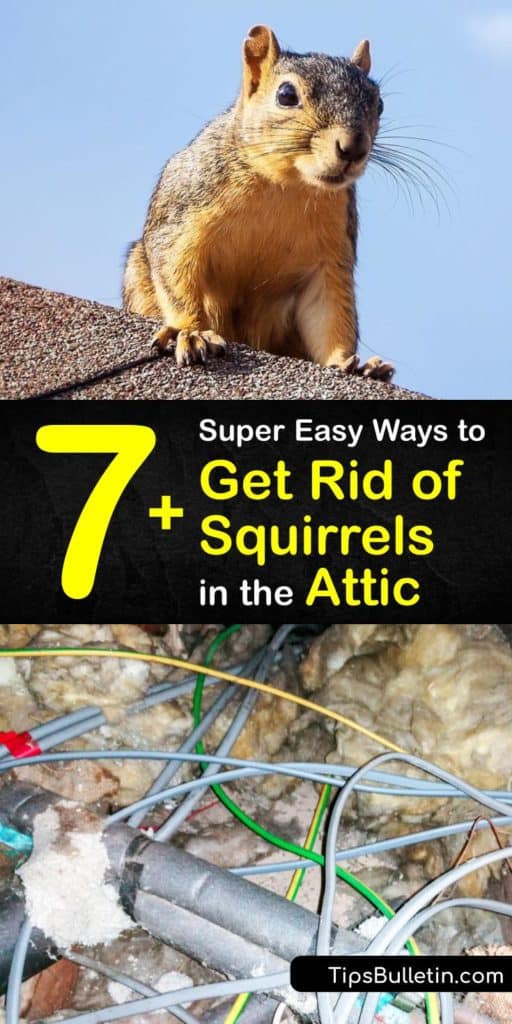 Learning how to get rid of squirrels in the attic without calling a pest management service saves money, so why not share our squirrel removal guide and tips with your friends and family on Facebook and Pinterest?