While there are advantages to owning a house, there are downsides to being a homeowner, and dealing with a termite problem is one of them. Certain termite species burrow into a wooden structure, and a termite colony quickly damages drywall and wood. Learn common signs of a termite infestation and how to get rid of termites in walls.
Many types of termites cause havoc to yards and homes, including the drywood termite, subterranean termite, Formosan termite, winged termite, dampwood termite, and termite swarmer. While some termites, like subterranean termites, make mud tubes in soil, damp wood termites and dry wood termites harm wooden structures and walls.
Since termite damage can be extensive, taking pest control measures is vital as soon as you discover termite activity. Luckily, there are easy home remedies for termites to get rid of nests in the wall and prevent an infestation.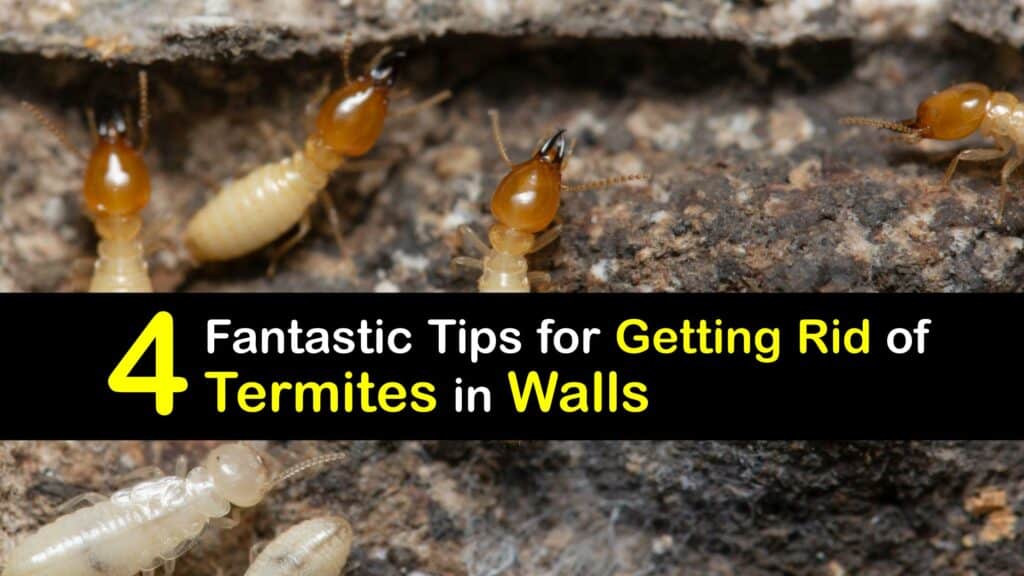 Ways to Get Rid of Termites in Walls
While the termite is a common pest in many areas, there are ways to prevent termites from becoming a problem in your living space. Perform a termite inspection to check for indications of termites and ways to eliminate them from the wall. Learn the differences between wood mites vs termites so you can apply the appropriate treatment.
Signs You Have Termites in Walls
Since a termite spends time hiding within a wall, how can you tell if you have a termite problem? There are typical indications of termites in your home and it's easy to discover how to check for termites in walls.
Termite Signs
It's helpful to know precisely where their nest is before getting rid of termites in walls. Check for pinholes in the wallpaper, faint lines in drywall, and peeling or bubbling paint.
Tap on the wall and listen carefully for a hollow sound, indicating termites living within the confines. Also, baseboards that crumble under slight pressure indicate a termite problem.
The presence of termite swarmers may signify an infestation. They look similar to flying ants, but the flying termite has wings that are larger than its body.
How to Treat Termites in Drywall with Boric Acid
Boric acid is the main ingredient in many commercial termite insecticides and is available at your local hardware store or online. Treat termite infested wood as soon as you discover it to eliminate the problem quickly. Here is how to treat termites in drywall with bait stations and boric acid.
Coat a piece of wood with boric acid and place it near the wall where you suspect termites. Use this way of getting rid of termites indoors and out. The pests come out to snack on the wood, ingest the boric acid, and die.
Another natural way to eliminate termites is with diatomaceous earth. It will also kill house centipede. Spread the DE powder along the base of the wall and place a piece of wood nearby as bait. The termites walk across the powder, which damages their exoskeleton, leading to death.
Getting Rid of Termites in Walls with Traps
One of the simplest ways of getting rid of termites in walls is with traps; you don't need a store-bought trap to get started. Find out how to treat termites in drywall by making a cardboard trap for termite control.
Dampen some flat strips of cardboard with water, stack them together, and place the trap where you notice termite activity. When you use a natural remedy for termites like this one, the insects come out of hiding and feed on the tasty cellulose of the cardboard. Check the cardboard regularly, and take the infested wood outside and burn it.
How to Get Rid of Termites in Walls Through Prevention
What attracts termites? After you treat termites in drywall with traps and bait, it's helpful to understand why the pests were there in the first place. Explore tips for preventing them in the future.
To get rid of termites inside walls, set up a termite barrier by spraying the wood with borate before priming and painting. It acts as a termite repellent and prevents the insects from nibbling on the wood surface.
The beneficial nematode is also an excellent termite treatment when you add them to the soil around your house. They use termite larvae as hosts, causing death within 48 hours.
Another way to make your house uninhabitable to termites or for getting rid of carpenter ants is to get rid of moisture. Invest in a dehumidifier and fix leaks in the roof and pipes to keep termites at bay. Declutter your home by removing old newspapers, magazines, and cardboard.
As a homeowner, there is nothing worse than discovering termite colonies living in the walls. Fortunately, termites are easy to control with the proper termite treatment, whether you decide to use a bait station or boric acid termite baits.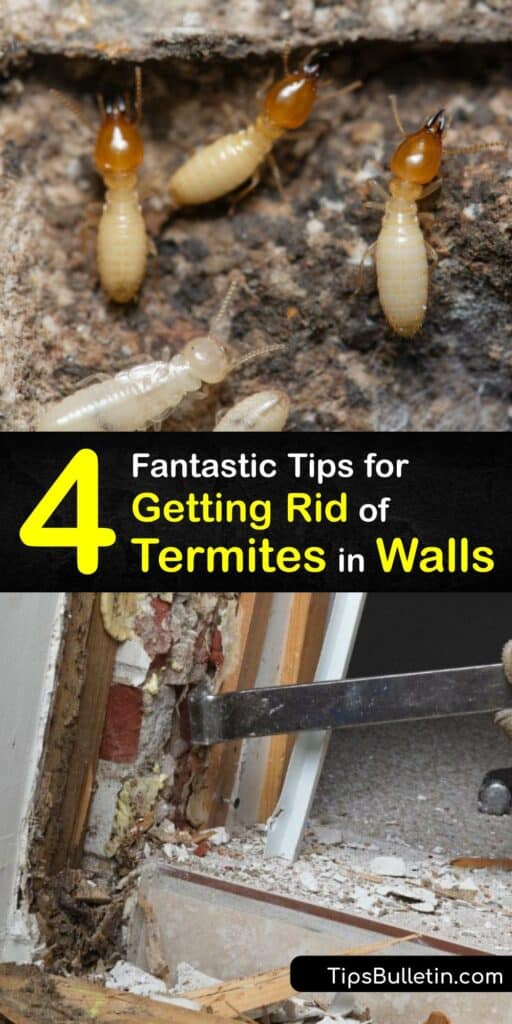 Now that you discovered how to get rid of termites in walls and keep your home termite-free, we'd love it if you'd share our wall termite elimination guide with a few friends and family on Pinterest and Facebook.