One of the most common plants to incorporate in a vegetable garden is tomato plants. Tomato plants are easy to grow and produce an ample harvest every year when cared for properly. Learning how to get rid of tomato worms is vital, as these and several other insects attempt to steal the nutrients from your plants.
Tomato worms are just one of the garden pests you must be aware of as you grow tomatoes. Other bugs that invade gardens and tomato plants include aphids, Japanese beetles, and flea beetles.
Because of the massive destruction they cause, getting rid of tomato hornworms may seem nearly impossible. However, there are many basic tips and tricks that kill tomato hornworms without the use of pesticides.
Throughout this article, we provide you with the information you need to know to identify and get rid of hornworms. Additionally, we show you how to prevent tomato hornworms and other pests from invading your garden in the first place.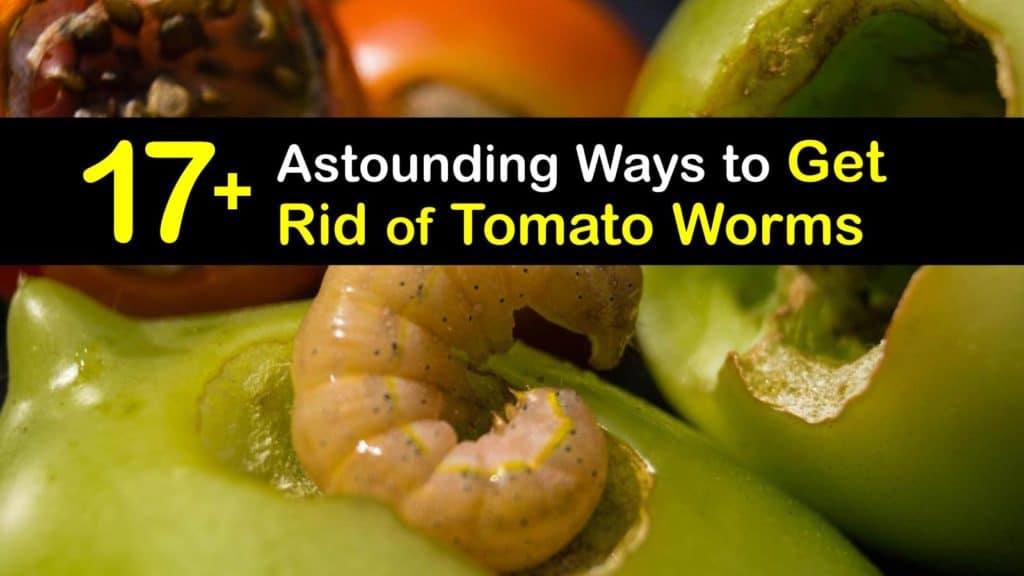 Why Getting Rid of Garden Pests is Necessary
If you have a tomato worm infestation, it is vital to protect your plants by completely clearing your garden from these parasites.
If you do not get rid of tomato hornworms, they continue to feed on your plant's nutrients and eventually cause the tomato plant to die. Where do tomato worms come from, and how long do they live?
The tomato hornworm life cycle requires at least three weeks to fully mature, giving them plenty of time to cause significant destruction in the garden. After the hornworms transform into pupae, they turn into a sphinx moth or hawk moth in two weeks.
Correctly Identifying a Tomato Hornworm
Before you learn how to kill tomato worms in your garden, you must understand what they look like so you can identify the insect.
Spotting a tomato hornworm, scientifically referred to as Manduca quinquemaculata, is quite easy because they are relatively large compared to other harmful insects.
A tomato hornworm is a green caterpillar that grows between three and six inches in length. The insect has white stripes on its side, and they usually have a black horn at the end of its body.
Tobacco hornworms look very similar to tomato hornworms, as they have white stripes, too. The difference between the two caterpillars is that tobacco hornworms have bright red horns.
Signs of Tomato Worms in a Garden
Throughout the day, tomato hornworms like to hide, so it may be difficult to spot them. Tomato hornworms hide behind tomato leaves and alongside the stems during daylight hours.
When the temperatures drop at night, the insects become active and consume your tomato plants. A quick way to check for tomato worms is to inspect the leaves.
Tomato hornworms leave behind dark green or black dropping on the top of tomato leaves, left by the larvae feeding on the leaf.
Additional signs that your garden has tomato hornworms include missing stems and leaves, wilted leaves, and even destroyed fruit. White cocoons hanging on the branches are also an indicator your tomato plant is infested with hornworms.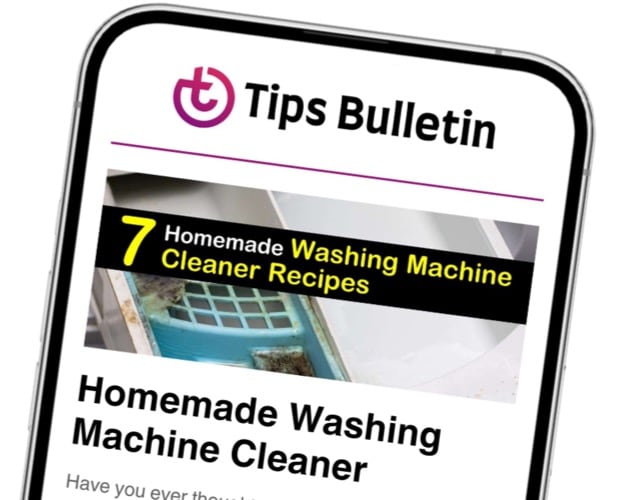 Finally, an email that Transforms Your Home.
Get the latest home and garden tips from our experts, delivered straight to your inbox.
How Tomato Hornworms Damage Your Tomato Plants
You need to know how to get rid of tomato hornworms in your garden because they damage tomatoes and other fruits and vegetables. Tomato hornworm larvae also feed on eggplants, different pepper varieties, and potatoes.
Each of these plants is popular in backyard gardens, so getting rid of tomato hornworms is necessary. Even though the life cycle of a tomato hornworm is only two to three weeks, it can cause a lot of damage to the tomato plants in your garden.
Using the horn on the end of its body, tomato worms dig through the soil and protect themselves against predators. The damage to your tomato plants is caused by the caterpillars munching on the leaves, stems, and fruit to survive.
Unfortunately, growing tomato plants in buckets does not make them immune to tomato worms. Be sure to check the plants in your container garden, too.
Where do Tomato Worms Come from?
It may seem like tomato worms entered your garden at random. However, there are specific things that lead to these harmful caterpillars infesting your tomato plants. Where do tomato worms come from?
This is an excellent question to consider before getting rid of tomato hornworms. Understanding where tomato worms come from is a terrific way to prevent the pest from returning.
A hawk moth, otherwise called a hummingbird moth, is drawn to your vegetable garden by the scent of tomatoes.
The moths lay eggs in the soil, and when the eggs hatch, they grow into tomato worms. Usually, the eggs hatch in the late spring as the temperatures begin to warm.
How to Get Rid of Tomato Worms with Diatomaceous Earth
Although handpicking tomato worms off of the affected plant is an option, it is quite time-consuming. Proper spacing for tomato plants also helps but is not an infallible solution.
Using diatomaceous earth to control and eliminate a tomato worm infestation is a much more efficient method and it's also effective to get rid of small black bugs on tomato plants.
Diatomaceous earth causes the insect to dry out and die after they come in contact with the powder. Sprinkle diatomaceous earth on the soil surrounding your tomato plants.
As soon as tomato hornworms walk over the powder, the diatomaceous earth starts working. Reapply diatomaceous earth every 24 hours and after it rains to continuously kill unwanted pests like tomato hornworms, fleas, ticks, ants, and cockroaches.
Getting Rid of Tomato Hornworms with Dish Soap
To refrain from using any insecticide on your tomato plants, liquid dish soap is a terrific way to kill tomato worms.
The liquid dish soap breaks down the protective skin on tomato worms when the bug comes in touches the solvent. Creating a dish soap bug repellent eliminates hornworms while posing no threat to your tomato plants' overall health.
After pouring both ingredients into a spray bottle, shake it so the soap mixes with the water.
Spray the soapy water on areas where hornworms are commonly found, like the leaves and soil. The mixture causes tomato worms to squirm as soon as the soap touches them.
Eliminating Tomato Worms with Cayenne Pepper
Sprinkling a little cayenne pepper on your garden's soil carries many benefits. Not only does this hot pepper repel unwanted insects like hornworms, but it also deters other pests like squirrels, skunks, and raccoons. The pepper is far too hot for any pest.
As tomato worms or a different pest tastes or smells the cayenne pepper, they avoid entering your garden. There are a couple of ways to spread cayenne pepper in your vegetable garden. One method is to sprinkle ground cayenne pepper onto the soil.
Reapply cayenne pepper powder once a week for the best results. Another procedure is to mix a little cayenne pepper and water in a spray bottle and mist your plants. Both options work for getting rid of tomato hornworms.
Essential Oils Repel Unwanted Pests
Where do tomato worms come from, and how do you deter them from your garden? Essential oils are a fantastic all-natural technique to protect your tomatoes and other plants in your garden.
The odors of specific essential oils mask the scents that hawk moths and other insects are attracted to, successfully deterring them from your plants.
After pouring the ingredients in a spray bottle, swish the contents gently, so the oils absorb into the water. Spray your nightshade plants, the soil surrounding them, and the familiar places tomato worms hide.
How to Apply Neem Oil in Your Garden
Learning how to get rid of tomato worms with neem oil is simple. Neem oil interferes with a bug's hormones, making it harder to grow and lay eggs. Additionally, neem oil hinders a hornworms' ability to feed, essentially starving the intruder until it dies.
To observe the best results, reapply neem oil once every four days. Neem oil is available at your local home improvement or retail store in two forms. The bug repellent comes in a concentrate that is mixed with water or in a pre-measured handheld spray bottle.
After purchasing neem oil, follow the instructions on the package to get rid of tomato worms. An advantage of using neem oil is that it does not affect your tomatoes' health while eliminating unwanted pests.
Insecticides are a Quick Way to Kill Tomato Worms
Several different insecticides kill tomato hornworms immediately and are easy to use. Make sure to choose a non-systemic insecticide, which kills tomato worms without breaking through the plant tissues or the fruit.
As soon as the insecticide comes in contact with a tomato worm, it kills the bug. One of the best insecticides to combat a tomato hornworm infestation is Bacillus thuringiensis.
This insecticide is fast-acting, as it causes ruptures in the hornworm's digestive system and kills the pest within a few days.
Unlike most insecticides, Bacillus thuringiensis does not impact house pets or humans in a garden. Even though it is safe to eat, it is still important to wash your tomatoes before consuming them.
Incorporating Beneficial Insects to Kill Tomato Worms
An incredibly effective and natural way to kill and deter unwanted pests in your garden is to release hornworms' natural predators. Beneficial insects like ladybugs, lacewings, and parasitic wasps feed on many insects that try to steal your plant's nutrients.
Lacewings and ladybugs also consume beetles, aphids, and other soft-bodied insects. Parasitic wasps like the braconid wasp are beneficial when it comes to getting rid of tomato hornworms. A braconid wasp lays its eggs on the body of a tomato hornworm.
As the eggs hatch, the wasp larvae feed on the hornworm, eventually killing the caterpillar. Knowing how to get rid of tomato worms and other pests is effortless when you release natural predators into your garden.
Plant Marigolds to Deter Tomato Worms
Marigolds are a great flower to include around your vegetable garden that adds a splash of color while simultaneously repelling tomato hornworms—the flowers on a marigold release an odor that repels bugs like tomato worms and mosquitoes.
As one of the most effective insect-repelling plants and the best companion plants for tomatoes, there are plenty of reasons to include marigolds in your garden.
On top of deterring pests, marigolds also produce toxic chemicals that destroy root-knot nematodes. To plant marigolds, sow the seed about ¼ of an inch into the soil in a location with total sun exposure. Marigolds grow in almost any type of soil.
Grow Dill in Your Garden to Attract Beneficial Insects
Incorporating dill into your vegetable garden is a perfect solution for attracting tomato worm's natural predators. Dill draws in beneficial insects like ladybugs, lacewings, and hoverflies that consume tomato worms, flea beetles, and aphids.
The dill plant also attracts pollinators to your garden. To plant dill, sow the seeds after the last frost of the spring to protect the roots.
Make sure the plant receives a ton of sun exposure and is protected from strong wind gusts. Sow the seeds about ¼ of an inch in the soil and spread each seed 18 inches apart. Dill germinates within ten to 14 days.
Regularly Tilling the Soil Prevents Tomato Worms
Specific garden maintenance techniques help prevent tomato hornworms from invading and consuming your tomato leaves. Tomato hornworms live through the winter months in a pupae stage underneath the soil in your garden.
As temperatures start to become warmer in the spring, hornworms lay their eggs. Tilling the soil in your garden after you harvest the fruit from tomato plants and in the early spring kills nearly 90 percent of the tomato worms and the eggs in the ground.
Another benefit of tilling your garden's soil is that it reduces the likelihood of tomato worm problems in the coming years. It also helps prevent tomato diseases that leave your tomato leaves with brown spots. Wilted and spotted leaves are signs of bacterial and fungal problems that can sometimes be remedied with baking soda for tomatoes.
Rotating Crops is a Method that Prevents Tomato Worms
The location of plants in your garden plays a considerable role in the number of harmful pests that invade the area. Planting crops in the same place every year allows insects to become familiar with a reliable food source.
Although it may take some time, rearranging where your plants are in your garden is a simple way to prevent tomato worms.
As you rearrange your crops, make sure you do not replace one nightshade, like a tomato, with another nightshade variety like potatoes, eggplants, bell peppers, or jalapenos.
Changing your fruits and vegetables' locations prevents tomato worms, reduces stress on the roots, improves soil fertility, and increases soil nutrients.
How to Cover Your Tomato Plants
A manageable way to kill tomato worms during the winter is to cover the ground with a sheet of black plastic mulch. The plastic material prevents the tomato hornworm eggs in the soil from surviving and reappearing in the springtime.
A sheet of black plastic mulch is found at your local home improvement stores. Where do tomato worms come from? Because these insects live in the soil over winter, a sheet of plastic covering suffocates bugs while in the ground.
Get rid of tomato worms through many different techniques. However, preventing the likelihood of tomato worms is a fantastic way to protect your nightshades.
Invite Birds to Your Vegetable Garden
Hornworms are large insects that make a substantial food source for a variety of birds. Mockingbirds, robins, and other birds feed on these caterpillars, taking them out of your garden and protecting your tomato plants from further destruction.
Creating an environment that welcomes birds is one hands-free way to get rid of tomato hornworms. There are many ways to invite birds to your yard. One of the simplest ways to welcome birds to your garden is to install bird feeders and birdbaths.
Strategic planting placement of your fruits and vegetables is another way to welcome birds. By growing plants in dense groups, perennial plants, and shrubs make birds feel more welcome.
Avoid Tomato Worms with Netting
If you do not want to draw birds to your garden while also preventing tomato worms on your plants, set up bird netting around individual plants. Mesh is designed to keep birds away from your plant's fruit.
The netting also blocks tomato worms because of their massive size. When installing bird netting, make sure the frame is taller than the actual plant so it works correctly.
There are two cons to installing bird netting, one being the fact that the product is rather expensive. Additionally, the net is somewhat cumbersome to set up around each plant. Mesh cannot block out pupae that emerge from the soil.
Tomato hornworms are extremely popular in nightshade plants like eggplants, tomatoes, and potatoes. Locating the harmful pests in your garden is relatively easy because the caterpillars are so large.
If your tomato plant is infested with tomato worms, you do not have to abandon the plant. Several tricks kill or deter the pest from chewing through the tomato leaves and stems.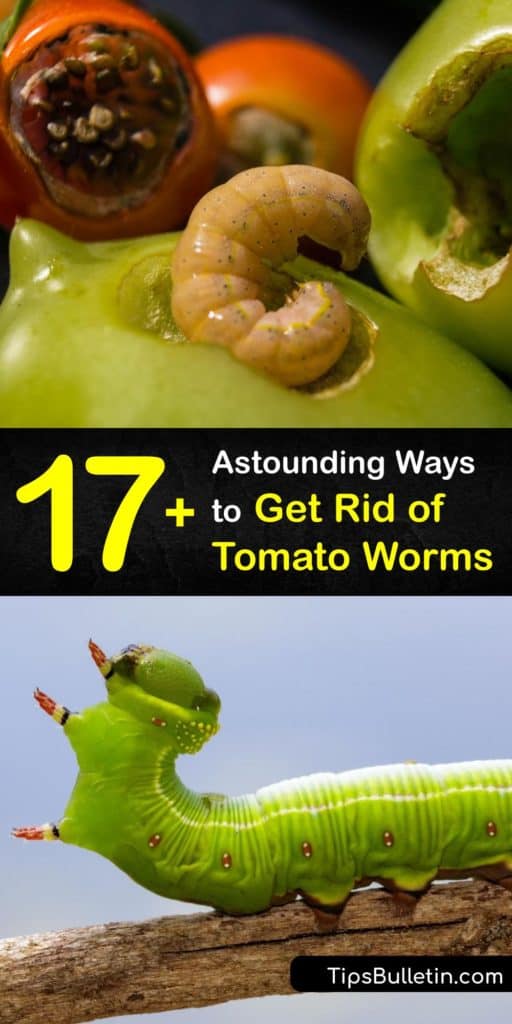 If you found out how to get rid of tomato worms, share these tricks about tomato worms deterrents with your gardening friends on Pinterest and Facebook.