Weeds are criminally invasive plants that quickly smother your garden beds and lawns if left unchecked. The biggest issue homeowners run into while searching for a solution to their weed control problem is eliminating the weeds without destroying the rest of your yard. So how to get rid of weeds naturally without killing grass?
Is such a thing even possible? Not only is finding a homemade weed killer safe for grass well within your reach, but there are also several different options to choose from when it comes to preserving the look of your lawn.
For those of us enjoy the ease and convenience of using industrial or store-bought weed killers, we will explore a few selections to narrow down your shopping options. Equally, if you prefer a natural, homemade solution, there are easy-to-follow DIY recipes that utilize non-toxic formulas to reduce the spread of weeds. In some cases, you don't even need to use a spray at all.
By adjusting some of your gardening techniques and habits, you can stop grass from growing permanently and kill weeds at the roots and prevent them from spreading in the future.
Find the Best Homemade Weed Killer that's Safe for Grass
Weeds grow in many different shapes and sizes and are often very good at disguising themselves. While some may look appealing and charming, like Dandelions, others blend right in, looking more like grass. The most common types of weeds you'll encounter in your gardens and lawn are listed below.
You may recognize some of these common weeds right off the bat. Knowing what you're looking for will help you with keeping these pillaging little plants at bay.
Some are low-growing, delicate plants, while others may grow to be the size of small trees. Weeds grow everywhere and some even look like they may belong, like seaside grasses and weeds with pretty flowers.
Although it's not a weed, you may not want moss growing in your grass. Learn how to kill moss in your lawn that takes away from the nice green landscape. Using a vinegar based natural moss killer is just one way to take care of this problem.
Pull Weeds by Hand
While this usually is the last thing you want to do, as it can take some time, pulling weeds by hand is a safe way to remove weeds from your yard without harming your grass. When using this method, have a small shovel or trowel with you to dig out the plants at their tap roots.
This technique is particularly effective for getting rid of dandelions and purslane.Make sure you toss all weeds, along with any roots, stems, or leaves, into a bag to prevent spreading the weed seeds to other areas of your garden.
Killing dandelions in your lawn without killing grass is most straightforward when the soil is moist and somewhat loose, so performing this task after rainfall is ideal. Otherwise, add in a little splash of water to the earth beforehand to loosen the soil around the taproot.
Plant Ground Cover Plants to Keep Weeds Out
Planting ground covers is another excellent way to prevent the growth of weeds. Not only do these plants compete for sunlight and soil on the surface, but their long-spreading roots also make it more difficult for weeds to weave their way into your flower beds underground.
If you have high flowers with plenty of space in between each plant, these ground covers will fill in those areas entirely. Another location where ground covers work wonderfully as a weed preventative is along the base of trees, especially if your grass is having difficulty growing in these shady areas.
Homemade Weed Killer Safe for Grass
Corn gluten meal is a safe method to apply a weed killer that will not kill grass. This byproduct of the corn milling process prevents new weeds from forming by inhibiting the weeds from germinating and developing into fully grown plants.
This natural weed killer is not only safe to use around animals, but it also adds nitrogen to your lawn. The chemical is a common element used in fertilizing, which means your grass and other plants will get a little boost to their growth as well.
Epsom salt is another great ingredient to use in your yard. When used correctly, Epsom salt kills weeds but leaves the grass looking fresh and green.
Pour Boiling Water Over Weeds
One of the most natural ways to kill weeds is by pouring boiling water over the area with weeds. This option works best when killing weeds on concrete or sideways since it will also destroy other plants in the process.
The scalding hot water works best on newly sprouting weeds and does not affect the seeds in the soil. This technique is also one of the easiest ways to get rid of those unwanted ant hills in your garden.
Use boiling water to kill poison ivy naturally, too. Repeat application is usually necessary. Always use gloves when working around this invasive and allergy-inducing plant.
Will Vinegar Kill Grass or Just Weeds?
Oh yes! While white vinegar is an excellent way to eliminate weeds and other unwanted plants, it is not the best way to preserve your healthy grass either. The acetic acid destroys most plant life, so if you use this as a natural weed killer, you want to spray it directly over the weed itself.
Another strategy for using this ingredient that won't cause harm to your grass is by spraying the vinegar onto a cloth or sponge first. Afterward, wipe the material across the weed's leaves and stem instead of applying it directly.
This natural vegetation killer prevents the vinegar from getting into any other areas surrounding the weed, while still using enough to destroy the unwanted intruder you want to eliminate for good. You may need to apply the vinegar more than once to get rid of stubborn weeds.
Allow Grass to Grow Taller Between Mows
If you notice bare, open spots in your lawn where weeds are taking root, then one solution is to let your grass grow higher. Though many of us appreciate the freshly trim cut of our landscape, mowing too short will have the opposite effect of a beautiful, tidy yard.
Adjusting the setting on your mower to keep the grass a little higher allows the grass to soak up more sunlight. This process promotes deeper rooting and less bare patches, making it more difficult for unwanted weeds to swoop in and take over.
Doing this doesn't mean you let your lawn grow in unruly, untrimmed wildness, however. A setting between three to four inches for your grass is an ideal height to keep it healthy and thriving.
Sprinkle in Some Salt
Similar to vinegar, salt is an effective weed killer that demands caution when used around grass and other plants. Both rock salt and table salt work when combined with ingredients like dish soap and vinegar, as either a preventative measure or for DIY weed control. For this natural weed killer recipe, follow the steps below.
To make this simple weed and root killer, mix the ingredients in a large bucket, then add to a spray bottle for more comfortable use. Spray directly onto the weeds, or in areas where you know weeds may pop up soon.
Add vinegar and salt directly to old tree and shrub roots to kill them. Drilling holes in the stump for easier access to the interior helps make the process go a little faster but realize that it will take some time to die completely.
If you want to avoid harming innocent nearby plants, use the same technique when using plain vinegar and wipe the solution along the surface of the weed itself.
Withhold Sunlight from Low-Growing Weeds
One simple way for how to kill weeds and not grass is to keep the unwanted weeds out of direct sunlight. Just like other plants, weeds need sunlight to thrive and develop properly. If you have low-growing weeds like crabgrass, one way to do this is by covering the plant directly.
This method works by using something as simple as a newspaper to lay over them. Eventually, the weed will die out and stop spreading. Shredded paper is also a tremendously useful recyclable material for mulching.
How to Get Rid of Weeds Naturally without Killing Grass
Other reasons weeds might take root in your lawn are due to bare patches where grass has not been able to grow. This issue may be due to improper soil conditions, shady areas, or poor irrigation.
All of these issues may prevent grass from developing in certain places around your yard, but they may also provide the ideal conditions for weeds to take root. One way to avoid this is by planting the right type of grass, depending on your climate, location, and circumstances.
Colder regions benefit from cool-season grasses like Kentucky Bluegrass or Ryegrass. If your area demands hardier lawns that can also withstand shade conditions, then Fescues are your best choice. For warmer regions, grasses like St. Augustine thrive in both hot and humid climate conditions as well as shaded areas with limited access to sunlight.
Apply a Vodka Spray to Kill Weeds
For weeds growing in well-lit areas, one natural weed killer you can try is vodka. This alcoholic solution dries out plants, with a few drops of dish soap to hold the vodka in place and allowing the sunlight to take care of the rest. The vodka removes the protective waxy coating on plant leaves, making them more susceptible to withering and burning.
This solution works best when applied via a spray bottle, though you want to avoid getting it on any other plants in the area that you don't want to be dried out. This option doesn't work so well in shaded areas, however, so stick to locations with plenty of light.
Fertilize Your Lawn
A healthy lawn is essential for keeping weeds out of your yard and away from your grass. One way to keep your garden happy and well-taken care of is to fertilize it appropriately. Doing this means using the right types of nutrients to balance out your soil's needs and deficiencies, rather than applying a generic fertilizer to encourage plant growth.
To know what your soil is lacking, you may need to collect a small sample for a soil test before administering the right nutrients in the earth. Once your lawn is adequately fed and cared for, this will promote healthy growth of grass and leaves no room for weeds in its place.
Lay Out Landscape Fabric in Raised Beds
Using landscape fabric is a non-toxic, simple way to control your weed problem without killing your grass. This fabric is laid down at the base of your flower beds or vegetable garden to block weed growth by forming a barrier between the soil and the surface.
This method also keeps sunlight from reaching the weed seeds and developing into full-grown plants.To use this strategy, lay down the fabric and cut small areas around plants you already have in the ground.
If you are adding this to a raised bed, the effectiveness of this technique goes even higher. Lay the cloth down over the base of the raised bed, then add the soil on top before beginning any planting.
Inhibit Weed Growth with Mulch
Applying mulch around flowers and at the base of your gardens is one essential way to smother weeds without harming the rest of your yard. Using common mulching materials like compost, wood chips, bark, or other organic materials prohibits the weeds from penetrating through to the surface.
This technique also limits their access to sunlight, which means the intruding plants won't get the nutrients they need to survive either. This method is best as a preventative method. It also works throughout your yard, along the edges of patios or footpaths, not just flowerbeds.
Use a Commercial Weed Killer
Sometimes a store-bought weed killer is all you need to eliminate those pesky plants from your yard. One of the most common chemical herbicides is Roundup Weed Killer. The active ingredient in these weed killers is usually Glyphosate, which is applied to the leaves of the plant.
The chemical is then absorbed into the plant, attacking the root systems and killing the weeds. Use either a sprayer for larger sections or a watering can for small patches to administer the product over the affected areas.
Be selective in what locations you use this particular weed killer, however, since it will also kill other plants, including flowers and grass.
Improve Your Watering Habits
One question you may need to ask yourself is: What can I do to prevent weeds from growing? While we've already answered this in different ways, there is one common practice we are overlooking: watering your plants.
Overwatering your lawn presents many challenges to its growth, including how deeply rooted it becomes and whether your yard is receiving the proper irrigation. Grass with standing water that doesn't seep deep enough into the roots does not grow in healthy and makes your lawn less able to compete with troublesome weeds.
One way to ensure this isn't a problem is by watering your lawn only when it appears dry and thirsty instead of on a routine schedule. You may also need to aerate the ground to promote healthier irrigation flows, especially if the soil is compacted.
Burn Away Weeds with a Flame Weeder
Using a flame weeder is another option you can use during the weeding process. These tools consist of a long wand, usually on the end of a propane tank that shoots out a small flame for weed control. These tools can be found in your garden center and work by burning away short layers of the weed at a time.
This method will not destroy the plants down to the root, however, so you may need to apply this process multiple times before the weeds are completely gone. As a note of caution, do not use this strategy during dry seasons or in areas that may easily catch fire.
Be Proactive with Your Herbicides
If you are trying to get a jump start on keeping weeds out of your gardens, one thing you can try is a pre-emergent herbicide. Most of your local garden supply stores carry one form of this herbicide or another, though the most popular and effective one to try is prodiamine.
This barrier agent is generally applied as a water-soluble solution that is sprayed over your lawn using a low-pressure setting. Treat your yard with these pre-emergent herbicides at least twice a year. Add once in early springtime and once again at the beginning of fall.
Make an Essential Oil Weed Killer
For an alternative recipe on eliminating weeds with vinegar, throw in some Castile soap and essential oils, as well. These active ingredients will kill any plant they touch, so it is best to use this solution on hard surfaces, walkways, and other areas away from your garden.
To use this recipe, combine the ingredients in a large spray bottle. Shake the spray bottle well, then apply directly to the weed. Weeds will gradually begin to die in a day or two. While there is no need to reapply if you notice the plants still standing after the second day, respray the area.
Eliminating weeds from your yard and gardens should not come at the cost of your beautiful grassy lawns or your prize-winning flowers. There are plenty of ways to use weed killers without affecting your nearby plants, whether they may cause them damage in the process or not.
If you are worried about ruining the innocent flowers planted nearby or leaving dead patches of grass, then you can also choose from one of the many proactive and effective methods that specifically target weeds.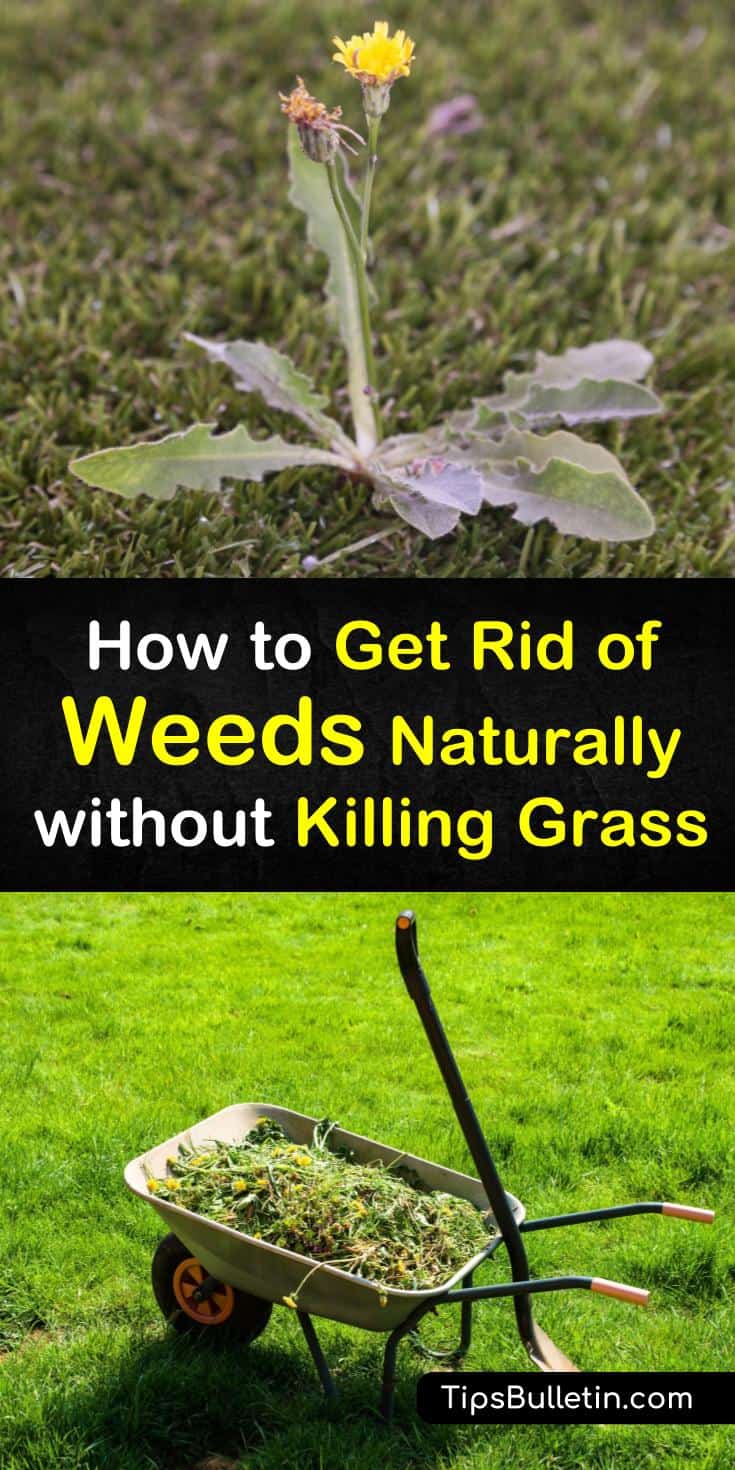 If you found these weed-eating tips useful, remember to share how to get rid of weeds naturally without killing grass with all the other homeowners on your Pinterest and Facebook accounts.