The beetle family, including weevils, comprises 40% of all insects. Weevils follow the same life cycle as beetles and generally share the same rigid, black bodies. They differ from other beetles, though, because they have long snouts. It pays to know how to kill rice weevils at home and how to get rid of weevils in the garden.
Find weevils outdoors on trees and landscaping plants, yet they also get inside and eat the grains in your cupboards. If your landscape plants have a significant weevil infestation, the leaves have a scalloped or notched appearance. A severe infection may consume the entire leaf, leaving only the primary vein.
Tiny weevil larvae, often known as grubs, eat plant feeder roots. They later eat larger roots as they expand, resulting in stunting and yellowing, wilted leaves. Understanding how to get rid of weevils outside is vital in halting the destruction. Use easy-to-follow techniques to kill weevils outside before they devour your plants.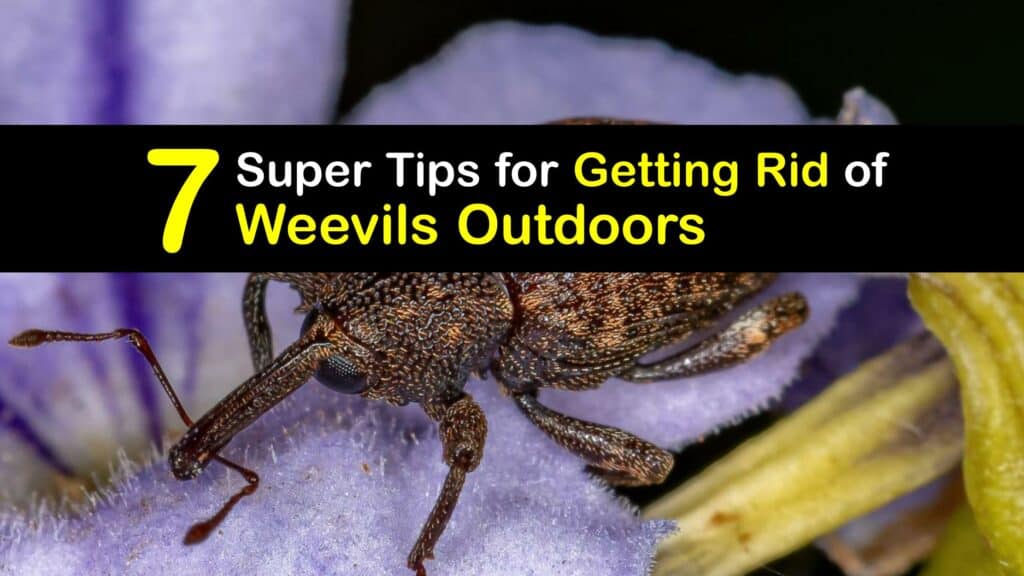 How to Get Rid of Weevils Outside
If weevils invade, you must figure out how to use a homemade weevil deterrent to get rid of them quickly. Garden weevils are a pest throughout most of the United States, attacking over 100 different types of plants, including rhododendrons, azaleas, yews, and hemlocks.
Begonias, ferns, and other well-known potted plants suffer damage when weevils invade your greenhouse or indoor gardens. They are frequently referred to as the cyclamen grub and are particularly harmful to cyclamens. Discover simple ways to kill weevils outside and save your plants from ruin.
What Is a Garden Weevil?
The vine weevil (Otiorhynchus sulcatus) is perhaps the most popular type of garden pest known as weevil, although there are several others.
Weevils are a type of adult beetle. The adult weevil feasts on leaves in the warmer months, and the weevil larvae or root weevils devour plant roots in fall and winter.
Female weevils lay many weevil eggs and rapidly take over and destroy an infested plant. These insect pests target everything from fruit to ornamental plants. The adult vine weevil is e a lawn pest.
Signs of a Vine Weevil Invasion
Mid-spring to late summer is the active season for adult black vine weevils. Their grubs persist longer, from the middle of summer till the following spring. Adult black vine weevils consume plant leaves at night, leaving a half-moon hole around the leaf margin.
The larvae consume plant roots and can obstruct the flow of vital nutrients and water to the plant leaves and stems. The injury they leave is more severe than that caused by the adults and might result in the plant dying or wilting and turning brown.
Look for adult black vine weevil damage in May and June. Since vine weevil grubs work underground, you cannot see them. When the effects of larval feeding are apparent at the surface, significant plant damage has already occurred. It is irreparable for that year's crop.
How to Get Rid of Weevils in the Garden
The larval stage of root weevils is safely and successfully controlled by sprinkling diatomaceous earth around the bottom of the host plant. Putting on safety goggles, gloves, and a dust mask is advisable when applying diatomaceous earth. Keep pets and family away from the area until the dust settles.
Grubs typically appear in March through April after overwintering or in September after hatching from summertime eggs. DE doesn't affect earthworms and doesn't contain hazardous chemicals. To keep the dust from coming into contact with pollinators, don't sprinkle it on flowers.
Diatomaceous earth is safe to use on anything from a fruit-producing strawberry plant to a decorative potted plant. Reapply the powder after a downpour. It doesn't harm the adult root weevil, but the diatomaceous earth breaks the life cycle to eradicate the pest.
How to Get Rid of Weevils Outside With a Nematode Soil Drench
Nemasys vine weevil killer nematodes eradicate weevil larvae before they cause severe plant harm, provided they are applied on time. This approach tackles the issue at its core, much like a systemic insecticide. A nematode treatment is available from garden centers and online.
The soil is directly soaked with the nematodes, and they travel into the roots. Ensure your soil has enough drainage for the nematodes to absorb effectively. Spring, or when weevil larvae are first anticipated, is the best time to use nematodes.
Early morning or late in the night, apply the nematode drench per the instructions. Before application, water the area to evenly moisten the ground; continue for two weeks following application.
Kill Weevils Outside Using Neem Oil
Neem oil is a natural insecticide that destroys adult beetles and larvae. The active ingredient in cold-pressed neem oil, Azadirachta indica, eliminates both adult and larvae weevil stages.
Neem oil is a natural, organic insecticide made from components of the neem tree. It eradicates weevils but doesn't harm beneficial insects. Blend neem oil with cold water to make a foliar spray and soil soak.
Spritz the entire plant with the neem oil mixture and pour the remaining over the soil at the base in place of regular watering.
Use a Burlap Trap for Getting Rid of Weevils Outdoors
There are numerous traps to get rid of adult black vine weevils. Though you can buy several traps from the hardware store, it's straightforward and cost-efficient to craft your own. An old piece of burlap cloth is the perfect handmade trap for outdoor weevils.
Adult black vine weevils are nocturnal and tend to feed at night. In preparation for this nighttime feeding, wrap the burlap around the trunks of pest-targeted trees or plants like hemlock trees towards the end of the day. The insects frequently use such materials as a refuge.
As dawn approaches, the weevils crawl into the cloth to sleep for the day. Check the burlap in the morning for pests and eliminate black vine weevils you find by crushing them or leaving them in soapy water. It kills weevils instantly, although it's a little messier than some slower weevil elimination tips.
Tips to Prevent Weevils
Weevils prefer to live in moist soil and stay close to their host plant. A few simple changes in management help make your vegetable beds, trees, and ornamental plants less attractive to these pests.
Keeping moisture low, encouraging natural predators, and reducing weevil hiding spots helps keep them off your plants. When bringing dry goods home, prevent grain mites by transferring items to airtight containers after checking them closely for bugs.
Weevils are a year-round issue, so begin control as soon as you notice signs of an invasion to increase your chances of saving the plant. Find out how to get rid of weevils outside and oust this destructive pest before it harms your garden. Avoid harsh chemical insecticides and rely on proven home remedies.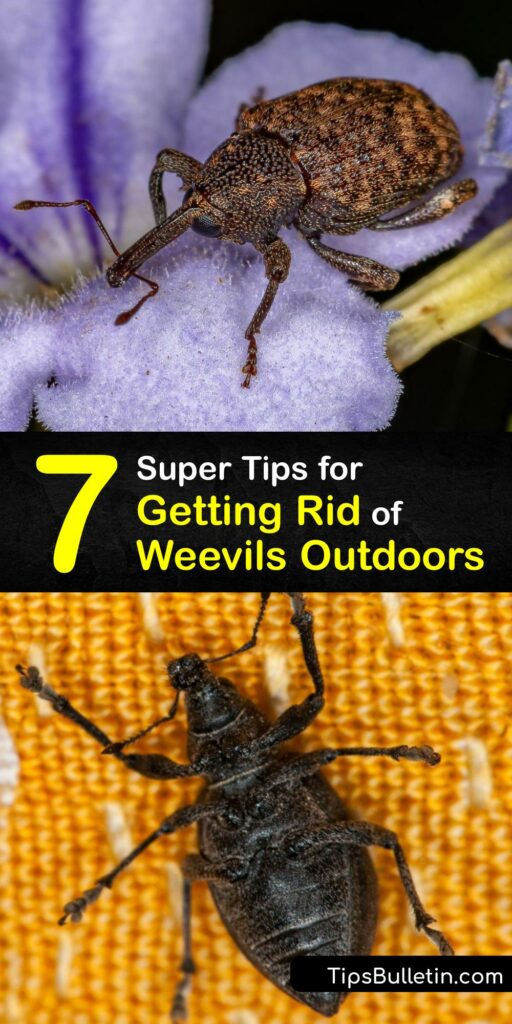 If you loved this illustrative article on how to get rid of weevils in the garden, please share this knowledge with your friends and family who need to kill weevils outside on Pinterest and Facebook.