Have you ever opened a package of flour to make morning pancakes and discovered creepy-crawlies scattered inside the bag? These pests cause havoc both in your kitchen and outside in your garden. Discover how to get rid of weevils in your pantry and prevent further infestation.
Whether you call them flour bugs, grain beetles, or weevils, these insects are a nuisance in the home. Not only are they gross, but they infest flour, rice, pasta, cereal, and other bulk food products.
You aren't even aware that your food items are already tainted when you bring them home from the grocery store. Unlike other home pests that give homeowners a headache, a weevil infestation is easy to miss until it's too late.
These pantry bugs infest grain products and other dry food sources on your cupboard shelves, and you don't notice them until you open the packaging. However, there are several ways to prevent them from destroying all of your dry goods.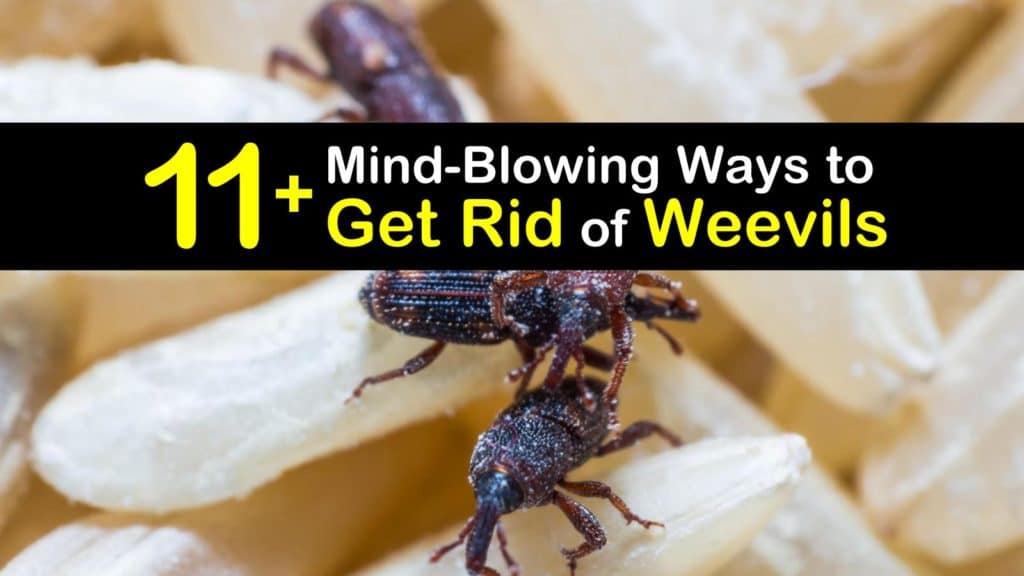 How to Get Rid All Weevils and Prevent Their Return
Just like pantry moths, flour weevils ruin food in your kitchen cabinets and pantry, and pest control is necessary to eliminate them. Luckily, there are simple ways to get rid of these destructive insects and prevent them from hatching in the first place.
What are Weevils? Where did They Come from?
It's easy to think these insects are from a child's storybook with such a goofy name. Unfortunately, that's not the case. But, what are weevils, and where do weevils come from?
Weevil Beetles
Weevils are slender oval insects that range in size depending on species. Some are only three millimeters long, while others grow up to 10 millimeters. They are brown to black and have an elongated head with a snout.
Weevil beetles infest areas outside near fruit trees and gardens, kill plants, and often make their ways indoors for a steady food source.
Indoor weevils hang out in storage areas and contaminate food with their feces and shell castings. Some species, such as rice weevils and grain weevils, attack stored seeds and grains.
How to Get Rid of Weevils by Cleaning the Pantry
The first step in getting rid of the weevil beetle is to clean house. By that, we mean clean your kitchen cupboards and pantry. While this isn't the most fun job, it is unavoidable to get rid of an infestation. This simple solution is also the best pantry moth deterrent.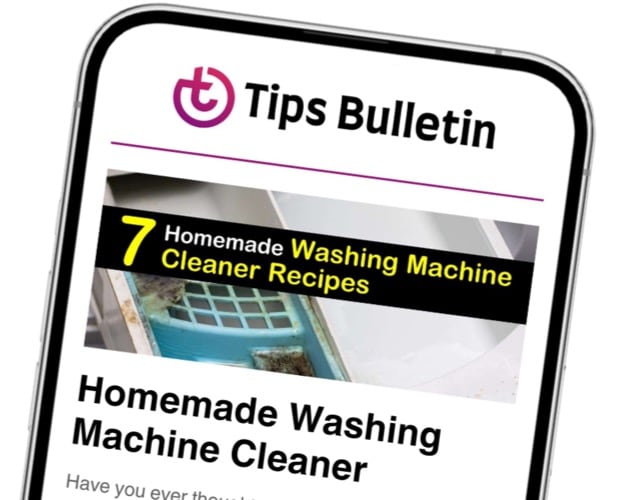 Finally, an email that Transforms Your Home.
Get the latest home and garden tips from our experts, delivered straight to your inbox.
Begin by inspecting all of your food items for signs of weevils. Open packages of flour, rice, pasta, and cereal and check for shell castings and small brown and black specs. If you notice adult weevils or suspicious debris in your food, discard it in the trash.
Remove all of the remaining food from the cupboard or pantry and set it aside. Use the hose attachment on your vacuum to clean all cracks and crevices on each shelf. Empty the vacuum debris into the garbage and take it to the outside trash can.
Get a cleaning cloth wet with warm water and a couple of drops of dish soap. Clean the top and bottom of each shelf with the soapy water, along with the back and sides of the cabinet.
How to Kill Weevils with Pheromone Traps
Like many other creatures, weevils are attracted to a specific pheromone scent. Using a trap laced with this smell is a great way to get rid of these insects. Here is how to kill weevils using a pheromone trap.
Weevil Pheromone Traps
Place a few pheromone traps in areas around your pantry and near your food. The traps lure the weevils where they get trapped in a sticky substance. Check the traps periodically for insects to determine if there is weevil activity, and replace them once they are full.
You can also make a moth trap or weevil trap with pheromones. It's a simple way to get rid of unwanted bugs.
Freezing Dry Goods to Eliminate Weevils
How do weevils get in flour, pet food, and other dry food? Unfortunately, the answer is reproduction. The females often lay eggs in food packages and go unnoticed until the larvae turn into adult weevils, and freezing is the best way to eliminate them.
Frozen Storage
Once you determine your dry food is not infected with weevils, or immediately after purchasing new food from the store, place the containers in large freezer bags and seal them shut.
Keep them in the freezer for a minimum of four days to kill weevil eggs that are not visible to the naked eye.
Use Proper Food Storage to Prevent Weevils
After you disinfect your pantry and cupboards, toss the infected food items in the garbage, and freeze-treat your new food, it's vital to store your new dried goods in proper containers.
Remove the dry food from the freezer after the recommended time and separate them by type on the counter. Pour the flour, wheat, rice, and pasta into food containers, add a bay leaf, and secure them with a lid.
Store them in the clean pantry and replace the bay leaves once every couple of months or when they no longer have a scent.
Using Herbs to Deter Weevils
Many insects detest certain smells and avoid areas that carry these scents. Certain herbs are great at keeping weevils at bay and are a natural way to repel insects without using a harmful insecticide.
To eliminate problems with weevils and moths, place bay leaves, cloves, rosemary, and black peppercorns in the center of a square piece of fabric. Pull all four corners to the center and secure them with a piece of string.
Make several of these sachets and place them on each shelf of your pantry and food cupboard. Replace them as they lose their fragrance.
How to Kill Weevils with White Vinegar
White vinegar is a handy liquid to keep in your home. This inexpensive disinfectant is non-toxic and has almost unlimited uses, including killing and deterring weevils, as well as being what kills sugar ants that may be lurking in the pantry and around garbage cans.
Pour white vinegar into a bottle and label it for regular use. Remove all of the food from the pantry and spray the liquid on each shelf.
Use a sponge or rag to clean the surface and wipe it dry with paper towels. Spray the back and side of the pantry and the doorway as well. Replace the food items in their proper places after the shelves dry.
Using Insecticides to Kill Weevils
If you have a severe weevil infestation and you're confident that there is no chance of contaminating your food, try treating the pantry with a commercial insecticide. Make sure to choose a product designed specifically for weevils.
Remove all the food items from your kitchen cabinet or pantry and set them in a safe area of the kitchen.
Follow the instructions on your pesticides and spray the solution as directed along each shelf's cracks and crevices. Clean the area with rags and dry each section with paper toweling. Replace the food items.
Killing Weevils in Whole Grains with Heat
Buying whole grains in bulk is a great way to save money. However, this sometimes leads to an infestation of rice weevils if you do not treat the grains appropriately. Heat is an effective tool for killing weevil eggs on whole grains.
Preheat your oven to 140°F. Pour the whole grains on a baking sheet, spread the grains out evenly, and set it in the oven for 15 minutes.
Remove the baking pan from the heat and allow the grain to cool completely before pouring them into a canister or airtight plastic containers.
Keeping Weevils out of the Pantry with Essential Oils
We love essential oils for their relaxing and energizing scents, but these oils are more useful than imagined. Many insects hate the smell, and some work better than others to keep weevils out of your pantry.
Add ten drops of sweet orange or peppermint essential oil to a spray bottle full of water and mix it well. Remove your food items from the pantry and spray the liquid on each shelf.
Use a soft cloth to wipe the area and then return your food to the cupboard. Keep the bottle handy and spray the air around the pantry daily to keep the insects out of your food.
Getting Rid of Weevils in the Garden
What are weevils, and why are they in my garden? Weevils are not reserved solely for the kitchen.
These insects often infest gardens, feeding on roots and destroying plants. A large population of garden weevils increases the risk of traveling indoors, so it's essential to get rid of them right away.
Garden Weevils
Weevils like hiding, so clean away mulch, leaves, and other debris to remove their hiding places. Sprinkle a layer of diatomaceous earth in and around your garden.
The insects travel across the powder and eventually die. DE is a fossilized algae made of tiny sharp, white shards that damage insects' exoskeleton, causing them to dehydrate.
Ways to Prevent Weevils in Your Home
Nothing is worse than reliving an insect infestation after going through all of the efforts to eliminate them. Using preventative methods is key to keeping your food storage area clean and weevil-free.
Always throw away infested food immediately and take it to the outside trash. Keep new dry food in the freezer to kill weevil eggs before storing it in the pantry, and inspect your food regularly for infestations.
Try to buy small quantities of dried goods and eat them right away and treat them properly if you purchase bulk items.
Use natural deterrent methods, such as herb sachets, and clean the pantry shelves, cracks, and crevices with soapy water or vinegar routinely to keep weevils in check.
Granary weevils are not only disgusting creeping around in your kitchen, but they lay eggs in your food, which leads to a nasty infestation of pantry pests.
It's vital to get rid of these insects and use proper food storage techniques and repellent to keep them from coming back.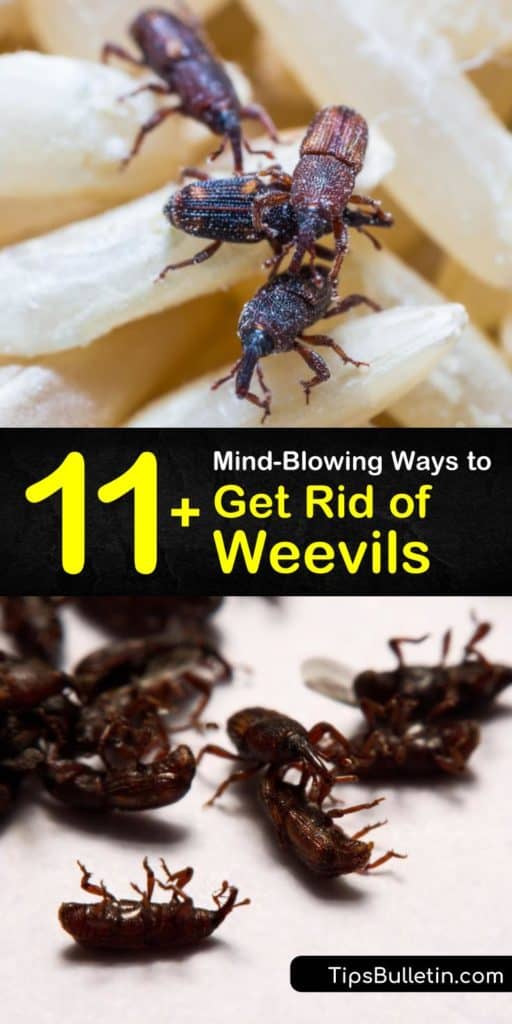 Now that you know how to get rid of weevils in your home, why not share our weevil killing and prevention tips with your circle of family and friends on Pinterest and Facebook?