Becoming a property owner means that you're going to get thrown into the world of landscaping without expecting it. With so many new plants to take care of, knowing which trees are healthy and which trees are suffering is vital. Many basic gardeners spend a good chunk of time figuring out how to get rid of white tree fungus. Of course, white fungus on tree bark could be a number of different fungi.
Healthy trees add value to your home, provide shade, and give your property some street appeal. Having to treat white fungus on tree bark isn't too challenging once you figure out what type of fungal spores are responsible.
For example, having to get rid of powdery mildew on trees is usually easier than getting rid of root rot. Whatever the ailment, this guide provides you with likely causes of white mold on trees and effective ways to remove it.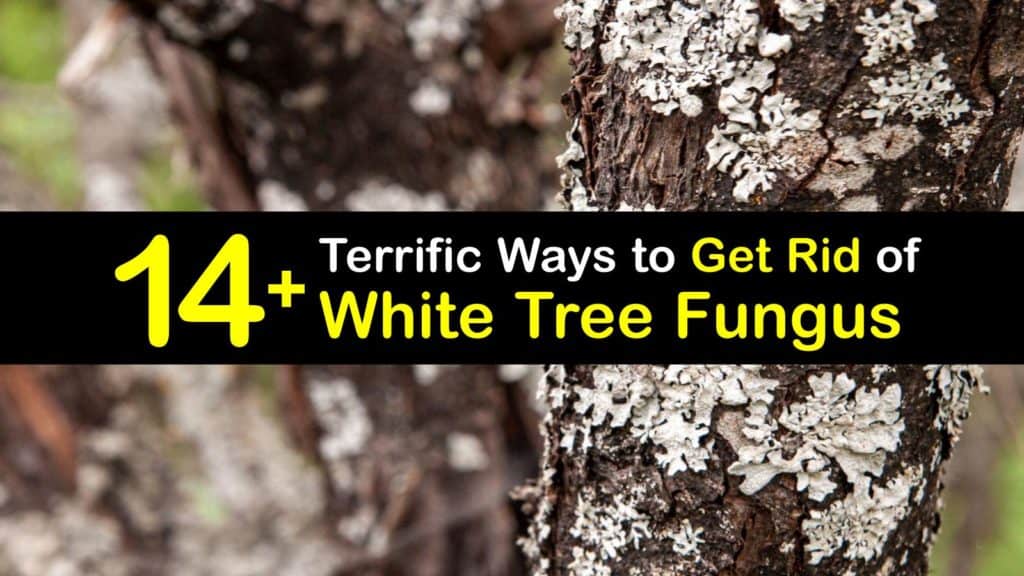 What is the White Stuff on Tree Branches on How do I Remove It?
There are quite a few different causes for white fungus on tree trunks. Healthy trees are often less susceptible to dangerous fungal diseases, while older trees with a previous history of tree disease are more susceptible.
Here are some of the most likely causes for tree mildew and common ways to treat the infected branches and save the fruiting structure.
How to Identify and Treat White Fungus on Tree Bark
A fungal infection isn't unheard of in the plant world. Infected trees often get covered in a white material that coats the branches and plant leaves. Plant fungus such as powdery mildew is one of the most common forms.
Powdery mildew is a white or silvery-colored fungus that sits on the top and bottom of leaves. There are many different forms of powdery mildew fungus, yet they all look similar.
Infected plants are usually targeted because the fungus type is host-specific. Powdery mildew tends to thrive in crowded, shady locations with poor air circulation. This is one of the reasons for learning how to get rid of powdery mildew on trees. It looks a bit like powdery mildew on houseplants and the treatment options are similar.
Treating Armillaria Root Rot on Trees
Armillaria fungi, also called honey fungus, is a type of white rot responsible for the deaths of many hardwood trees, fruit trees, and woody shrubs located in the world's temperate and tropical regions.
This plant fungus targets apple trees and other fruit trees. In some cases, there will eventually be a white or yellowish, fan-shaped mushroom that grows between the wood and the bark. Instead of brown rot, this one has a white, spongelike rot when no mushrooms are present.
Other signs that the plant is infected are if the leaves show signs of discoloration or if branch growth is stunted and starting to die back.
Tree Lichens
Lichens are a fungal infection that tends to grow on healthier trees. There are three different types of lichens. Some form a crust on the trees, others are more leaflike, and some hang or are erect.
Lichens cover a tree trunk and branches in off-white, scaly material. You may be familiar with Spanish moss, a type of hanging lichen. Lichens do not usually cause harm to the plants, and they are easiest to treat by scrubbing them off the plant with your hands.
Canker
Canker disease gets its name from the similarity to a human canker sore. The fungus grows a bunch of small white sores. It must be taken care of very early on because this is one type of white mold that will kill your tree with no chance of coming back.
Oak Wilt
Oak wilt is another fungal infection to take action for right away. It causes rapid mortality of even the most enormous, healthiest oak trees. White oaks are a little more resistant than others.
Trees infected with oak wilt often look like they have leaf spot with their bronzed leaves because it comes in contact with the tree and the spores eventually block the xylem vessels, so water transport slows or stops.
Fire Blight
While this is technically a bacteria, fire blight is confused for other types of fungal infections because of the light-colored ooze that comes out of infected branches. Over time, the flowers on the plant turn brown. Not long after, the entire tree starts to wither and die.
Sooty Mold
Sooty mold is the exact opposite of a white fungus. This dark fungus grows on the honeydew excreted by many insects and garden pests. It has a similar, powdery look but is not white.
How to Get Rid of White Tree Fungus
Neem oil is a gardener's best friend for learning how to treat white fungus on tree bark or get rid of an insect infestation. This oil is readily available and non-toxic to humans.
Results may vary depending on the type of disease you're trying to treat. Make a spray out of neem oil and soapy water and spray your trees and their leaves multiple times per week until the white spots are no longer visible.
This solution is also good to get rid of spider mites in plant soil and other pesky bugs.
How to Get Rid of Powdery Mildew on Trees
If you see a few white spots on trees that look like a powder, you are probably looking at powdery mildew. Treat this plant fungus with a fungicide by spraying all infected leaves.
An Excellent Option to Treat White Fungus on Tree Bark
Baking soda or sodium bicarbonate is one of the best-kept secrets when treating fungal diseases. You can create dozens of homemade, organic fungicide sprays with it, plus it is even more effective with you mix it with other useful ingredients.
Fill a sterile garden sprayer with one gallon of water. Mix in the appropriate amounts of baking soda, dish soap, and horticultural oil, and stir everything so it's well-combined.
Replace the lid on the sprayer and spray your tree bark and foliage with the fungicide. Repeat this whole process several times per week until all signs of disease are gone.
You may find that this remedy will kill root aphid larvae, as well. Mix neem oil for garden pests with dish soap and water and spritz them liberally if you find some on your trees while dealing with fungus.
Unusual Things that Kill White Tree Mold
Since it can kill the germs in your mouth, who's to say that mouthwash won't kill certain fungal spores on a tree? Most ethanol-based mouthwashes are surprisingly effective at fungal control.
Test a small section of your plant with a mixture of one part mouthwash and three parts water. Be careful at first because it could kill some new foliage on your plants.
How Vinegar can Kill Fungal Infections
Vinegar has so many uses it's almost impossible to count them. The high percentage of acid in vinegar is most effective in its role to control powdery mildew. The recipe for this treatment is simple, and you likely already have everything you need on hand.
Pour the water into a bucket and gently mix in the apple cider vinegar. Add the vinegar water to a garden sprayer and treat white spots on garden plants with a good spritz. Ensure that you do not overuse the vinegar or it could burn your foliage.
Try this mixture as a homemade termite killer recipe, too. Apply directly to the bugs.
Sulfur and Lime to Treat White Fungus on Trees
Putting preventative measures in place is easy and effective in preventing your trees from fungi. Direct contact with sulfur prevents mold spores from developing. Better yet, when mixed with hydrated lime, the solution soaks into your leaves and protects your trees even more.
The most common version of this sulfur and lime combination is to mix copper sulfate with hydrated lime, also known as a Bordeaux mix.
Again, these solutions are aggressive and could burn the plant tissue, and you'll have to use them sparingly. This tactic is better for trees in graver danger than those showing their first signs of disease.
How Water Affects Tree Health
It's a little ironic that you can treat fungal diseases with water, but it's true. The most favorable conditions for mold spores are dry conditions with high humidity. By watering your plant, ensuring the soil has good drainage, and keeping the foliage dry, you help prevent the conditions that put the tree in danger.
How Milk Removes Fungal Spores
Milk is another shocking product that gardeners use to get rid of powdery mildew on trees. Experts believe that something about the natural compounds in the milk help to combat disease.
To spray your trees with a milk solution, mix one-part milk with two or three parts water and spray the affected trees liberally. The watery milk also works well on melon, cucumber, and zucchini plants.
How Powdery Mildew Spreads
Almost all types of mildew spores are spread by the wind in warm, dry weather. They do not disperse easily when the conditions are rainy and cool. Some mold spores are specialized for certain groups of plants and won't spread to different plant families.
Some spores also overwinter if they are present in leaf piles or other garden debris. Try to discard these piles toward the end of the fall. Do not put the debris from infected plants into your compost bin.
Other Plants Susceptible to Powdery Mildew
There are various plants that powdery mildew tends to target. Here are some different types of plants that are susceptible to powdery mildew.
Tips for Preventing White Fungal Diseases
There are other things you can implement into your daily routines to keep diseases at bay.
Prune
Thin out your existing, susceptible plants. Pruning them helps to improve airflow within and around the plant and its neighbors. Pruning allows you to remove dead or diseased foliage as well. Try to trim your plants back about twice a year.
Spacing
Spacing is crucial for the success of some trees. When you keep a reasonable distance between plants, it allows air circulation and reduces the humidity. Try to keep trees away from walls and fences.
Focus on Sunlight
Plant trees in a location that suits their sunlight needs. Adequate sunshine helps keep conditions dry and your plant healthy overall.
Disinfect Garden Tools
Diseases spread fast when you use your garden clippers on multiple plants. Always disinfect your gardening tools before using them on a different plant species.
If you suspect that one of your tools has come in contact with a type of disease, it is always better to be cautious and wash it before using it again instead of possibly spreading something deadly to other parts of your landscaping.
Treat them Regularly
Prevention is the best way to care for your plants and deter diseases. However, treating your plants with an organic fungicide a few times a year has far more advantages than disadvantages.
Choose Good Cultivars
While your property may already have existing landscaping, you may create your own or add to the old design. When shopping for any kind of plant, try to choose cultivars that have resistance to diseases such as powdery mildew.
Trees take a long time to grow. By the time they're mature, you want to be able to appreciate their beauty instead of having to see them get covered with mold spores and slowly suffer.
There are quite a few treatment options for gardeners and homeowners who encounter diseased trees. Still, the approach you take might change once you find out more about the fungi attacking your landscaping. Either way, do your best to eliminate the problem and nurse your big, beautiful trees back to health.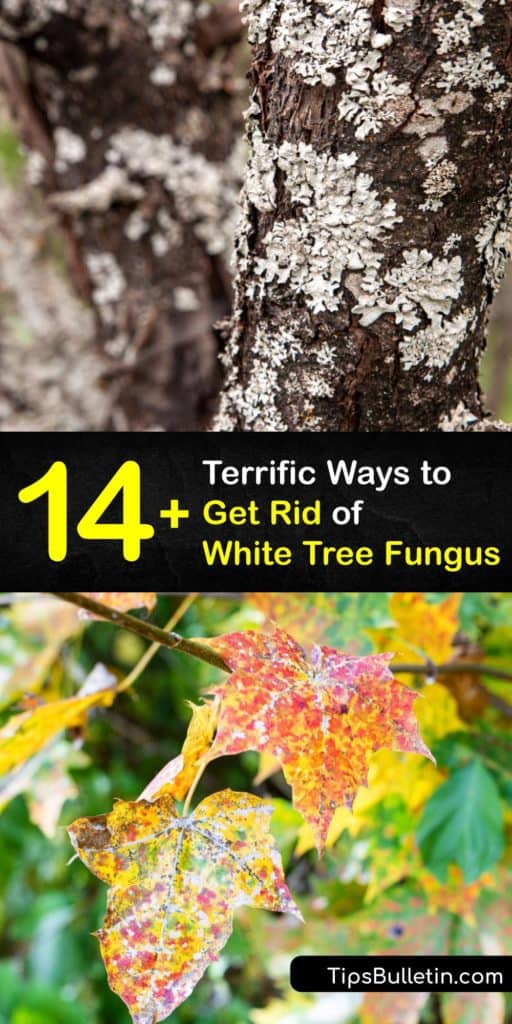 If this article explains how to get rid of white tree fungus, share these simple ways to treat white fungus on tree bark on Facebook and Pinterest.