If you see tiny bits of cottony fluff floating around your yard on a warm fall afternoon, that isn't snow; it's most likely wooly aphids. While they generally do not overpopulate an area and become an infestation, these insect pests do damage leaves and leave a sticky residue on trees. Learn how to get rid of wooly aphids with selective pruning, repellent sprays, and beneficial insects.
While a single aphid here or there is not harmful to your trees and gardens, an aphid colony is destructive to new plant growth. They use their tiny mouthparts to pierce leaves and plants while sucking sap.
Small numbers are easy to remove by hand, but large apple aphid populations in your yard or apple orchard require different elimination techniques.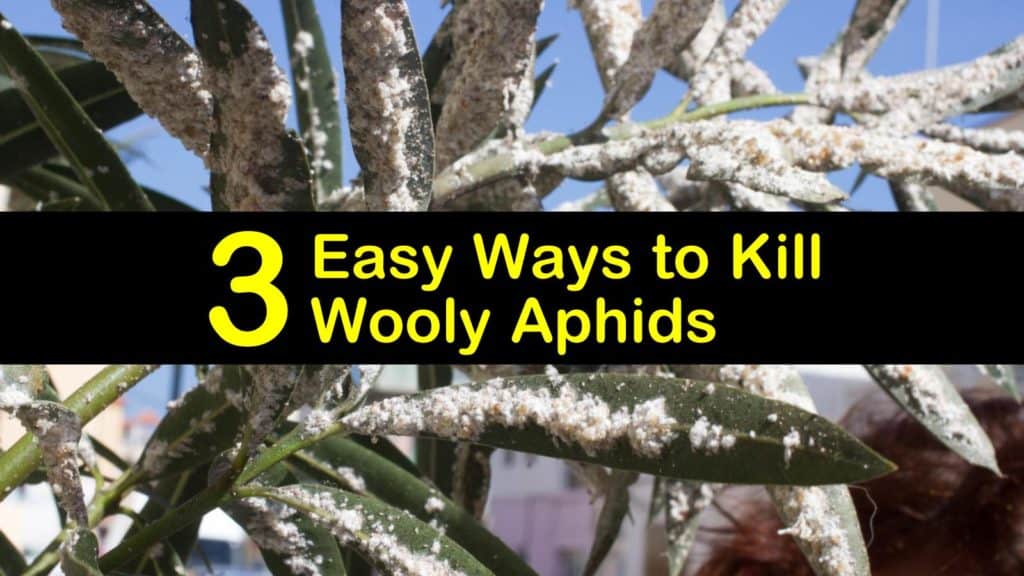 Eliminating and Controlling Woolly Aphids
There are many ways to prevent an aphid attack and eliminate an aphid infestation without calling in pest control, using systemic insecticides, or using formulations of malathion.
Applying neem oil, natural insecticidal soap, and horticultural oil is not always possible. We'll show you how to eliminate these garden pests using a few tools and ingredients you already have in your home.
Do Woolly Aphids Bite and are They Harmful?
What do wooly aphids look like, and what do they eat? Are they harmful, and what can I use to get rid of them? If you are unfamiliar with woolly aphids, you probably have many questions when it comes to natural aphid control.
Wooly Aphids Life Cycle and Habits
Do wooly aphids bite? These garden pests do not sting or bite and are not harmful to humans. However, aphids feed on plant growth and bark, and occasionally fruit trees, such as apple trees. They produce a sticky honeydew substance while feeding, which promotes sooty mold growth on leaves.
They are also responsible for the spread of perennial canker. These insects produce a white, waxy covering while sucking plant sap.
This covering resembles wool or cotton, giving the insects a fluffy appearance. The winged adults lay egg masses that start a new life cycle of immature, wingless nymphs.
How to Kill Woolly Aphids with a Homemade Insecticide
Soap is a natural bug killer for plants since the solution kills insects without killing the plants. Here is how to kill woolly aphids using a little bit of dish soap and water. Add a few other ingredients to this woolly aphids treatment to make the solution stronger if you have a bad infestation.
Naturally get rid of aphids on roses or any other plants with this simple recipe. Fill a spray bottle with water and some squirts of dish soap. To make the solution more effective, add a pinch of cayenne pepper or a few drops of peppermint essential oil.
Shake the bottle gently to mix well, and label it for future use. To kill aphids, spray the soapy water liberally anywhere on your plants where you notice activity.
This insecticide kills beneficial insects such as pollinators as well, so use caution while spraying to get rid of aphids on petunias or other plants. The surfactants in the soap solution cause the aphids to dry out without harming the plants. This solution also works for eliminating mealybugs.
Eliminate aphids on tomatoes, milkweed, and a variety of other plants. When using on edibles, be sure to wash the produce thoroughly before eating.
How to Get Rid of Woolly Aphids with Control Methods
Sometimes, getting rid of aphids using commercial insect sprays, spider mite repellent, or other forms of insecticide causes harm to the plants while performing woolly aphid control.
Fortunately, there are different ways of preventing an aphid infestation without damaging your flowers and shrubs.
Check the leaves of your trees and plants for aphid presence. Wipe away as many insects as possible with gloved hands. Regularly use a garden hose with a steady stream to spray the aphids away from the plants.
If the stems and leaves become damaged with large amounts of aphids, prune those sections away and discard them properly. Use a dormant horticultural oil to eliminate overwintering woolly aphid eggs on fruit and shade trees.
If you are unsure which type of DIY plant bug spray is safe for your garden, consider using natural predators to eliminate aphids. Introducing certain beneficial insects to the infected area eliminates the aphid problem and will kill milkweed aphids with little effort on your part.
Ladybugs, green lacewings, and parasitic wasps help reduce an aphid population, in addition to helping get rid of clover mites, and the eggs of these insects are available at many garden centers. Seeing a few tiny bits of flying cotton, or woolly aphids, in your yard is not cause for concern.
However, discovering an aphid infestation in your fruit trees or garden requires attention to prevent yellowing of leaves and future plant destruction.
Luckily, it's easy to remove a small aphid problem by introducing natural enemies and using a DIY insecticide spray.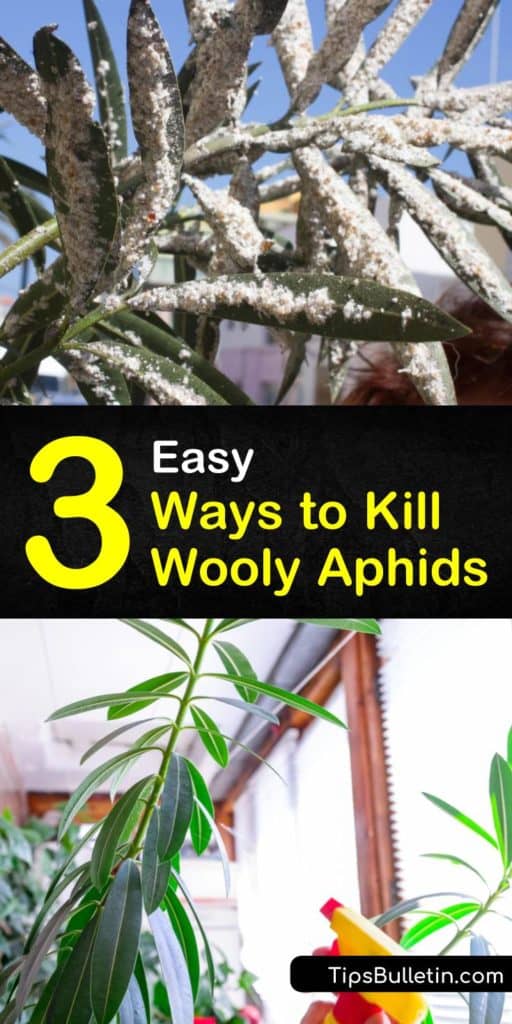 We hope that we helped teach you how to get rid of woolly aphids from around your yard and garden, and we'd love it if you'd share our aphid removal tips with your family on Facebook and Pinterest.