Knowing how to get scuff marks off walls keeps your house looking clean and cared for. Few things are more disheartening than finishing up a lengthy painting project to personalize your room or hiring a painting contractor and having scuffs on your paint shortly after. When considering traffic in our home, we think of floors, but the walls endure a lot, too.
Whether someone is moving furniture or children leave crayon marks, once-pristine walls quickly devolve into looking ratty and unkempt if they're scuffed and marked. Fortunately, once you know how to clean scuff marks off walls, it's easy and doesn't take much time.
One of the biggest challenges to removing scratches from a wall is doing so without damaging the paint finish beneath. Use time-tested home hacks to eliminate even the toughest scuffs, crayon marks, and grease stains from your wall paint without worrying about degrading the quality of the finish.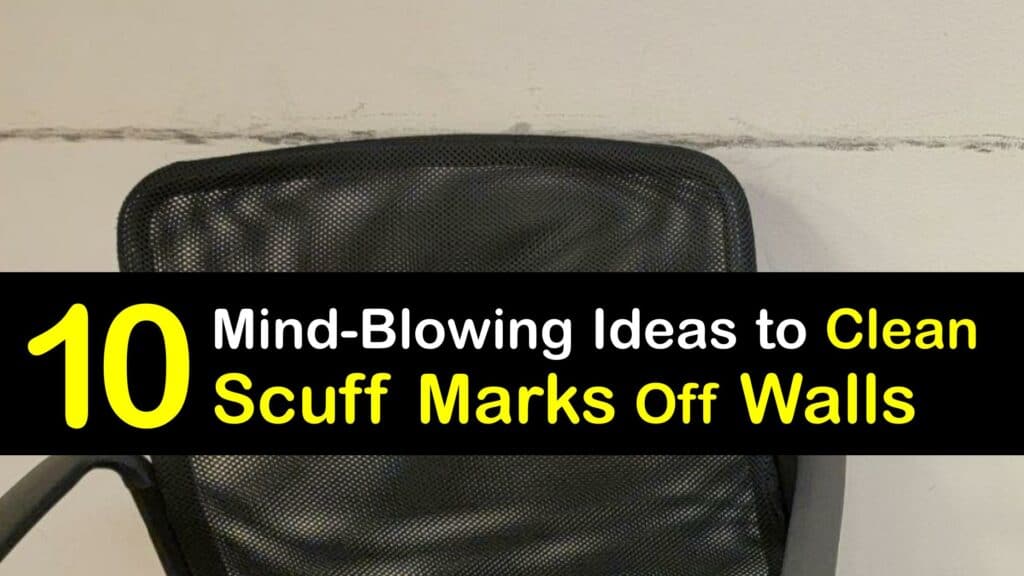 How to Clean Scuff Marks Off Walls
Painted walls eventually lose their vibrant and appealing colors because of scuff marks and grease stains. Homeowners must know how to get scuff marks off walls to bring back the full color to their bedroom, living space, and kitchen walls.
It's vital to grasp the variations between paint kinds, what cleaning tools are safe, and learn what products remove dirt from walls. Understanding that various sorts of paint require different cleaning techniques is crucial for cleaning walls.
When you use suitable cleaning materials and intelligent home remedies, removing scratches from a wall doesn't have to be a headache.
Removing Scuff Mark Blemishes from a Painted Wall
Scuffs, crayon marks, and scratches destroy the finish of your exterior and interior painting. Purchasing furniture, carpet cleaning, and home upgrades are all common aspects of home care, yet cleaning the walls is frequently neglected.
A room is made more stylish, and painted walls are given new life with yearly wall cleaning and occasional spot cleaning when new marks occur.
Scuffed walls detract from the look of your home, and organic or greasy stains become home to microorganisms like mold if left unchecked. Select a simple cleaning tip, remove even the most stubborn stain, and enjoy clean wall space.
Considerations When Cleaning Painted Walls
Before you start to clean walls, it's essential to know about the paint finish. While paints come in a vast array of colors, there are only a few kinds. Understanding what you have in your home helps you choose an appropriate cleaning technique.
Examine the wall paint first. The color is probably semi-gloss or enamel and can take some damage if the painted surface has some sheen. It is likely flat or eggshell latex paint if the wall color is flat and dull.
Eggshell surfaces are not very resilient and might be ruined if using the incorrect cleaning technique. No matter what paint you have, stay away from paint strippers and overly abrasive cleaning methods to avoid damaging your wall paint while erasing scuff marks.
How to Get Scuff Marks Off Walls
Head to the kitchen and grab your liquid dish soap to clean walls as well as dirty dishes. Dish soap removes tough food and grease stains from utensils and kitchenware, so wall scuffs are no challenge.
A dish soap cleaning solution is an excellent choice for eggshell or flat paints requiring a delicate approach, though it works well on any painted surface. Merge dish soap and clean water to create a simple homemade painted surface cleaner.
Stir the dish soap and warm water gently in a sizable bucket or basin. Use a soft cloth and a circular motion to thoroughly clean one area of the wall at a time and pat dry with a towel.
Soap and water are often all you need to get scuff marks off an air hockey table so it plays more smoothly. If that doesn't work, try the vinegar mixture below.
Removing Scratches from a Wall with White Vinegar
Distilled white vinegar is an efficient cleaner to remove scuff marks from shoes, crayons, or furniture without damaging your walls. It's also ideal for cleaning greasy kitchen walls and other surfaces. By diluting the vinegar in water, the power of its mild acid lessens, making it safe to use on latex and other paints.
Blend the ingredients in a basin and dip a sponge or clean cloth in it to clean the walls. Work in sections using gentle wiping motions with even pressure, and towel dry as you go.
Try this home remedy for removing wood paneling glue from walls after a paneling demo project. It will likely work on small areas but another solution may be necessary for large swaths of glue.
Bleach Solution for Cleaning Scuff Marks Off Walls
Bleach is a cleaning staple that almost everybody has at home. This super cleaner makes quick work of wall cleaning and won't disrupt your paint finish when used in a dilute mixture.
Wear a pair of thick rubber cleaning gloves and work in a well-ventilated room. Combine the bleach and water in the bucket, submerge and wring out the sponge, and use it to wipe down the stained walls or as a way to clean and get marks off white walls. Allow the bleach to sit on the scuffs for ten minutes, then wipe away with a damp cloth.
Getting Scuffs Off Walls Using Baking Soda
Baking soda is a notorious stain remover and works perfectly on painted walls. Thanks to its lightening and brightening properties, avoid using baking soda to clean dark-colored walls to avoid accidentally fading the paint pigment. Mix baking soda into a thick paste for manageable application, whether you need to take off Sharpie from a wall or ceiling or have stubborn scuff marks.
Mix the powder and water in a small bowl until they form a thick paste. Smear the paste on the stain with a sponge, rub it away, and wipe with a clean damp cloth to remove. If discoloration or evidence of scuffing remains, repeat the paste application until the mark is gone.
DIY Cleaner to Get Furniture Marks Off Walls
If you enjoy DIY projects, mix a batch of this straightforward wall cleaner intended for all kinds of painted walls, and remove scuffs without spending money on expensive store-bought cleaners.
Shake the supplies in the spray bottle until blended, and spray on scuffed sections of your walls. Once the solution sits for ten minutes, use a dampened sponge to wipe the cleaner and dirt away, and leave the walls to air dry.
You may find that this mixture is great for wallpaper, too. After you have removed old wallpaper from drywall with this cleaner, ensure all the wallpaper glue is gone from the wall with another swipe from your sponge.
Use a Mr Clean Magic Eraser on Exterior Painting
A Mr Clean Magic Eraser is a helpful tool to clean blemishes from some wall surfaces. A Magic Eraser is a block of melamine foam – dense foam with hundreds of tiny air bubbles. Rubbing the block over a scuff removes it using mild abrasive cleaning principles.
Though Magic Erasers are a brilliant way to remove stains, use them cautiously on paint. Any kind of abrasive cleaning is unsuitable for delicate paints like eggshell finishes. Use this technique on exterior painting or hardier finishes.
The Best Tool for Removing Scuff Marks from Walls
Choosing the correct cleaning tools is paramount to prevent scratching and scuffing. Soft cleaning tools with no sharp edges are the premier implement to wash your painted walls. Stiff bristled brushes and rough-textured cloths risk scraping away slivers of paint while in contact with the wall.
Items like a microfiber cloth, soft sponge, or rag are excellent cleaning products for painted walls. Always begin with the lightest pressure, and inspect the wall surface regularly. If you notice new scuffing or scratches, stop immediately and seek another solution.
Hire a Cleaning Service to Clean Painted Walls in Your Home
The easiest time to clean scuffs on your walls is right after they happen. Over time, scuffs, crayon marks, grease stains, and handprints build up to make the prospect of cleaning them off more daunting. If you're short on time, consider hiring a cleaning service to help maintain your walls.
The professionals from a cleaning company are familiar with cleaning many types of paint finish and can work on a regular schedule to keep your home clean and your wall surfaces spotless.
Purchasing paint or hiring a painting company is an expensive investment in your home. Paint customizes a living space based on your sense of style and taste, but when painted surfaces become scuffed and dirty, they leave a poor impression.
Though you carefully choose your paint to make your home look its best, scuff marks have the opposite effect. Don't struggle to figure out how to clean scuff marks off walls. Try one of these straightforward at-home ideas and get your walls looking great again.
If you loved this article on how to get scuff marks off walls, please share these brilliant ideas on removing scratches from a wall with your friends and family on Pinterest and Facebook.