Leather shoes, patent leather shoes, and suede shoes are stylish and create a great impression, though they are easy to scuff. With this list of quick and easy ideas for removing scuff marks from leather shoes, you'll learn how to get scuffs out of leather shoes efficiently.
Scuff marks ruin the look of your favorite shoes and make even the nicest leather dress shoes look unappealing. Next time you scuff your shoes, don't panic. Fortunately, many methods to remove even tough scuffs exist, and understanding how to clean scuffs off leather shoes lets you give your prized pair a thorough facelift.
Learn how to get scuffs out of leather shoes with items you probably already have on hand. There are several options for removing scuff marks from leather shoes safely. Use everyday household items like white vinegar and baking soda or a Magic Eraser and leather conditioner and restore your favorite leather shoes to scuff-free shine in no time.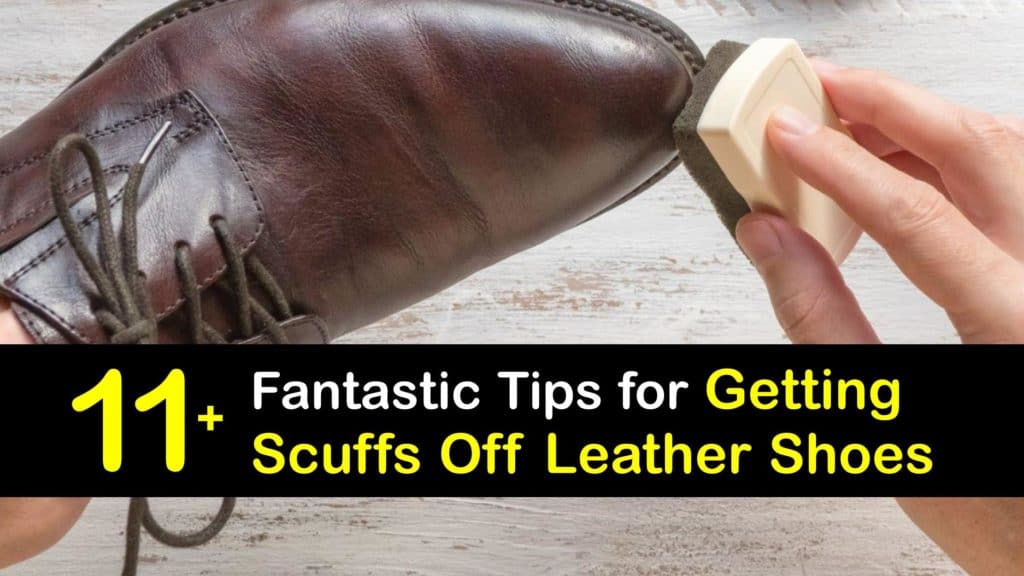 Easy Methods for Removing Scuff Marks from Leather Shoes
Almost everyone has questioned how to get scuffs out of leather shoes at some point. We've all tripped or bumped a curb and created an ugly scuff on our leather or patent leather shoes.
A scuff is unsightly and must be removed as soon as possible from your leather shoes; however, some treatments are better than others. You risk making the scuff worse if you choose the wrong strategy.
If you've ever asked how to clean scuffs off leather shoes, take a couple of simple steps. Removing scuff marks from leather shoes is easy with a few common household materials and a little patience.
Using Nail Polish Remover to Eliminate Shoe Scuffs
Nail polish remover is beneficial to more than just nails. Acetone, or nail polish remover, is one answer to how to get scuffs out of leather shoes. Acetone is found in various products, including personal care and cosmetics.
Dip a cotton swab or paper towel into the acetone and gently rub the scuff on your leather shoes back and forth to let the solution work its magic. Before using acetone on your footwear, test a hidden area first.
Removing Scuff Marks from Leather Shoes – Hydrogen Peroxide
When it comes to removing scuffs, hydrogen peroxide is a lifesaver. When learning how to get scuffs out of leather shoes, this common household solution comes in handy.
Hydrogen peroxide is a potent disinfectant and multi-purpose cleaner that works to restore shoes fast. To use hydrogen peroxide for scuff-cleaning, make a solution with water.
To remove the scuff, press the mixture into the surface with a clean cloth, rub in circles to loosen dirt, and remove the unwanted discoloration. After rinsing, let your clean leather shoes air dry and apply a leather conditioner.
Wax Polish for Leather Shoe Scuffs
Wax shoe polish is deeply hydrating and will remove scuffs from leather shoes and garments gently. Wax polish rehydrates the damaged leather to allow the fibers to smooth out and appear shiny once more.
Use a generous amount of wax polish on a soft cloth for getting scuff marks off patent leather or other leather material. Work in circles over the scuff mark, rubbing gently until the mark fades. Allow the wax polish to dry and soak into the leather surface, and repeat if needed.
How to Clean Scuffs Off Leather Shoes with Baking Soda
Baking soda is an excellent shoe cleaner to remove even the worst scuff and leave your shoe scuff-free. Baking soda cleans and whitens, ideal for reviving drab or yellowed footwear.
Mix the baking soda and water until thick paste forms. To take scuffs off shoes, scrub the scuffed region and any rubber portions, such as the rubber soles, with an old toothbrush in a circular motion.
Rinse your leather shoes in lukewarm water to remove any residue. Wipe with a paper towel and condition with an appropriate leather treatment or shoe cream.
Magic Eraser for Stubborn Scuff Marks
Magic Erasers are easy to use on scuff marks to remove them without the use of hazardous chemicals. The Magic Eraser comprises solid melamine foam with small air holes between the layers.
Cleaning scuffs from the rubber soles of your leather shoes using a Magic Eraser is a great idea. Soak the eraser in water and scrub it over your shoes to remove the worst scuffs.
While Magic Erasers are great for rubber soles, don't use them on your shoe leather, patent leather, or suede parts. Always try the eraser on a small area to ensure no scratches are left behind. Because Magic Erasers are abrasive, they're not suitable for sensitive areas or shoelaces.
How to Get Scuffs Out of Leather Boots with Dish Soap
Dish soap is a quick and easy solution to shine leather boots without polish and eliminate scuff marks. Dish soap is a fantastic choice for removing scuff marks from leather shoes because it refreshes the leather without altering the color.
Dunk a clean cloth in the soap solution. To remove dirt or stains, rub the soapy water over your shoes, pat dry with a paper towel, and place them flat to dry. Finish with a leather treatment to lock in moisture and keep the leather in top condition.
White Vinegar is a Leather Cleaner and Scuff Remover
White vinegar is a powerful cleaner to remove anything from a stain to light scuffs on finished leather. Because white vinegar is acidic, it's best to dilute it before using it for cleaning a leather shoe with white vinegar and avoid applying it to areas of leather glue to prevent shoe damage.
Rub on the diluted vinegar solution using a clean cloth or cotton swab. Allow half an hour for the white vinegar to seep into the scuff marks. Wipe away the vinegar with a damp cloth and use a dry cloth to remove any remaining moisture.
How to Get Scuffs Out of Faux Leather Shoes – Toothpaste
The answer to how to get scuffs out of leather shoes is on the bathroom counter, and it serves a purpose other than brushing our teeth. Non-gel toothpaste is a perfect cleaner for removing scuffs off canvas and leather shoes, and it works wonders.
Apply a small amount of any non-gel toothpaste to a soft shoe brush or toothbrush and use it to polish the scuff mark gently. Clean the area in small, circular strokes, rinse, then wipe it clean with a moist towel to remove paste residue.
Rubbing Alcohol for Leather Shoe and Suede Shoe Scuffs
Scuff marks and scratches wreak havoc on the appearance of patent leather shoes, suede, and other leather items. Rubbing alcohol is almost certainly present in your home and quickly removes scuff marks as well as being useful to clean oil stains off your leather shoes. Test a small patch first because rubbing alcohol isn't suited for all materials.
Soak a clean cloth or a paper towel in rubbing alcohol. To get scuffs out of suede shoes, carefully wipe the scuffed area and rinse the shoe in clean water. If the scuff lingers, repeat the process to ensure all scuffing is gone, and the natural color of your footwear is restored.
How to Get Scuffs Out of Leather Shoes with Petroleum Jelly
Petroleum jelly is ideal for suede or leather with scuffing or cracking or to get wrinkles out of shoes. Revitalize with petroleum jelly to restore tired suede clothes and leather shoes to their natural sheen and gloss.
Apply a thick jelly coating to the affected area and allow the petroleum jelly to sit for at least half an hour before rinsing and allowing them to dry. Use a leather conditioner to maintain its integrity and finish, then add leather polish for a glossy shine.
Restore Scuffed Leather Dress Shoes with Nail Polish
If other methods for removing scuff marks from leather shoes have failed and you are left asking how to clean scuffs off leather shoes, nail polish is another solution. Applying an even coat of nail polish to the scuffed area hides the scuff marks and leaves your shoes looking as good as new.
Choose a nail polish that perfectly matches the color of your shoes, and apply carefully, allowing the polish to dry between coats until the scuff mark is no longer noticeable.
Some scuffs and scratches are worse than others. To remove deep scratches from leather shoes, try leather shoe cream polish in the same shade as your shoes. It should fill in the cracks and look much better.
Prevention Tips to Avoid Scuffed Leather Shoes
If you just finished removing dirt and scuff marks from your shoes, it's a good idea to avoid recurring stains. Here are some shoe maintenance hints to help you keep your shoes in top condition.
Choose leather dress shoes with a low or medium sheen, search for types with a protective rubber bumper, and take particular care while wearing them to avoid scuffs. When you're not wearing your shoes, put shoe trees in them and store them on a shoe rack to prevent scuff marks. Getting wrinkles out of sneakers made of leather is easier with a shoe tree, too. Using a shoe tree is also helpful as a way to loosen leather shoes that are just a little too tight.
Polish leather shoes and use a leather conditioner to keep them from drying out. Whether you have a suede leather shoe, patent leather shoe, or vinyl shoes, learning how to clean scuffs off leather shoes and prevent scuffs extends the lifespan of your leather shoes.
Scuffing your leather shoes doesn't have to be a disaster. Once you know how to get scuffs out of leather shoes, you can wear your favorite shoes with confidence.
Leather is a beautiful and versatile material. Learning techniques for removing scuff marks from leather shoes let you add this fashionable footwear to your wardrobe without worrying about accidental marks and how to clean scuffs off leather shoes.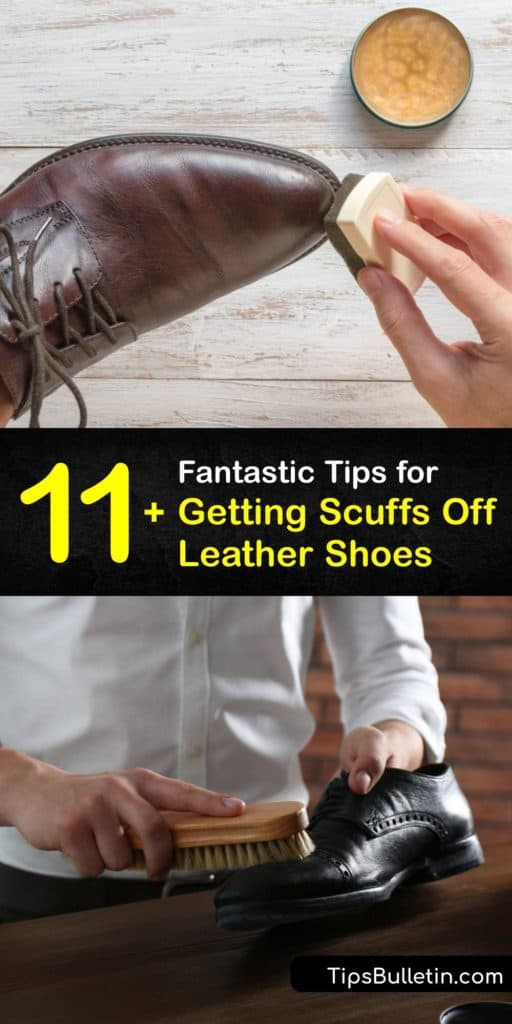 If you loved this article on how to get scuffs out of leather shoes, please share these clever tips for removing scuff marks from leather shoes with your friends and family on Pinterest and Facebook.