Sharpie markers come in 49 unique colors, but that's also 49 different ways to get a permanent marker stain somewhere in your house. Discover how to get Sharpie off a mirror or other non-porous surfaces with our in-depth guide. We'll help restore your bathroom glass to sparkling.
Sanford Ink Company introduced Sharpie permanent markers in 1964 as the first pen-style permanent marker. Sharpie pens contain different ingredients and dyes depending on the desired color. A filament made of cotton composite holds the ink inside the plastic barrel, which is injected by a needle at the other end of the marker, followed by the famous felt tip.
A dry erase marker or chalk marker is permanent on porous surfaces like wood and paper. However, the release agents mixed with the ink mean that chalk markers and dry-erase markers wipe off easily with a damp cloth. Unfortunately, the same isn't true for permanent marker ink. We have some excellent ways to get Sharpie off glass and clean up mirrors in your home.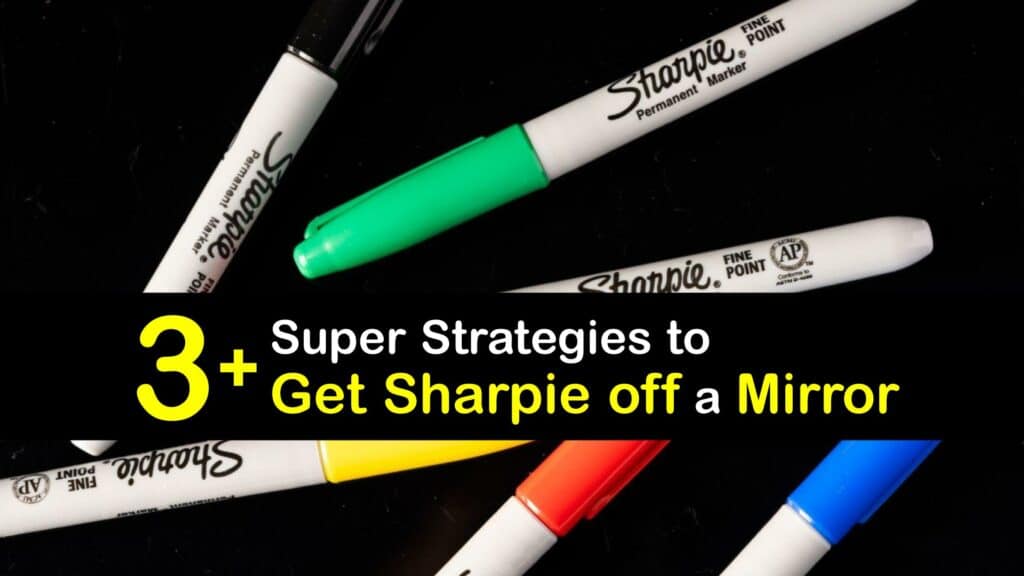 How to Remove Permanent Marker From a Mirror
Getting Sharpie off a mirror isn't the impossible task it appears. However, you might need more than DIY mirror cleaner and a cloth to tackle permanent ink. Fortunately, you can use plenty of things around the house for emergency cleanup. Discover how to turn permanent ink into a washable marker with our DIY cleaning tips.
How to Get Sharpie off a Mirror
Something about a rogue Sharpie streak or permanent ink stain creates instant panic. Learn all about how to remove permanent marker from a mirror with household rubbing alcohol. This simple Sharpie hack is a game-changer. As a bonus, cleaning a foggy mirror with a bit of rubbing alcohol works wonders.
Pour a teaspoon of rubbing alcohol into a small cup. Dip a cotton swab or or cotton ball into the alcohol and apply it to the glass to remove paint from a mirror; this works well for most non porous surfaces.
Try it for cleaning permanent marker off walls that are painted, too. Keep the alcohol on the marker stain as much as possible.
It's possible to clean Sharpie off a mirror effectively with anything that has an alcohol content, like hairspray or even hand sanitizer. Alcohol-based products work well to get Sharpie out of fabric if you accidentally get a mark on your shirt or pants.
Rubbing alcohol will also work on stickers and gunk stunk on mirrors. Remove wax from a mirror with this solution for a clean, stain free surface.
Getting Sharpie off a Mirror with Nail Polish Remover
A permanent marker smudge on your bathroom mirror isn't the end of the world; check your cabinets for nail polish remover that contains acetone. Acetone-based removers are an excellent option for removing stains from a mirror – and for anyone concerned about getting Sharpie off a mirror in a hurry.
Find a clean cotton ball or a sturdy paper towel, and soak it in nail polish remover. Wipe the permanent ink away, and it's good as new. Use caution when removing permanent marker from a mirror with acetone-based products; prolonged exposure could irritate your skin. You may find that nail polish remover will also remove sticky residue from a mirror after you peel off a sticker.
Magic Erasers are Great for Getting Marker off Glass
The Mr. Clean Magic Eraser is a helpful tool for anyone who needs regular assistance with scuffs, stains, and Sharpie marker ink. Magic Erasers work well on a broad range of stains and household surfaces; they're even suitable for acrylic paint and water based paint splatters on non-porous surfaces.
Stop wondering how to get Sharpie off a mirror, and pick up a pack of these helpful sponges today.
Try Toothpaste for Stubborn Sharpie Marks
Plain white toothpaste has some surprising uses around the house. One of them is effectively removing any permanent marker stain from a glass surface.
Explore how to remove permanent marker from a mirror with this quick-and-easy tutorial. Cleaning permanent marker off a mirror is as simple as whipping up homemade paste.
Mix the toothpaste and baking soda into a paste in a small cup; always use white toothpaste for cleaning purposes because gel varieties often leave stains of their own behind.
Spread a thin layer of paste on top of the marker stain. Scrub the ink from the glass with a clean cloth. Feel to add a squeeze of lemon juice for extra acidity. Polish the bathroom mirror with your favorite glass cleaner and dry cloth.
We hope you liked reading this quick guide to indelible ink and permanent marker stains. Fortunately, bathroom glass is a non-porous surface; it's much easier to clean and restore after an unexpected Sharpie encounter.
In most cases, a dab of rubbing alcohol and a clean cotton ball do the trick. Try a bit of nail polish remover containing acetone for tougher ink stains. Or, keep a stash of Magic Erasers around the house for quick cleanups.
Learning how to get Sharpie off a mirror means you can apply those skills to any creative projects you have in the future. However, saving your permanent ink for laminated paper and other crafts might be best.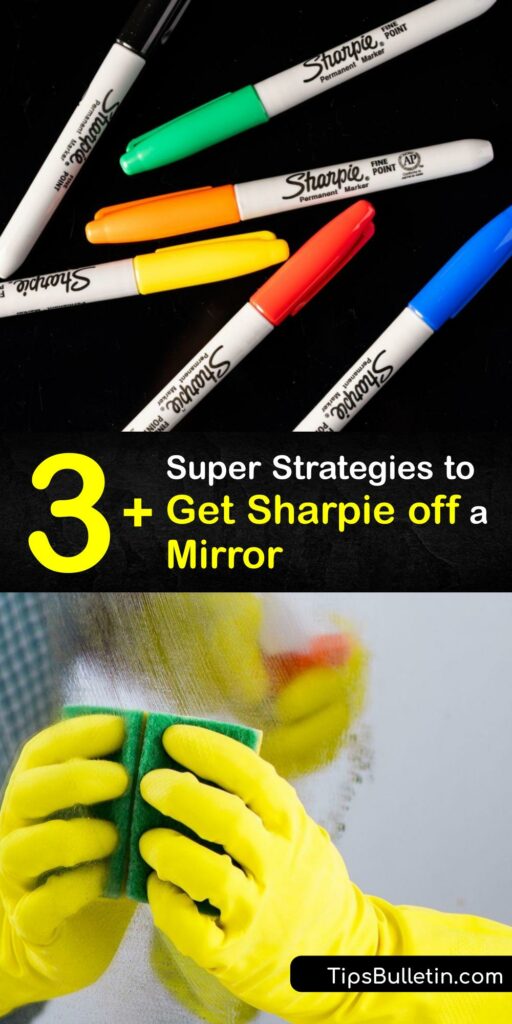 If you enjoyed discovering how to get Sharpie off a mirror, share this article with your permanent marker-loving friends on Pinterest or Facebook who need a few ink hacks up their sleeves.