Slime is a fad that won't be slowing down any time soon. With companies producing a vast array of styles and new, inventive ways to keep the kids hooked, ridding your home of that gooey mess seems to be an effort in futility. Knowing how to get slime out of clothes and fabrics becomes a much-needed relief for frustrated adults.
Kids may love the squishy feel of slime, but adults recognize the price of this tactile treasure. It gets into everything! Carpets, fabric furniture, and, most importantly, clothing, are frequent sacrifices made in a household with slime.
We have the answers you need to get rid of slime when it inevitably infiltrates your children's clothes! Check out our ideas for solving this continuing problem!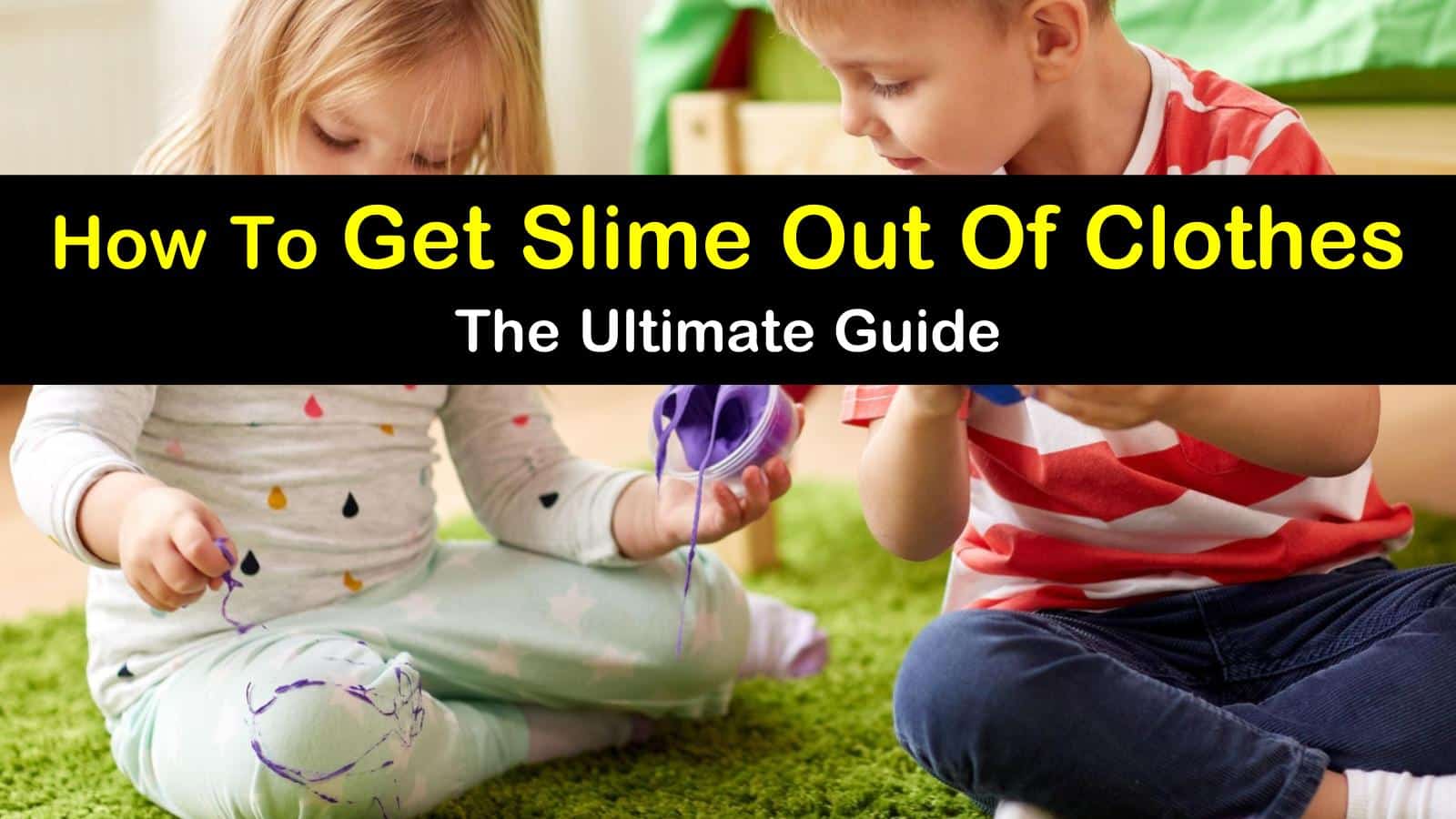 How to Remove Slime from Clothing in Quick, Easy Steps
Use some simple household ingredients to get rid of ugly slime stains. You will also learn simple ways to get playdough out of clothes, so be sure to keep these cleaning tips and tricks on hand.
Use Vinegar and Soft Scrub to Remove Stains
The best way to get slime out of fabric is to pour vinegar directly on the area. Saturate the stain thoroughly, then use a soft scrub brush to clean the clothing item. Even if there are small pieces of slime left on t-shirts, the vinegar will loosen them up while you are scrubbing.
For tougher stains, soak the stain in vinegar and let it sit for a few minutes before scrubbing again. After you are satisfied with the look of your shirt, you can move onto the next step.
If you experience an unfortunate incident where the slime is in your child's hair, vinegar will get slime out of hair fast. It's also helpful to have a comb with teeth very close together to comb out the slime after putting vinegar in the hair. A lice nit comb or flea comb is ideal for removing slime from individual strands of hair.
Not only can you use vinegar to get slime out of hair or clothes, but you can also use it to get an oil stain out of clothes, too. Vinegar is an all-purpose household product that works just as well for these purposes as it does in your favorite salad dressing or for cleaning the toilet. It is so versatile.
Rinse, Repeat, and Add Dish Soap
Rinse out the shirt with warm or hot water. After the solution and remaining bits of slime have been cleared away, you may notice some new stains. Clean up the last few spots by repeating the vinegar process as necessary. If you do not see any stains, however, add dish soap over the area.
The dish soap breaks down oils slime might leave on shirts, which is also what makes it an excellent solution for getting paint out of clothes. Even if you do not see the slime, there may still be a slimy residue left behind. Add a couple of drops of dish soap, then rub the fabric together.
Machine Wash Clothes According to the Label
For the final step, run the piece of clothing through the washing machine. Follow the instructions on the label of the clothing item. If the size of the stain is minimal and does not warrant additional cleaning, you can skip this step altogether. Instead, rinse off the soap using a damp cloth and dry using a fresh towel.
How to Get Slime Out of Clothes and Erase Stains Caused by Slime
Short of having to ban the gloop from your home forever, these cleaning hacks on how to remove slime from clothing are easy to do. Many of the ingredients are everyday cleaning products you may already be familiar with and are already in your pantry. Below are the supplies you may need when cleaning slime out of clothes.
The most significant aid in removing slime stains from your clothing, carpets, and fabrics is white vinegar. Vinegar is an excellent household tool used in everyday chores like how to clean pots and pans to how to get chocolate out of clothing. This usefulness as a cleaner and stain remover translates to the slime dilemma.
If you do not have white vinegar but are concerned about letting the stain sit for too long, getting slime out of clothes without vinegar is quickly resolved by replacing vinegar with rubbing alcohol.
Is there a way to get slime out of fabric like carpet?
It's sometimes even worse if you find a slime spot on your carpet. After all, you can't simply throw the carpet away if you can't remove the stain. However, we have a way that works almost every time.
How you get slime out of carpet works similarly to getting slime out of a shirt or other pieces of clothing. First, mix warm water with vinegar, with vinegar making up two-thirds of the solution, in a bucket or large bowl. For pieces of slime still stuck to the carpet, use a soft scrub dipped in the vinegar mixture to remove excess slime before cleaning the area.
If slime stains remain after that, to get slime off of carpet, wet a cloth with the vinegar solution and dab the area until the stain is gone. Blot the spot with a dry towel to soak up any additional stains. Repeat as necessary. Once dried, vacuum the area to ensure any remaining slime pieces have been cleared away.
Can you get slime stains out of clothing after it has already dried?
Yes! A dried-on stain doesn't mean you have to throw in the towel just yet. Use your nails, a pair of tweezers, a toothbrush, or a butter knife to gently flake away caked-on pieces of slime.
Freezing also helps remove severe, sticky substances like slime. Much like removing gum from clothes, rubbing an ice cube over the affected area, or even placing the piece of clothing in the freezer, helps detach the gum-like menace from your clothes.
Now that you know how to remove slime from clothing, nothing is stopping you from making a fresh batch with the kids. Slime can be a fun activity to share with the kids. Get creative with your slimy creation.
Add red, orange, and black dye to make it look like swirls of molten lava. You can also mix bright pinks, purples, and blues for a cotton candy or unicorn style slime.
How to Make Slime Using Shaving Cream
You may be asking why you would want to put yourself through the torture of bringing more slime into your household. Good news! You already know how to get slime out of clothes, so there's no reason you can't finally enjoying the process of making it, too.
Follow the recipe below to make a different kind of slime, called fluff slime. Fluff slime differs from the gooey, gelatin texture of other slimes, and instead has a consistency similar to silly putty.
Add glue to a large bowl and mix in the baking soda and water. Stir until the ingredients are evenly blended, then add the shaving cream to your mixture. Be sure not to use shave gel, as it does not have the same effect as shaving cream.
Stir in food coloring until the mixture reaches the desired shade. Add the contact solution and knead the putty with your hands. Make sure that the contact lens solution brand you use contains boric acid and sodium borate. These two ingredients activate the polymer molecules in glue, forming a more cohesive bond than liquid glue.
When kneading the slime, don't be surprised by how sticky it is at first. This stickiness should wear off as you continue mixing the ingredients. If not, add a hydrating solution to your hands like oil or lotion, then add it to the slime by kneading the slime once again.
To get even more creative, make it multi-colored by making multiple batches, each a different color. Afterward mix them for a lovely, swirled effect. Remember to use gloves and only to let adults handle chemicals.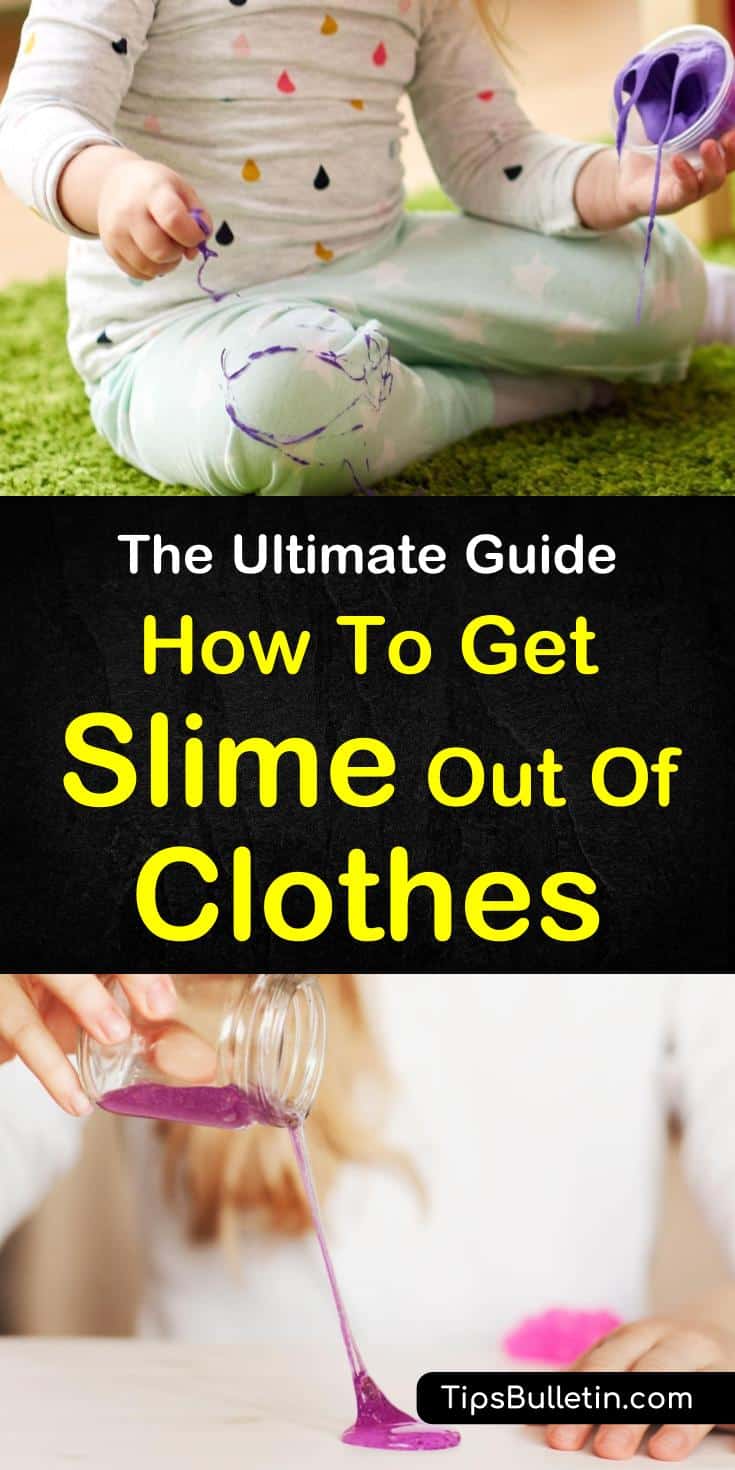 If you enjoyed our article on how to get slime out of clothes, please share these cleaning hacks for slime stains on Facebook and Pinterest.