If you have young kids, you have heard all about slime. While slime is fun to make and even more fun to play with, it can also become a parent's worst nightmare. Even with the closest supervision, slime can go from the table to the hair within seconds.
Once slime gets into your hair, your kid's hair, or anybody's hair, it doesn't seem to want to come out. Don't panic, though, as there are several ways to remove slime from hair that are not complicated and use items you probably already have at home.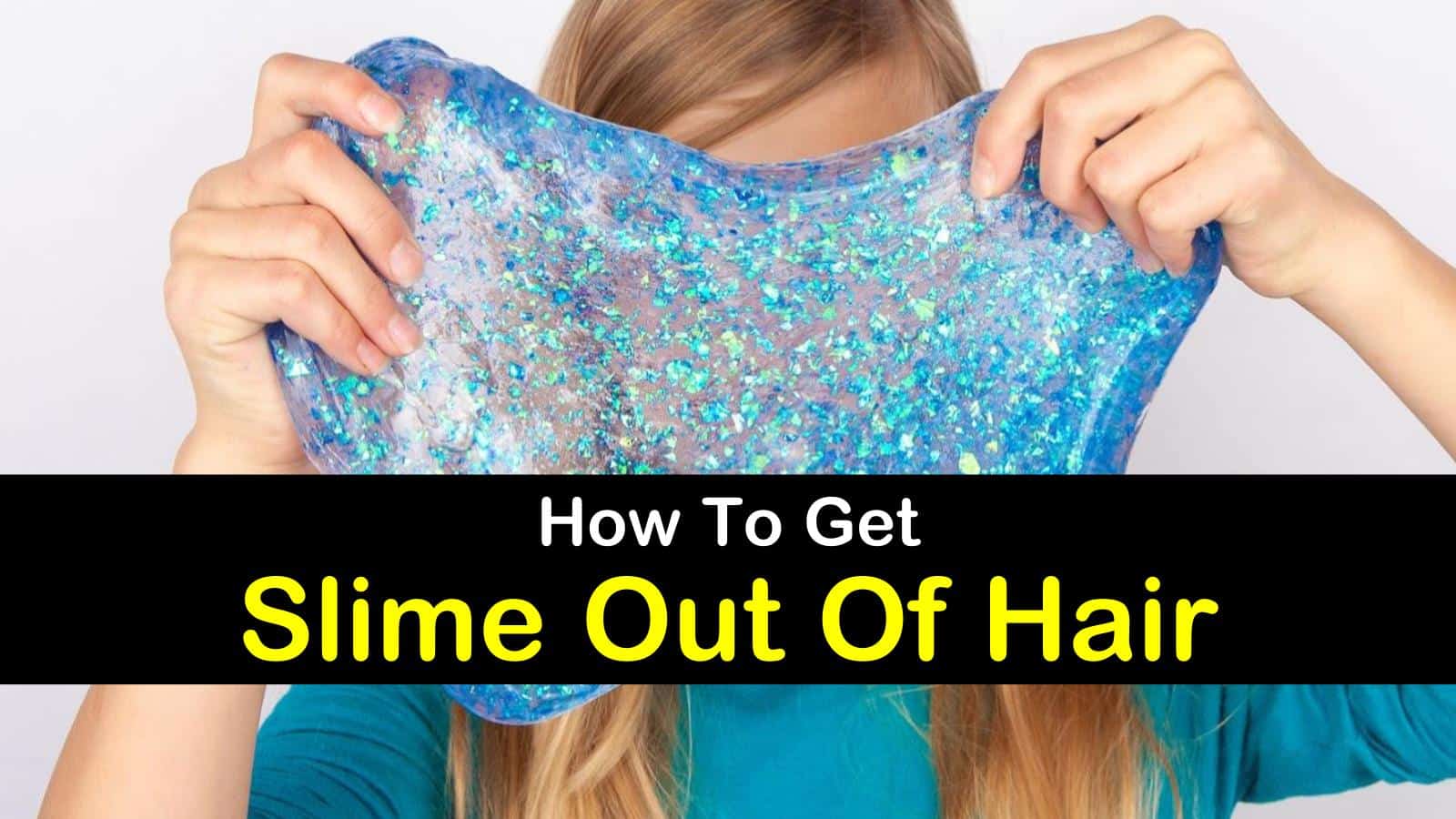 What is in Slime?
Understanding what is in slime is super helpful when it comes to cleaning it. The majority of slime, including homemade slime, is made from glue, Borax, food coloring, and baking soda.
The Borax and baking soda make it hard to use traditional cleaners to remove slime, while the white glue makes it stick to everything, and the food coloring leaves behind the most colorful stains. Another problem with slime is that it is not water-soluble due to the high oil content.
Think about the greasy oil marks slime leaves behind. Not being water-soluble means you need more than just hot water and dish soap to clean it. Luckily, several bloggers have tackled the subject of the best ways to remove slime from hair, clothes, and everything in between.
Smart Ways to Get Slime Out of Hair
Remove Slime from Hair with Conditioner
How to get slime out of hair involves warm water and hair conditioner. According to Crayola, who makes silly putty, conditioner is also the best way to get silly putty out of your hair.
How you can use the warm water to break down the slime will depend on where exactly it is in your hair. If it's on the ends, you can use a bowl of warm water, while if it's in the middle or top of the head, you will find it easier to jump into a warm or hot shower.
After soaking the hair in warm water, apply hair conditioner with your fingers. Work the conditioner in from top to bottom.
As you work the conditioner into your hair, use your fingers to break up any slime. The oils in the conditioner will break it down, allowing you to pull it from your hair.
With the water running, massage the slime with your fingers and gently pull away as much as you can. Comb through wet hair to further remove any slime.
Once most of it is gone, rinse out the conditioner and shampoo your hair. Knowing how to wash a synthetic wig can also help in removing goop from the hair there.
Getting Slime out of Kids Hair with Oil
Homemade slime recipes need to start including tips on the best ways to remove slime from hair. Vegetable oil and olive oil can also be used to remove slime or similar products from hair. In addition, when dying your hair, you can rub oil along your hairline to keep the dye from staining your skin.
Apply a little of the oil to the slime. Massage the product in using your fingertips, being careful not to tangle the hair.
Gently comb the hair with a fine tooth comb to remove as much of the slime as you can. Jump into a warm shower and shampoo and condition your hair as usual to remove any remaining residue left behind by the product you used.
How to Remove Big Globs of Slime
Big globs of slime can seem impossible to remove, but with a little work, it can be done. Before you use any product to remove the slime, start by removing as much as possible with just your fingers.
Have the person wear a pair of goggles while standing inside the shower to prevent the vinegar from getting into their eyes. Make sure the goggle strap is not placed over the area affected by the slime.
Mix water and vinegar in a bowl. Pour some of the diluted vinegar onto the hair and massage with your fingertips to work the vinegar into the slime. Continue applying a small amount of diluted vinegar to the hair until gone.
To remove the residue left behind by the slime, take a warm shower, and apply a small amount of conditioner to the hair. Rinse out the conditioner and then shampoo hair as usual.
How to Remove Food Coloring Stains from Hair
Many homemade slime recipes involve food coloring; after all, who wants to play with white slime? When slime gets in the hair, so does the food coloring. In darker hair, the food coloring isn't that big of a problem, but in lighter hair, the food coloring is one of the worst slime stains to remove.
One way to remove colored slime stains from light colored hair is with a color stripping shampoo, such as Tresemme. You can also use rubbing alcohol and a paper towel. Soak the paper towel in rubbing alcohol and wipe the hair from top to bottom to avoid tangling.
Remove Slime from Hair with Mayo
One of the quickest ways to remove slime from a kids hair is with mayo and a comb. Grab a handful of mayo and work it into your kid's hair as you would shampoo. Gently comb out your kid's hair with a comb or brush.
Make sure you are cleaning hair brushes of slime and mayo after each pass. Wash hair as usual to remove any traces of slime and mayo.
How to Get Slime Out of Hair with Peanut Butter
Peanut butter is one of those lifesaver products that you always want to have on hand. Peanut butter not only removes chewing gum from a person's hair, but it is also the best way to get silly putty out of your hair as well as slime.
Apply peanut butter to the putty or slime and allow to sit for several minutes. Use your fingers to remove gum, putty, or slime. Shampoo and condition your child's hair as usual.
How to Get Slime Out of Clothes
Getting gum out of clothes is similar to getting slime out of clothes. First, remove as much excess slime as possible from the clothes. Next, apply a generous amount of dish soap (Dawn works best) to the stain.
Run a steady stream of water and gently rub the fabric together under the water stream. Scrub until the slime stain is gone. Wash the clothes as directed without having to worry about slime chunks spreading to your other clothes.
Thanks for reading our slime cleaning tips. If you found any of our tips on how to get slime out of hair helpful, please take a minute to share the best ways to remove slime from hair with others on Facebook and Pinterest.