Have you ever awakened at night, smelled a musty odor, and wondered what it was? Unfortunately, it is probably your mattress. Fortunately, we have the cure for how to get smell out of a mattress so you can get a better night's sleep.
There are many reasons that your mattress has an unpleasant smell. It could be from urine stains left behind by man's best friend, childhood potty accidents, mildew, a stained pillow top, or a dirty mattress pad, memory foam mattress, or mattress cover.
Sometimes, mattresses absorb odors from within the home as they age. Once you have established the exact cause and location of the mattress smell, you can take steps for odor removal.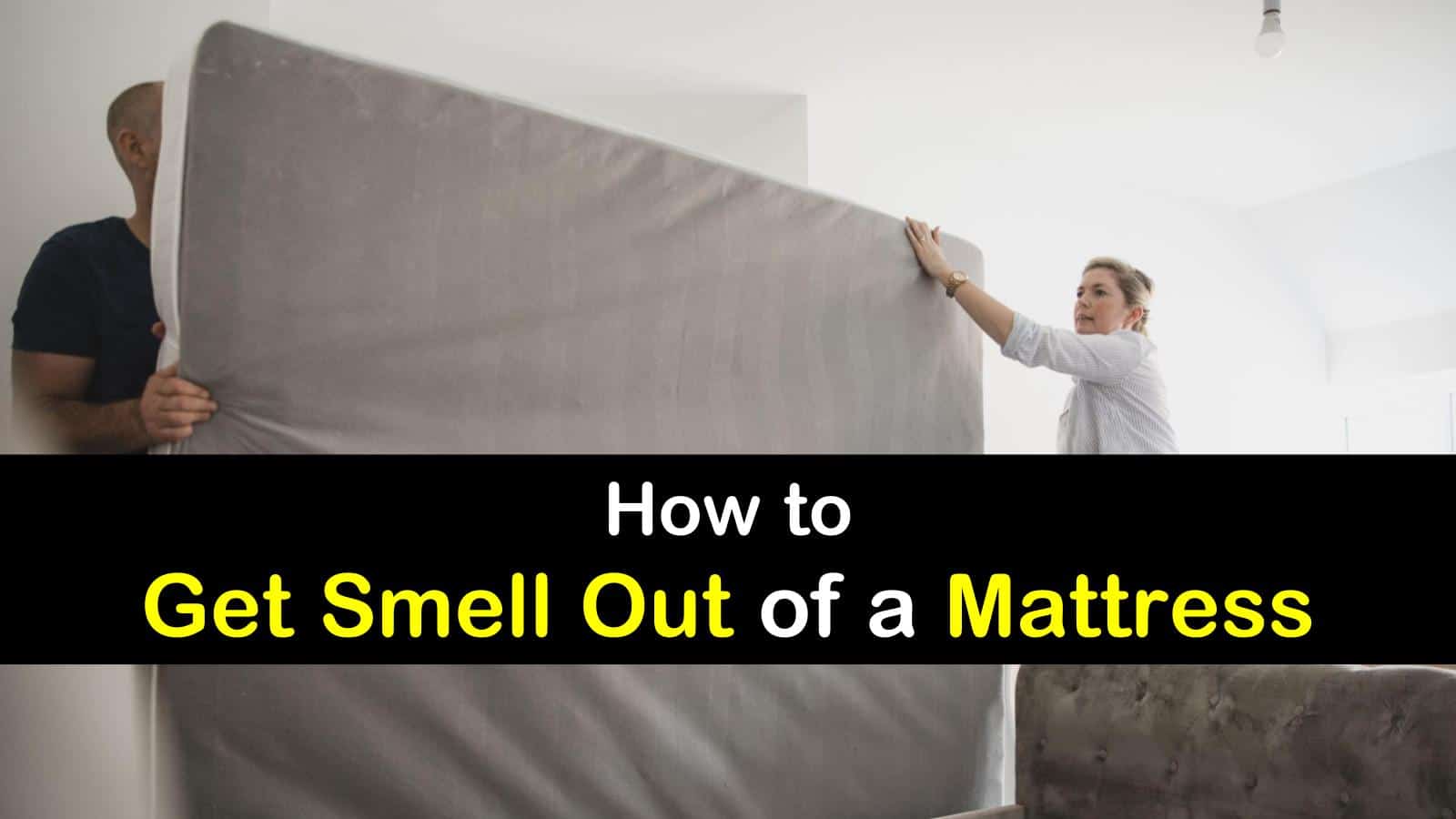 What to Do If You Have a Stinky Mattress
Now that you have established that it is your stinky mattress causing that odor, you're probably wondering exactly how to get odor out of a mattress. There are a few steps that you can try first to take care of mattress odor elimination before you run out and buy yourself a new bed and box spring.
Some of these techniques can even be used to get cigarette smell out of leather or as the way to remove cigarette smell from a car, too. The first and best step is to take the entire mattress outside to inspect it for specific areas of interest such as mattress stains and dust mites.
Give the mattress a good vacuuming using an upholstery attachment. Once you've figured out the cause of the odor, you can then move on to the cleaning and deodorizing process.
How to Get Odor Out of a Mattress
A few things are sitting in your kitchen cupboard that can help you solve your mattress cleaning problem. This particular method is ideal for getting rid of mattress smells. It can also be helpful when you need to know how to get smell out of carpet.
Vinegar and baking soda are a great remover of smells such as cigarette smoke, sweat, and urine. This cleaning technique will deodorize your smelly mattress and remove those unpleasant odors. It can also be used to remove smell from shoes.
Mix equal parts vinegar and water in the spray bottle to make a disinfectant spray for mattresses. Spray the surface of the mattress thoroughly, making sure to spray the top and sides.
The mattress should feel damp to the touch but not soaked. Too much liquid can lead to mold and mildew forming within the mattress that is almost impossible to remove. Vinegar is a great way to freshen sheets without washing them, too. Allow the mattress to air dry.
Flip the mattress over and spray the solution onto the bottom. Once dried, sprinkle baking soda onto all areas of the mattress. Allow it to sit overnight. The baking soda will absorb leftover smell out of a stinky mattress. Finish by vacuuming up any of the powder.
You can also set the mattress in the sun to help it dry faster. UV rays are nature's way of getting rid of bad odors and a great option to keep your bed smelling fresh. Once dried, you can bring the clean bed in the house.
If you have cleaned your mattress but decide that you want a new one instead, you have several choices for the best way to get rid of a mattress. Many charities are happy to take your old mattress off your hands, as long as it is in good condition. If it is too stained or the smell is not gone entirely, you could also recycle it.
How to Get Smell Out of a Mattress
No one wants to sleep on a stinky mattress. So, we have a couple of tips on how to remove smell from mattress and freshen up a mattress so you can sleep without worrying about a nasty smell.
Whichever way you choose to disinfect a mattress, you will be able to sleep snuggly and comfortably in your bed once again. Here are three ideas on how to get smell out of a mattress.
Waterproof Mattress
Many fabrics absorb odors. Using a waterproof mattress protector is an ideal way to protect it from smells that linger throughout the house. We also recommend using a protector for a child's bed, if you have pets, a foam mattress, or a pillow top mattress. The mattress cover will also protect you from specific allergens and dust mites.
Spot Cleaning
Clean up any accident as soon as it happens whenever possible. Use paper towels to get puke smell out of a mattress. You can then use a sponge and a cleaning solution of dish soap and water, or hydrogen peroxide.
For persistent stains, continue blotting the area to get the stains out. Follow this advice to get coffee stain out of a couch, too. Treating the area quickly makes it easier to remove.
Steam Cleaning
Steam cleaners are not just for use on the carpeting. They are an ideal tool for use on getting beds and mattress toppers clean. Use the upholstery attachment to clean the top and side of the mattress. Allow drying before flipping it over and cleaning the bottom. You now have a clean mattress!
You don't have to buy yourself a new mattress if your old one is plagued with bad smells. However, if you do decide not to mess with your old mattress anymore, you can always donate used mattresses to an organization near you.
If your mattress is beyond repair or cleaning, check your local listings to find out where to recycle your mattress. There may be a waste center nearby that can take care of that for you.
Following these DIY cleaning tips will ensure that your mattress lasts you for years to come. Once the bed is clean, you can even enhance its smell with a fragrant essential oil such as lavender to help you get a good night's sleep.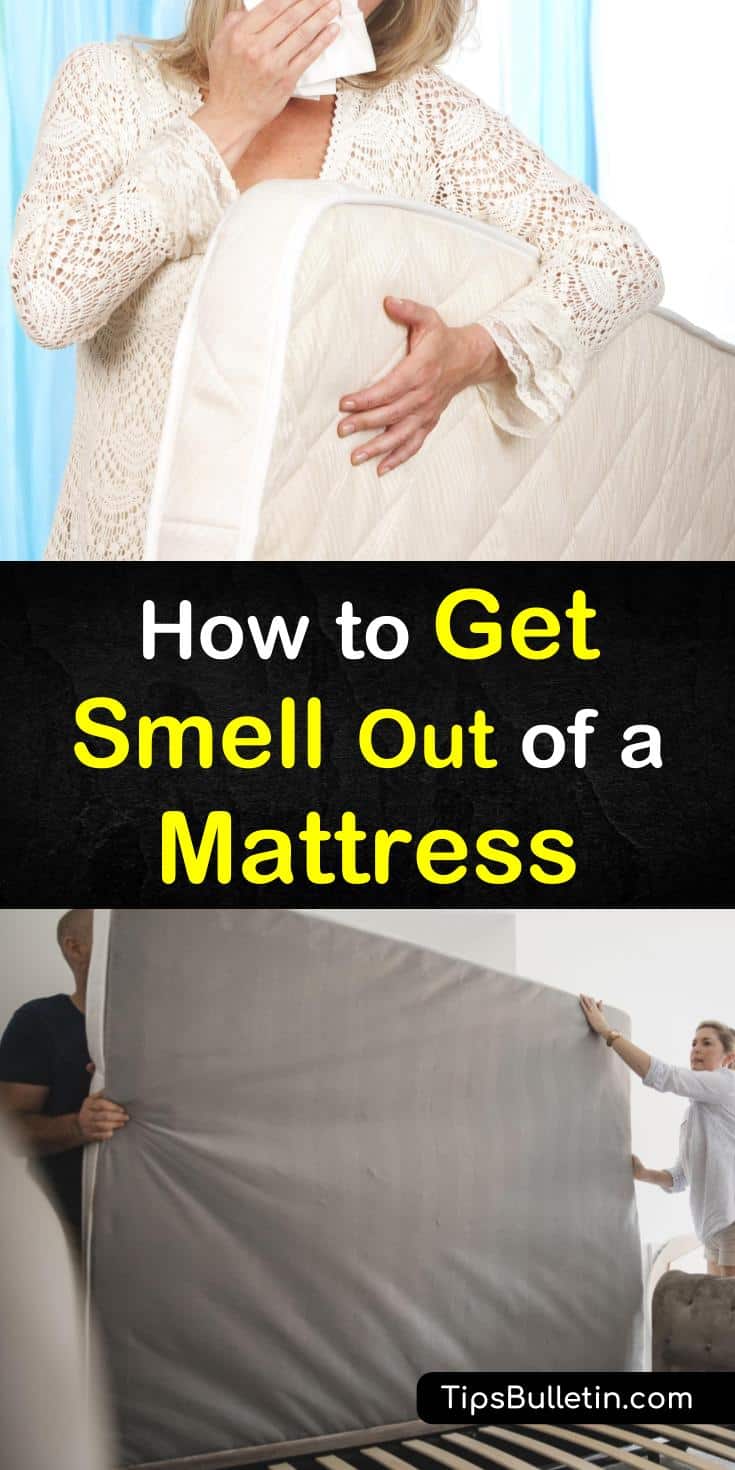 We hope you decide to give these cleaning tips a try before discarding your mattress. If you enjoyed our article on how to get smell out of a mattress, share these tips with others on Pinterest and Facebook.