After a long day, you slip off your work boots or shoes and experience an unpleasant odor wafting up from your footwear. This foul scent results from moisture and sweat build-up on the boot liners, and if it smells bad to you, it's definitely offensive to others. Discover how to get the smell out of boots in a few simple steps to keep your shoes and feet fresh.
Smelly boots or shoes are not uncommon, especially if you wear them for long periods. Unfortunately, there are many causes of shoe odor, from sweaty feet to mildew, and these smells absorb into the insoles and shoe materials, making them challenging to eliminate.
While stinky shoes or hiking boots are embarrassing and give you smelly feet, you don't have to toss them in the trash. Instead, there are several ways to refresh a smelly shoe, whether the stench is from sweat, bacteria growth, or a cat pee accident.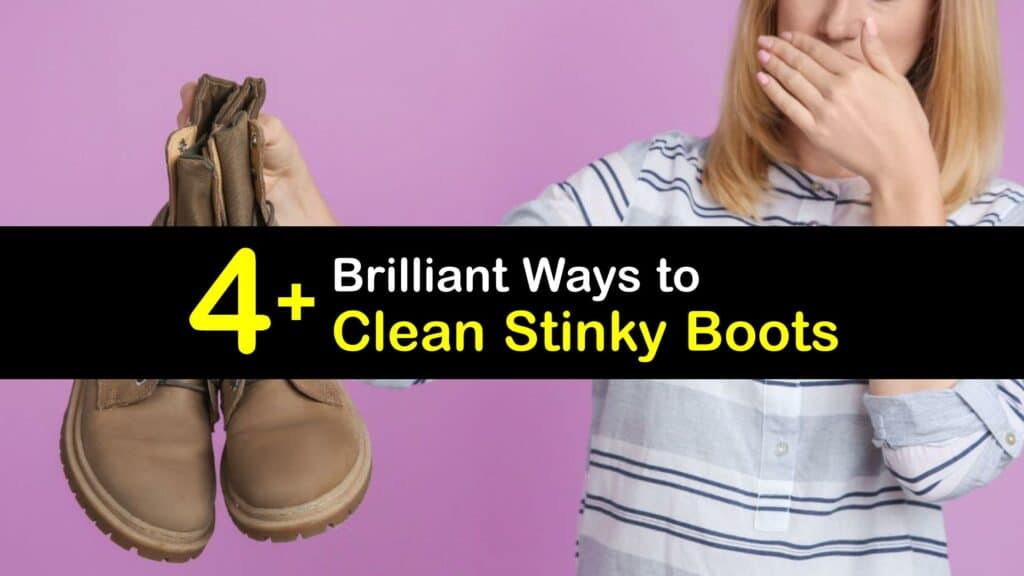 Ways to Get Bad Odors Out of Boots and Shoes
Footwear is notorious for getting stinky over time, and the musty smell follows you wherever you go. Learn how to get a foul odor out of your favorite pair of boots or shoes using simple home remedies.
How to Remove Odor from Leather Boots
Leather is durable and comfortable, and there is nothing more stylish than a pair of leather boots. However, leather materials are more challenging to clean than canvas or fabric. Discover how to remove odor from leather boots.
While not all methods are safe to remove a foul odor from leather footwear, there are three safe and effective ways. The first is to make a spray with equal amounts of water and white vinegar and use it to get smell out of work boots by lightly spraying the insides of the leather shoe.
The second way to make shoes smell better is to sprinkle baking soda inside each boot and let it sit overnight. The other way to eliminate odors from leather is to place the shoe inside a plastic bag and freeze it overnight to kill bacteria.
How to Clean Stinky Boots with White Vinegar
Wet shoes are breeding grounds for bacterial growth, eventually producing a mildew smell. Fortunately, white vinegar is a natural sanitizer that works superbly for killing germs and eliminating mildew smell out of leather boots. Here is how to clean stinky boots to remove the odor causing bacteria.
Pour the vinegar and water into a bottle and shake it well to mix. Open the stinky work boots or shoes and spray the inside lightly with the liquid while ensuring you do not soak the material. Rub the shoe interiors with a soft cloth and let them air dry completely to eliminate the nasty smell.
Be especially careful when removing odors from suede. There is a different way to care for suede boots, especially outside areas, so you don't damage the material.
How to Get the Smell Out of Boots with Powder
No one enjoys slipping on a pair of smelly hiking boots or work shoes, and we don't always have the time to give footwear a proper cleaning. Freshen your shoes quickly using some common household powders.
Shake baking soda, cornstarch, or baby powder inside each shoe, or combine the powders in a container before applying, and let them sit as the powders absorb the nasty odor. After about 24-hours, shake the excess powder out of your boots and wear them as usual.
Kitty litter is a suitable substitute to remove gasoline smell from shoes if you do not have any of these powders in the house. If you'd prefer not to put the powder or litter directly in your shoes, pour the material into cotton socks and insert them inside each boot when you're not wearing them.
Using Fabric Softeners to Eliminate Boot Odors
One of our favorite hacks for eliminating a bad smell in shoes is in the laundry room, and we're not talking about laundry detergent. Explore how to remove odor from leather boots with fabric softener dryer sheets.
Fabric Softener Boot Freshener
When you finish wearing your boots or you need to keep slippers from smelling, stuff a dryer sheet inside each shoe and let them sit overnight. The sheet absorbs moisture while filling the inside of the boot with a fresh scent. Don't forget to remove the fabric softener before wearing your footwear.
Making a Homemade Shoe Deodorizing Spray
While the store carries a substantial selection of shoe deodorizer products, it's easy to make your own. This deodorizing spray works wonders for removing a bad odor from shoes.
To craft your own homemade spray for stinky shoes, pour the water, vinegar, and tea tree oil into a glass spray bottle rather than plastic since essential oils break down plastic materials. Shake the container to combine and spray the liquid inside each boot without soaking the fabric. Set the shoes in a well-ventilated location to dry before wearing them.
Cleaning Boots to Remove Foul Smells
If your footwear has an unpleasant smell that you cannot get out with odor eliminator techniques, it's time to give them a nice cleaning. Learn how to clean stinky boots with antibacterial soap.
Fill a container with water and add a squirt of antibacterial soap. Use a soft cloth to apply the soapy water inside the shoes or rubber boots and clean all areas, from the insole to the top and sides. Wipe away the residue with a damp cloth and dry the shoes thoroughly with a towel or place them on a boot dryer.
Footwear is a necessary part of our wardrobe, and it gets the most wear and tear, often leading to stinky boots and shoes. Fortunately, there are ways to clean a smelly boot and eliminate foot odor using items you already have in your home.
Now that you learned how to get the smell out of boots the easy way, why not share our boot odor-eliminating methods with your friends and family on Facebook and Pinterest?