Figuring out how to get smoke smell out of the car might seem challenging. Smoke is a persistent odor and loves to linger in fabrics and on hard surfaces long after the cigarette is gone. It takes only a small amount of smoke to create a significant odor, especially in a small enclosed space like the inside of your automobile.
If you're a smoker or you've carried a smoking passenger, you likely want to find out how to remove smoke smell from a car to freshen up your ride. Thankfully, getting smoke smell out of the car is pretty painless.
DIY odor eliminators like baking soda, coffee grounds, and activated charcoal are perfect for deodorizing. Skip expensive cleaning products and make your own deodorizing sprays with familiar products like distilled white vinegar to give your car a complete cleaning and wash away the smoke smell.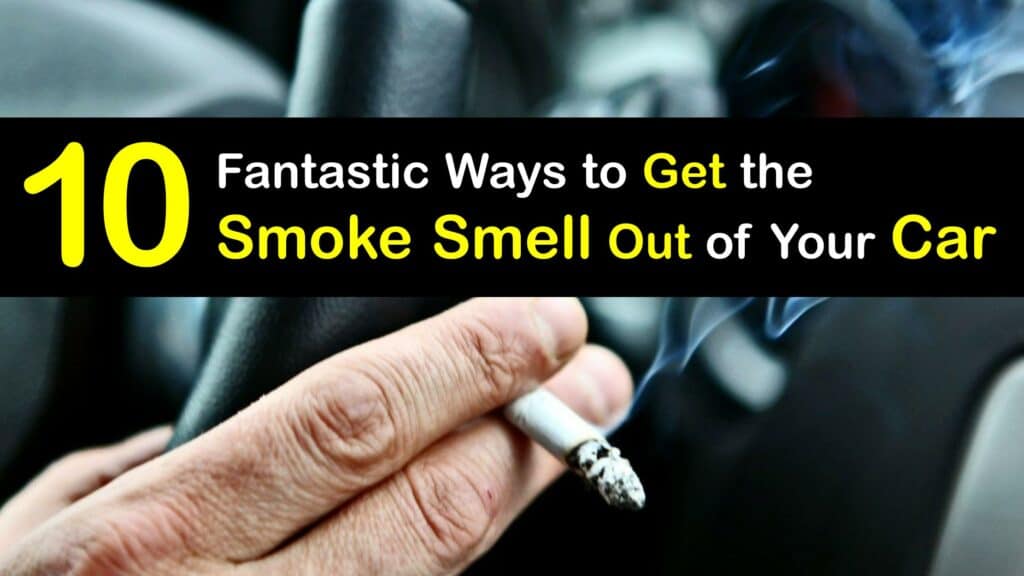 How to Remove Smoke Smell from a Car
When the air in your vehicle is saturated with tobacco odor, it's time to learn how to get smoke smell out of the car. Though it might seem complicated, there are several straightforward options for getting smoke smell out of the car using simple and economical items. Choose a technique to suit the time and products you have.
How to Get Smoke Smell Out of the Car
An air freshener can be a lifesaver when you're in a hurry and don't have time to do a deep clean for smoke odor removal. Essential oils are the ideal choice for making a car freshening spray that is personal to your tastes.
Unlike commercial air fresheners, essential oils are natural and contain no toxic substances. Choose your favorite scent to mask the smoke smell, or combine several to make a unique aroma for your vehicle.
Shake the air freshener ingredients in the spray bottle and spritz them into the air in your truck for a quick burst of freshness.
Getting Smoke Smell Out of the Car
A white vinegar solution is natural, safe, and free of harmful chemicals or unidentified additions, unlike chemical smoke odor cleaners. Use it to mix your own car seat cleaning solution for all upholstery types and the carpeting and mats, as well.
Distilled white vinegar penetrates the fabric of your car's upholstery and releases smoke particles while cleaning and sanitizing because of its slightly acidic pH. Use white vinegar and hot water to create a cost-efficient and easy-to-use auto-cleaning spray to erase cigarette smoke stench.
Shake the vinegar and water solution in the sprayer and evenly cover the surfaces inside your car to get cigar smell out of a car and other unpleasant odors. Pay extra attention to fabric seats and carpets where the tobacco smoke smell is likely to linger. Leave the windows open and allow the vinegar spray to dry naturally.
This mixture is ideal for other areas of cleaning in your car, too. Make a simple windshield cleaner and clean the inside and outside as well as your side windows. Use it on the dash and console and armrests, too.
The Best Way to Get Smoke Smell Out of a Car Quickly
Activated charcoal is a fantastic natural air purifier, thanks to its vast surface area. Just a teaspoon of activated charcoal powder has the same surface area as a football field, using it all to absorb smoke particles from the air and upholstery inside your vehicle to erase the smell.
Fill little mesh baggies with a few teaspoons of activated charcoal and leave them in the center console, under car seats, in the trunk, and anywhere smoke smell is an issue. When you notice the effectiveness of the charcoal beginning to decline, dump it out in the trash and replace it.
Removing Smoke Smell from a Car Fast
Steam cleaning is an uncomplicated way to remove smoke molecules from the upholstery to get the bad smell out of your truck. Begin by ensuring all smoking paraphernalia and cigarette butts are out of your car and the seat cover is removed.
If you don't own a steam cleaner, consider renting or borrowing one from a friend to give your automobile a thorough cleaning.
Use your steam cleaner per the product guidelines, focusing on smell-harboring areas like cloth seats, floor mats, and carpets. Let your car air out by leaving the windows and doors open, and repeat if required until no smoke smell remains.
Change the Cabin Air Filter to Get Smoke Smell Out of Car Vents
If a heavy smoker previously owned your car, you might notice the smell of tobacco smoke emanating from the air conditioner vents. Replacing the old dirty cabin air filter with a new one helps solve this problem.
If the old filter has collected months or even years' worth of cigarette smoke particles, they recirculate and cause an odor when you turn on the heat or air conditioning.
Visit the local auto parts store and purchase the appropriate replacement filter for your make and model car. Consult your car manual for instructions on changing the cabin air filter in your vehicle.
Baking Soda Destroys Cigarette Smoke Smell
Baking soda is one of the absolute best ways to tackle a lingering smell. This white powder has many uses in cleaning and deodorizing and is a valuable tool to oust an unpleasant stench from your car. Baking soda is an odor eater that draws unpleasant smells out of the air, so the space smells fresher.
Sprinkle baking soda powder around your car, lightly covering the seats, carpets, and even plastic components like the dash and console. Let the powder sit overnight to absorb the nasty smoke smell, and vacuum it in the morning to leave your car fresh and clean.
If you need to remove smoke smell from leather car seats, add baking soda sparingly. Vacuum up after no more than 15 minutes to ensure the integrity of the leather.
An Ozone Generator Eliminates Cigarette Odor
Ozone is naturally occurring in the air. It develops when a force splits oxygen into two distinct atoms. The liberated atom then joins an oxygen molecule, combining once again to form ozone.
Over the last century, ozone has been used in several applications to eliminate smells. Ozone is now the most popular way to get rid of cigarette smoke odor and is used to destroy germs, viruses, and smells.
Bring your vehicle to an authorized ozone-producing facility or buy a generator and use it as instructed. The smell is eliminated, smoke particles are removed, and pathogens and germs leave when the gas enters your car.
Ozone therapy is a highly efficient method for getting rid of strong scents. Since it's gas, it saturates upholstery fibers, travels deep beneath seats, into vents, and accesses any other hard-to-reach areas to remove all lingering smoke molecules.
Cat Litter is an Odor Neutralizer for Cigarette Smell
If you have pet cats, chances are you already have an odor absorber on hand. Cat litter soaks up strong smells like cat urine and feces. A little kitty litter quickly absorbs the smoke smell from your car to freshen the air.
Place a few little bowls or mesh baggies of kitty litter in your car overnight to eradicate the tobacco smoke odor. For heavier odor, sprinkle the cat litter on the seats and carpet, leave overnight and vacuum in the morning.
Eliminate Smoke Smell from Your Car with a Dryer Sheet
Dryer sheets are the perfect tool to get the smoke stench out of your car if you don't have much time, and they will also get mildew smell out of car in a pinch. Dryer sheets leave your clothes smelling amazing, and they can do the same in your car. Since dryer sheets are heavily scented, their pleasing smell quickly permeates a smaller enclosed space like a car interior.
Lay several dryer sheets around your car's interior, focusing on the seats, carpet, and underneath floor mats. Leave your car for the night with the windows closed. When you open your car in the morning, the pleasing smell of the dryer sheets saturates the air and covers up the awful smoke smell for a much more inviting aroma.
Use Coffee Grounds to Deodorize Your Vehicle
Coffee grounds are a convenient and affordable way to eradicate the smoke odor from your vehicle without making a trip to the home store or acquiring any expensive tools. Though they're best known for making a delicious hot drink, coffee grounds are also super effective at absorbing odors.
Fill tiny mesh bags with a few spoonfuls of dry coffee grounds, place little containers of grounds in your car, or sprinkle grounds directly on your seats and carpet and let sit overnight. Remove and vacuum in the morning, so your vehicle is clean and smells rich and aromatic like a coffee shop rather than cigarette butts.
A lingering smoke smell makes your car unpleasant for travel. If you or your family are smokers or purchased a car from a smoker, it's crucial to understand how to remove smoke smell from a car. Rely on time-tested ideas and tricks like white vinegar, baking soda, and odor eliminators to oust the smell of smoke from your vehicle for good.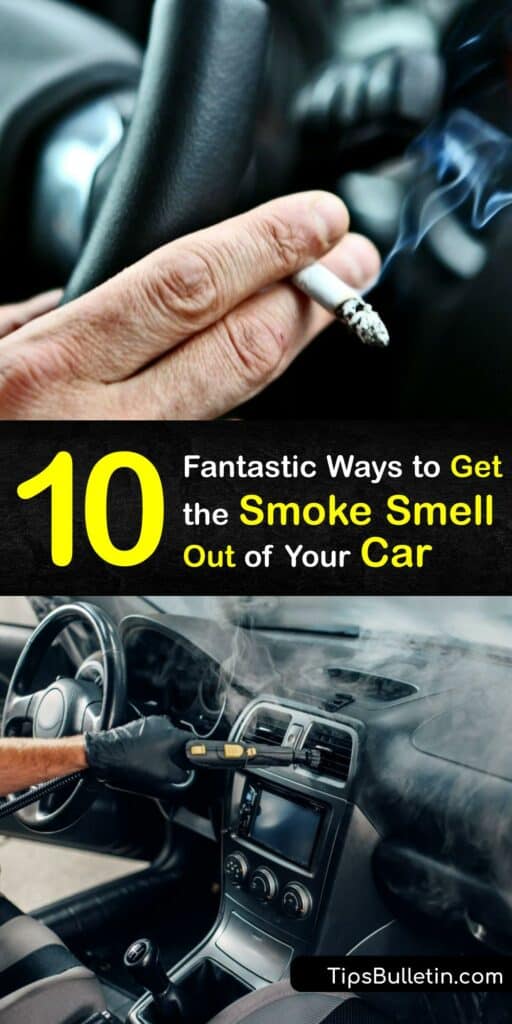 If you loved this article on how to get smoke smell out of the car, please share these brilliant tips for getting smoke smell out of the car with your friends and family on Pinterest and Facebook.