Smoke odor is one of the hardest smells to get rid of in the home. Aside from smelling unpleasant, a smoky smell in your house affects the indoor air quality, and smoke damage to your lungs is long-lasting. Discover what it takes to deal with smoke residue and how to get smoke smell out of the house.
Whether it's fire smoke, smoke from burnt food, or cigarette smells, smoke is a foul odor because of how quickly it fills a house. Smoke typically rises, and the smoke molecules cling to walls, clothing, flooring, and furniture.
Because it invades closets, drawers, and even closed rooms, regular smoke in the home leaves your entire house smelling like smoke. It can be difficult to get rid of the smoky odor in your house without eliminating it at the source. You can follow these easy ways to get smoke smell out of walls to eliminate the tobacco odor from your house permanently.
How to Remove Smoke Smell from the House
Opening windows and burning candles are common ways to get cigarette smell out of the house; however, these are ineffective. Masking the smell and circulating fresh air only dilutes the lingering smoke smell.
Without cleaning the microscopic smoke particles inside your home, attempts at smoke odor removal won't completely resolve the problem.
To rid yourself of cigarette smoke smell or the odor of soot in your home requires cleaning all places with smoke particles. Because these particles are microscopic, pinpointing where to clean isn't easy, and eliminating smoke smells means cleaning houses from top to bottom.
How to Clean Smoke Residue from Walls
A mild dish soap cleaning solution removes smoke residue from interior walls and other hard surfaces. Because liquid dish soap is a gentle cleaner, it's perfect for cleaning and disinfecting your walls to remove smoke particles. You can also use it safely to remove smoke smell from leather furniture without harming the material.
Warm your water on the stove until hot before adding soap. Use a sponge or cloth to scrub the walls in small sections, drying between areas to avoid saturating the drywall.
Note: If you're cleaning walls darkened from tobacco smoke, add one-half cup of baking soda to the water.
Removing Smoke Smells from Clothes
If your clothes were exposed to smoke, leaving them hanging in the closet allows cigarette smoke odor to attach itself to the rest of your clothes. Over time, your entire closet can smell like smoke. The same applies to bedding, curtains, or removable furniture casings that smell like cigarettes.
With a strong laundry detergent, removing the scent of smoke from blankets and clothes is easy; however, washing all affected items at once may not leave them smelling completely fresh. Add one cup of baking soda as a natural laundry booster for the best results.
Cleaning the Smell of Cigarette Odor from the Carpet
A fire in the home releases wet or dry smoke into the air, and there may even be residue from fire extinguishers that affects the condition of your carpet. Cigarette smoke and smoke from burnt food are less harsh on the home and easier to remove with thorough carpet cleaning.
Use baking soda, a household deodorizer, to neutralize harsh smoke odors in the carpet. Include dried lavender in the baking soda to help eliminate the smell of smoke and leave behind a pleasant smell after vacuuming your homemade carpet cleaner.
How to Get Smoke Smell Out of the House with Charcoal
Despite their claims, most commercial air fresheners don't eliminate odors in the air; instead, they mask them. Masking harsh odors means that foul smells remain unless you address the source once the air freshener runs out or stops working.
Get rid of fire smoke smell in the house with activated charcoal to draw in and neutralize smoke particles. Activated charcoal is oxygen-treated charcoal with tiny gaps inside that absorb odors. Use activated charcoal inside cotton to make a sachet to leave around your home.
Cut a large fabric circle and add two tablespoons of activated charcoal into the middle of the cutout. Pull the edges of the circle and glue them together or tie them with string. Place sachets in rooms with a heavy smoke odor to help with getting fire smoke smell out of a house.
Cleaning Hard-to-Wash Furniture to Remove Smoke Odors
When you find yourself working to remove smoke damage from walls, some surfaces are challenging to wash, like furniture with non-removable seat casings. A homemade cleanser will remove secondhand smoke residue on fabrics you can't toss in the wash.
Baking soda and vinegar are key ingredients for cleaning and eliminating odors from your furniture. Both items are effective at neutralizing bad smells without damaging fabrics.
To remove odors from your furniture and to get deep odors out of any couch, sprinkle baking soda over the surface. Mix warm water and distilled white vinegar in a 16-ounce spray bottle and spritz across your furniture over the baking soda. The vinegar and baking soda bubble and froth to loosen grime or residue on the furniture.
Wait at least five minutes for the bubbling to stop before using a sponge to wipe down the furniture. Use a damp cloth afterward before allowing it to air dry.
Absorbing Smoke Odors with Coffee Grounds
To pull foul smoke odors out of the air, use a natural odor eliminator. Coffee grounds are an easily obtainable resource for absorbing bad smells in the air and neutralizing them.
Getting fire smoke smell out of a house with coffee grounds is easy – leave coffee grounds in bowls around your home. Simply build your own room odor absorber and place it where it's most needed. If the smell of smoke in your house lingers after three days, replace the bowls with new coffee grounds.
Clean Surfaces with Ammonia
Ammonia is a strong household cleaner that helps remove smoke smell from wood furniture fast. Always open windows when using ammonia, as the cleaner has a strong smell that may cause burning to the respiratory tract if you inhale high concentrations.
To create a safe ammonia solution, warm a pot of water on the stove before transferring it to a bucket and adding ammonia. Wear protective gloves and eyewear when handling ammonia and using it to clean hard surfaces in your home. Avoid using ammonia on sealed or finished surfaces like cabinets.
Note: Never use ammonia in areas previously cleaned with bleach.
Tips for Getting Fire Smoke Smell Out of a House with Vinegar
Vinegar is a go-to tool to eliminate unpleasant odors if you wonder how to remove smoke smell from the house. Although most often used in recipes, white vinegar and apple cider vinegar absorb and neutralize odors.
To use vinegar to get smoke smell out of a house after fire leaves residue behind, fill several bowls with vinegar. Leave the bowls in high places around the room where they won't be disturbed for up to five days, changing the vinegar daily. If the vinegar smell is too overwhelming, add a few drops of vanilla extract to diminish the smell.
Using a vinegar and water spray is also a good way to clean nicotine off walls and floors, or for adding to a carpet steamer.
How an Ozone Generator Helps Remove Smoke Smells
Ozone generators are devices that produce gas ozone, an essential part of water and air purification. At a high enough level, ozone generators purify the air, but the generator isn't helpful in air duct cleaning because it cannot remove bacteria in the air.
Ozone generators typically require professional assistance to destroy smoke molecules in the air. It's vital to follow operating instructions on the machine, including evacuating the home while the generator is in use.
Warnings about Using Ozone Generators
Despite the idea that ozone generators create pure air, ozone is a toxic gas with properties very different from the oxygen we breathe. While using a generator, health experts recommend evacuating the area to prevent humans and pets from coming in contact with the artificial ozone gas.
The elderly, children, and anyone with asthma are susceptible to adverse health effects when exposed to high ozone levels.
Prolonged exposure to ozone also negatively affects house plants by entering plant tissue and burning them from the inside. Using an ozone generator in the house damages rubber and fabric materials inside the home (..).
Experiencing a fire in the home is scary, but knowing how to remove smoke smell from the house is essential for getting life back. Not only does eliminating smoke odors in your home make it more enjoyable, but breathing in polluted air daily poses a severe health risk. Use a combination of our suggested tips to restore your house to normal.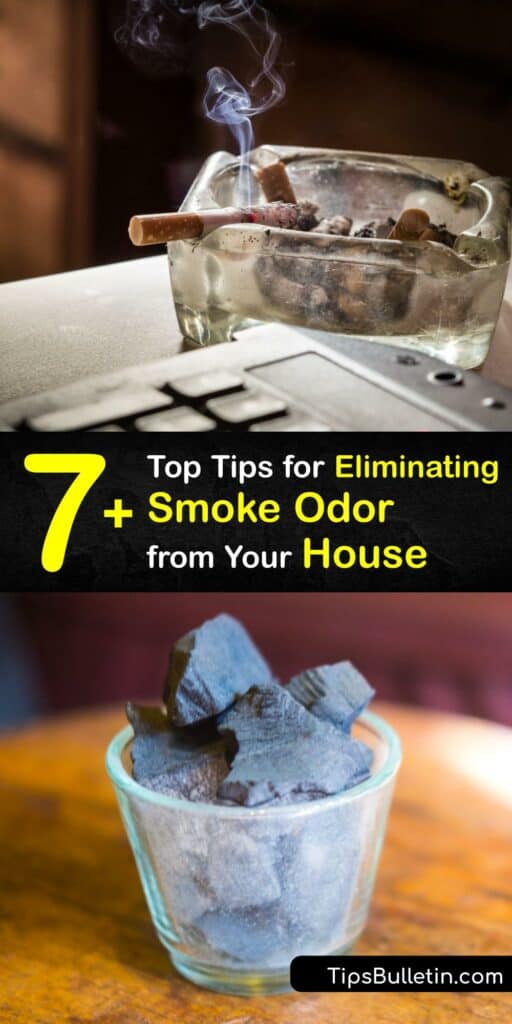 If our in-depth guide helped you learn how to get smoke smell out of the house, please share our tips for getting fire smoke smell out of a house with your close friends on Facebook and Pinterest.